How Does LendingTree Get Paid?
LendingTree is compensated by companies on this site and this compensation may impact how and where offers appear on this site (such as the order). LendingTree does not include all lenders, savings products, or loan options available in the marketplace.
Fitness, Nutrition Spending Driving About 40% of Millennials and Gen Z into Debt
Updated on: June 9th, 2021
Why use LendingTree?
We are committed to providing accurate content that helps you make informed money decisions. The content on this page has not been reviewed, approved or otherwise endorsed by any credit card issuer. We do maintain partnerships with some issuers, and our site may be compensated through those partnerships. Read our .
It's expensive to get in shape and lose weight, and many Americans (especially younger ones) are willing to take on debt to do it. That was the overall theme from a recent LendingTree survey of 1,001 Americans in January that focused on fitness and nutrition spending habits.
"I am surprised at how many young Americans are willing to go into debt to get healthier, given the heavy debt load that many folks already have," said Matt Schulz, chief credit analyst at LendingTree. However, there are certainly worse things to spend on, he adds.
Click below to learn more:
Key findings
Younger consumers trade financial health for physical fitness. About 4 in 10 millennial and Gen Z respondents have been in credit card debt due to spending on fitness and nutrition — that's higher than the overall 28% of Americans who said the same.
Social media is more likely to influence young adults to splurge on getting fit. Over a quarter of Gen Z and 17% of millennials admit they are driven by social media influencers to spend money on fitness and nutrition. Across all ages, that number is 13%.
They say good health is a wise investment. It's all about the results, with 43% of Gen Z and 38% of millennials saying they are willing to spend more than they can afford on fitness and nutrition so long as they get healthier.
Binging on subscriptions could be bad for your financial diet. One in four Americans have at least one subscription-based fitness or diet expense. That number jumps to four in 10 among Gen Z, and slightly over 1 in 3 millennials.
Younger Americans are going into debt in quest to be 'healthy'
About half of millennials and Gen Z made a New Year's resolution centered around health and fitness, compared to about a third of the overall population, which could explain why these groups are more willing to rely on their credit cards to stay fit. More specifically, 38% of millennials and 41% of Gen Z have been or are currently in debt thanks to fitness-related expenses.
"Millennials have always been more about spending on experiences than things, and this fits that bill," said Schulz. But while spending on health and fitness can certainly be noble, he noted, it's important to make sure that you're not crippling your financial health in the process.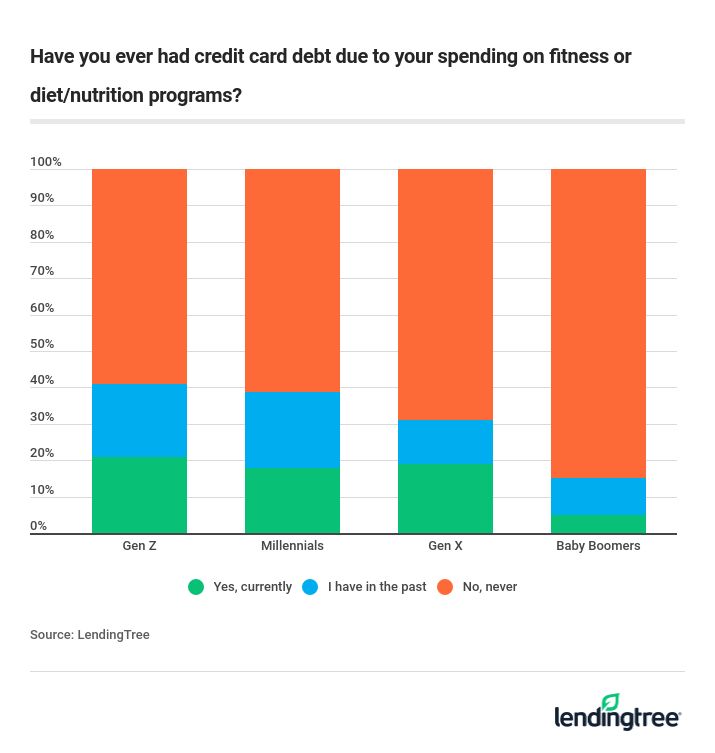 Social media drives spending among millennials and Gen Z
The rise of fitness influencers, from Kayla Itsines to the Kardashians and their respective brand partnerships on social media, can make it very tempting to charge up for the latest fitness trend. That may explain why more than a quarter of Gen Z and 17% of millennials say social media impacts their decision fitness spending.
"It's staggering just how much spending social media drives, and fitness is no different," said Schulz. "There's no question that there's danger there."
In fact, 21% of millennials and 17% of Gen Zers say they have been confronted by friends or family about their spending on fitness or nutrition.
Consumers spend thousands on fitness each year
On average, consumers spend $124.40 per month on fitness expenses. That includes 46% of Gen Z, 44% of millennials, and 33% of people overall.
The most common fitness expenses among spenders include:
Gym membership (76%)
Workout attire (32%)
Equipment (22%)
Mobile apps (22%)
Personal trainer (13%)
Boutique fitness classes (13%)
ClassPass (8%)
Subscription-based fitness or diet expenses are a growing trend as well, with 1 in 4 Americans saying they have at least one. That number jumps to 4 in 10 among Gen Z, and slightly over 1 in 3 of millennials.
"Most everyone has some subscription they no longer use, and those costs can stretch a budget unnecessarily," said Schulz. He suggests reviewing all of your subscriptions regularly to make sure that you still want to keep them all. "If there are some that don't fit the bill, cancel them. Be ruthless."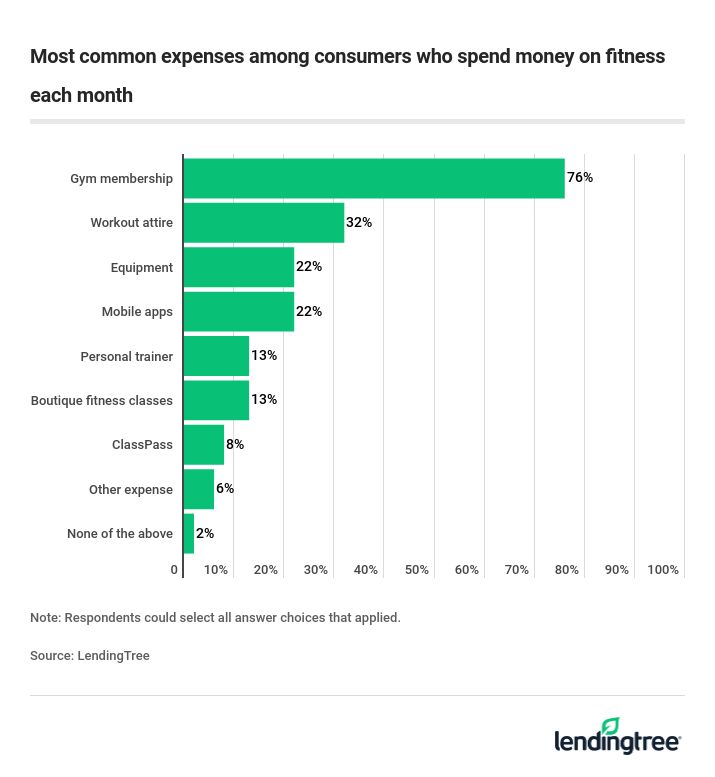 Trendy diets come with a fat price tag
On average, among the 43% of consumers who spend on diet and nutrition (not counting grocery shopping), they say it costs them $57.53 per month. These expenses, which are more common among younger consumers, include:
Nutritionist (overall 12%)

16% of millennials and 14% of Gen Z

Cleanses (overall 10%)

18% of Gen Z and 13% of millennials

Personalized meal plans (overall 10%)

14% of Gen Z and millennials
What's more, of the 28% of survey respondents who said they're currently dieting, 45% said their grocery spending has increased, too.
How to balance fitness and nutrition needs without overspending
Staying healthy is an important part of life for many – but it's important for your finances to be healthy, too. Here are some ways to stay in financial shape:
Maximize cash back credit cards. Just 18% of respondents said they were earning rewards from their fitness and nutrition spending. If you're going to use credit, you might as well get something in return (assuming you're able to pay those balances in full each month).
Make a budget. It's easy to go overboard on gym memberships and diet plan subscriptions if you're not careful. Just like you count calories, give yourself a fitness budget and track your spending. See which fitness dollars are actually working for you, and trim the rest from your budget.
Find cheaper alternatives. "If your fitness class membership keeps you from putting money in an emergency fund or saving for retirement, you should seriously consider lower-cost alternatives," said Schulz. Try turning to YouTube, which has tons of free videos to help you exercise, for instance. There are plenty of low-cost tools (e.g. a jump rope, dumbbells) that can help you get stronger without killing your budget.
Consider 0% Intro APR cards to finance expensive fitness equipment. If you're considering a Peloton bike or a treadmill, an interest-free period can give you time to pay it off without tacking on more to the total cost. "However, it is important to pay the entire balance during the 0% period," said Schulz. This is especially in the case of store credit cards, where you might get stuck with a bill for all the interest that you would've accrued going back to the purchase date.
Another strategy is to save up cash for a large purchase, but then buy it with a rewards credit card that has a great sign-up bonus. "The big purchase can get you close to the minimum spend you have to hit to get your bonus, but there's no risk of carrying a balance because you already have enough cash on hand," said Schulz.
The bottom line
No matter what type of spending you're doing, it's always a good idea to try to fit it into a budget rather than take on debt. However, taking care of your body and mind is about as worthy a reason as you can get, said Schulz: "Investing in your health may be expensive today, but if you take care of yourself, it can end up saving you money when you're older."
Even better: If you can find a way to work out your physical fitness and your finances, you'll be able to flex your financial muscles, too.
Methodology
LendingTree commissioned Qualtrics to conduct an online survey of 1,001 Americans, with the sample base proportioned to represent the overall population. The survey was fielded Jan. 8-13, 2019.
Generations are defined as:
Gen Z: 18 to 23
Millennials: 24 to 39
Gen X: 40 to 54
Baby boomers: 55 to 74
Silent generation: 75 and older