How Does LendingTree Get Paid?
LendingTree is compensated by companies on this site and this compensation may impact how and where offers appear on this site (such as the order). LendingTree does not include all lenders, savings products, or loan options available in the marketplace.
Card Skimming at the Gas Pump: How Americans Are Reacting
Updated on: March 12th, 2021
Why use LendingTree?
We are committed to providing accurate content that helps you make informed money decisions. The content on this page has not been reviewed, approved or otherwise endorsed by any credit card issuer. We do maintain partnerships with some issuers, and our site may be compensated through those partnerships. Read our .
Credit and debit card skimming is a growing threat to consumers filling up at the gas station — so much so that it has made an impact on how Americans pay for gas, according to a recent survey by LendingTree.
Skimming is a type of fraud whereby criminals steal data through bogus card readers they attach to payment terminals at gas stations (the same technique that's popular at ATMs), which take data off a credit or debit card's magnetic stripe without the victim's knowledge. Criminals then sell the stolen information or use it to make purchases online. The victim usually doesn't find out about the information theft until the arrival of a credit card statement or an overdraft notice.
"One huge driver of this [phenomenon] is the fact that gas station pumps don't need to be converted to accept EMV cards until October 2020," said Matt Schulz, credit analyst for LendingTree. "That makes those pumps low-hanging fruit for fraudsters."
Schulz said skimming is a big issue that's not going away anytime soon. It certainly has Americans on guard. According to a survey commissioned by LendingTree of American consumers who had purchased gasoline in the last 30 days:
15% of Americans said they've been a victim of skimming at the pump.
43% of Americans said they've changed the way they pay for gas because of concerns about skimming
Millennials are most likely to have changed their gas-paying habits (48% versus 43% for Gen Xers and boomers).
Women are slightly more likely to have changed than men (43% versus 48%).
Paying inside versus at the pump is the most common way (20%) people have changed their habits because of the risk of skimming.
LendingTree found that the younger you are, the more likely you are to claim you've been a victim of card skimming at the pump, though not by much.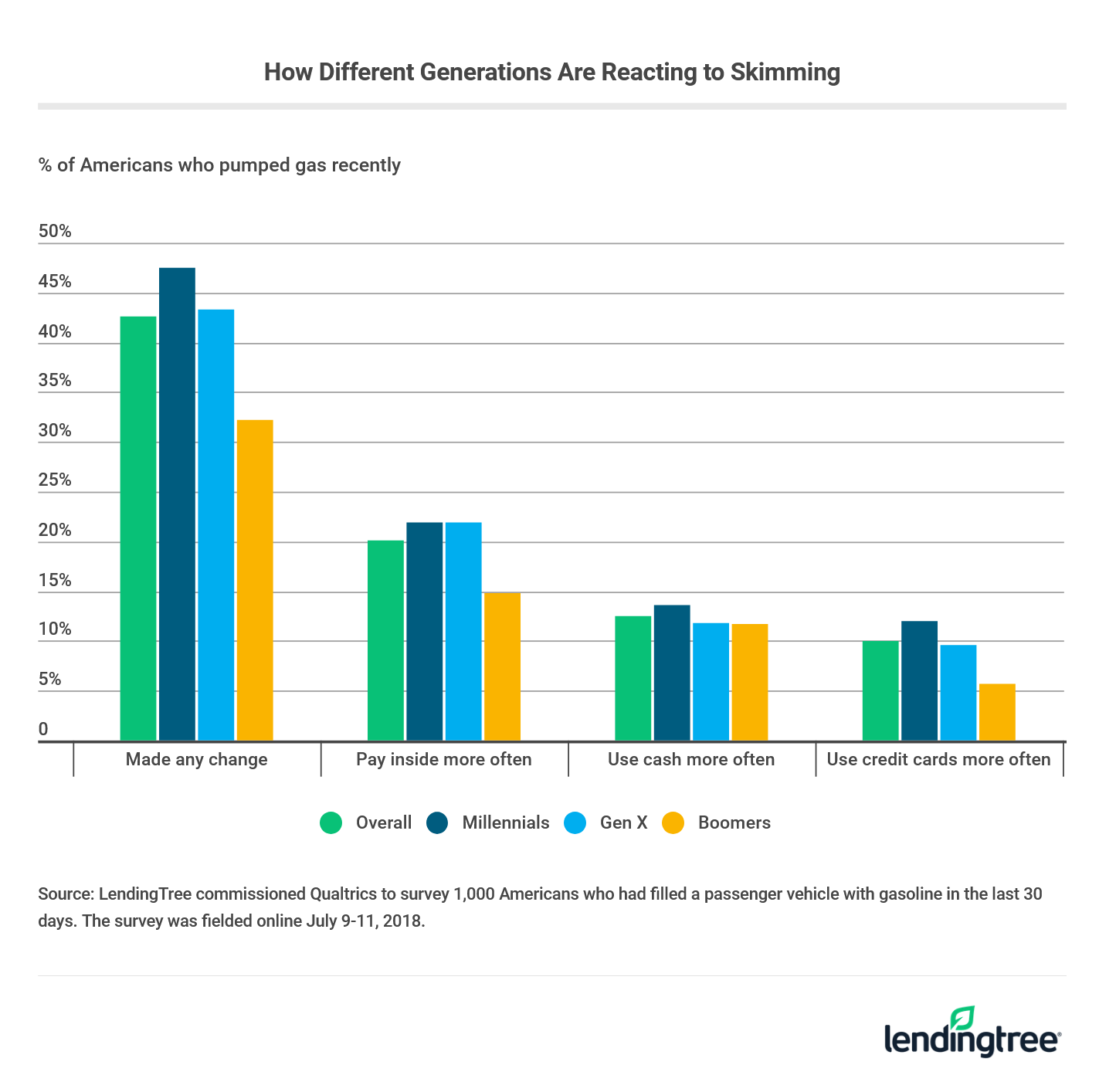 Millennials seem to be the top target of skimmers. Of the millennials surveyed, 21% said they've fallen victim to skimming at the pump, while 15% of Gen Xers and 8% of boomers said they've had their credit or debit card information stolen at gas stations.
There is no obvious difference between men and women. They have an equal chance of being a skimming victim. Men and women were equally likely to say they had been a victim of skimming.
More people opt to pay inside vs. at the pump
To avoid having their credit card information stolen at the pump again, victims surveyed by LendingTree said they have changed the way they pay for gas. Roughly two-thirds of those who claimed to be victims said they had changed how they pay for gas.
Of the victims who changed the way they pay, 45% said they use credit cards more. And 39% said they choose to pay for gas inside the gas station more. Another 16% said they use cash more.
"I think that ordering is really interesting," Schulz said. "[It] shows that the message that 'credit cards are safer' is getting across. It also shows that people are taking this seriously and making changes when necessary."
Those who have not yet experienced skimming are, understandably, less likely to switch payment methods.
Combined, 38% of non-victims of skimming who are concerned about the risks said they have changed how they pay for gas. Schulz said that's a really high number.
"It's not easy to get Americans to change their habits," he said.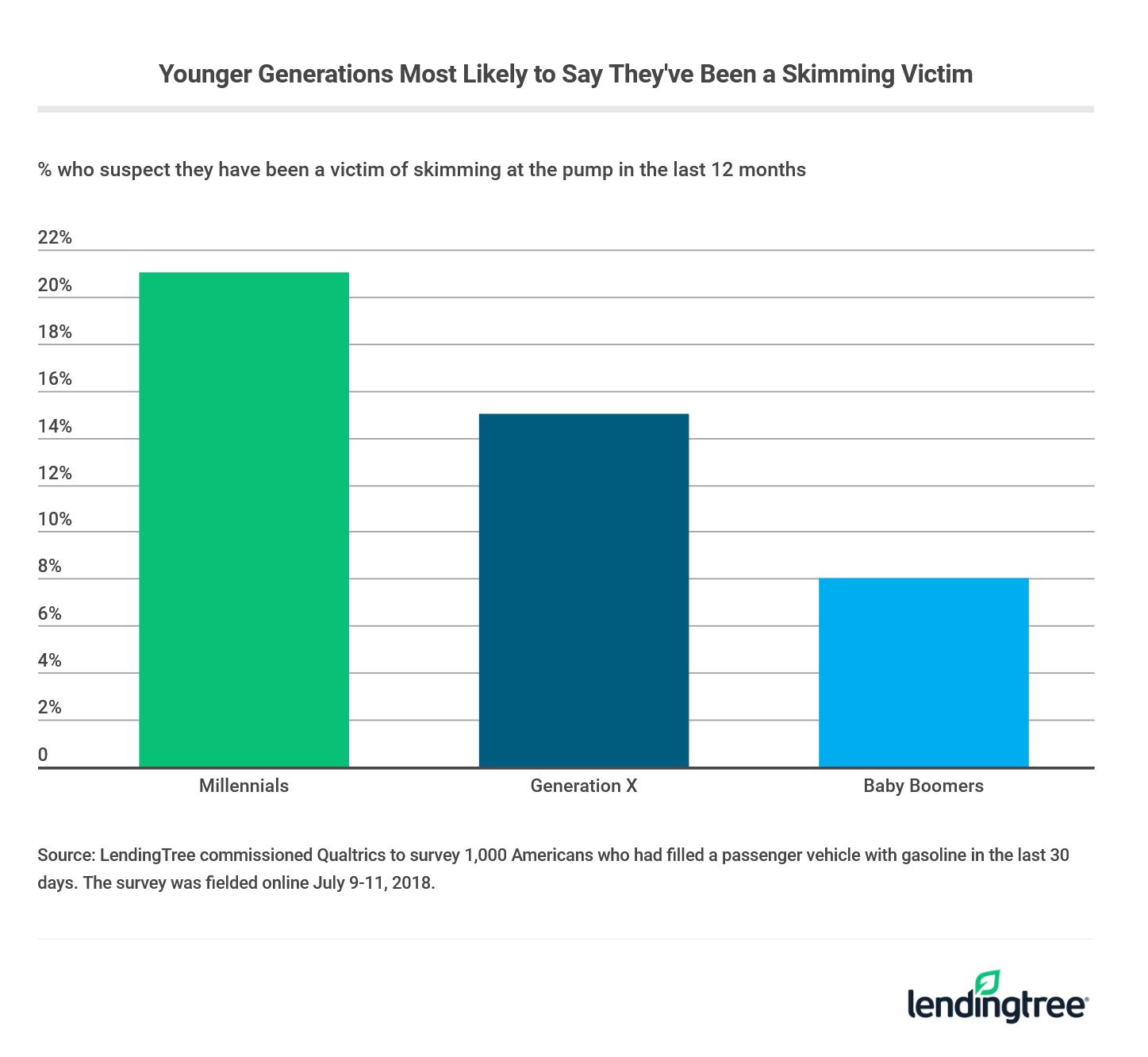 While many non-victims did make changes, those changes weren't necessarily the same as the ones skimming victims made. Of non-victims who changed the way they pay:Here is a breakdown of the different payment methods those non-victims of skimming have switched to:
50% pay inside the gas station more.
34% use cash more.
16% use credit cards more.
Tips on how to protect yourself at the pump
Trust your instincts. "If something doesn't seem right or look right, don't just blow it off," said Schulz. "For example, wiggle the card slot at the pump, and if something moves, don't use it. Go inside to pay or just go to another station."
When in doubt, pay with a credit card. "If you use a debit card and bad guys get a hold of your information, they can steal real money from a real account," Schulz added. "You'll almost certainly get that money back soon, but depending on when bills come due, that missing money can cause real problems, even if it's only missing temporarily."
Keep tabs on your bank account for fraudulent activity. The best way to know if you've been a victim of skimming is to check your credit card and bank statements as often as possible, ideally once a week. "We think nothing of checking Facebook and Twitter 10 times a day, but going to our bank's website once a week just seems like too much," Schulz said. "It's not, and it's really important."
Fraudulent charges may be tiny transactions. It's also important to understand that a small purchase can be a sign of fraud. "Oftentimes, fraudsters will make a small purchase ($1 or $2) to make sure that the card information is still valid before they try something bigger," Schulz explained. "If you can spot those initial fraudulent purchases, you can save yourself some headaches."
Methodology
LendingTree commissioned Qualtrics to survey 1,000 Americans who had filled a passenger vehicle with gasoline in the last 30 days. The survey was fielded online July 9-11, 2018.