How Does LendingTree Get Paid?
LendingTree is compensated by companies on this site and this compensation may impact how and where offers appear on this site (such as the order). LendingTree does not include all lenders, savings products, or loan options available in the marketplace.
Growing Number of Drivers Claim to be Victims of Gas Pump Card Skimming
Updated on:
Content was accurate at the time of publication.
Why use LendingTree?
We are committed to providing accurate content that helps you make informed money decisions. The content on this page has not been reviewed, approved or otherwise endorsed by any credit card issuer. We do maintain partnerships with some issuers, and our site may be compensated through those partnerships. Read our .
Twenty-three percent of American drivers suspect they've been a victim of credit card or debit card skimming at a gas pump in the past 12 months, according to a new report from LendingTree. That's up from 15% just a year ago, and concerns over skimming are leading more and more people to change their payment habits at the pump.
Skimming is a type of fraud in which bad guys steal card data by attaching hard-to-detect devices to ATMs or gas station payment terminals. These devices read and store the data, which is transmitted to the fraudsters who then either sell that data online or use themselves to make fraudulent purchases. This practice has made headlines across the nation in big cities, small towns and everywhere in between.
Credit card skimming has been a particular problem at gas stations for the past several years. That's because while most other merchants have had to upgrade their payment terminals to work with new EMV or smart-chip credit cards, which are far less susceptible to skimming because of the technology embedded in the chip, gas stations have not. The major credit card networks gave gas stations until October 2020 to upgrade their payment terminals, largely because doing so likely means having to replace entire gas pumps ⁠— a far more costly and disruptive process than for other types of merchants.
That delay has created an opportunity for crooks, and they clearly appear to be taking advantage. We asked people who had filled their vehicle up with gas in the past 30 days for their views on credit card skimming and what we found was striking. A growing number of Americans say they've been a victim and even more say they've known someone who has been a victim. That has led them to worry more about skimming and even change the way they pay at the pump to protect themselves.
Key findings
The percentage of drivers who said they suspect they were a victim of skimming in the past 12 months has risen to 23% in 2019 from 15% in 2018.
51% of respondents said they've changed the way they pay for gas because of skimming concerns. Last year, that was 38%.
37% of people said they're more worried about skimming than they were 12 months ago. Less than 10% said less.
33% of people said they'd heard of a friend/relative/co-worker who had been a victim of skimming.
The higher your income, the more likely you are to say you have been a victim.
The younger you are, the more likely you are to say that you've been a victim and that you have changed the way you pay.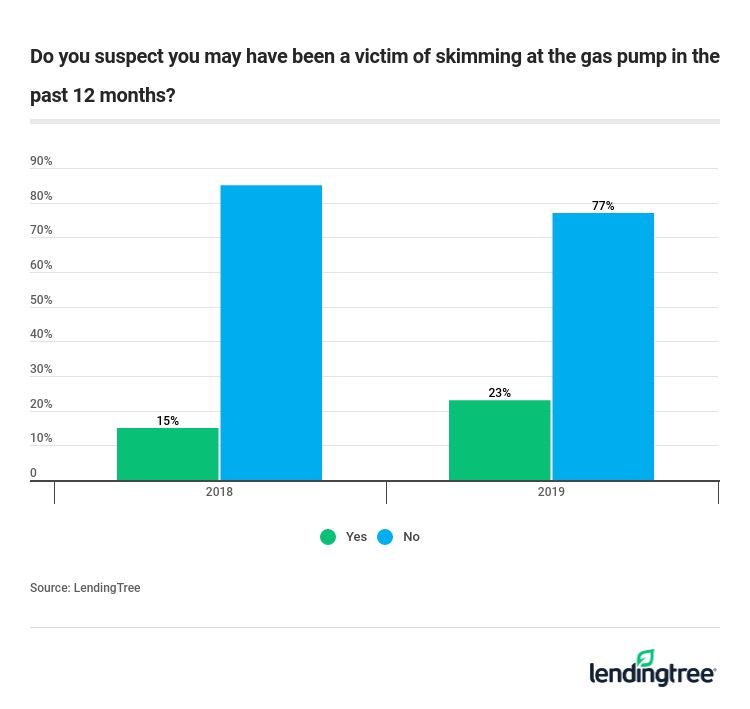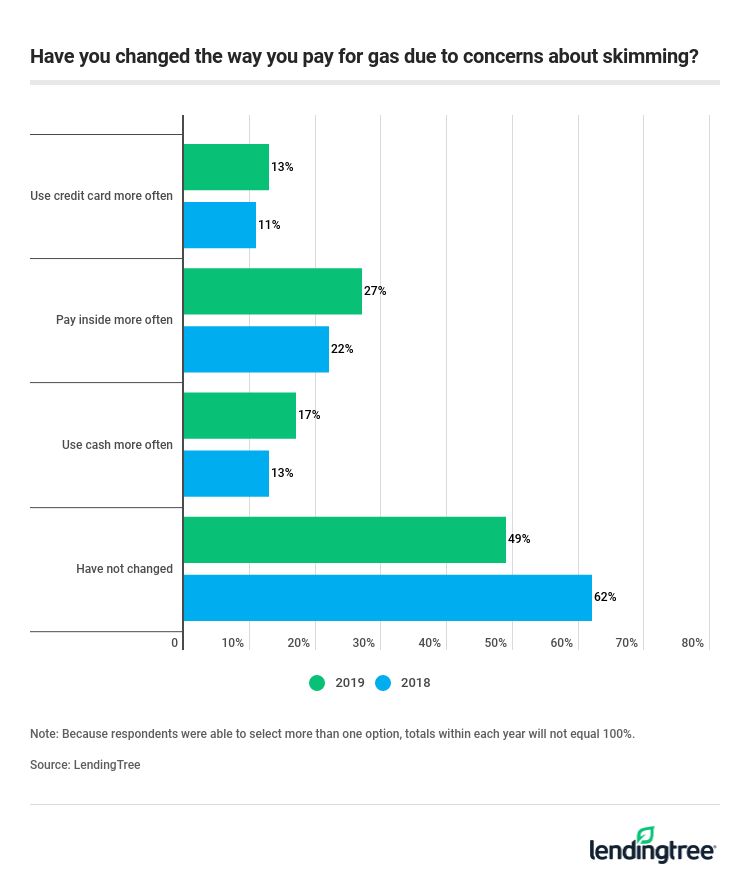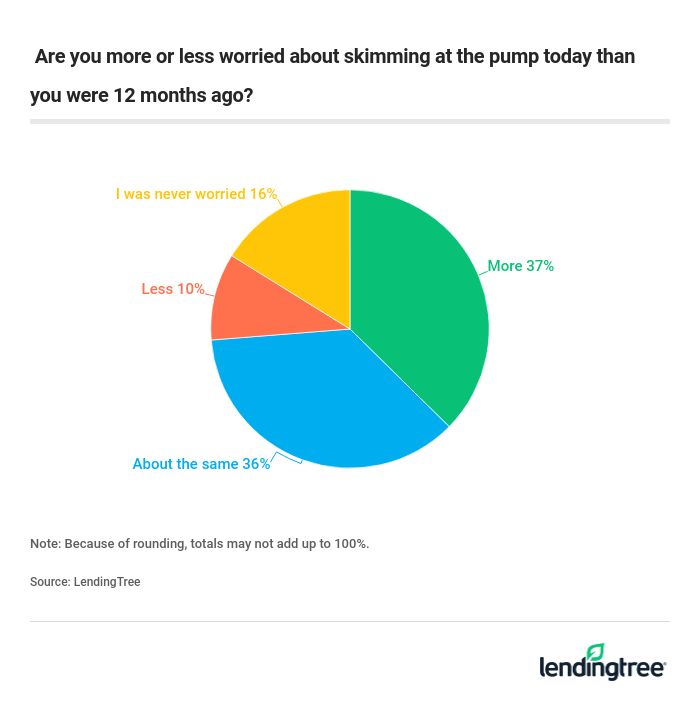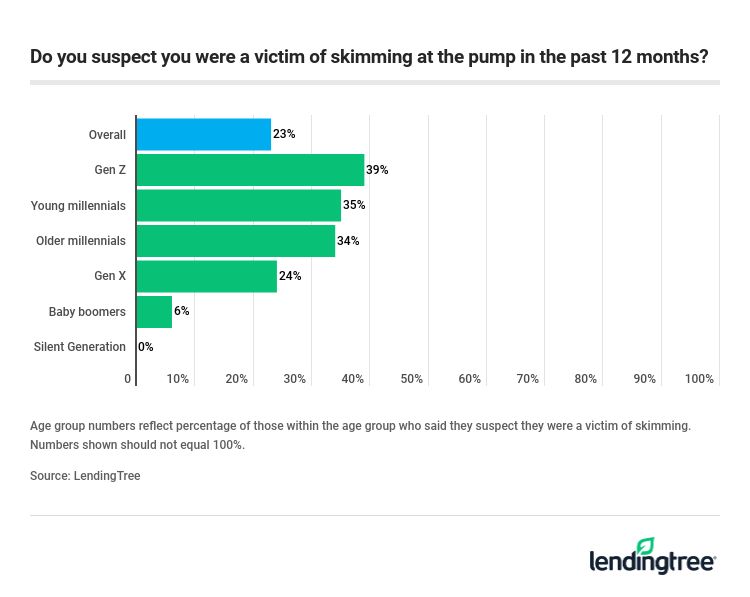 The bottom line: Small steps can make a big difference against skimming
It shouldn't come as a big surprise that more people are worried about credit card skimming today. Most any city of any size in this country has dealt with this type of fraud and the problem isn't likely to improve until gas stations finally upgrade their terminals. That doesn't mean you're helpless, however.
Here are a few things to do to help protect yourself against skimming:
Trust your gut: It's not always possible to detect these skimmers, but if something about the terminal or the ATM doesn't seem right, don't just blow it off. You may even want to try to wiggle the card reader with your hands. Typically, it shouldn't move, but if it does, it could mean it has been tampered with and you should find another pump or even another gas station to use.
Use well-lit locations that are closest to the store: Bad guys do their best work in the shadows. The less lights there are around it and the less visible a terminal is, the better a target it becomes for thieves.
Check your online statements at least once a week: Yes, you have doctors' appointments, kids' soccer games and concerts, work meetings and other things that are taking up your time. However, you also manage to check social media 10 times per day. If you can do that, you have time to check your online bank and credit card statements for any signs of potential fraudulent activity. It's not hard and doesn't take long. (It actually gets easier and faster the more often you do it.) But it really, really matters.
Sweat the small stuff: When you're checking those financial statements, don't ignore a strange transaction just because it is small. Oftentimes, bad guys will buy something for just a couple of bucks — a candy bar or a bottle of Coke maybe — to test-drive the card's information. They stay small because they know that tiny transactions are much less likely to stick out to their victims. Then, a few days later, they'll go on a big shopping spree. Your best way to stop that is to keep a watchful eye on your account. Check your statements regularly. Sign up for transaction alerts. It's worth your time.
Use credit: If you're concerned about fraud, credit cards are almost always a better choice than a debit card. Why? If a bad guy steals your debit card, real money can be taken from a real bank account, causing some real short-term headaches for your finances. You'll almost certainly get that money back within a few days, but that in-between period can be troublesome. If a bad guy gets your credit card info and uses it, you likely won't be out of money. Just call your issuer to let them know what happened and they'll likely wipe the charges.
Keep at it: It's a cliché but it's the truth – protecting yourself against fraud is a marathon, not a sprint. Bad guys are clever, often two or three steps ahead of the good guys and can be patient. Your best move is to be continually diligent and to build ID theft protection checks into your financial routine. Check your online statements weekly. Review your credit reports. Freeze your credit if you're not planning to apply for cards or a loan anytime soon. It all matters, even if there hasn't been a big skimming headline in the news for a while.
Methodology
LendingTree commissioned Qualtrics to conduct an online survey of 924 American adults who have filled up their vehicle with gasoline at a gas station in the past 30 days. The survey was fielded from May 14-15, 2019.