How Does LendingTree Get Paid?
LendingTree is compensated by companies on this site and this compensation may impact how and where offers appear on this site (such as the order). LendingTree does not include all lenders, savings products, or loan options available in the marketplace.
Number of Drivers Claiming to Be Victims of Card Skimming Grows for Second Straight Year
Published on: September 1st, 2020
Why use LendingTree?
We are committed to providing accurate content that helps you make informed money decisions. The content on this page has not been reviewed, approved or otherwise endorsed by any credit card issuer. We do maintain partnerships with some issuers, and our site may be compensated through those partnerships. Read our .
For the second year in a row, the percentage of American drivers who say they've been a victim of card skimming at the gas pump in the past year has grown significantly, according to a new report from LendingTree.
Nearly a third of those who purchased gas in the last 30 days believe they've been a victim of either credit card or debit card skimming at the pump. That's up from 23% in 2019 and just 15% in 2018.
Skimming happens when fraudsters steal a card's magnetic stripe data by attaching tiny, difficult-to-detect devices to payment terminals. This type of fraud is most associated with gas station pumps and ATMs, as most other retailers have long since switched their point-of-sale terminals to accept smart chip (or EMV) credit cards, which are much less vulnerable to skimming because of the technology in the chip.
Many gas stations have not yet upgraded their payment terminals to accept smart chip cards.
The major credit card networks — Visa, MasterCard, American Express and Discover — required retailers to upgrade their terminals by October 2015. Under the credit card companies' rules, businesses that didn't comply would be liable for costs associated with card-related fraud that happened because of their failure to do the upgrade.
Gas stations were exempted from that deadline, however, because upgrading gas station payment terminals often means replacing gas pumps altogether, making the upgrade process far more disruptive, time-consuming and costly than for most other retailers.
The original deadline for gas stations to make these improvements was October 2017, before getting pushed back to October 2020. However, in the wake of the COVID-19 outbreak, it was pushed back again earlier this year and is now April 2021. It's possible that the deadline could move again depending on the state of the pandemic next spring.
The absence of upgraded terminals has made gas station pumps low-hanging fruit for fraudsters — and as our survey data shows, they seem to be making the most out of the opportunity.
Key findings
The percentage of drivers who suspect they were a victim of skimming in the past 12 months has risen significantly for the second year in a row. 31% of drivers who purchased gas in the last 30 days believe they have been a victim of skimming at the pump during the past year, up from 23% in 2019 and 15% in 2018.
More than half of Gen Xers and those with household incomes of $100,000 or more said they were victims of card skimming.
35% of respondents said they are more worried about skimming now than they were 12 months ago, while just 12% said they were less worried.
44% of respondents said they have changed the way they pay for gas because of skimming concerns. The most common change: Paying with a credit card more often.
More drivers claim to be victims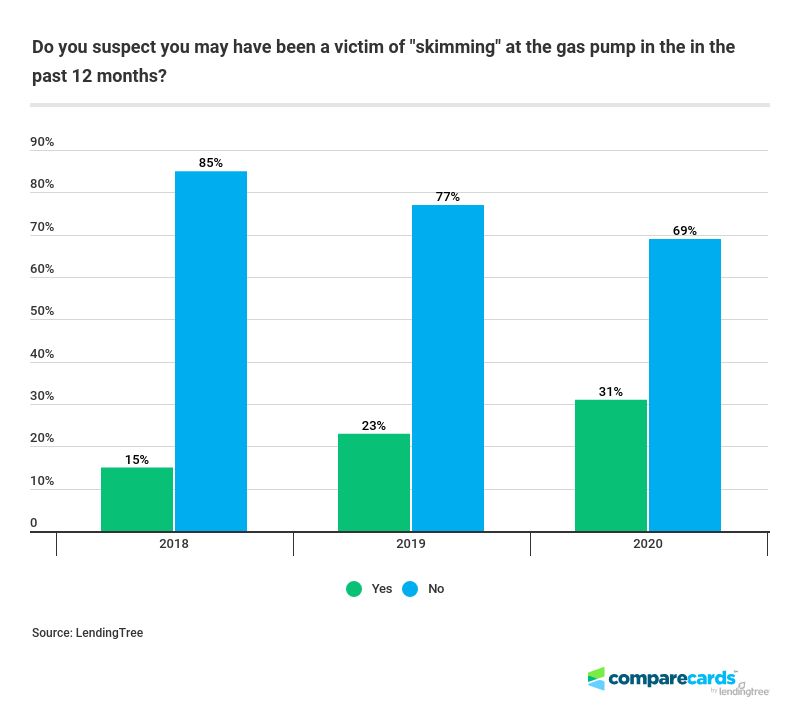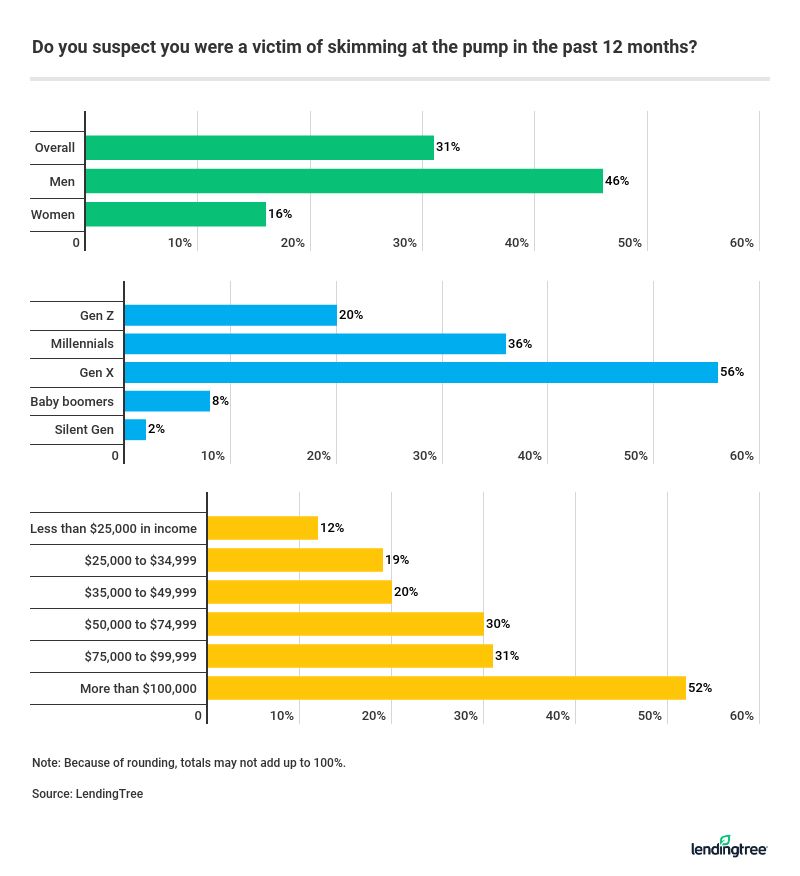 Twice as many drivers said they suspected they were a victim of skimming this year than just two years ago (31% in 2020 vs. 15% in 2018). Some age groups, income brackets and genders were hit far harder than others.
56% of Gen Xers said they were a victim, while just 8% of baby boomers said the same. The second highest total was 36% of millennials.
Men were nearly three times as likely as women to say they were victims. For men, it was 46%, versus 16% of women.
The higher your income, the more likely you were to say you were a victim. More than half (52%) of those making $100,000 or more a year said they were victims, while just 12% of those making less than $25,000 per year said so.
Drivers aren't just seeing themselves victimized. About one-third of respondents (31%) said someone they knew had been a victim of skimming. That number is down slightly from 33% in 2019, the first year we asked that question, but it is still significant.
Drivers nervous about skimming, but are making changes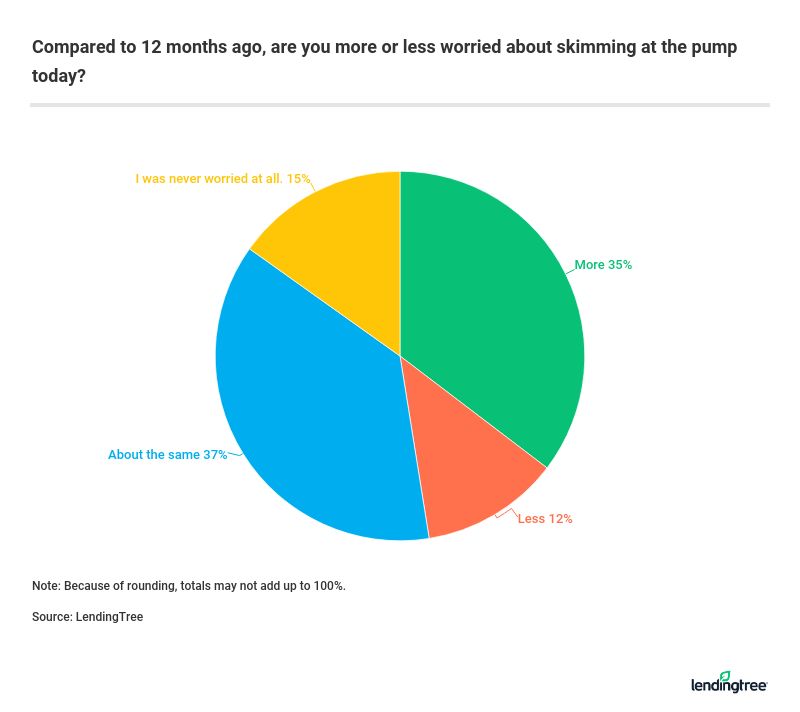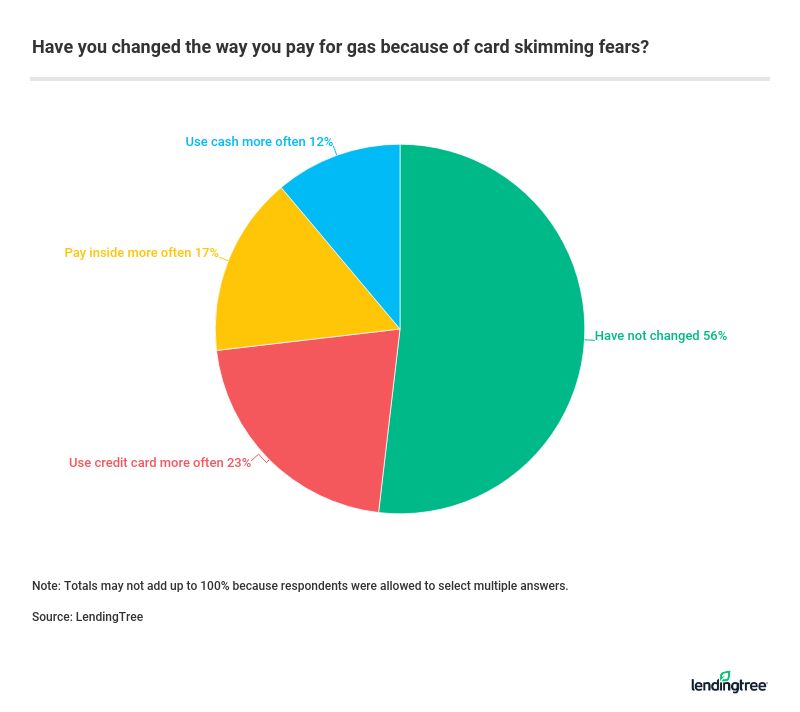 Skimming incidents have made headlines in virtually every town of any size in the United States at some point in the past five years. Those headlines, combined with people's own personal experiences with skimming, have raised awareness of this type of fraud, and with that awareness has come some jitters.
More than a third of respondents (35%) said they are more worried about skimming today than they were 12 months ago. That's down from last year, but just by 2 percentage points, showing that Americans' concerns about skimming are still strong. (Just 12% said they were less worried.) Men, Gen Xers and high-income households were the most likely to say their worries had grown.
The good news is that nervousness is spurring change in many people's habits.
More than 4 in 10 respondents (44%) said they have changed the way they pay for their gas because of their worries about skimming. That includes 23% who say they've begun using their credit card more often for the stronger fraud liability protections than debit cards. In keeping with much of the rest of the survey, Gen Xers, men and wealthier Americans were the most likely to say they had made a change.
The bottom line
Five years ago, when most retailers were converting their payment terminals and most Americans were just learning how to use a smart chip card, it seemed likely that card skimming fraud would be a thing of the past by 2020. That clearly did not happen.
Card skimming is likely to remain a thorn in drivers' sides well into 2021 and perhaps beyond. Nothing will change until gas stations are able to convert their payment terminals to accept chip cards, and that isn't likely to be a priority for those businesses until the COVID-19 outbreak is in the rearview mirror.
Here are some tips to help you avoid being a victim of skimming and to minimize the damage if it happens to you:
Pick your pump carefully: Darkness and distance make it easier for bad guys to operate, so if possible, opt for the most well-lit pump closest to the store: It's probably the least likely to be targeted by fraudsters. And if something doesn't look or seem right with a pump, leave it, even if you're not exactly sure what's wrong. Don't be afraid to touch the pump and even wiggle the payment terminal. If something feels too loose or moves too easily, it might be a sign that it's been tampered with.
Keep an eye on online statements: Weekly (or maybe even more often) checks of your online credit card and debit card purchases should be part of your regular financial routine. Once you get in the habit of checking your accounts, you can do it very quickly and any anomalies will be easier to spot. Just remember that you're not just looking for big purchases: Sometimes thieves will make a tiny purchase, maybe even for $1, to test that their stolen card information is good. Those small transactions often go unnoticed by cardholders.
Use credit cards instead of debit cards: Credit cards and debit cards have many of the same protections when it comes to fraud. What makes credit cards a better choice is that they aren't tied to your bank account like a debit card. If a fraudster gets hold of your debit card information, they can bleed it dry in a hurry. Yes, you'll likely get that money back, but it may not happen immediately. That can cause some real headaches if bills come due while you're waiting for that refund.
Methodology
LendingTree commissioned Qualtrics to conduct an online survey of 1,050 Americans, including 883 who had filled their car up with gas in the last 30 days. The survey was fielded Aug. 14-18, 2020.