How Does LendingTree Get Paid?
LendingTree is compensated by companies on this site and this compensation may impact how and where offers appear on this site (such as the order). LendingTree does not include all lenders, savings products, or loan options available in the marketplace.
Nearly Half of Gen Z and Millennials Plan to Donate to a Political Campaign in 2020
Updated on: February 10th, 2020
Why use LendingTree?
We are committed to providing accurate content that helps you make informed money decisions. The content on this page has not been reviewed, approved or otherwise endorsed by any credit card issuer. We do maintain partnerships with some issuers, and our site may be compensated through those partnerships. Read our .
More than a third of Americans say they plan to donate to a political campaign in 2020, according to a new report from LendingTree. And the younger you are, the more likely you are to say so.
The survey showed that about half of Generation Z (49%) adults and 41% of millennials said they plan to donate. That's far higher than the 25% of baby boomers who said the same.
Click below to learn more:
As the 2020 election cycle shifts into high gear and Americans begin to cast the first votes of the presidential primary season, LendingTree polled consumers about their campaign donation plans for the upcoming year. We asked, among other things, whether they planned to donate in 2020, whether they had ever donated in the past, whether they'd use a credit card to pay for it and what impact they thought their money would have.
What we found is that millions of Americans say they're ready to give money to help political campaigns, even if they had never done so before.
The survey also revealed that for more than half of those who donated previously, social media was a major driver.
Key findings
49% of Generation Z and 41% of millennials say they plan to donate to a political campaign in 2020. Overall, 36% of Americans say they plan to do so.
Just 32% of Americans say they have donated to a political campaign in the past.
About 1 in 5 Americans say they are making recurring political donations or have in the past.
Of those who have donated previously, more than half said they gave specifically after seeing a social media post directing them to do so. The younger you are, the more likely you are to say that.
Though 43% of those who have donated to a political campaign used a credit card for their most recent contribution, 2 in 3 Americans don't realize that part of donations made with credit cards is typically used by the campaign to pay card processing fees. 
The most common reason given for not planning to make a donation in 2020? They can't afford it. Thirty-nine percent said that, while 20% simply said they're not interested in politics.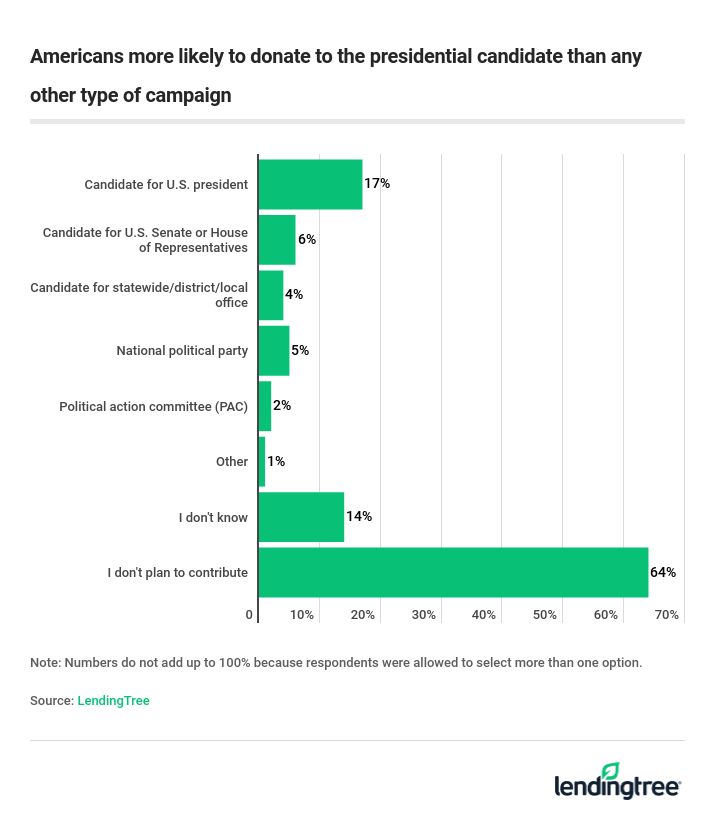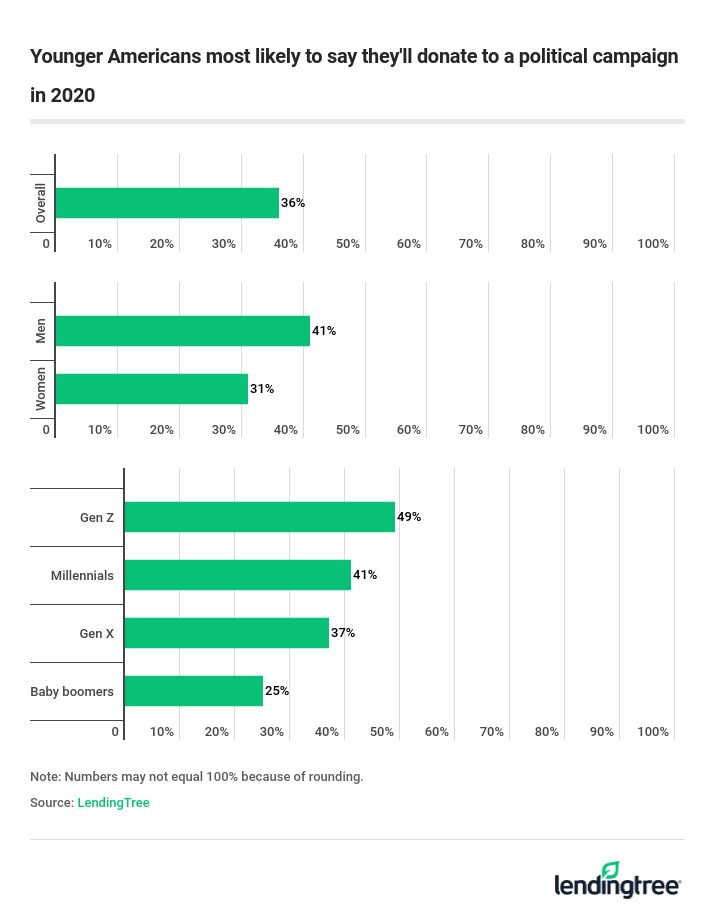 Intent doesn't always lead to action
While a diverse mix of Americans say they plan to donate in 2020, some demographic groups were more likely to do so. As mentioned earlier, the younger you are, the more likely you are to say you will donate.
More men said they were likely to donate than women (41% to 31%).
High-income Americans were more likely than low-income Americans to say they'd donate. (49% of those earning $100,000 or more plan to donate in 2020 versus 30% of those earning less than $25,000.)
And Democrats were slightly more likely to say they'd donate than Republicans (44% to 39%), though Republican donors were more likely to say they'd donate larger amounts.
Of course, saying you intend to donate is hardly a guarantee that you actually will in the future.
For myriad reasons, the number of Americans who actually give is likely to be far smaller, and the number who give more than $200 will likely be even smaller still. (The Center for Responsive Politics estimates that just 0.5% of all Americans gave more than $200 to a political campaign in 2016, the most recent presidential election year.)
Why don't people give? The most common answer (from 39% of those who don't plan to contribute) is they simply can't afford to, while another 20% said they're not interested in politics and 17% don't trust any of the candidates or parties.
Among those who do plan to donate, the top two reasons given were that they passionately support the candidate (32%), and they passionately support their party (20%). Another 11% said their contribution is at least in part due to their staunch opposition to another candidate.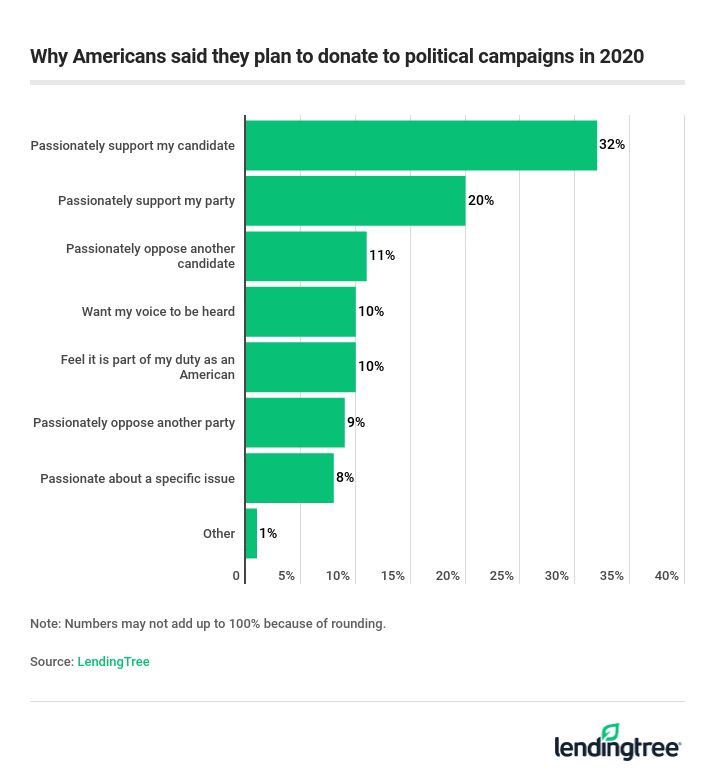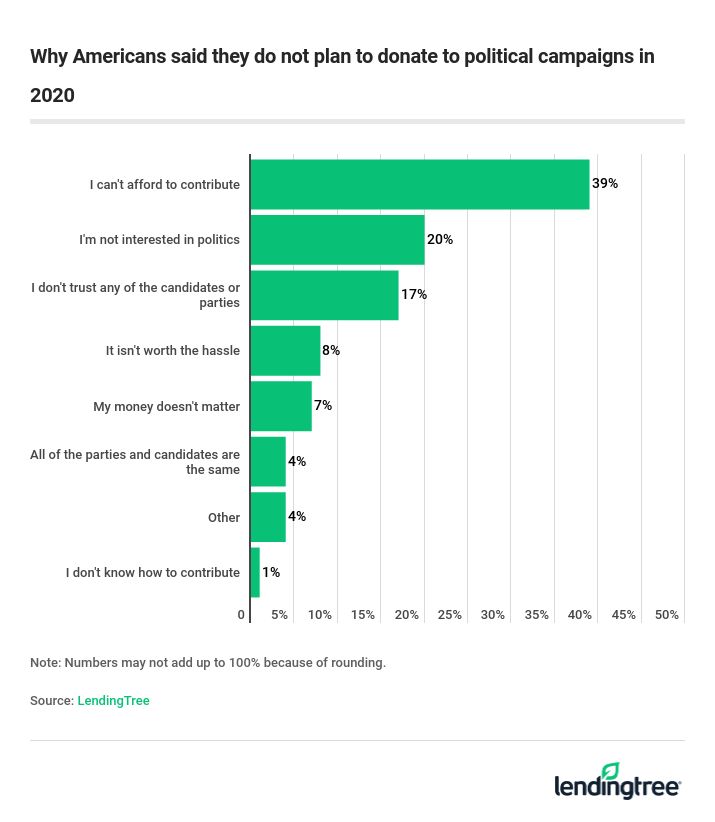 Credit card donations can cost the candidate
Unsurprisingly, credit cards are by far the most common way to donate to a political campaign, our survey found. Of those who had donated in the past, 43% had done so with a credit card, compared with 25% who did so with a debit card and about 15% who had used either a check or cash.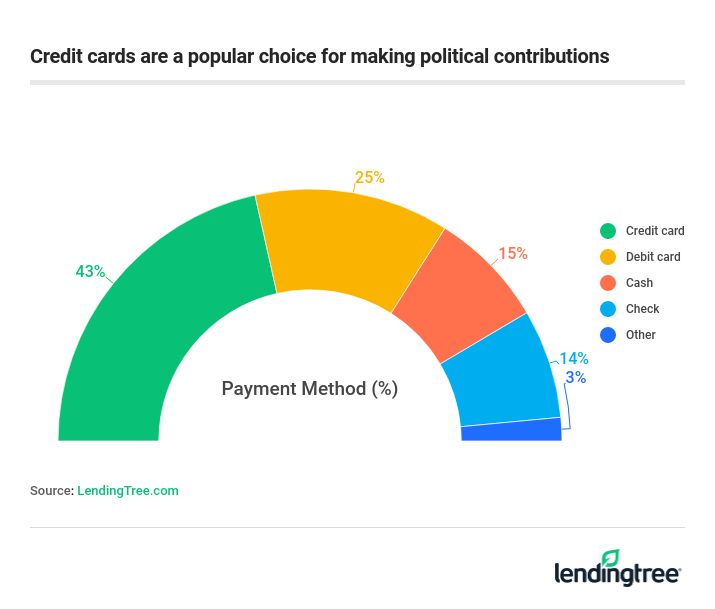 Today, you'd be hard-pressed to find a campaign website that doesn't feature a prominent link to a donation button where you can contribute. Many campaigns even let you make recurring contributions, donating a set amount each month, up to relevant limits.
Our survey showed that 12% of Americans said they currently have a recurring contribution with a political campaign and another 6% said they have had one in the past.
While virtually all campaigns accept credit card donations because they want to make it as easy as possible to contribute, that ease comes with a cost. Just like any retailer, political parties and candidates pay fees to accept credit cards. Those processing fees are often taken out of the amount of the donation.
An analysis of Federal Election Commission data done by Newsy showed that federal political campaigns paid $51.5 million in credit card fees during the 2016 election cycle. The report also shows that costs will likely go higher in 2020. That's a huge amount of money that won't end up in a candidate's war chest.
However, credit cards are still the easiest way to donate online. If you're interested in minimizing the cost for your chosen campaign, consider using cash or a check. Debit cards are likely a cheaper option than credit cards, too, because of federal caps on debit card processing fees. (There are no caps on credit card processing fees.)
However, credit is still the safest choice because if a hacker or fraudster gets your credit card information and uses it, they won't be spending your real money from a checking account unlike with a debit card.
Social media drives donations
Social media is enormously powerful, touching every aspect of life in 2020, and politics is no exception. Everyone from presidential candidates to those running for city council in a small town aim to leverage that power to rally supporters to vote and give money.
It appears to be working. Our report found that among those who had donated in previous elections, more than half (52%) said they had done so specifically after seeing a social media post from a campaign asking them to donate. Perhaps not surprisingly, the younger you are, the more likely you are to have said so.
Interestingly, among those who stated they would not donate in 2020, just 1% said they didn't know how to donate. Though we don't have any specific data saying so, it stands to reason that the proliferation of political ads via social media has helped drive that number so low.
The bottom line: Donate, but do it cautiously
As you might expect in today's hyperpolarized America, there's a thread of skepticism about the state of today's politics running through our survey results. For example,
88% of Americans agree that money has too much influence in politics.
31% don't think political donations from the average American make a difference.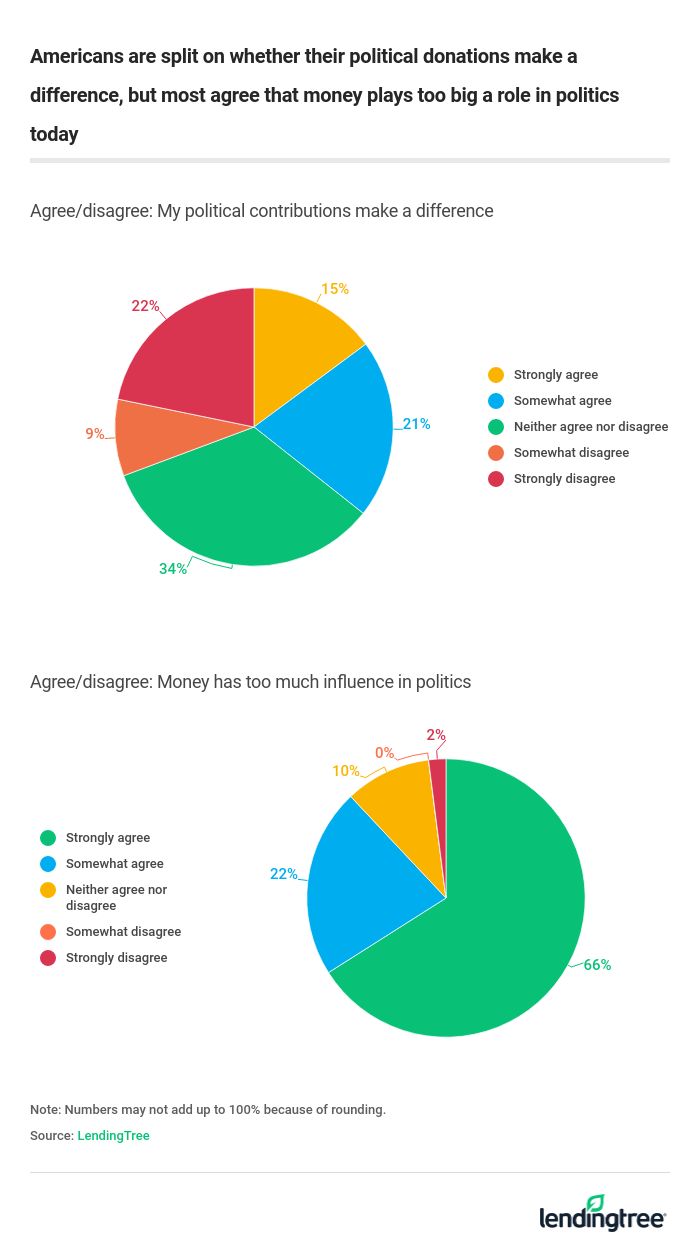 Still, despite those numbers, our survey also shows huge numbers of Americans want to be active in the process. They want to support their candidate, their party or their cause, and they're willing to put up their hard-earned money to do so.
As with anything involving your money, however, it's wise to be cautious. Here are a couple of tips you can take to make sure your donation goes as planned.
Pay with credit if donating online: Yes, the campaign will have to pay processing fees to accept your donation. However, the unfortunate reality is that you have to factor safety into everything you do online, especially financial transactions. When it comes to protection against fraud, credit cards are clearly the best choice.
Read the fine print before doing a recurring donation: These contributions are like a subscription to a streaming service or a gym. Before you sign up and allow a campaign or a party to charge your card on a regular basis, be sure you understand what you're getting into. Perhaps most importantly, make sure you know how to stop payments in the future and who to contact if something goes wrong.
Trust your gut: Where there is money, there are bad guys looking to take it. We see it when natural disasters and other catastrophes strike, and we see it in politics, too. If an ad, website or some other solicitation for money doesn't feel right to you, steer clear. Instead, go directly to the official website for the campaign or the party in question. They'll be more than happy to take your donation, and you'll be able to rest easier knowing that your money is going to whom it was intended.
Methodology
LendingTree commissioned Qualtrics to conduct an online survey of 1,001 Americans, with the sample base proportioned to represent the overall population. The survey was fielded Jan. 8-13, 2020.
Generations are defined as:
Gen Z: 18-23
Millennials: 24-39
Gen X: 40-54
Baby boomers: 55-74
Silent generation: 75 and older