How Does LendingTree Get Paid?
LendingTree is compensated by companies on this site and this compensation may impact how and where offers appear on this site (such as the order). LendingTree does not include all lenders, savings products, or loan options available in the marketplace.
Parents of Young Kids Expect to Shell Out More Than $300, on Average, This Halloween as More Americans Plan To Spend on the Spooky Holiday
Updated on: October 10th, 2022
Why use LendingTree?
We are committed to providing accurate content that helps you make informed money decisions. The content on this page has not been reviewed, approved or otherwise endorsed by any credit card issuer. We do maintain partnerships with some issuers, and our site may be compensated through those partnerships. Read our .
Americans are gearing up for Halloween as the spooky holiday season approaches. But the most unsettling aspect this year might not be the creepy costumes or haunted houses. For many, it'll be the inflation-led price increases that are impacting their spending plans.
The latest LendingTree survey asks more than 1,600 U.S. consumers about their Halloween spending plans — and whether they'll be going overboard this year. (Hint: You may want to find the houses of the 1 in 10 consumers who'll splurge on full-size candy bars.) Here's what else we learned.
Key findings
87% of Americans plan to spend on Halloween this year — a 16% jump from 2021. The most common purchases are candy (70%), outdoor decorations (39%) and pumpkins or carving supplies (35%).
Six-figure earners and parents with kids younger than 18 plan to spend the most, on average, to celebrate Halloween. While Americans plan to spend an average of $169, six-figure earners and parents with underage kids plan to shell out an average of $340 and $309, respectively. Millennials plan to spend $255, on average, while men expect to shell out $228 on the spooky holiday.
36% of consumers admit to spending more on Halloween items and activities than they could afford. This is 33% higher than the rate of adults who admitted this last year. 30% of Gen Zers and parents with kids younger than 18 admit to overspending this year, even if that wasn't the intention. 44% of consumers who overspent say they didn't expect to spend so much, but it all added up.
57% of Americans say inflation is impacting their Halloween spending. 23% of people plan to buy less candy due to inflation, while 20% are budgeting to spend more or shopping around to compare prices.
Watching a scary movie is on the agenda for 48% of Americans celebrating this year. In fact, 51% have subscribed or are thinking about subscribing to a new streaming service solely to watch Halloween content.
More Americans plan to spend on Halloween this year — here's what they're buying
This year, 87% of Americans plan to spend on Halloween. That's a 16% jump from the percentage of Americans who planned to shell out for the holiday in 2021, according to last year's Halloween spending survey.
LendingTree chief credit analyst Matt Schulz says various factors could contribute to consumers' growing enthusiasm.
"With the worst of the pandemic further in the rearview mirror, people are excited to get back to spending on the things they love most — particularly the things they maybe couldn't fully enjoy over the last few years," Schulz says. "Americans love Halloween, so I'm not at all surprised to see more of us spending money on it."
As for what they're planning to buy, the most common purchases will be candy (70%), outdoor decorations (39%) and pumpkins or carving supplies (35%). While the same categories topped last year's list, each saw a significant jump. In 2021, just 53% planned to buy candy. Meanwhile, 24% planned to buy carving supplies and 22% planned to purchase outdoor decorations.
In fact, every purchase category we tracked saw a jump this year compared to 2021. Costumes, in particular, jumped in popularity. While 19% planned to purchase a costume for themselves in 2021, that figure rose to 33% in 2022. Similarly, costumes for pets jumped from 9% to 16%. Costumes for kids also rose, from 20% to 25%.
Millennials and Gen Zers are doing it for the 'Gram
Not everyone preps for Halloween simply because they enjoy it, though. In fact, some "do it for the gram." Overall, 22% have purchased (or plan to purchase) Halloween items specifically to post about them on social media. An additional 21% say they've done so for previous Halloweens.
This year, the youngest generations are particularly keen to spend some cash for a Halloween post. Millennials ages 26 to 41 are most enthusiastic at 35%. That's followed by Gen Zers ages 18 to 25 at 33%. Meanwhile, men (29%) are nearly twice as likely to spend on a social media post than women (15%).
High earners and parents shelling out the most this Halloween
Americans may be excited for this year's spooky holiday, but virtually everything is more expensive than a year ago. Halloween items are no exception: This year, Americans plan to spend an average of $169 on Halloween.
Some groups are more willing to shell out than others, though. In fact, six-figure earners plan to spend a whopping $340, on average — the most of any group. Parents with underage kids are the only other group willing to spend a similarly high amount, at an average of $309. 
Schulz believes passion for the holiday plays a role in increased spending among both groups. But because high earners typically have more room in their budgets for the holidays, he says that enthusiasm is likely a much bigger factor for parents.
"Any parent with young kids can tell you what a big deal Halloween is," Schulz says. "It's a day when families can create memories that will last a lifetime. However, creating those memories can be really expensive. Parents and kids alike feel pressure to go bigger and better and more elaborate, and it can cost a whole lot of money to do so."
Meanwhile, millennials plan to spend $255, on average — the most of any age group. Men also expect to shell out more than women, spending an average of $228 on the spooky holiday.
Consumers are increasingly spending more than they can afford
Despite those triple-digit spending plans, Americans are increasingly spending more than they can afford on Halloween. Overall, 36% of consumers admit to spending outside their means on Halloween — 33% higher than the percentage of adults who said the same last year.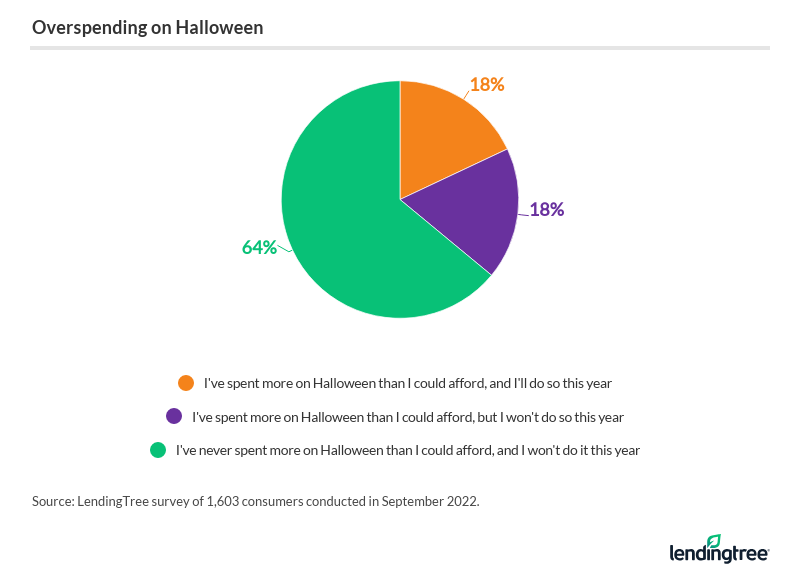 This year, Gen Zers and parents with kids younger than 18 are the most likely to admit to overspending, at 30% for both. Of those who overspent, 44% say they didn't expect to spend so much, but it all added up — making it the most common reason for going over budget. Meanwhile, 34% say they did so to make their kids happy, which likely explains why parents with young kids ranked so high.
Here's why other consumers overspent:
27% wanted their decorations to look as good as their neighbors'
23% didn't want to miss out on what their friends were doing
21% wanted to look good on social media
17% wanted to celebrate after skipping a Halloween because of the COVID-19 pandemic
15% felt pressured to spend money on many different items.
15% were hosting a Halloween event and wanted to impress their guests
10% were influenced by social media or advertisements
9% were competing in a neighborhood decoration contest or felt pressured by neighbors
3% cited other reasons
Inflation is impacting 57% of Americans' Halloween spending
It's not just ghouls and goblins frightening Americans. This year's biggest jump scare is inflation — and for many, those rising costs mean less treats and more tricks.
Overall, 57% of Americans say inflation is impacting their Halloween spending. Of this group, 23% plan to buy less candy, while 20% have started budgeting now to spend more on Halloween. And 20% say they're shopping around to compare prices.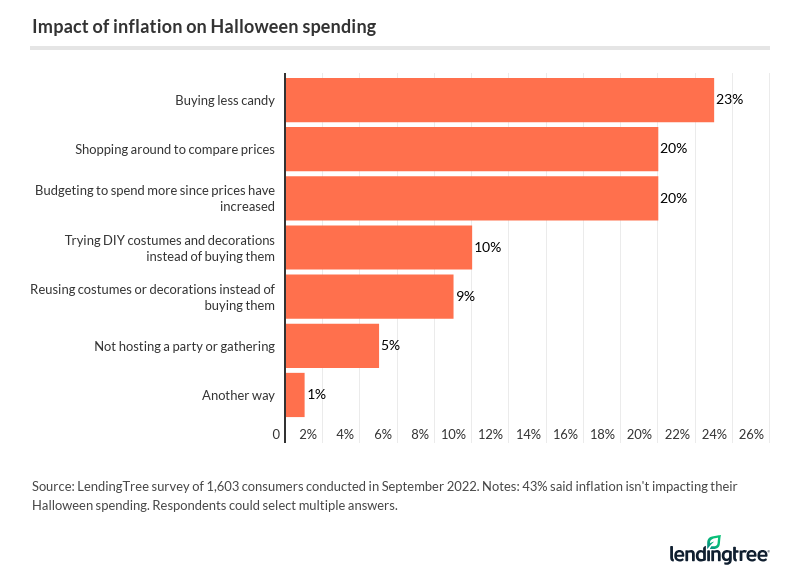 In light of this, Schulz predicts consumers will cut back on spending in some categories more than others.
"Everything is more expensive these days," he says. "However, consumers may be more likely to skimp on the candy they offer, opting for smaller portions or less-known brands that might be a little easier on the budget."
On the other hand, some consumers plan to shell out a little more this year. Just about 4 in 10 (39%) Americans say they're splurging on Halloween, with Gen Zers (63%) and parents with young children (60%) the most likely to do so. Specifically, consumers are most likely to splurge on costumes (16%), decorations (14%) and Halloween-themed activities (11%).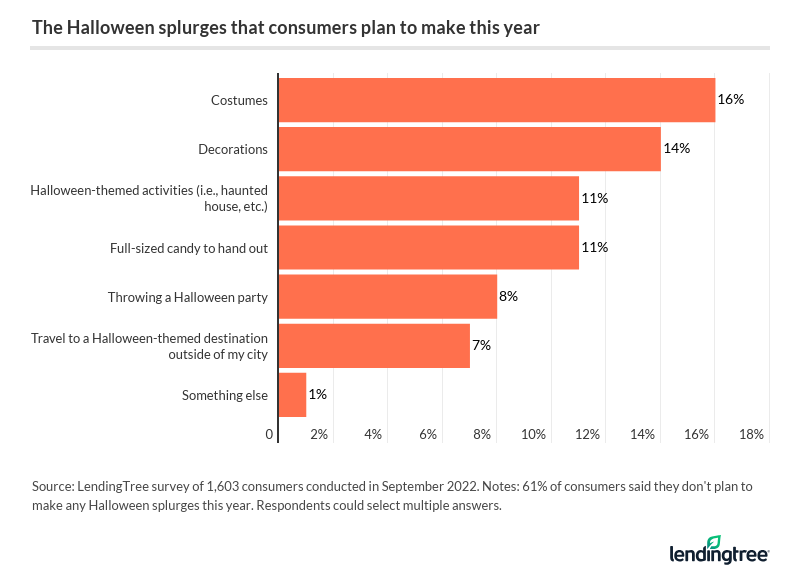 Trick or treat, or Netflix and screams? Americans' Halloween plans
How are Americans celebrating the holiday? Grab some popcorn: 48% of Americans plan to watch a scary movie this year. But they're not just watching on the big screens, either.
With the release of new horror content on popular streaming services, including big-budget productions like Hocus Pocus 2 on Disney+ and Halloween Ends (coming Oct. 14) on Peacock, many viewers may stay in this year. In fact, 51% have subscribed or are thinking about subscribing to a new streaming service solely to watch Halloween content.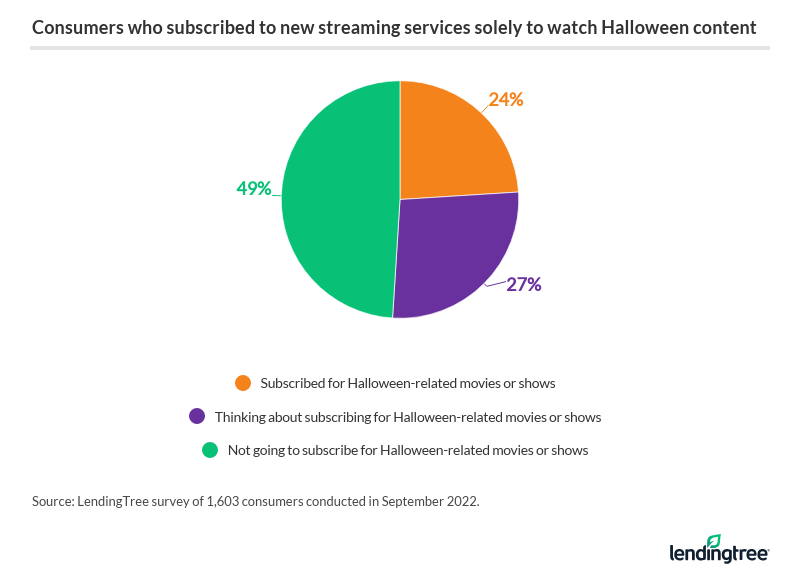 Schulz says consumers may find more value — monetary or otherwise — in turning to streaming services than hitting the theater. But he warns that those who plan to utilize a free trial to get their scary movie fix may forget about fees until it's too late.
"People love scary movies and shows, and many streaming services offer great Halloween content to watch with friends and family," Schulz says. "However, it's very easy to forget to cancel a subscription. If you know that you only want to use a service for a short time, create a reminder in your online calendar or make a note on your old school wall calendar to cancel before the next fee is due."
Beyond watching horror movies, 48% plan to celebrate by buying Halloween treats — tied as the most popular option — and 44% plan to decorate their homes. Additionally, more consumers plan to go out this Halloween: The percentage of Americans who plan to go trick-or-treating jumped from 19% last year to 32% in 2022.
Additionally, 48% of consumers don't plan on incorporating any safety precautions into their Halloween plans. Of those who do:
21% will wear a face mask or other personal protective equipment (PPE)
19% will stay home
12% will only gather with those who've been vaccinated
How to splurge on the spooky season without overspending
After a cautious two years, you may be understandably eager to celebrate Halloween again. Though it may be difficult to keep your budget in check, Schulz says you shouldn't let high inflation put a damper on your holidays. To keep costs down this Halloween without sacrificing enjoyment, Schulz says to:
Leverage credit card rewards. "The right credit card, used wisely, can help extend your Halloween budget," Schulz says. "It may not seem like much, but that 1% or 2% cash back that you earn on those purchases can make a huge difference."
Get creative. "Often, the most memorable Halloween costumes and decorations are handmade," he says. "If you can't afford to get spendy this Halloween, get creative and have some fun with it. It can even turn into a great family project."
Resist the urge to compete on social media. "We all love social media, but the truth is that wanting to show off and impress people on Instagram and TikTok can get us in trouble," Schulz says. "It can lead you to overspend to get the perfect costume or the most amazingly decorated house for the perfect social media post that will generate a ton of likes. The last thing anyone needs in today's economy is to overspend just to show off."
Methodology
LendingTree commissioned Qualtrics to conduct an online survey of 1,603 U.S. consumers ages 18 to 76 from Sept. 23 to 24, 2022. The survey was administered using a nonprobability-based sample, and quotas were used to ensure the sample base represented the overall population. All responses were reviewed by researchers for quality control.
We defined generations as the following ages in 2022:
Generation Z: 18 to 24
Millennial: 25 to 40
Generation X: 41 to 55
Baby boomer: 56 to 75