How Does LendingTree Get Paid?
LendingTree is compensated by companies on this site and this compensation may impact how and where offers appear on this site (such as the order). LendingTree does not include all lenders, savings products, or loan options available in the marketplace.
Parents and Gen Zers Most Likely to Overspend on Halloween This Year
Updated on: October 19th, 2021
Why use LendingTree?
We are committed to providing accurate content that helps you make informed money decisions. The content on this page has not been reviewed, approved or otherwise endorsed by any credit card issuer. We do maintain partnerships with some issuers, and our site may be compensated through those partnerships. Read our .
Even in the best of times, holidays can lead to overspending and getting into debt. With the ongoing pandemic, however, time-honored Halloween activities like trick-or-treating and going to public haunted houses may have lost some of their shine as people attempt to be safer — and more physically distant — in public. But does that mean people are saving their money and abstaining from the holiday this year? Or are they simply finding new ways to spend to get into the Halloween spirit?
To find out, we asked over 2,000 Americans about their Halloween spending plans, including whether or not they think they'll go into debt for Halloween-related expenses, if they plan to skip on spending money on the holiday this year and what they plan to buy if they're splurging. As it turns out, most are planning on spending money this year, especially Gen Zers and parents with kids under 18.
Here's what else we found.
Key findings
75% of Americans will spend money on Halloween this year. The most common purchases include candy (53%), pumpkins and carving supplies (24%), outdoor decorations (22%) and costumes for kids (20%).
24% of parents with kids under 18 will spend more than they can afford, and 41% are planning a special splurge. Their primary reason for overspending is to make their children happy (47%).
Gen Zers will also spend big for Halloween, with 57% splurging and 23% spending more than they can afford. That generation's main motivator was fear of missing out (29%).
Social media is another big motivator for Halloween spending. Gen Zers (60%), parents of kids under 18 (52%) and women (41%) all say they buy Halloween-related items in order to include them in social media posts.
Watching a scary movie and buying Halloween treats are the top two ways Americans will celebrate the holiday (both 32%). On the other hand, 12% say they won't partake in Halloween due to COVID-19.
75% of Americans spending money on Halloween
Most people said they were planning on dropping some cash on Halloween — and if the first thing that comes to mind when you think Halloween is candy, our survey found that over half of Americans plan on spending money on treats this year. Other common expenditures included pumpkins and/or carving supplies (24%), outdoor decorations (22%) and costumes for kids (20%). Interestingly, men (33%) were more likely to say they didn't plan on spending money on Halloween than women (19%).
Noting the high number of those planning to spend money to partake in the holiday this year, LendingTree chief credit analyst Matt Schulz says he's not surprised: "Americans love Halloween. Whether you're 5 or 65, it's a great excuse to get a little creative and maybe a little wild. And after what we've all been through for the past 18 months, millions of Americans are ready to do just that."
Of course, it's important to note that spending doesn't necessarily translate to going into debt. And there are smart ways to spend. For example, using a cashback credit card can help spenders save on purchases they were already going to make, like planned Halloween-related costs.
We also asked how Americans will celebrate Halloween this year. The top responses were as follows:
Watching a scary movie: 32%
Buying Halloween treats: 32%
Decorating their homes: 27%
Dressing up in a costume: 21%
Going trick-or-treating: 19%
Dressing up in costume was less common among older adults, with 40% of Gen Zers and 34% of millennials saying they'll dress up but only 15% of Gen Xers and 3% of baby boomers saying the same.
Just 12% said they don't plan to celebrate Halloween due to the pandemic, while about 21% said they wouldn't celebrate this year for reasons other than COVID-19.
We also asked about the kinds of safety precautions that people were planning to take this Halloween. Most (57%) said they'll incorporate COVID-19 safety precautions into their plans. As an example, 24% say they'll stay home and 23% say they'll wear a face mask as part of their costume.
About 3 in 10 plan Halloween splurges, especially on costumes
About 28% of respondents plan on making some kind of Halloween splurge this year. From a generational standpoint, younger folks (especially Gen Zers) are more likely to splurge on Halloween than older generations, while parents with kids under 18 (41%) are also more likely to splurge this year than non-parents and those with adult children.
Among those planning to go all out, costumes (9%) and themed activities like haunted houses (8%) are the top two items they plan to spend extra on. Another potential expense for this time of year is a new subscription to a streaming service to access holiday-related movies and TV shows, as 15% of consumers say they'll subscribe to a new streaming service in order to watch Halloween content. This trend is most common among Gen Zers and millennials (both 24%), as well as parents with young kids (27%).
Finally, we asked whether respondents had ever spent more than they could afford on Halloween-related items. While most (73%) said no, 13% said they will overspend this year.
"Throughout the pandemic, we've heard of people going above and beyond when it comes to holidays and other events to make up for how crummy the last couple of years have been," says Schulz. "Don't let your big Halloween blowout turn into debt, though. One evening of fun isn't worth it if it is followed by months of debt."
Parents spend big to keep kids happy, while Gen Zers suffer from FOMO
Both parents with kids under 18 and Gen Zers are going all out for Halloween this year — but their motivations differ.
For example, about a quarter of parents with young children say they plan on overspending this year. Meanwhile, 47% of parents say their reason for overspending is to make their kids happy — that's up from about a third of these parents who said the same in last year's survey. But it's important to note that parents could also be dealing with existing debt — from back-to-school spending, for example, as is the case for about a third of parents.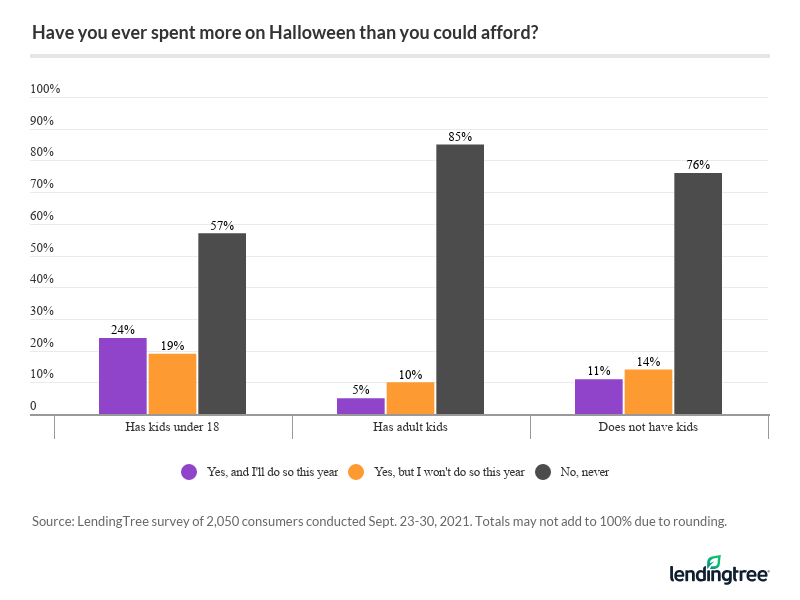 On the other hand, 23% of Gen Zers said they planned to overspend on Halloween this year, with the most commonly cited reason being unintentional spending that added up over time (30%). By contrast, all other generations were more likely to say that they overspent to keep their kids happy.
The other top motivator for Gen Zers' overspending was to avoid missing out on what their friends were doing (29%).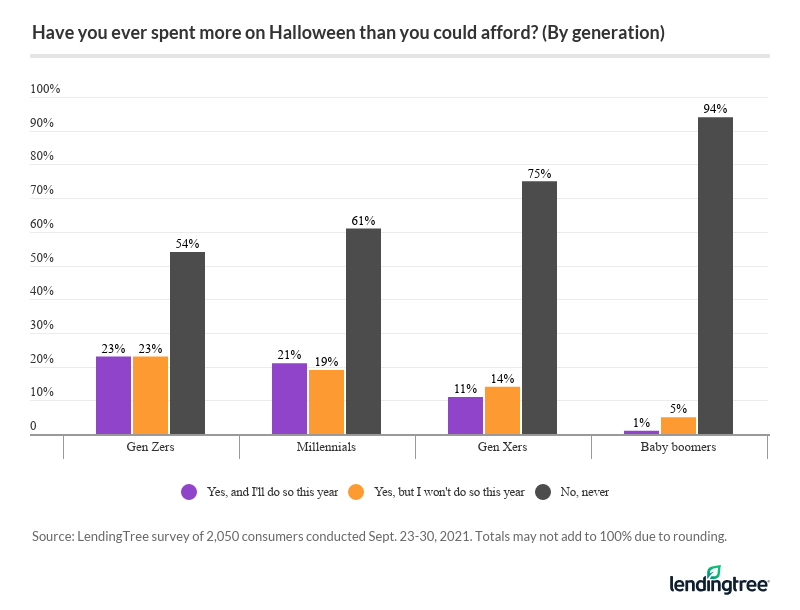 Social media content is also a reason why some people may overspend: About 16% of respondents said they purchased, or planned to purchase, Halloween-related items specifically for social media posts this year. And this is where Gen Zers and parents find common ground — 60% of Gen Zers, as well as 52% of parents with kids under 18, said they have purchased Halloween items for social media.
Avoid scary spending habits this Halloween
Holidays can be a tempting opportunity to overspend, but taking on debt can be dangerous. Here are five tips to help you save money this Halloween:
Make a Halloween budget: "If you have your heart set on an extra-special Halloween, be mindful of your budget," says Schulz. "You may want to shift some money from other areas to cover your Halloween spending, and that can make it far less likely that you end up in debt once the party's over."
Look for free opportunities for entertainment: Depending on where you live and your comfort level in being out in public during the pandemic, there may be cheap or free options near you that can give you a dose of the Halloween spirit without eating into your wallet. Opting for those, rather than more expensive options, can be a solid option.
Get creative about costumes: "As cool as elaborate store-bought costumes might be, you can often be just as eye-catching in a homemade outfit. Just get a little creative. It can even be a great family project," says Schulz.
Look into a balance transfer card: If you do end up with debt because of Halloween, a balance transfer credit card can help you save on that debt. That way, you'd be able to pay off the amount you charged without adding high interest rates to the mix.
Consider a low-key Halloween: "If money is just too tight this Halloween, it is OK to just stay home, turn off the lights, pop some popcorn and watch some scary movies on TV," says Schulz. Spending a few dollars on a streaming platform, for example, can be a great way to get lots of entertainment value without breaking the bank.
Methodology
LendingTree commissioned Qualtrics to conduct an online survey of 2,050 U.S. consumers from Sept. 23 to Sept. 30, 2021. The survey was administered using a nonprobability-based sample, and quotas were used to ensure the sample base represented the overall population. All responses were reviewed by researchers for quality control.
We defined generations as the following ages in 2021:
Generation Z: 18 to 24
Millennial: 25 to 40
Generation X: 41 to 55
Baby boomer: 56 to 75
While the survey also included consumers from the silent generation (those 76 and older), the sample size was too small to include findings related to that group in the generational breakdowns.