How Does LendingTree Get Paid?
LendingTree is compensated by companies on this site and this compensation may impact how and where offers appear on this site (such as the order). LendingTree does not include all lenders, savings products, or loan options available in the marketplace.
Nearly Half of Millennials Admit Making Halloween Purchases For Social Media Posts
Updated on:
Content was accurate at the time of publication.
Why use LendingTree?
We are committed to providing accurate content that helps you make informed money decisions. The content on this page has not been reviewed, approved or otherwise endorsed by any credit card issuer. We do maintain partnerships with some issuers, and our site may be compensated through those partnerships. Read our .
When it comes to Halloween spending, about half of millennials say they've done it for the "gram" (Instagram) and other social media sites, according to a new report from LendingTree.
With Halloween rapidly approaching, LendingTree asked consumers about their spending habits for the holiday. We asked people how much they spend on Halloween compared to other holidays, how much pressure they feel to spend and from whom that pressure comes and how much of a role social media plays in their decision making.
While it's not shocking that Halloween is a huge deal on social media and has been for many years, the number of folks who spend on Halloween items just to create social media posts – and what types of people are most likely to do it – took us by surprise.
Key findings:
48% of millennials admit to purchasing Halloween items so they could include them in social media posts. 37% of Gen Z and 30% of Gen X said the same compared to just 5% of baby boomers.
Men are far more likely than women to say their Halloween spending was driven by social media. 37% of men said so, compared to just 21% of women. Among millennials, 50% of men said social media inspired them to make some Halloween purchases versus 43% of women.
Nearly half of dads (46%) say their kids have guilted them into spending on Halloween. That's more than double the percentage of moms who said the same (21%).
52% of millennial parents said their children guilt them into spending on Halloween.
About 4 in 10 millennials feel "a lot" of pressure to spend on Halloween. Overall, 1 in 4 consumers said the same.
31% of millennials spend more on Halloween than any other holiday. That's true of 19% of consumers overall.
When asked about their spending, women (21%) were more likely than men (13%) to say they don't "do" Halloween. Overall, 31% of baby boomers said they "don't really do Halloween" and therefore don't expect to make any holiday purchases, compared to 9% of millennials and 12% of Gen X.
The biggest Halloween expense? Candy. It was the most popular answer at 31%, followed by kids' costumes (19%) and costumes for you or your partner (12%). For 3% of people, the answer was pet costumes.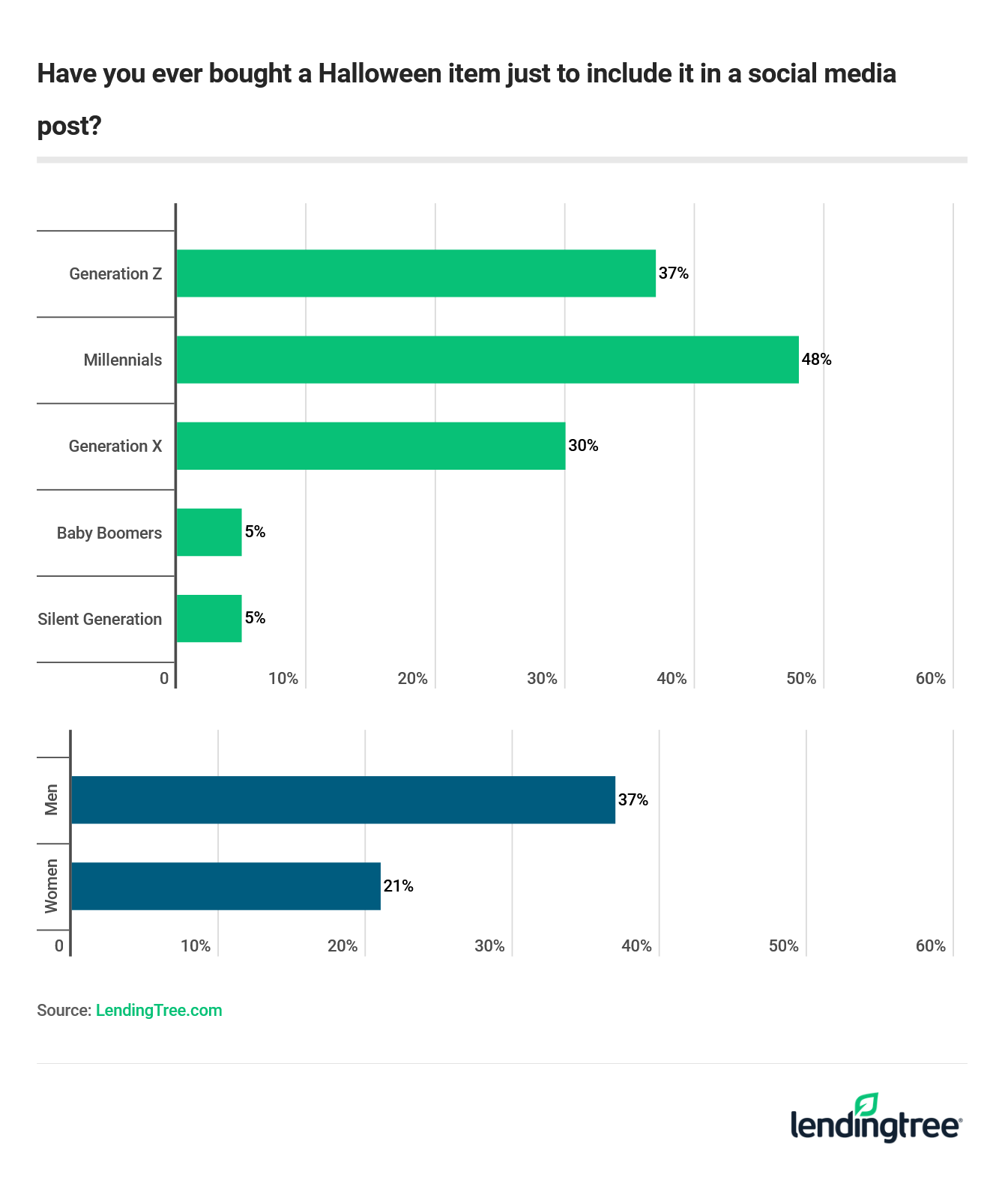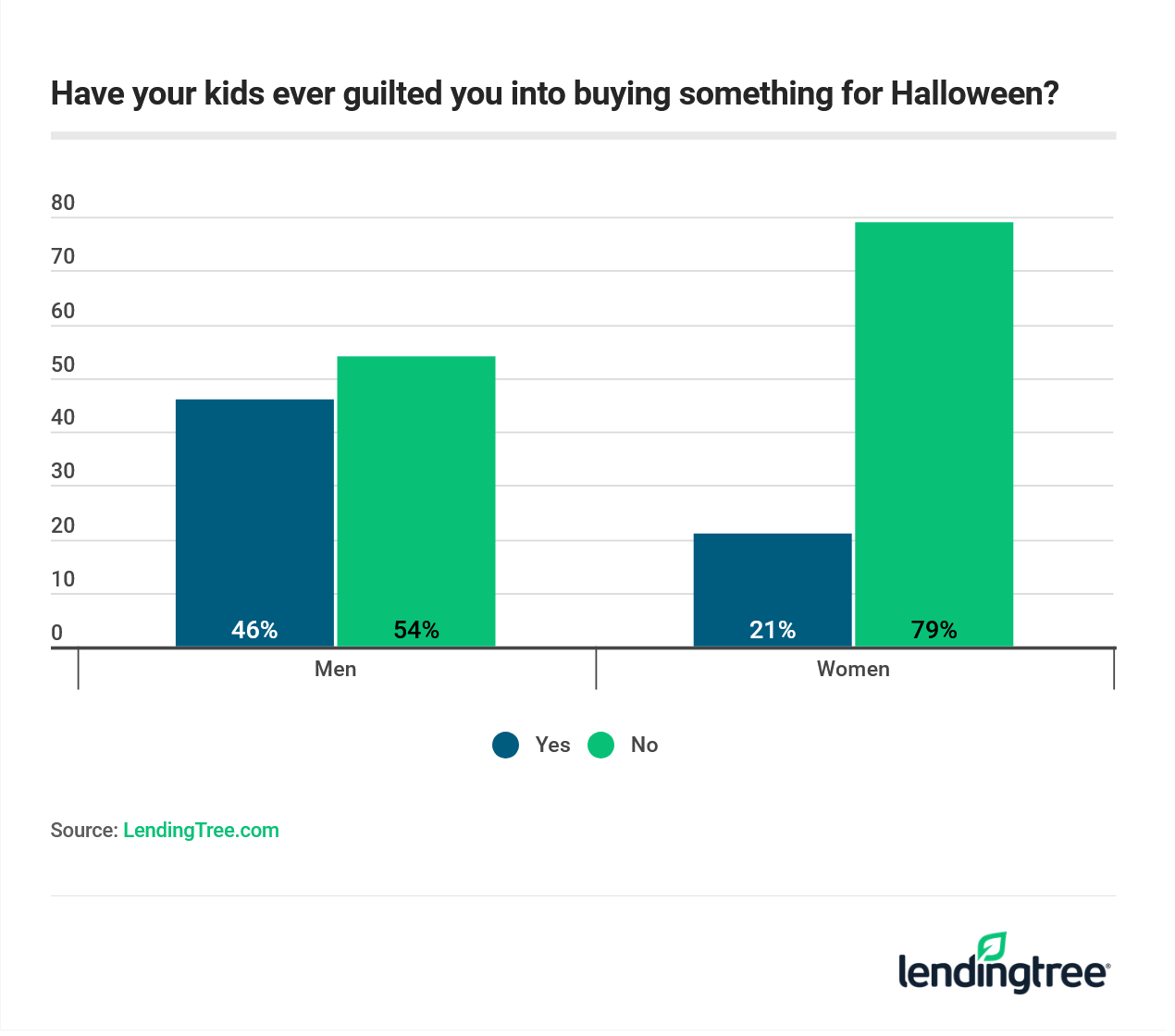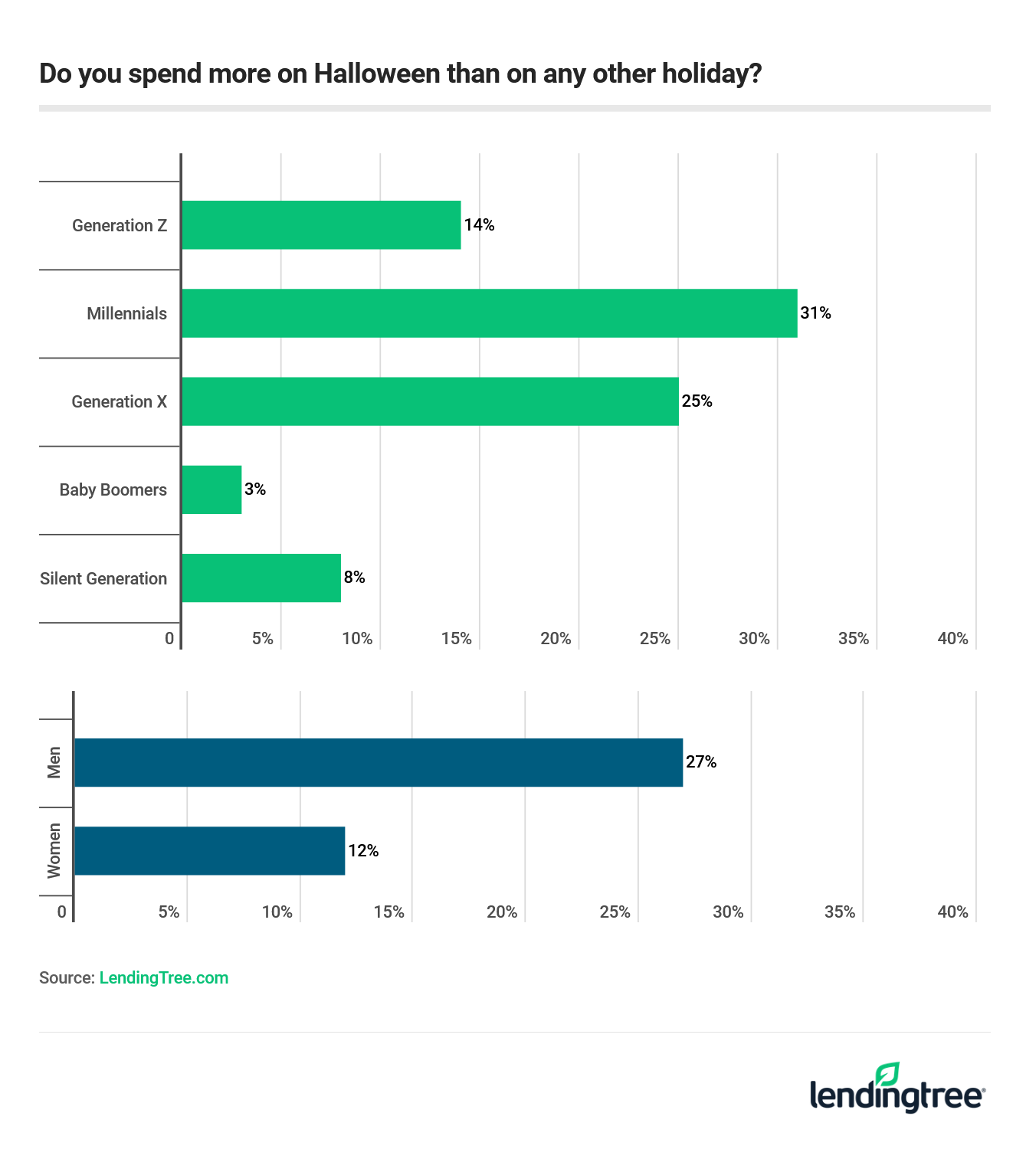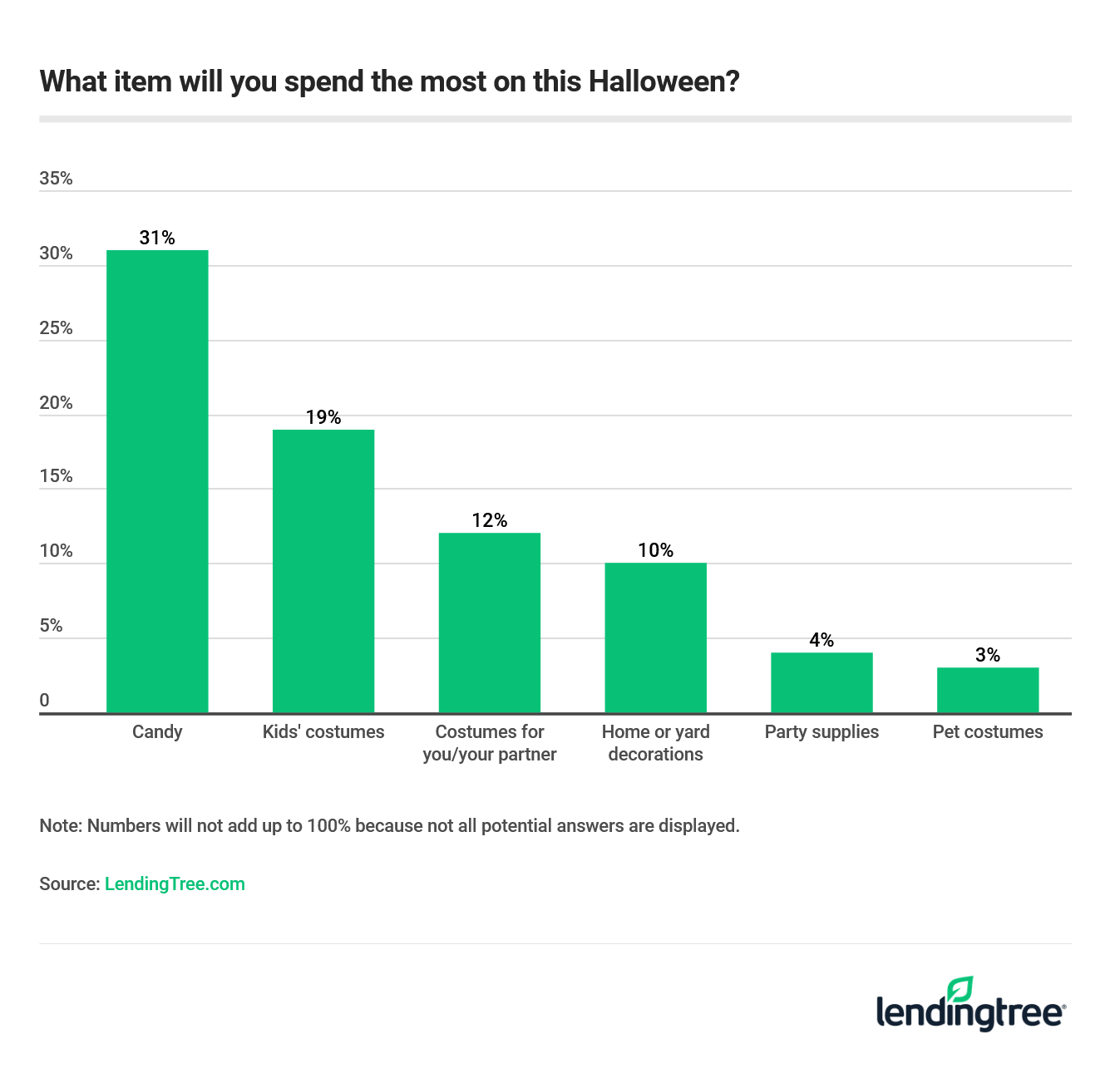 Millennials <3 Halloween
Nearly 1 in 3 millennials say they spend more on Halloween than any other holiday, far more than any other generation. Whether driven more by older millennials who have embraced the holiday with their growing families or younger millennials who just love an excuse to get dressed up and have a party, there could be a few reasons as to why millennials love to celebrate Halloween.
Given that this generation has embraced social media like no other generation before it, it also shouldn't be a surprise that social media is at the center of many millennials' holiday plans. (It was eye-opening that millennials were so much more likely than Gen Z to have their Halloween spending driven by social media, confirmed by 48% of surveyed millennials, compared to 37% of Gen Z.) There's also nothing wrong with that, unless the pursuit of likes and social media adulation drives you to spend more than you can afford.
Another gender gap appears, but this one isn't bad news for women
Significant differences between men and women frequently surface in the surveys that we do at LendingTree, and this one is no different.
The results show that women are far less likely than men (21% versus 37%) to make Halloween purchases just for social media sharing. Moms are also less than half as likely than dads to say their kids guilted them into Halloween spending (21% versus 46%). And women are more likely than men to say they don't do Halloween at all (21% versus 13%). Whether that's a good thing or not depends on your view of the holiday, but at a minimum, it means that they're less likely to break their budget on a Halloween-themed spending spree.
Women's cautiousness and conservatism when it comes to money is something we've seen in many of our surveys over the years. It makes sense when you consider just how small women's financial margins for error often are, given the gender pay gap and other headwinds they face, and we shouldn't expect that to change anytime soon.
The bottom line: Halloween-related debt can be a scary situation.
Halloween, with its traditions of costumes and parties and trick or treating, is all about having a good time. However, it can also become expensive in a hurry, as anyone who has ever shopped for a costume can attest. The good news is that there are plenty of things you can do to keep the costs down around this holiday, including:
Making your costume instead of buying one. Same with decorations.
Having your younger child wear a costume your older one wore in previous years.
Throwing a potluck party instead of making or buying all the food yourself.
Leveraging cashback rewards or credit card sign-up bonuses to help extend your budget.
Or, if all else fails, spending a night at home watching scary movies with a drink and some popcorn. (Just make sure you turn your outside lights off, so trick-or-treaters don't keep ringing your doorbell. You could also just leave a bowl of candy on the patio, too.)
Methodology
LendingTree commissioned Qualtrics to conduct an online survey of 1,050 Americans. The survey was fielded September 5-9, 2019, with the sample base proportioned to represent the overall population.
For the purposes of our survey, generations are defined as follows:
Generation Zers are ages 18-22
Millennials are ages 23-38
Generation Xers are ages 39-54
Baby boomers are ages 55-73
Members of the Silent Generation (ages 74 and older) were also surveyed, and their responses are reflected in the overall percentage totals among all respondents. However, their responses are excluded from the charts and age breakdowns due to the smaller population size among our survey sample.