How Does LendingTree Get Paid?
LendingTree is compensated by companies on this site and this compensation may impact how and where offers appear on this site (such as the order). LendingTree does not include all lenders, savings products, or loan options available in the marketplace.
Average Back-to-School Spending Reaches $498, and 33% of Parents Will Go Into Debt To Pay For It
Updated on:
Content was accurate at the time of publication.
Why use LendingTree?
We are committed to providing accurate content that helps you make informed money decisions. The content on this page has not been reviewed, approved or otherwise endorsed by any credit card issuer. We do maintain partnerships with some issuers, and our site may be compensated through those partnerships. Read our .
As the era of COVID-19 stretches into another topsy-turvy year, families with school-age kids are gearing up for another deeply uncertain and costly back-to-school shopping season, according to LendingTree's 2021 Back-to-School Shopping Survey.
LendingTree polled more than 1,000 parents with children under the age of 18 and found that families today are dealing with a wide range of financial stressors, including higher levels of debt, sticker shock from inflation and longer school supply lists brought on by the pandemic.
Click below to learn more:
Many parents, for example, are being asked to pack a wider range of school supplies, including hand sanitizer, cleaning supplies and personal computers. Similarly, those who have opted to keep their kids at home or enroll them in hybrid learning are also feeling financially pinched this year, thanks in part to higher costs from at-home learning.
"Raising kids is always crazy expensive, and 2021 is certainly no exception," said Matt Schulz, chief credit analyst at LendingTree. "Then factor in recent inflationary growth, and that just makes things even harder on countless parents who've seen their financial lives flipped upside down by the pandemic."
Adding to the stress, parents who live in regions where the COVID-19 virus is resurging are facing agonizing uncertainty over whether schools in their area will remain open for in-person learning this fall –– or if they will even re-open at all. As a result, some parents are finding that they'll need to budget for multiple back-to-school scenarios.
Here's a closer look at what else LendingTree's survey found.
Key findings
1 in 3 parents of school-age children expect to go into debt when shopping for back-to-school. That percentage has consistently risen over the past three years, from 26% in 2019 to 30% in 2020 and now 33% in 2021.
Parents struggle to afford school supplies as expenses increase. Parents of school-age children expect back-to-school shopping will cost them an average of $498, and 29% say they're unable to afford their child's school supplies this year.
Hybrid learning costs parents more than in-person-only learning or virtual-only school. Parents whose children will learn via a mixture of online and in-person school expect to shell out $775, and 42% think they'll go into debt paying for it.
Pandemic-related changes to supply lists come with a price tag. 35% of parents noted that their child's school made pandemic-related changes to this year's school supply lists, such as more hand sanitizer, cleaning supplies and laptops.
Shoppers shift back to in-person purchases, and less than 50% shop around for their best deal. Less than a quarter of parents (23%) will do most of their back-to-school shopping online, a big drop from 44% in 2020. At the same time, just 49% say they always compare prices at multiple stores to find their best deal.
A majority of parents won't earn credit card rewards on back-to-school shopping purchases. Of those with school-age children, 63% do not plan to use a credit card to pay for most of those items, causing them to miss out on potentially lucrative rewards.
As school supply costs rise, more parents expect to go into debt
It's getting more expensive to send kids back to school. Parents' self-reported back-to-school shopping bills have climbed every year since 2019, according to LendingTree data. But parents say that 2021 is shaping up to be an especially costly year, with many parents draining their budgets on everything from personal devices, such as laptops and tablets, to higher priced school supplies that have been impacted by nationwide inflation.
Back-to-school shopping costs are rising for all parents, LendingTree's survey found. But parents whose kids are learning only at home or participating in a hybrid learning model (in which kids learn partly in-person and partly virtually) are reporting the biggest shopping bills.
For example:
Parents of kids enrolled in hybrid learning are spending an average of $775 on school supplies this year — $419 more than parents of kids enrolled in in-person learning.
Parents of kids who will be learning in person full time, by contrast, are spending $356, on average.
Meanwhile, families of at-home learners are also spending significantly more on school supplies than in-person learners: They're spending an average of $648 on at-home school supplies.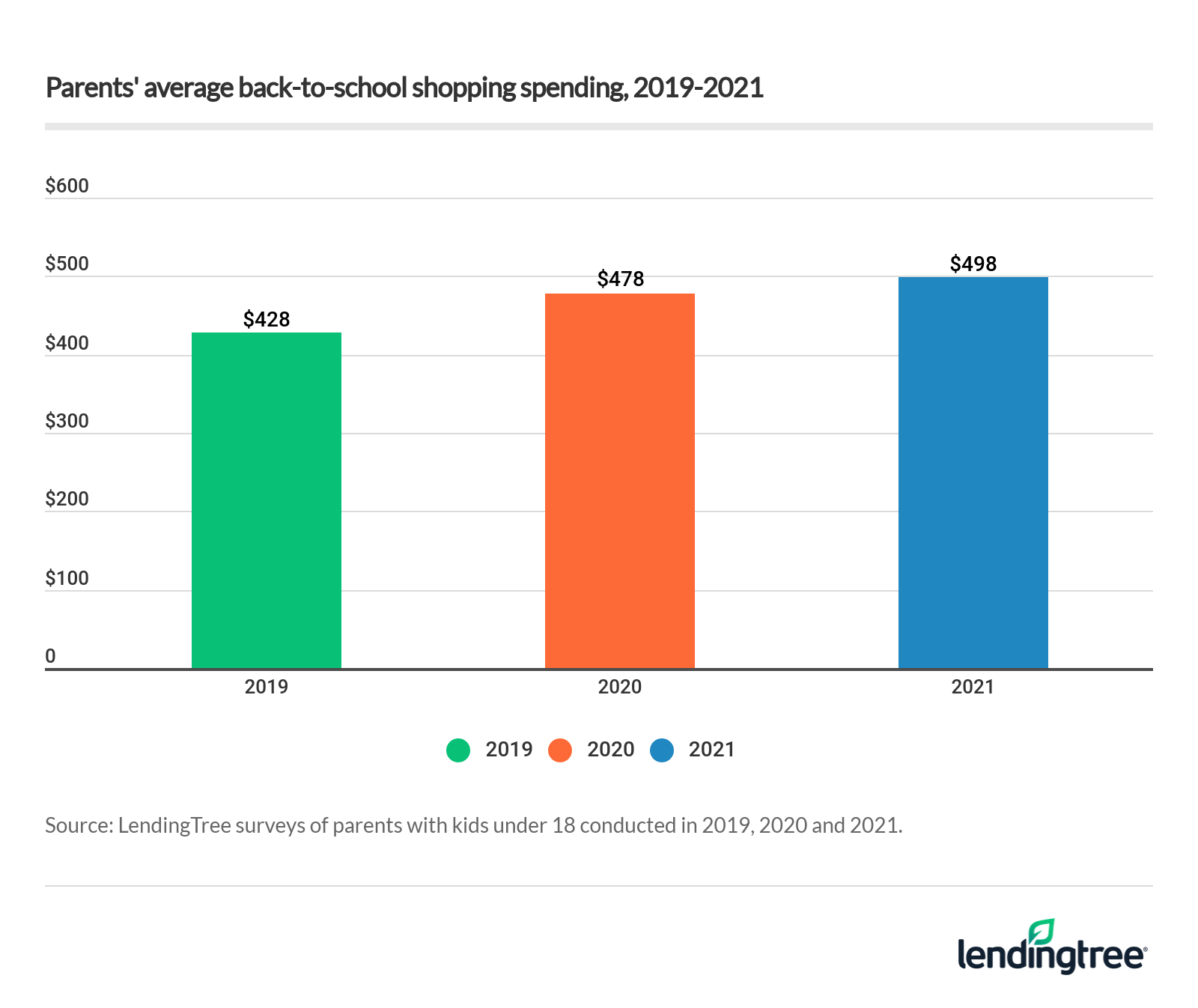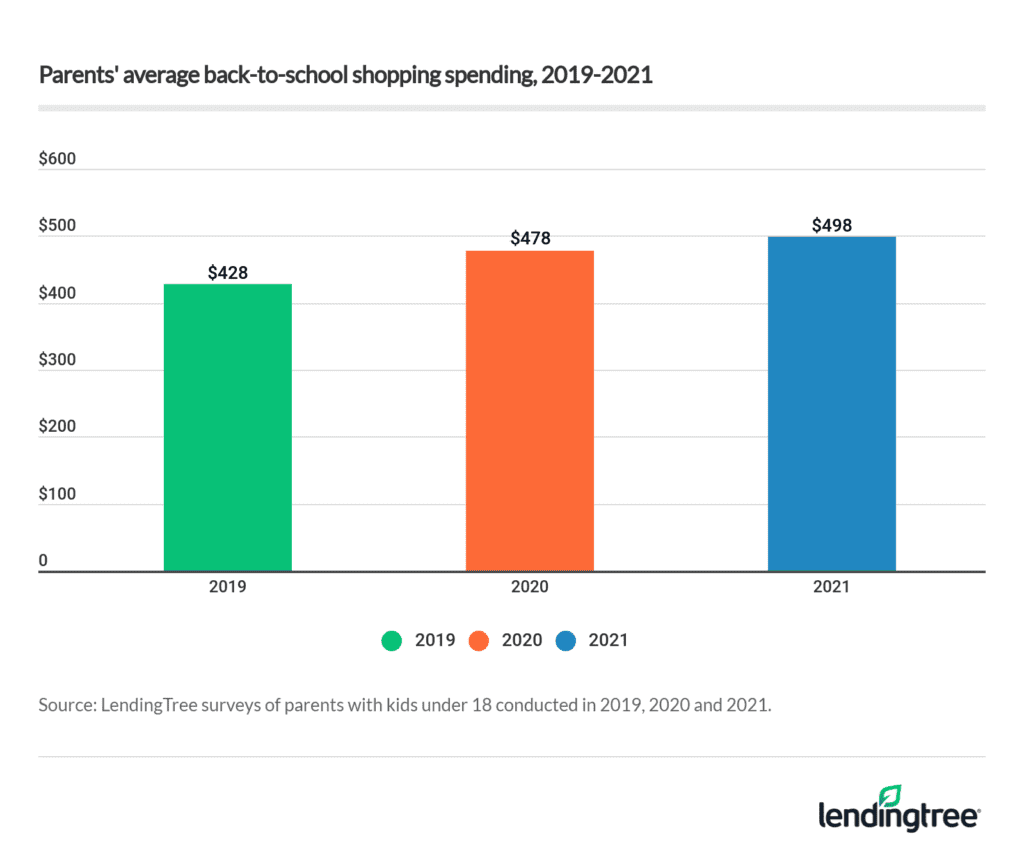 Parents say the added expenses are making an already-stressful year feel even more harrowing. For example, 67% of parents report feeling at least somewhat stressed about paying for back-to-school shopping, and more than 32% say they are seriously stressed.
According to Schulz, the combination of stressors is making it particularly hard on parents.
"Hybrid or remote learning has sent back-to-school costs soaring," he said. In addition, many households have lost income through job losses or needing to stay home to care for loved ones.
"Sure, many households are thriving financially, even in the wake of the pandemic," said Schulz. "But many are struggling, being forced to take on debt in order to handle things like back-to-school shopping. It's a tough situation."
Parents' struggles aren't just adding to their stress loads; it's also adding to their debt. The share of parents borrowing money to pay for their kids' back-to-school costs has climbed significantly, LendingTree's survey found.
For example, 33% of parents with school-age children expect to go into debt because of back-to-school shopping — up from 30% in 2020. In 2019, by contrast, 26% of parents felt compelled to go into debt to pay for school supplies.
Parents whose kids are starting off the year in a hybrid learning environment are especially likely to go into debt, particularly compared to in-person learners. For example, 42% of parents with kids enrolled in hybrid learning plan to borrow for at least some of their kids' school supplies. By contrast, just 30% of families of in-person learners said the same.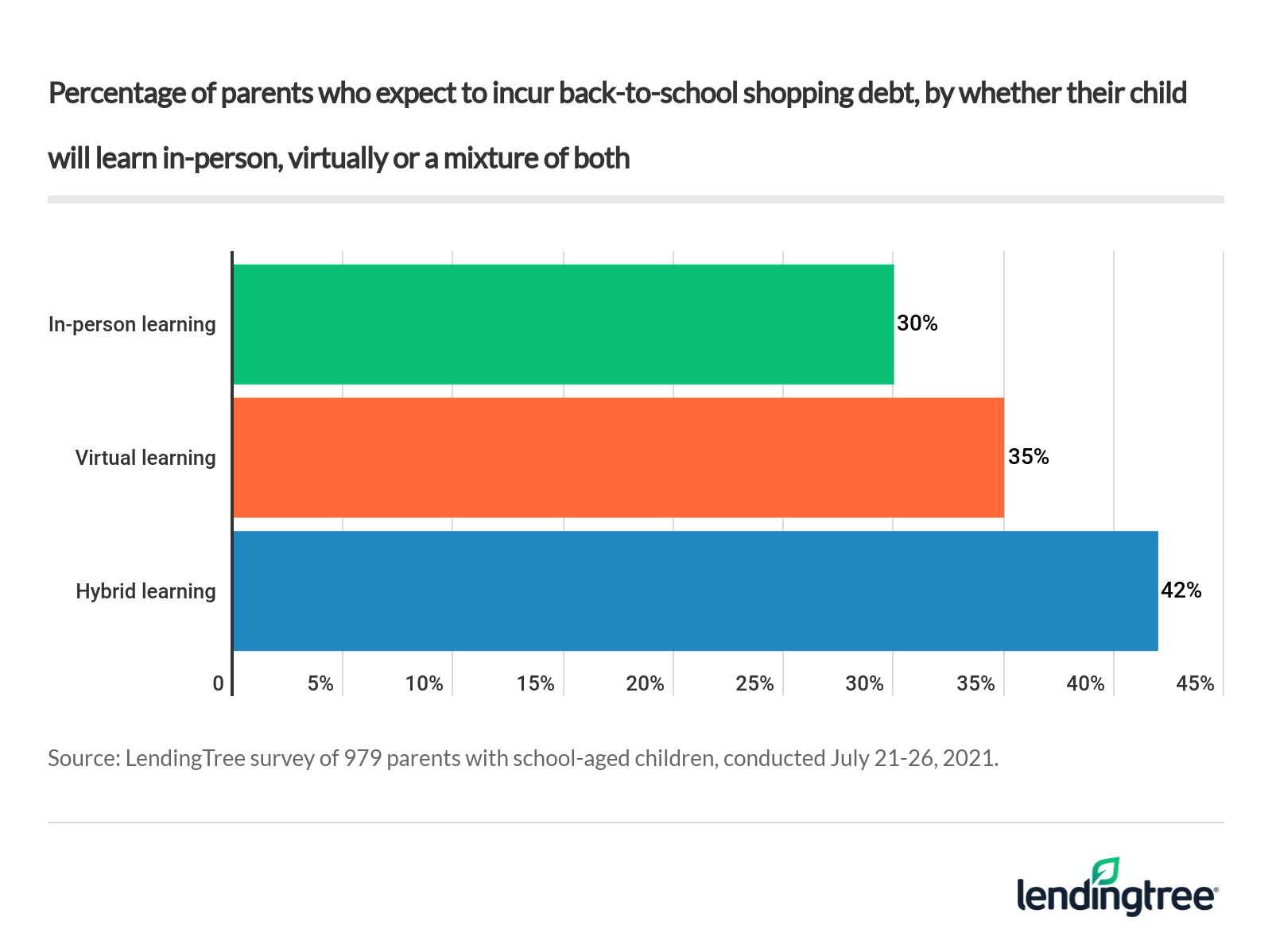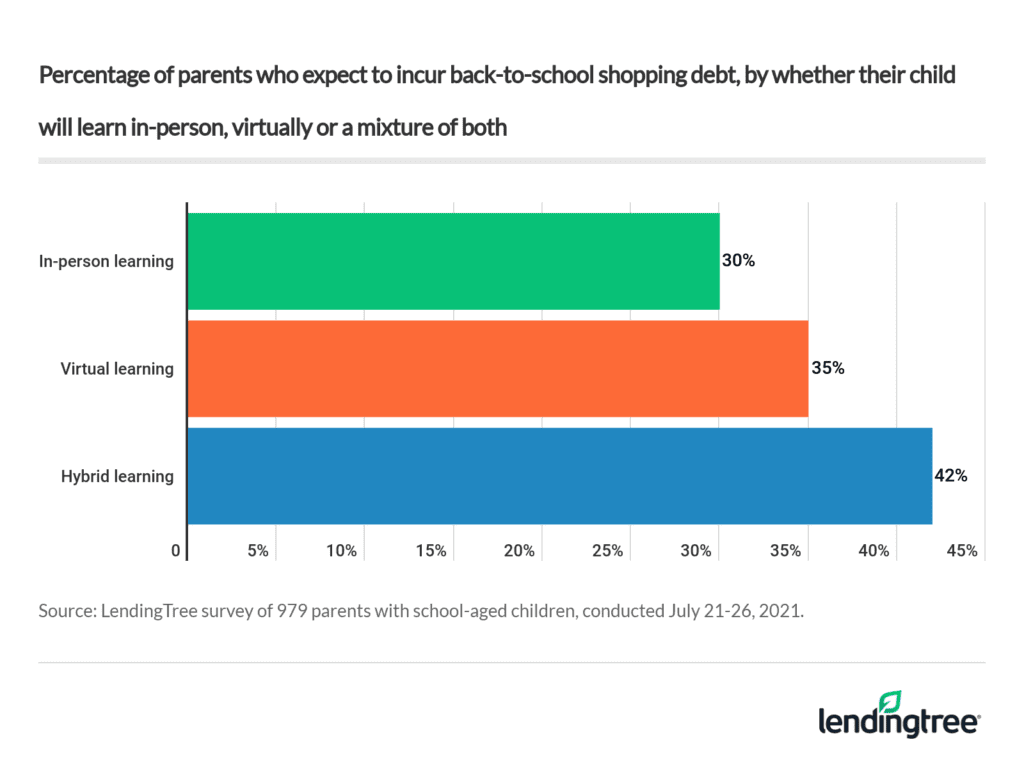 Serious affordability concerns are also a growing problem for many parents, particularly now that school shopping lists are growing more expensive. For example, 29% of parents said that they can't afford to pay for their kids' school supplies at all this year — but only 22% of the parents polled by LendingTree said they had struggled to afford their kids' school supplies in the past.
School supply lists are a financial burden for some parents
One of the biggest reasons parents say that they're struggling to pay for their kids' supplies is the growing list of items that they'll need to buy. Longer shopping lists are a problem for all categories of parents, including parents of kids who are staying home to learn and kids who are heading back to school full time.
But parents with kids enrolled in hybrid learning are struggling with some of the longest shopping lists this year, thanks in part to the two separate classrooms that they must supply.
For example, parents of hybrid learners not only need to furnish all or most of the materials for a virtual classroom — they'll also have to send their kids back to in-person classrooms with other, more traditional school supplies, such as new clothes, backpacks and lunchboxes.
"Hybrid learning just adds on more costs to an already expensive proposition," said Schulz. "It means that you might have to buy things like laptops, office chairs, desks, printers and other such pricey items that aren't necessarily as crucial if your kid simply learns on campus."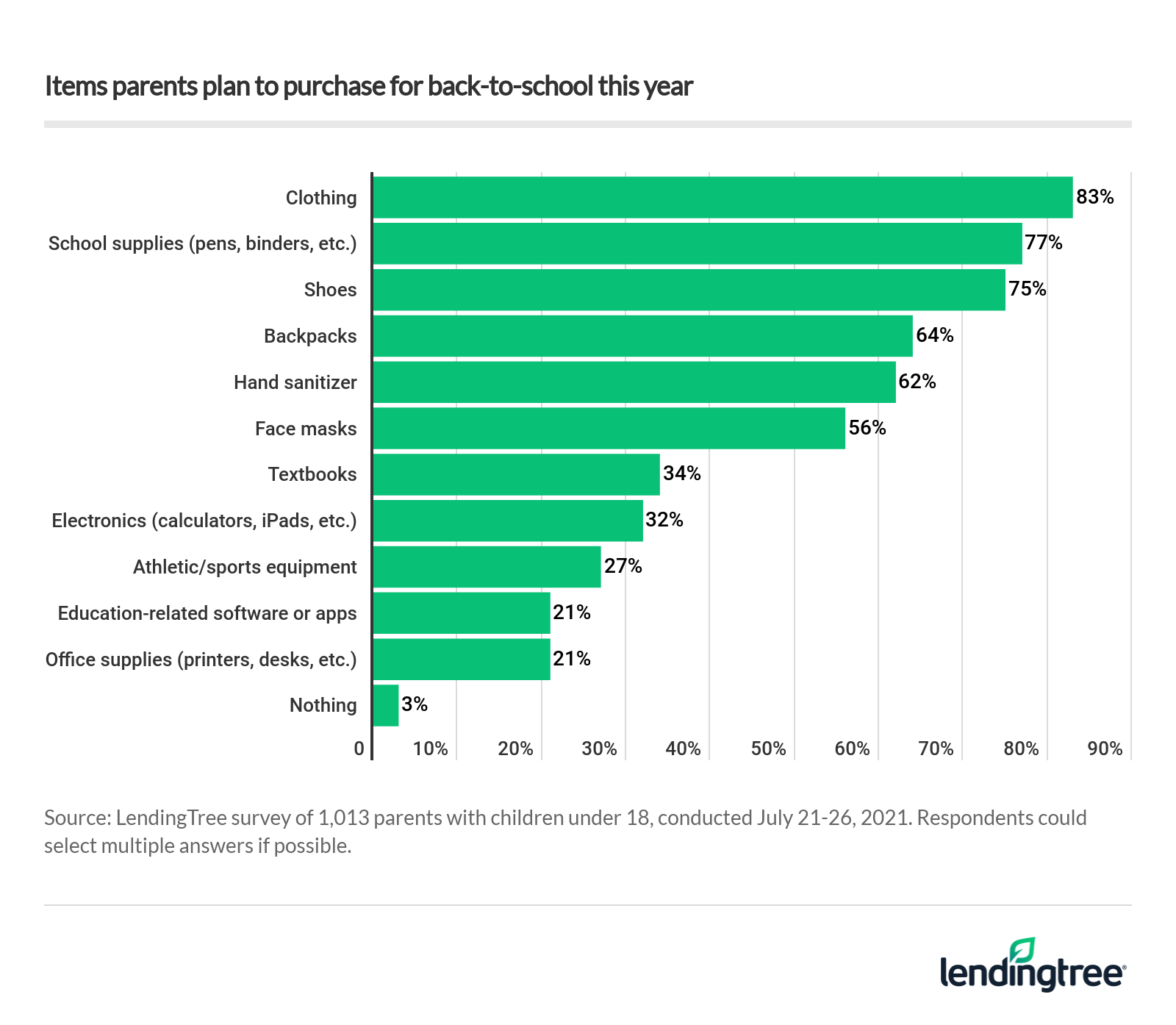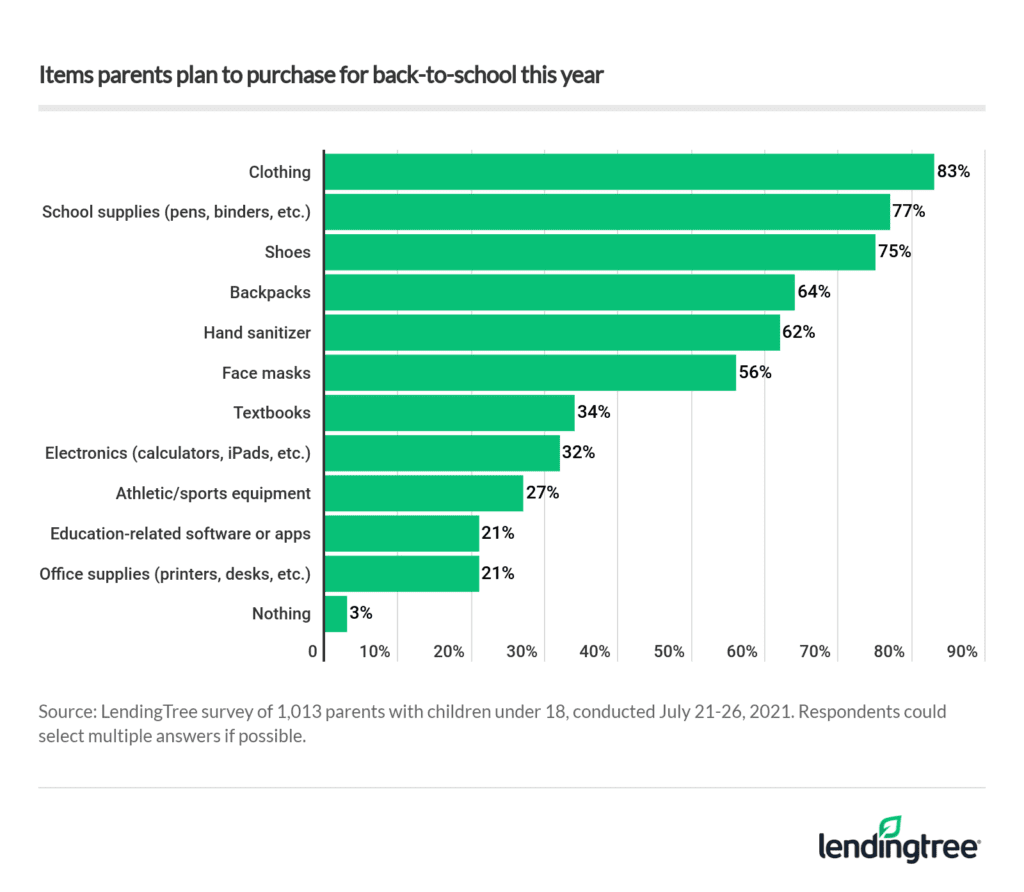 In addition, parents say that school districts are adding to their financial stress loads by piling additional supplies onto school shopping lists in order to accommodate pandemic-era health rules. For example, some school districts aren't just asking parents to send kids to school with personal laptops or tablets; they are also asking parents to supply kids with other electronics or pay for special apps or software.
According to one parent, the extra device requirements were making this year's school shopping lists even less affordable: "They want more electronics and they are a financial drain." Even small-dollar items like hand sanitizer, masks and disinfectant wipes are adding up, say parents, further straining already-pinched budgets.
Shoppers head back to brick-and-mortar stores this year
Most parents plan to do at least some in-store shopping this year, which could yield significant savings if they keep an eye out for the best deals.
For example, 47% of parents plan to combine in-store shopping equally with online shopping. That's a big change from 2020, when 44% planned to do most of their back-to-school shopping online and just 31% of parents complemented their online shopping with an equal amount of in-person shopping.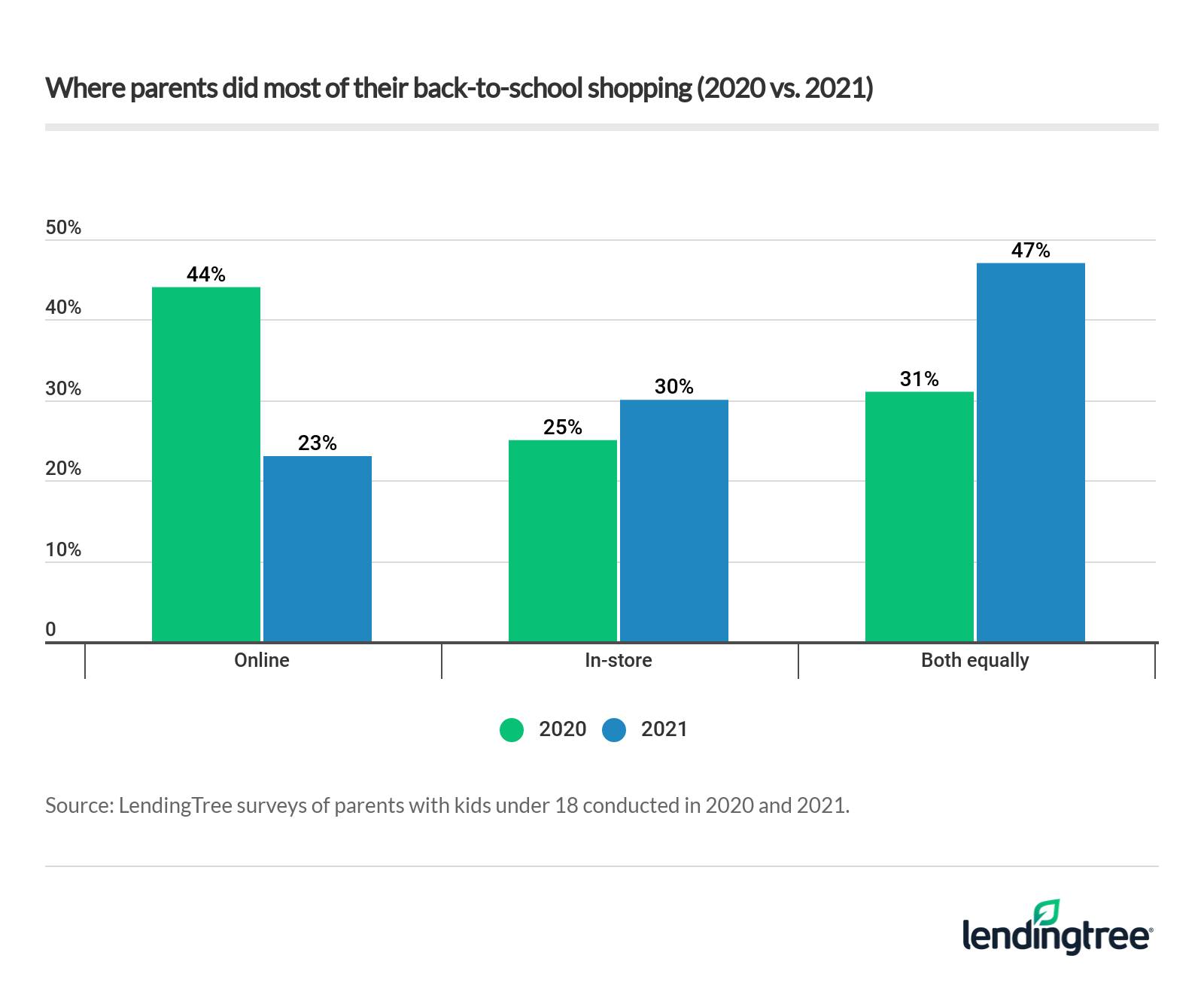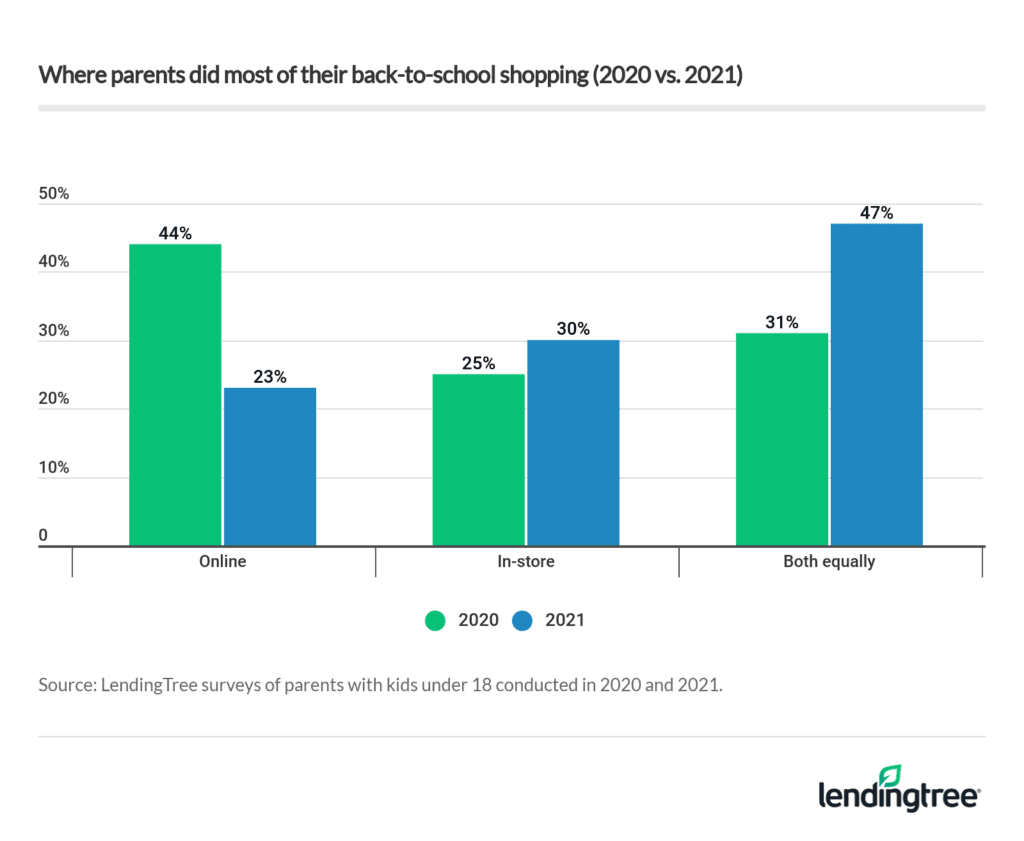 Brick-and-mortar stores offer very different experiences than online stores, though — particularly during the pandemic. As such, not all parents are itching to get back into in-person stores this year: For example, 23% of parents still plan to do all of their back-to-school shopping online.
Brick-and-mortar stores may be less appealing to parents living in areas where coronavirus is resurging and those who worry about the safety of in-person shopping.
But for those parents who do opt to head back to in-person stores, they may be able to clinch the best deals by combining in-person shopping with online bargain hunting.
"Online shopping is fast, and makes it so easy to comparison shop," said Schulz. In addition, "financing options like buy-now-pay-later loans may be more easily accessible online than in brick-and-mortar stores." However, brick-and-mortar stores may offer deals you can't get online, making it a good idea to check both if you can.
But not all parents are taking advantage of the savings opportunities available to them: LendingTree's survey found that fewer than half of parents say they always check prices at multiple stores in order to ensure they're getting the best deal.
How to reduce financial stress while back-to-school shopping
Prioritize your expenses. If your income has changed or your expenses have gone up significantly this year, make sure that you redraft your back-to-school budget in order to reflect those changes — even if it means prioritizing some expenses over others. "It stinks to have to make sacrifices, but a detailed, updated budget can help make that easier," said Schulz.
Plan for uncertainty by building in extra cushion. With the possibility of unexpected closures hanging over many parents, it's important to make sure you're financially prepared for the worst-case scenario. Consider the extra expenses you may need to pay for if you get the dreaded call that your child's school has closed, then make a plan for how you'll pay for them.
Be open with your family about your financial challenges. Rather than try to hide your concerns, discuss them with your loved ones so that they can understand the sacrifices you are making, Schulz advised. "These are messy, difficult times. There's no point in pretending otherwise." Communicating your challenges may even give your loved ones — including your kids — a much-appreciated chance to offer help. "I'm not saying to open up your books to your kids, but talking to them about the situation in ways they can understand will make a difference."
Check online for deals and coupons. With online shopping, it's easier to shop around. Consider starting your bargain hunt online before you head to a local store. You'll not only have a larger pool of merchants to choose from, you may also benefit from special deals you can't find in person. Plus, "online couponing tools can make it really easy to save even more money," said Schulz.
But don't forget the bargain bins if you shop in-store. You could miss out on deals if you only stick to online shopping. If you're comfortable heading to a brick-and-mortar store, you may find better deals in person, particularly if your local stores are working hard to bring back pandemic-weary customers.
Methodology
LendingTree commissioned Qualtrics to conduct an online survey of 1,013 parents with children under 18, from July 21 to July 26, 2021. The survey was administered using a nonprobability-based sample, and quotas were used to ensure the sample base represented the overall population. All responses were reviewed by researchers for quality control.