How Does LendingTree Get Paid?
LendingTree is compensated by companies on this site and this compensation may impact how and where offers appear on this site (such as the order). LendingTree does not include all lenders, savings products, or loan options available in the marketplace.
Residents Improved Their Credit Scores the Most in These Metros in 2020
Updated on:
Content was accurate at the time of publication.
Why use LendingTree?
We are committed to providing accurate content that helps you make informed money decisions. The content on this page has not been reviewed, approved or otherwise endorsed by any credit card issuer. We do maintain partnerships with some issuers, and our site may be compensated through those partnerships. Read our .
A new year welcomes new motivations, and those looking to improve their financial health in 2021 may have included boosting their credit score among their goals.
A recent MagnifyMoney survey found that 53% of Americans who set a financial resolution in 2020 achieved it, with another 36% making progress toward their goal.
Based on those successes, LendingTree researchers used an anonymized sample of more than 40,000 My LendingTree users to see where average credit scores rose the most from late 2019 to late 2020 among the 50 largest U.S. metros. Here's what we discovered, to give a glimpse at what could happen in 2021.
Key findings
Providence, R.I., New Orleans and San Antonio residents saw their average credit scores increase by at least 10 points between the end of 2019 and the end of 2020 — highest among the 50 largest U.S. metros.
San Jose, Calif., residents didn't see their average credit score change at all, the only metro where this occurred.
Metros that saw the highest year-over-year increases tended to end 2019 with lower credit scores. The average 2019 credit score in the 10 metros with the most year-over-year growth was 673, while the average credit score in the 10 metros with the least growth was 692. The lower the credit score, the larger the possible improvement.
47 of the metros have an average 2020 credit score in the good range (670 to 739). Only 3 — New Orleans, San Antonio and Virginia Beach, Va. — have an average 2020 credit score in the fair range (589 to 669).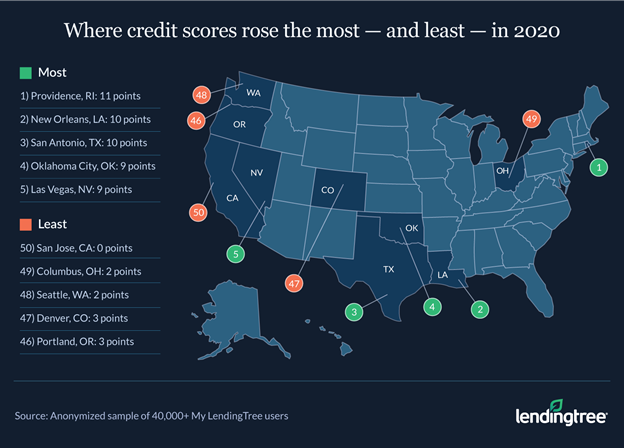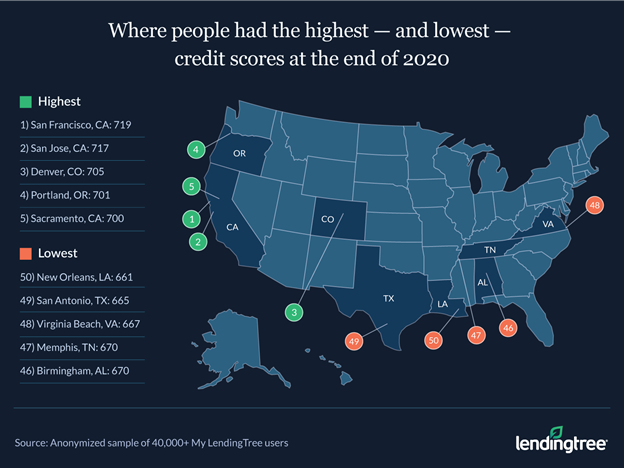 LendingTree chief credit analyst on credit scores: 'It comes down to doing 3 things over and over for years'
According to Matt Schulz, LendingTree's chief credit analyst, the main thing people need to know about credit scores is that they're not as complicated as some may think.
"It comes down to doing three things over and over for years," he said.
Those three things are:
Paying your bills on time — every time
Keeping your balances as low as possible
Not applying for too much credit too often
If you do those three things repeatedly, your credit is going to be just fine, said Schulz. But there were a few other important things he wanted consumers to know about credit:
It's your credit report — not your credit score — that really matters. Your score is just a numerical grade for your report.
Credit is a marathon, rather than a sprint. However, it only takes a mistake or two to undo years and years of credit-building, so you have to be very careful.
Schulz was surprised to find San Antonio and New Orleans among the top metros with the most improved credit scores.
"On one hand, those cities have some of the lowest credit scores in America, so there was clearly room to grow," Schulz said. "However, those are also two cities where tourism and hospitality are at the heart of the economy. Nationwide, those industries have been devastated by the pandemic."
Both metros have higher-than-average unemployment rates because of the pandemic, Schulz added, and it's likely that many families may be struggling to pay their bills. So why might there have been such an improvement in credit scores in these areas?
Credit score increases show the massive impact of the government's economic impact payments from earlier in 2020.
Each of the top three metros are relatively low-income areas where extra unemployment benefits and the economic impact payment would have had a far greater impact than it might've had in wealthier cities. "Those extra benefits allowed many Americans to fare far better than they normally would in a recession, even letting them save some money and pay down debts," said Schulz.
On the flip side, San Jose residents didn't see their credit score change at all. San Jose, as Schulz noted, is a very different city from those that saw big increases.
It's a high-income city, and its economy is less reliant on many of the industries that have been hit so hard by the pandemic, such as tourism. "That means that even with the continuing lockdowns in California, many San Jose residents have likely been able to weather the storm better than those in other cities," Schulz said.
Without the economic impact payment — due to high earnings — or additional unemployment benefits, it may be that San Jose residents didn't experience much of a change financially.
5 ways to improve your credit score in 2021
It's not too late to make a New Year's resolution — if that's your thing — to improve your credit score. Schulz shared some of his top tips for 2021.
1. Take advantage of pandemic-related resources
To help stay on top of your credit score during the pandemic — when financial issues may understandably arise — there are pandemic-related financial resources that are available.
For example, Equifax, Experian and TransUnion are allowing consumers to check their credit reports weekly for free through April 2022 at AnnualCreditReport.com.
"This is a big deal," Schulz said. "More visibility into your credit reports is always a good thing."
2. Lower your credit utilization
Paying down balances is the best way to improve your utilization, according to Schulz, but he urged consumers not to forget the other side of the equation.
"Utilization is just debt divided by available credit, so there's the debt part and the available credit part," he said. You may be able to bump up your available credit with a phone call to your card's issuer or by applying for a new credit card.
3. Check your credit report for errors
"You'd be shocked to know how often errors appear," Schulz said. "It's hard enough to have good credit."
Don't let someone else's mistake drag your score down. Be sure to check your reports from each of the three bureaus, as they can all be different and an error in one might not appear in another.
4. Pay your bills on time
"Nothing matters more than this," Schulz urged. If you don't pay your bills on time, it's impossible to have good credit — simple as that, he said.
5. Cut yourself some slack
Credit is really important, but there are times when it takes a back seat to more pressing matters.
"If you're struggling to keep the lights on or put food on the table, don't worry about your credit," Schulz said. "Difficult times call for difficult decisions, and if the choice is between providing for your family right now or protecting your credit for the future, choose the former every single time."
Full rankings
Methodology
Researchers used an anonymized sample of more than 40,000 My LendingTree users to estimate the average credit score change from 2019 to 2020 for residents of the 50 largest U.S. metros. To do this, we looked at a sample of credit reports from Nov. 15 to Dec. 15, 2019, and compared the same people's scores from Nov. 15 to Dec. 15, 2020.