How Does LendingTree Get Paid?
LendingTree is compensated by companies on this site and this compensation may impact how and where offers appear on this site (such as the order). LendingTree does not include all lenders, savings products, or loan options available in the marketplace.
Kids' Competitive Activities Lead to Debt for 79% of Parents
Updated on: May 11th, 2021
Why use LendingTree?
We are committed to providing accurate content that helps you make informed money decisions. The content on this page has not been reviewed, approved or otherwise endorsed by any credit card issuer. We do maintain partnerships with some issuers, and our site may be compensated through those partnerships. Read our .
While it's probably not a shocker that kids' competitive activities are expensive, you may be surprised to find that nearly 8 in 10 parents have gone into debt because of it. That was one of the major findings in a recent LendingTree survey of more than 1,000 parents with children ages 18 and younger.
Find out more about how much families are spending on extracurriculars, the toll it's taking on their budgets and why many parents feel the financial sacrifices are worth it — especially after a year of social distancing.
Key findings
The majority of kids take part in competitive extracurriculars, especially those from higher-income families. In fact, 70% of parents say one or more of their children participate in at least one competitive activity. That jumps to 80% among those earning $100,000 or more, compared to 49% of those with household incomes below $35,000.
Competitive kids' activities are pricey, and those costs are causing parents to stress. Nearly 1 in 4 parents with a kid enrolled in a competitive extracurricular spend $4,000 or more yearly on that activity. About half (46%) of parents say they're often stressed about paying for those programs.
Kids' competitive activities and debt often go hand in hand. Nearly 8 in 10 (79%) parents surveyed have been in debt in order to pay for a child's activities, a big jump from the April 2019 edition of this survey when 62% said the same.
Parents place big bets on their kids' future. Many parents (87%) are hoping for a return on investment for their competitive extracurricular spend, believing that the activity could lead to income for their child. That's up from 80% who thought the same in the April 2019 survey.
Most parents say the pandemic didn't pause paying for kid's activities, and stimulus payments helped. Sixty-five percent of respondents said they kept paying for activities during the pandemic at the normal rate. However, 69% of parents had to rely on their economic impact payments as a source of funding.
It's a summer of spending for many parents as they try to make up for lost experiences from the pandemic. Eight in 10 plan to spend money on summer programs for their child, and 73% of them may take on debt to do so.
From traveling sports teams to marching band, competitive activities are the norm for many kids
Seven in 10 parents with kids aged 18 or younger have one or more children participating in competitive activities, with sports, music and dance as the most popular choices. Higher-earning families (those with incomes of $100,000 and above) are more likely to have competing kids versus parents earning below $35,000 — 80% versus 49%.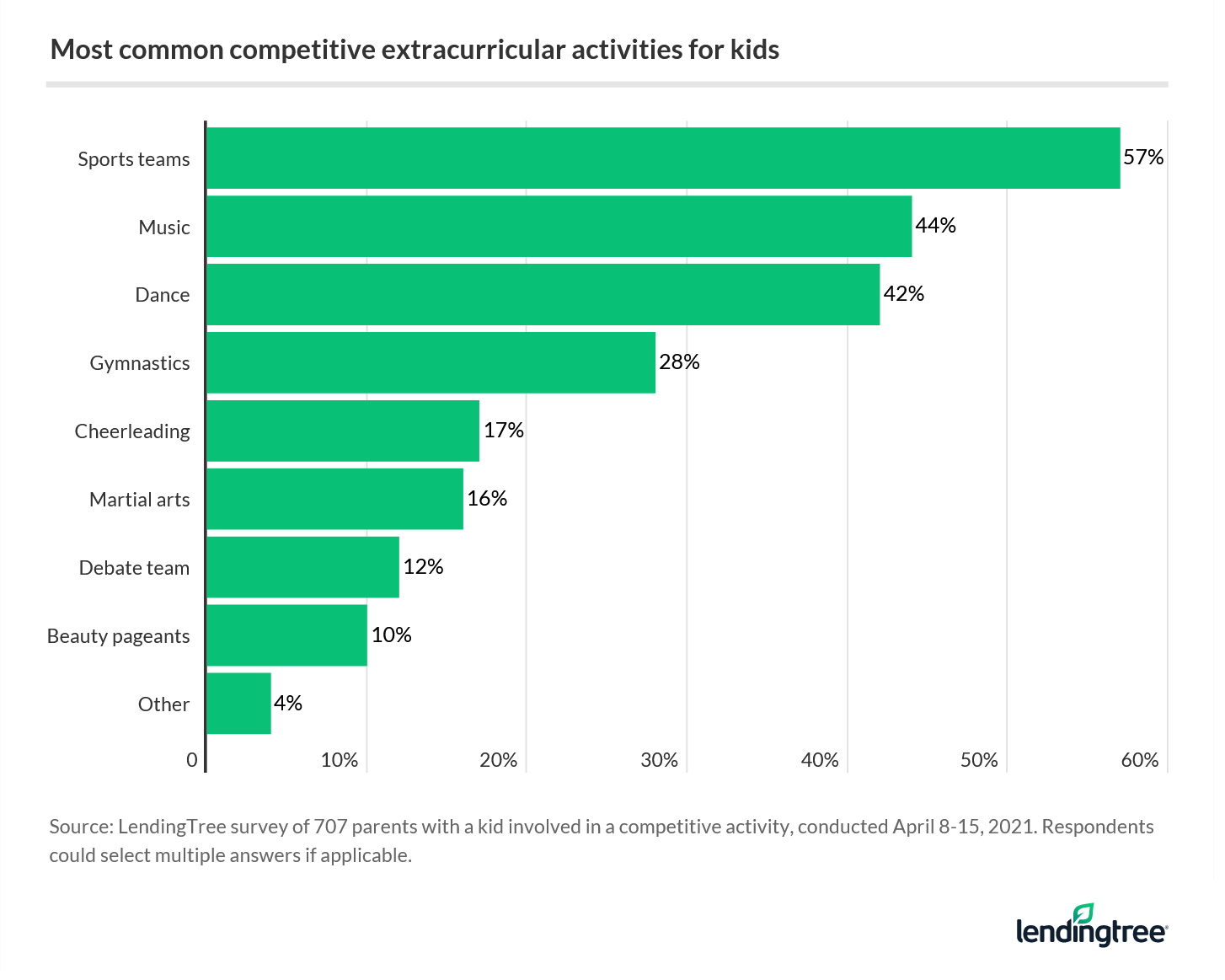 Competitive extracurriculars can lead some parents to debt
"As the dad of a sporty kid, I can tell you unequivocally, these extracurricular activities are crazy expensive," said Matt Schulz, chief credit analyst for LendingTree. And as the child's interests and talents increase, costs tend to go up.
In fact, nearly 1 in 4 parents with a kid enrolled in a competitive extracurricular activity spend $4,000 or more yearly on that activity.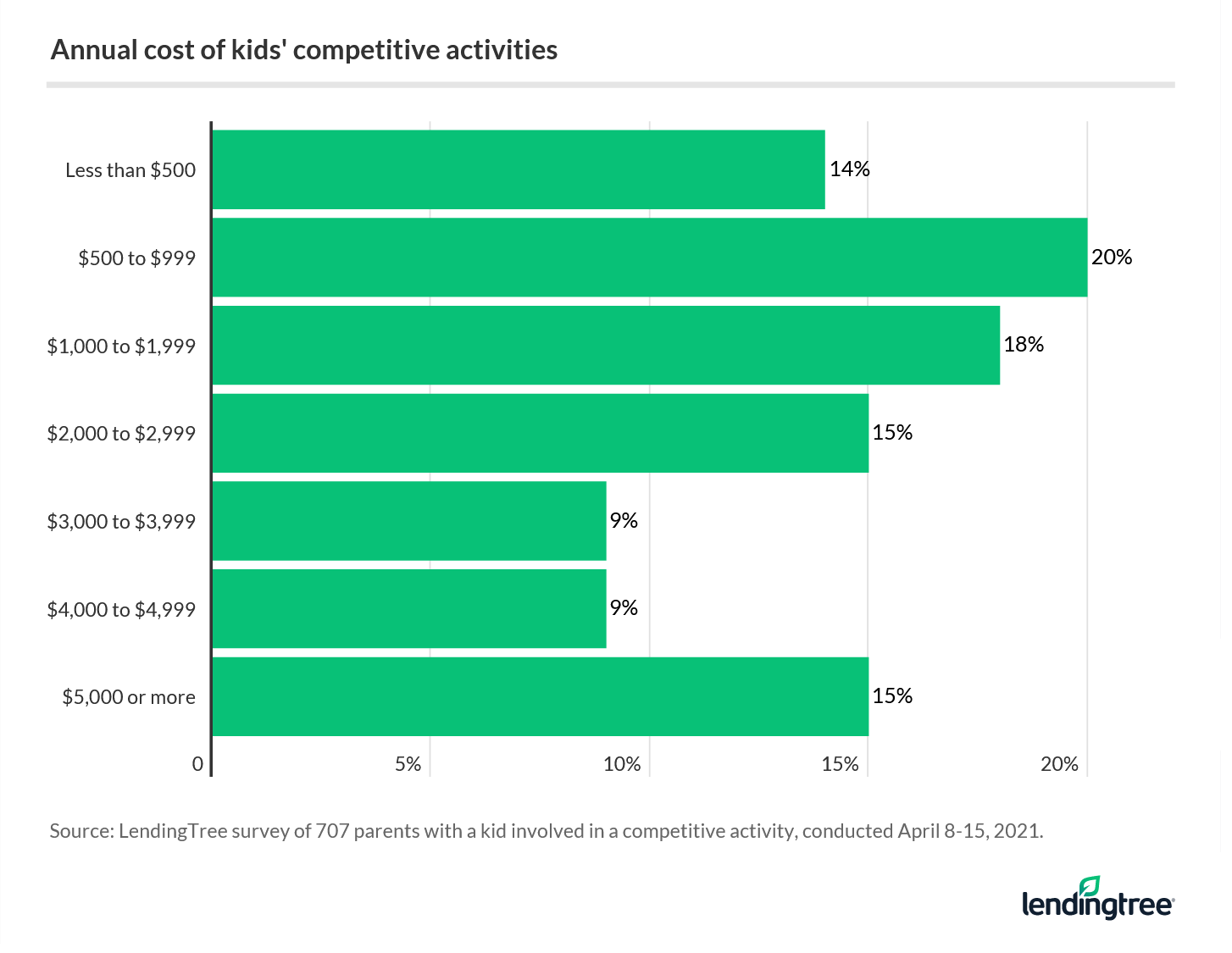 Despite the high costs, the majority of parents surveyed indicated they're willing to go to great financial lengths to help support their kids' passions. But the extra expenses are causing stress for 3 out of 4 parents, especially since 69% of parents admit that they're spending more than they can afford on their children's activities.
In order to keep their kids playing and performing, many parents have taken on debt, including 58% who are currently in the red.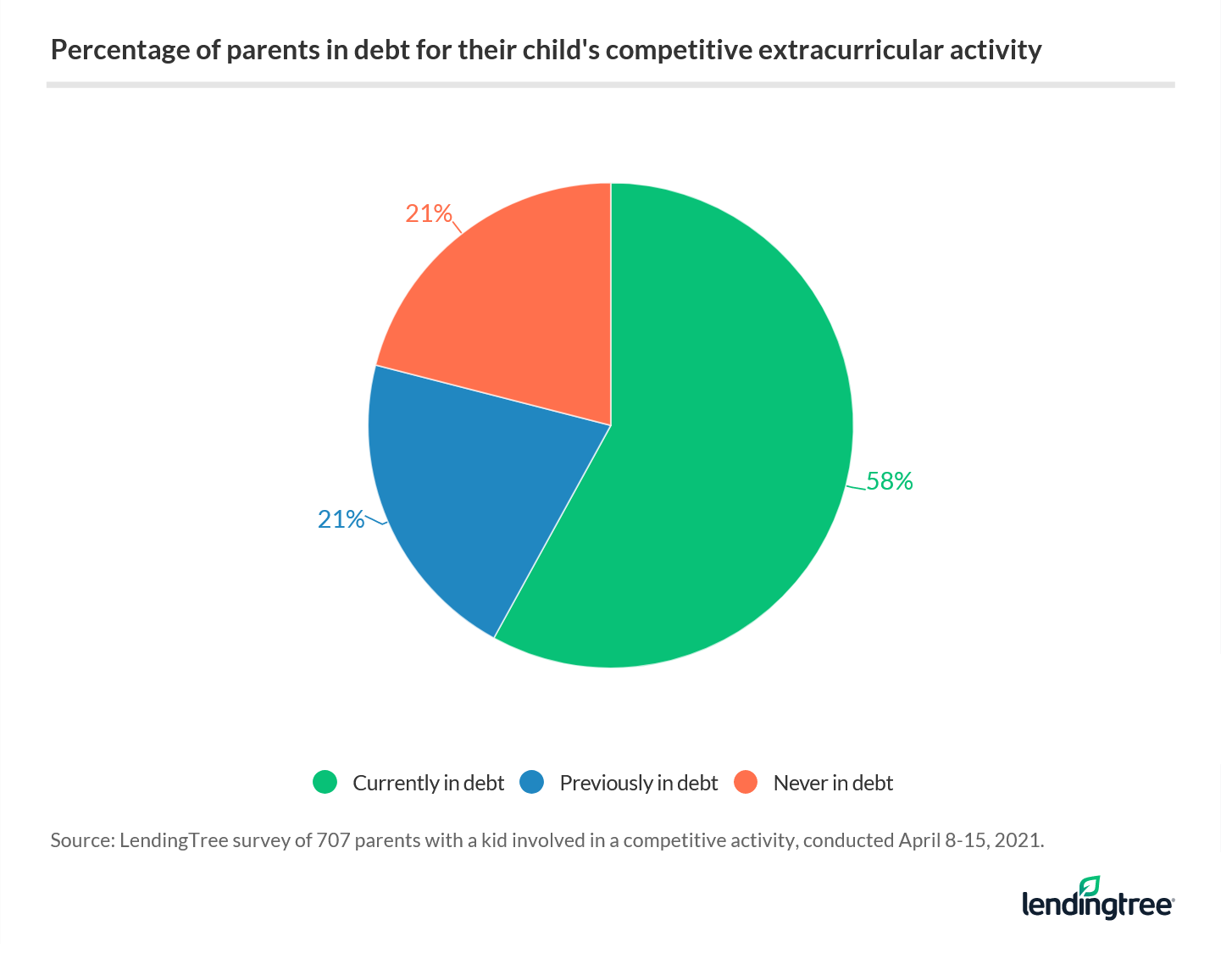 The amount of money parents in debt currently owe varies, with nearly 1 in 6 owing more than $5,000:
Less than $1,000: 15%
$1,000 to $1,999: 21%
$2,000 to $2,999: 20%
$3,000 to $3,999: 17%
$4,000 to $4,999: 12%
$5,000 or more: 16%
The pandemic effect
The April 2019 edition of this survey found 62% went into debt for their kids' activity, compared to this year's 79%. Could it be that the pandemic had an impact?
"Everyone's been hit hard by the pandemic in so many ways, and kids are certainly no exception. They've been asked to sacrifice so much in the past year," said Schulz.
As a result, many parents felt their kids needed sports and other activities more than ever this past year — hence why 65% said they continued paying the normal rate, with another 23% paying a reduced rate. Plus, nearly 7 in 10 chose to use some of their stimulus payments to continue funding the activities.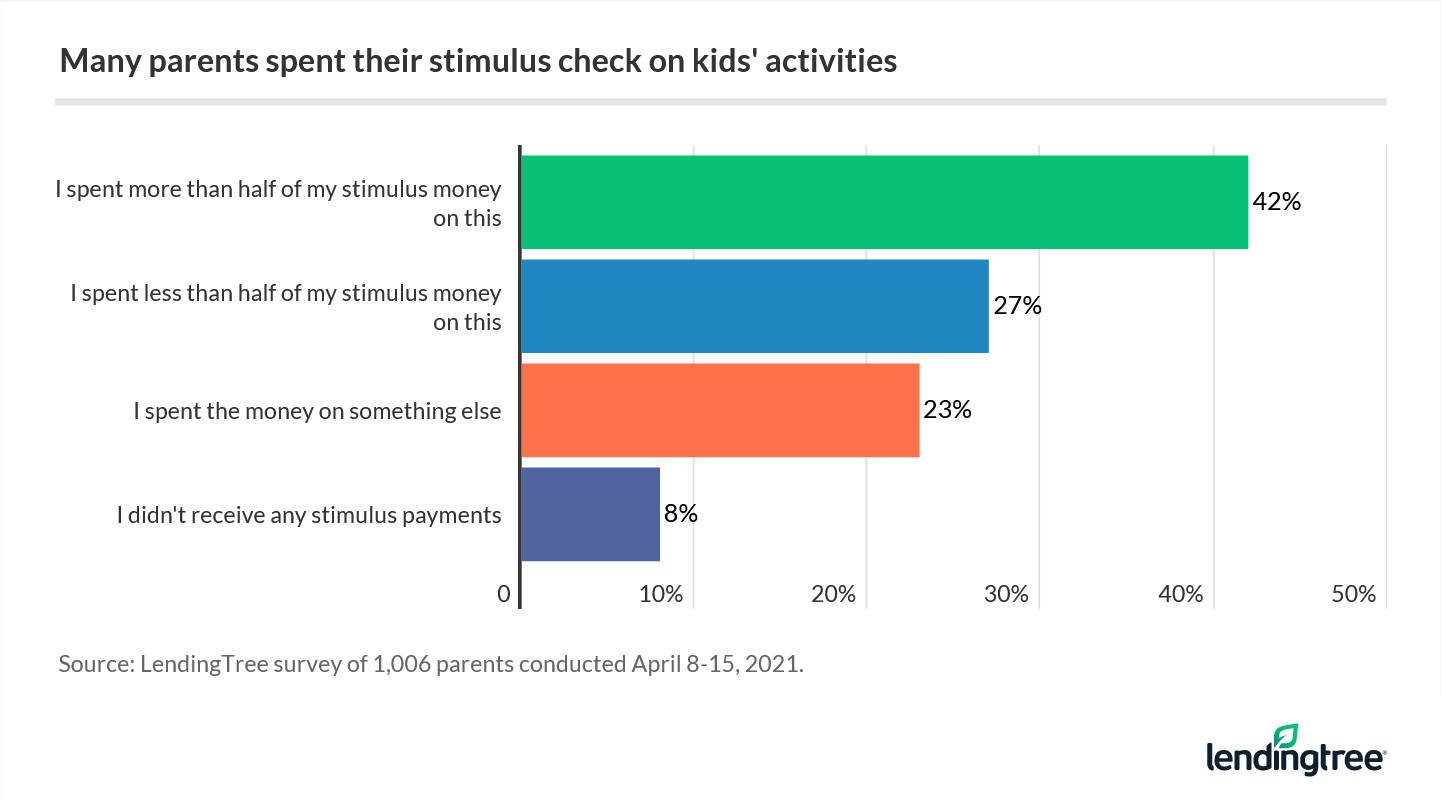 After a year lost to the pandemic, parents shell out cash for a special summer
This summer, 80% of parents plan to spend money on summer programs for their child, and 1 in 10 will shell out $5,000 or more.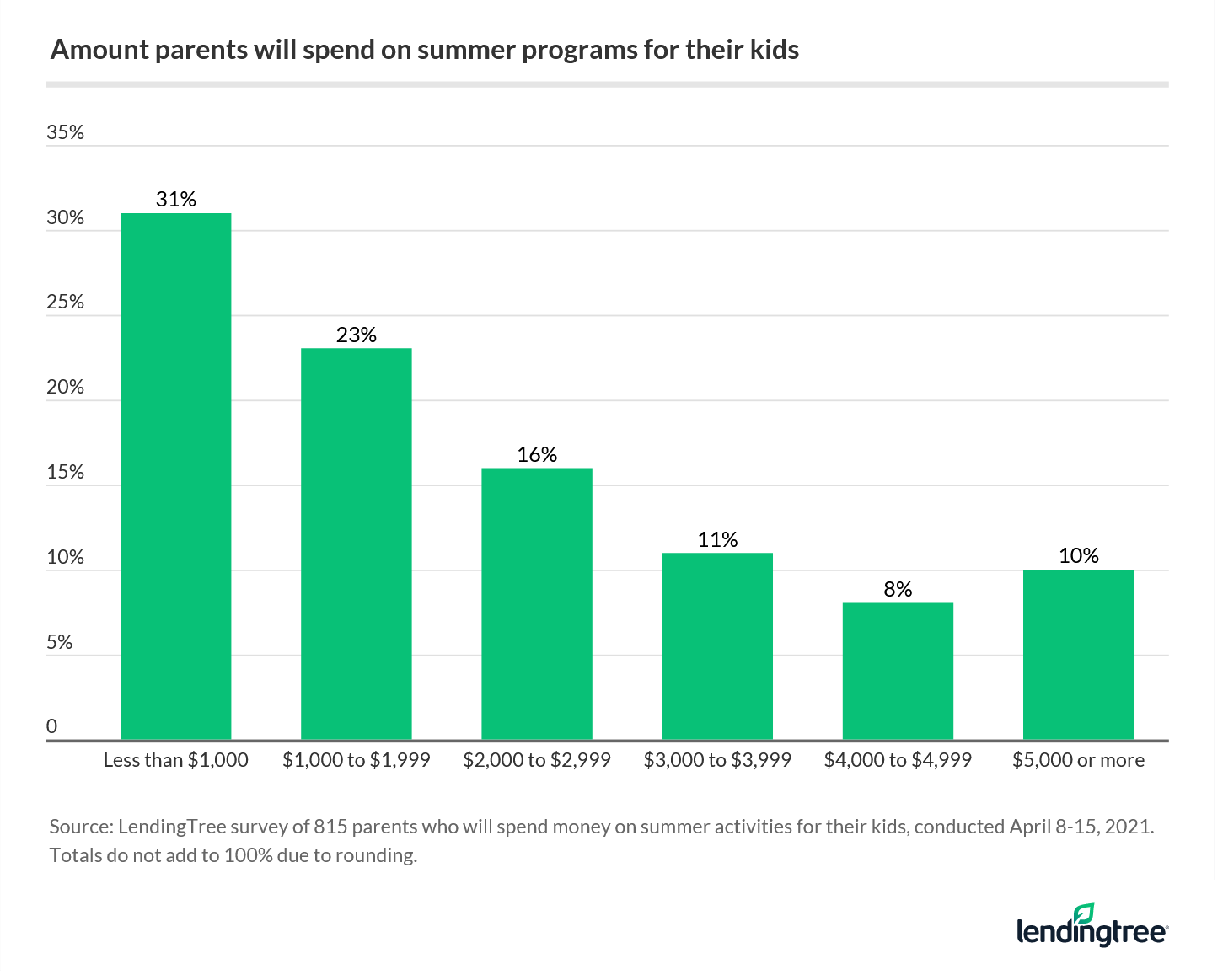 "There's an awful lot of spending going on to make up for lost time," said Schulz. And now that vaccinations are on the rise and life is opening up more, many parents are trying to give their children a great summer — no matter the cost.
In fact, 71% of parents said they'll spend more on summer programs this year than ever before because they feel guilty their kids missed out in 2020. And although affluent families are more likely to shell out for summer programs than the lowest income earners (91% versus 56%), 73% of parents overall acknowledge that they may take on some debt to afford it.
Some parents spend big in hopes their kid will make it to the big leagues
Whether it's envisioning their child while watching the professional sports league drafts on TV or banking on college athletic or talent-based scholarships, 87% of parents with a kid involved in a competitive extracurricular said the activity could lead to income for their child (up from 80% of parents who said the same in the April 2019 survey). Dads are more likely than moms (92% versus 79%) to bet on their kids' activities becoming lucrative.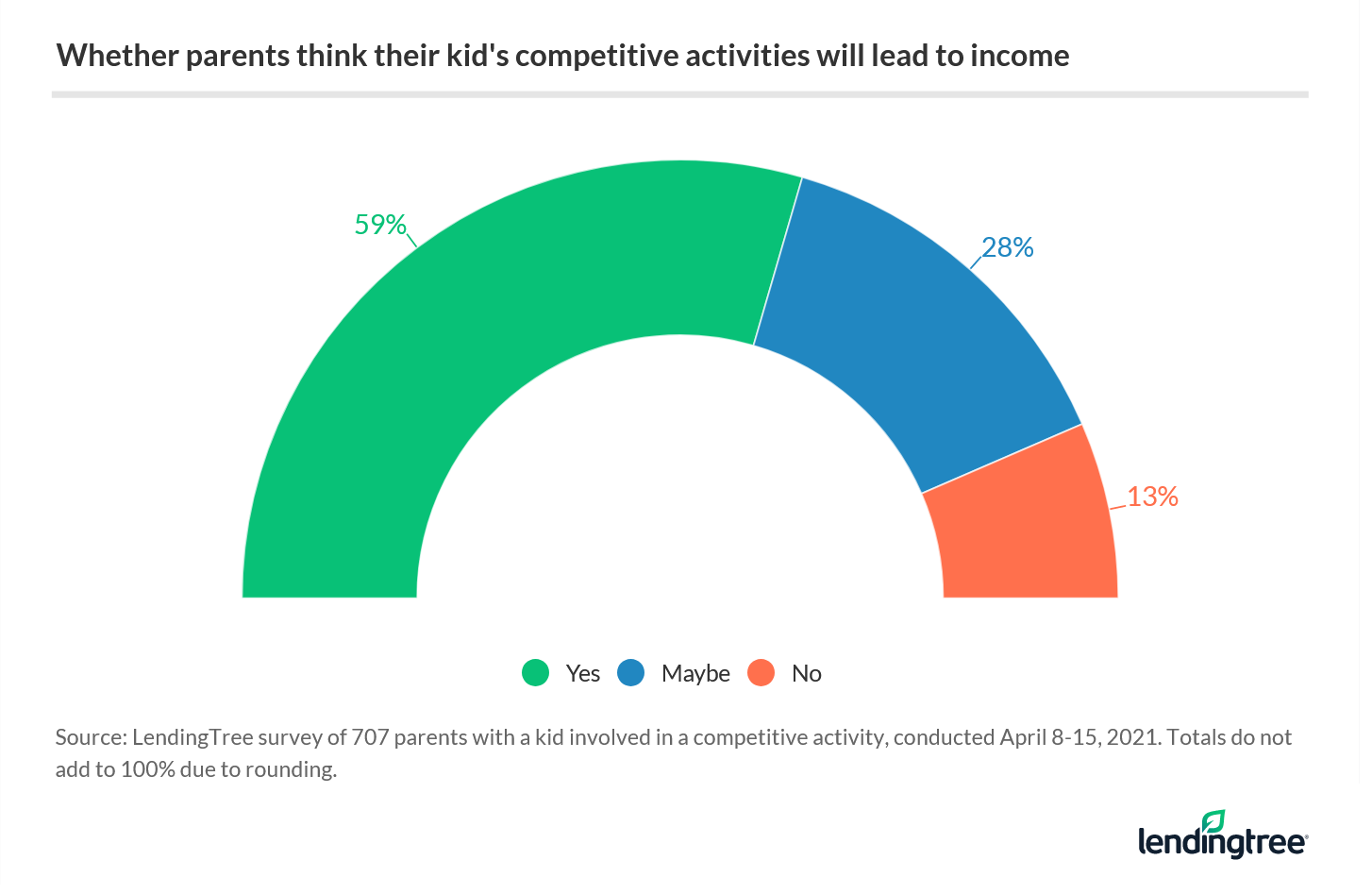 Sadly, the reality is that extracurriculars may not always manifest into fulfilled dreams. For instance, only 1.6% of college football players go pro, according to an NCAA study — and many won't even make it into college sports at all.
Still, encouraging a child's passion could lead to some income opportunities, said Schulz. His example: "My soccer-playing teenage son has made money as a soccer referee." Other opportunities might include talented musicians and singers teaching lessons or getting paid to perform, or swimmers becoming lifeguards or swim instructors.
"It may not be a nine-figure contract and it may not change your life, but every little bit can help," added Schulz.
How to encourage kids' hobbies without drowning in debt
Competitive extracurriculars can be expensive, but there are some ways to ease the financial pain.
Leverage credit card rewards: Considering that credit cards are the top payment source for 44% of parents paying for competitive activities, cashing in on rewards is smart. "Whether you're earning cash back on sporting goods, booking free hotel nights for travel or putting that registration fee on a card to help get that big sign-up bonus, it can make a difference," said Schulz. Bonus tip: Credit card balance transfers can help you pay off existing debt faster.
Say no to "new," when possible: Used equipment is everywhere, from stores to friends' houses to your garage, Schulz noted. "Shop around. Ask for help. Chances are someone has something that's collecting dust in a garage that you can put to good use."
Don't say yes to every extra: "There's a lot of upselling that can happen with these activities," warned Schulz. But don't feel like you're obligated to pay for private coaching sessions or high-tech equipment if you're already struggling with recital costs or league fees.
Get the kids to pitch in: As children get older, ask them to find ways to contribute to their activities. "You need to be realistic, of course, but having your kid earn some money to help pay for that extra-nice instrument or bat that they have their heart set on can help extend the family budget, while also teaching them a good lesson about life," said Schulz.
Methodology
LendingTree commissioned Qualtrics to field an online survey of 1,006 parents with kids aged 18 and younger, conducted April 8 to April 15, 2021. The survey was administered using a non-probability-based sample, and quotas were used to ensure the sample base represented the overall population. All responses were reviewed by researchers for quality control.
We defined generations as the following ages in 2021:
Generation Z: 18 to 24
Millennial: 25 to 40
Generation X: 41 to 55
Baby boomer: 56 to 75
While the survey also included consumers from the silent generation (defined as those 76 and older), the sample size was too small to include findings related to that group in the generational breakdowns.