How Does LendingTree Get Paid?
LendingTree is compensated by companies on this site and this compensation may impact how and where offers appear on this site (such as the order). LendingTree does not include all lenders, savings products, or loan options available in the marketplace.
8 In 10 Parents Think Kids' Extracurricular Activities May One Day Lead To Income
Updated on: April 24th, 2019
Why use LendingTree?
We are committed to providing accurate content that helps you make informed money decisions. The content on this page has not been reviewed, approved or otherwise endorsed by any credit card issuer. We do maintain partnerships with some issuers, and our site may be compensated through those partnerships. Read our .
Eight in 10 parents with young children who participate in extracurricular activities think those pursuits could someday lead to income for their kid, according to a new report from LendingTree, and the more you spend on your kids' activities, the more likely you are to think they will pay off.
The survey – which asked parents about extracurricular activities ranging from sports and music to beauty pageants and debate team — also showed that about two-thirds of these parents have gone into debt to support their kids' extracurricular activities. About the same number say they've been stressed about paying for them. The most popular payment choice? Credit cards.
Key findings:
8 in 10 parents think their child's competitive activity could one day lead to income.

The more you spend, the more likely you are to think it will pay off – 90% of parents who spend at least $4,000 per year think their kid will one day earn money off of it, compared to 75% of parents who spend less than $1,000.
94% of parents currently paying off debt for their child's activity think it will lead to future income.

Sports teams are the most popular (30%), as well as music (16%), dance (15%), gymnastics (12%), cheerleading (9%), martial arts (8%), beauty pageants (3%) and debate team (3%).
46% of parents spend more than $1,000 annually on their kids' activity – and 27% spend more than $2,000.
Nearly two-thirds (64%) of parents are stressed about paying for their child's competitive activities.

Naturally, the more you spend the more stressed you are. 56% of those who spend less than $1,000 are often/sometimes stressed, compared to 76% of those who spend more than $4,000.

62% have been in debt for their kid's activity – and 1 in 3 are currently paying off related debt.

Of those in debt, nearly 1 in 10 (9%) owe more than $5,000.
27% owe more than $3,000

More than half (52%) say they spend more than they can afford on their child's activity – but 48% don't regret it.

Of those who spend more than $4,000 per year, 73% say it's more than they can afford
Those who spend more than $4,000 per year are more likely to regret it (64%)

Credit cards are by far the most popular payment choice, with 42% using plastic for expenses related to their kid's activity

The bottom line: Support kids' dreams — but be careful
One of the most important things parents can do is to encourage their kids to dream big. If they want to be president or an NBA All-Star or the next Top Chef or whatever else they can imagine, a parent should encourage them to chase that dream with all they passion they can muster. Dare greatly, as they say. Fortune favors the bold.
It's also important for parents to be realistic, however. Despite what 81% of our respondents say, most kids are never going to earn a dime from the activity that's their passion. Some may eventually make a little bit of money on the side, like a musician playing gigs around town for some side cash or a former athlete refereeing recreational league games for a few extra bucks. Others may even make a modest living following their passion as a coach or teacher. A very select few might even be the next LeBron or Beyoncé. However, the truth is that most won't, and while you never want to discourage a kid from following his or her aspirations, you owe it to yourself to make sure that your kid's pursuit of a dream won't derail you and your family from your dream of financial stability – and even retirement.
That reality can lead to some difficult conversations and maybe even some tears from both you and your child. Those hard choices and tough conversations are what being a parent is about. Yes, of course, you want to help them follow their dreams, but ultimately, your goal is to help your kids be self-sufficient, well-adjusted grown-ups when it is time for them to leave the nest. And being a grown-up is often about learning to make the best of what you have and making hard decisions confidently when you are faced with them.
Here are a few tips for keeping your kids' dreams alive while keeping yourself from drowning in debt:
Consider lower-cost alternatives: There are plenty of professional soccer players who never played in an expensive select league. Some of the greatest musicians in the world never had pricey formal lessons. People with passion and drive can find low-cost instruction all over the Internet. YouTube is a goldmine for that type of thing. In addition, many coaches or teachers in all types of disciplines have made small businesses out of selling videos or books that share their wisdom. While they won't be free, spending $100 on some useful videos that your kid can work with at home everyday can be every bit as useful as that $2,000 you spend to play on that travel team.
Save for the expense: If you know your child will need several hundred or even several thousand dollars for that special league or camp or competition, make savings a major priority in your budget. If you can put away a few extra dollars a week, it can make a major difference when that bill comes due.
Have your son or daughter pitch in: Part of following a passion is being willing to make sacrifices in order to pursue it. Depending on your child's age, consider talking to them about working to help pay the cost. Anything from babysitting and dog walking to mowing lawns and refereeing games can help raise some extra money, as could a garage sale in which the kid raises money by selling books or games or clothing they've outgrown. They may embrace the idea or they may say no, but either way, it can be a great teachable moment.
Use credit card sign-up bonuses strategically: Credit card rewards are about maximizing what you already spend. Instead of writing a $1,000 check from your savings for that cheerleading camp, pay for it with a new credit card and use those savings to pay down the credit card bill. Many cash-back cards will give you a $100 or $150 cash back bonus after you spend as little as $500 in the first three months with the card, and that bonus can help you extend that family budget just a little further. Just make sure you use the new card wisely. The last thing you need is to see that new card as an excuse for a spending spree. That's just asking for trouble.
Don't be afraid to think of yourself: Reality can be harsh. Sometimes that expensive extracurricular activity is just out of your family's reach, and short of going into long-term debt and possibly sacrificing your own retirement, there's just nothing you can do. If that's the case, you owe it to your family to make the hard choice. Be honest with them. Talk about the sacrifices that mom and dad would have to make – getting second jobs, working longer hours away from family, selling something of value that they love, whatever – but also make sure that your kid knows that you understand how disappointing this will be to them. That's when you can promise to work with them to find other ways to keep them working toward their dream because there's never just one pathway to success. Your kid might shed some tears, and you might, too, but ultimately, you'll know you've done the right thing.
All that said, there are the truly special ones out there – the Steph Currys, the Adeles, the Lionel Messis – and if your child is one of them, doors may open for them that may be worth going into debt to see where they lead. After all, every year, athletes around the world become new professionals, signing seven-figure deals and buying their mothers that house they've always dreamed about but never been able to afford. That's what every little basketball player, singer, ballerina and actor fantasizes about. If your child is one of those blessed few, the decision may get much harder. However, if you remember to enter into the decision as a parent – not as a coach or a cheerleader or a talent scout – and focus on what is best for you and your family in the long run, you'll likely do the right thing.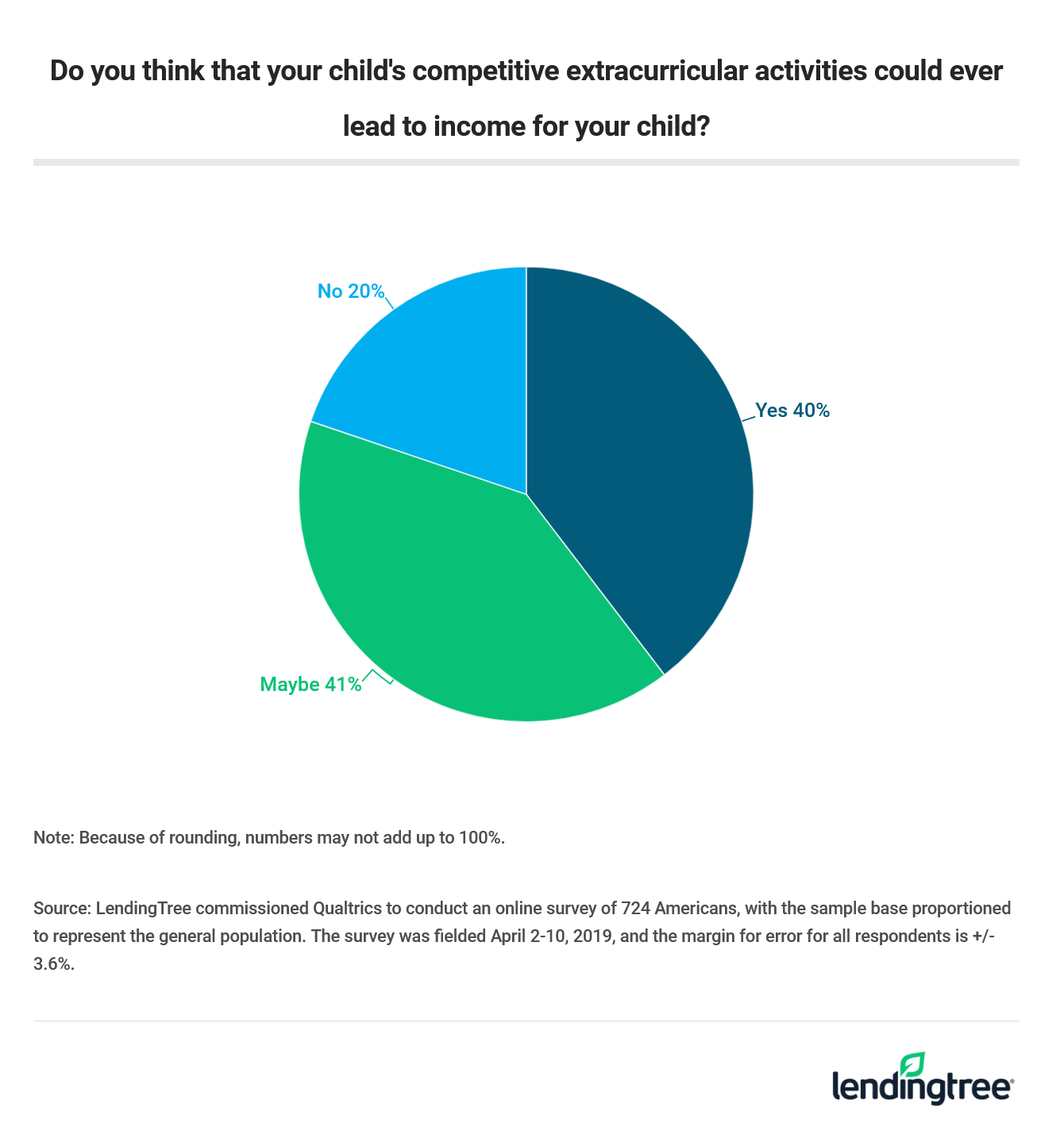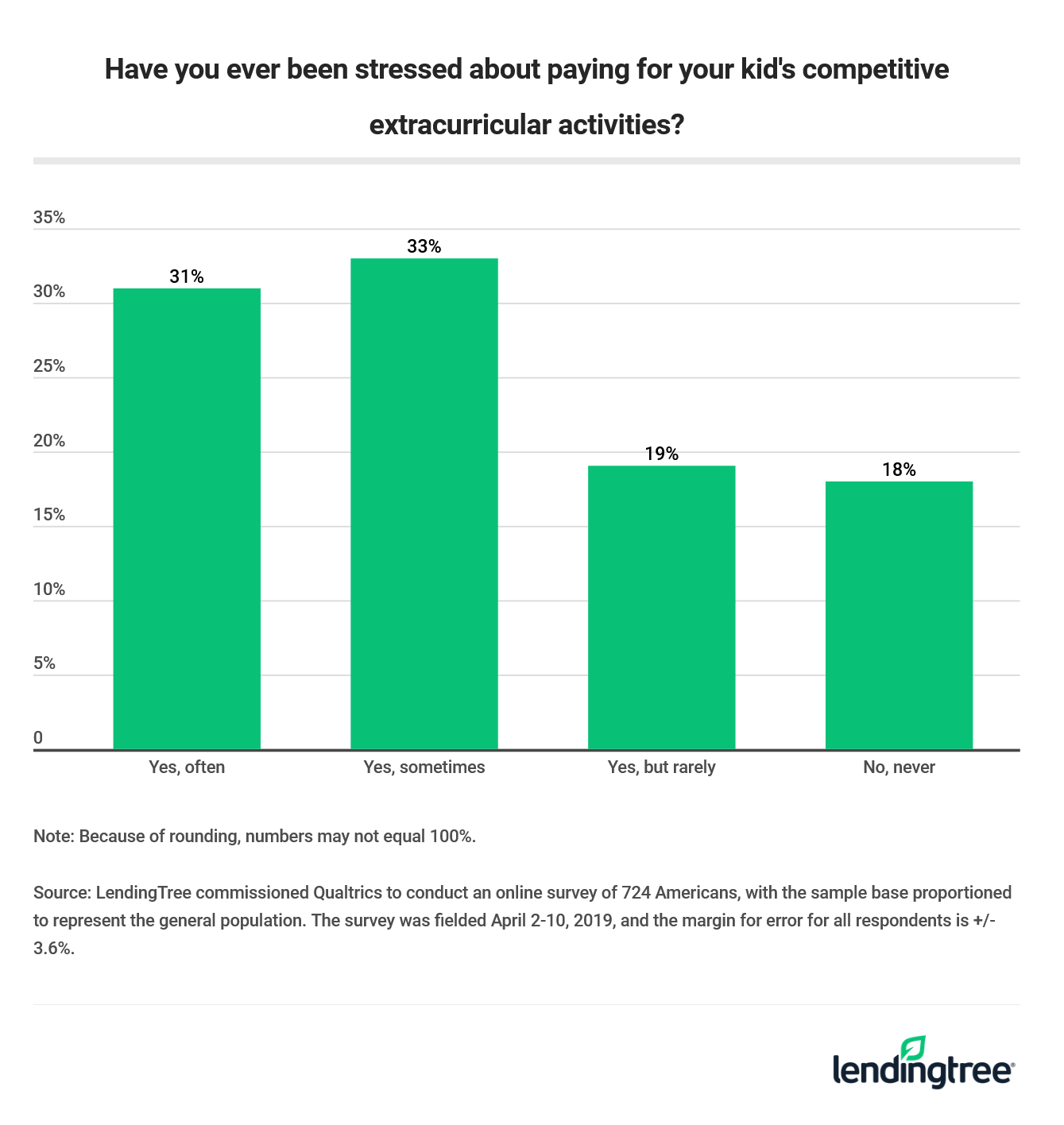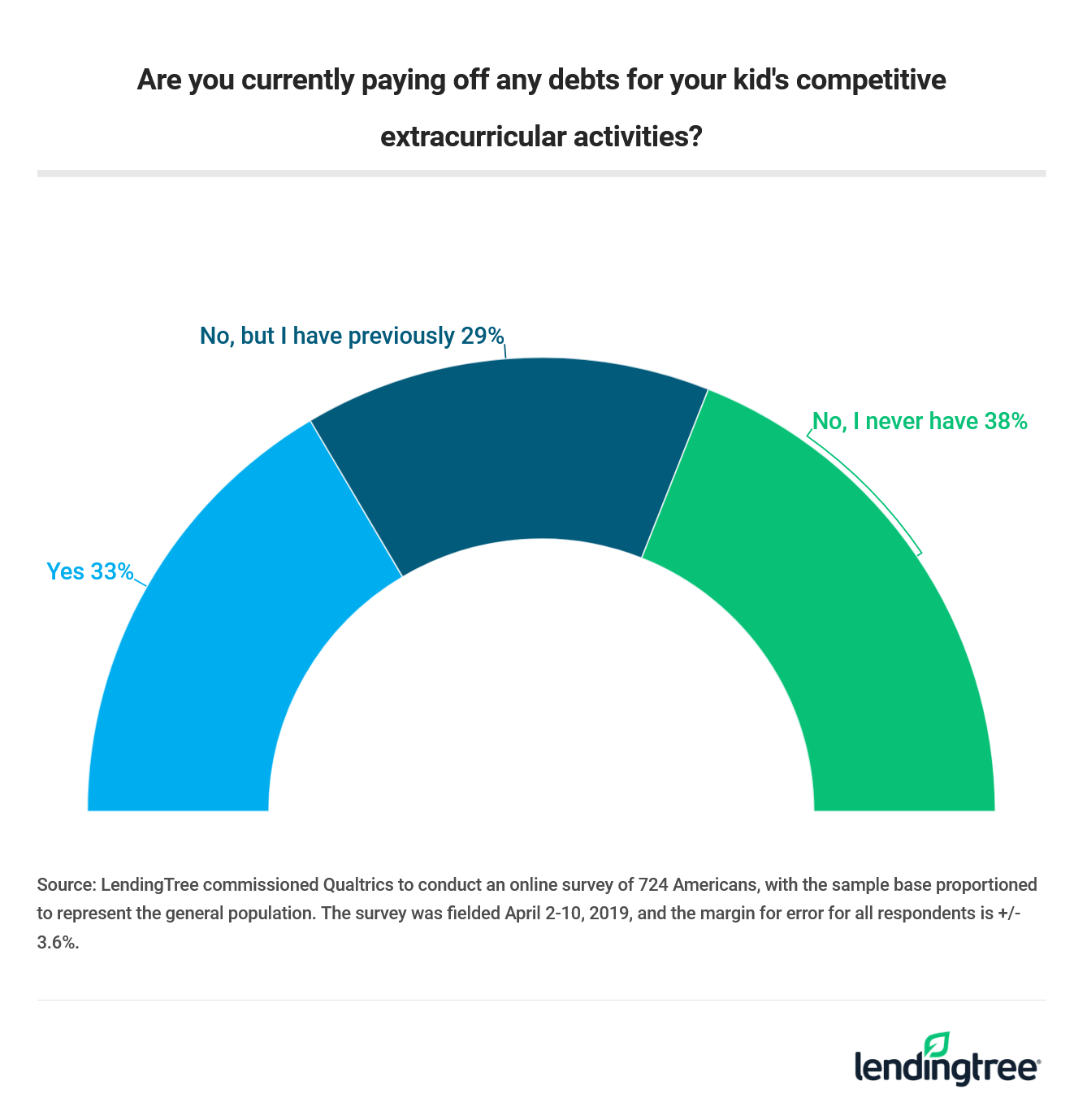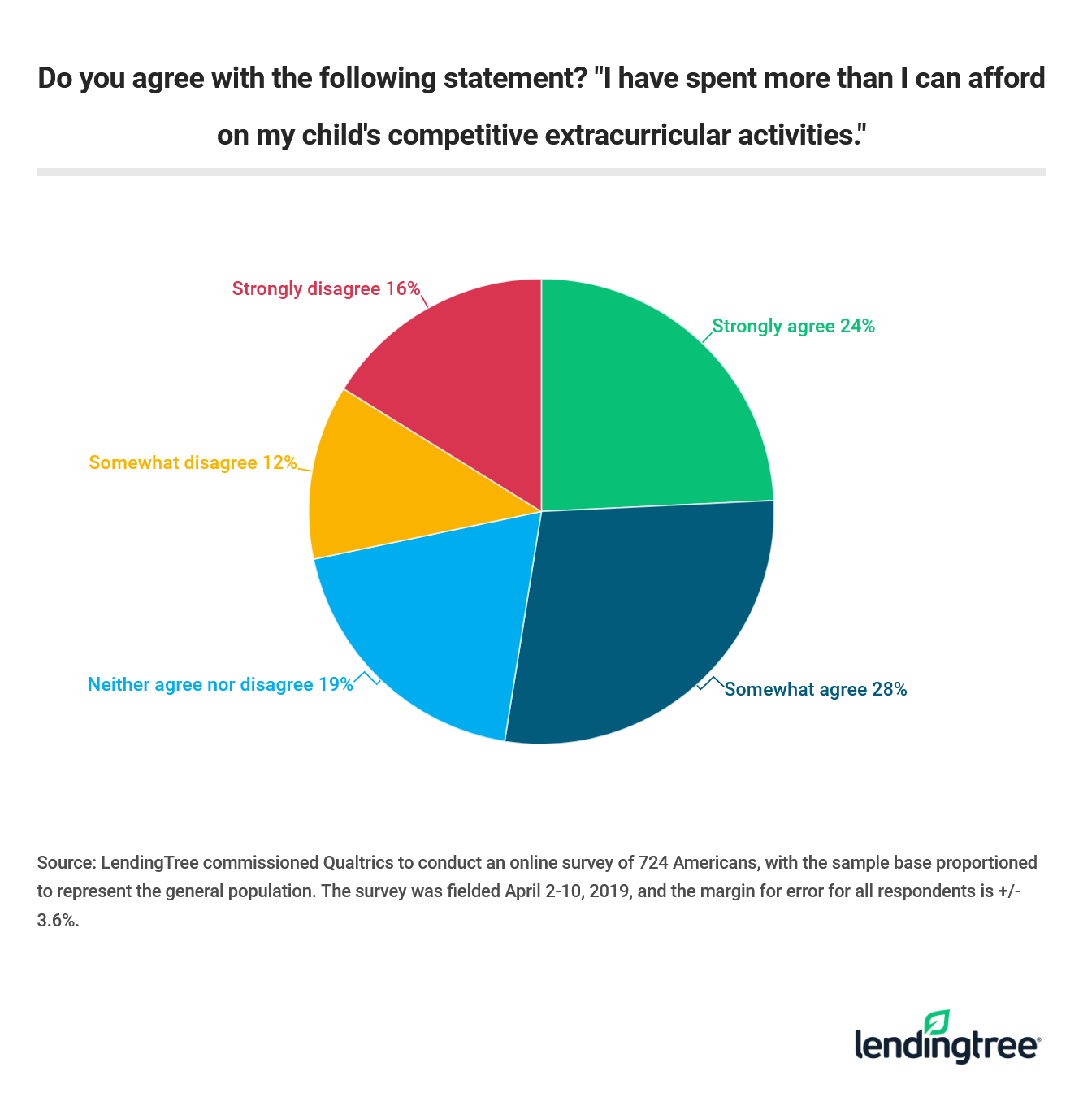 Methodology
LendingTree commissioned Qualtrics to conduct an online survey of 724 Americans, with the sample base proportioned to represent the general population. The survey was fielded April 2-10, 2019, and the margin for error for all respondents is +/- 3.6%.