How Does LendingTree Get Paid?
LendingTree is compensated by companies on this site and this compensation may impact how and where offers appear on this site (such as the order). LendingTree does not include all lenders, savings products, or loan options available in the marketplace.
With Inflation Soaring, Half of Americans Think Loyalty Programs Are More Important Than Ever
Updated on: July 11th, 2022
Why use LendingTree?
We are committed to providing accurate content that helps you make informed money decisions. The content on this page has not been reviewed, approved or otherwise endorsed by any credit card issuer. We do maintain partnerships with some issuers, and our site may be compensated through those partnerships. Read our .
Everyone loves a bargain or a deal — even more so during a period of rising prices — which is why 8 in 10 Americans are members of at least one loyalty program. In fact, half of consumers say that retail, food and other loyalty programs are more important than ever, according to the latest LendingTree survey of nearly 2,100 Americans.
The top reason to sign up? The ability to earn points, say three-quarters of respondents, translates to discounts, freebies or other perks.
Keep reading to see which loyalty programs are the most popular, which demographics are most likely to sign up, and get expert tips for deciding if a loyalty program is right for you.
Key findings
With inflation soaring, half of Americans think loyalty programs are more important than ever. Six-figure earners (57%) and millennials (56%) are most likely to say these programs have become more critical, while Gen Zers (43%) are least likely to agree.
80% of Americans are members of at least one loyalty program. A higher rate of Americans are members of loyalty programs for miscellaneous retailers — think big-box retailers (Walmart and Target), e-tailers (Amazon) and drugstores (CVS and Walgreens) — than any other industry category tracked, at 65%. Food and dining is next at 61%.
While loyalty programs incentivize consumers to increase the frequency with which they shop with a brand, that doesn't always translate to increased spending. Although 72% of members say they shop more at companies with loyalty programs, only 52% say they spend more because of them.
Consumers place more weight on rewards than security. More than half of loyalty program members (52%) say they'd leave the program if the rewards weren't worth it. But only 41% say a data breach would cause them to end their membership. As for what leads consumers to join loyalty programs, 75% cite the ability to earn points.
Even though many consumers have moved online to do their shopping, people are still getting in-person pressure to sign up for loyalty programs. 50% of loyalty program members say they signed up at the checkout counter. Women are especially likely to register for rewards while checking out in person (57%, versus 42% of men).
As Americans battle inflation, many consumers place increased importance on loyalty programs
Loyalty programs reward and incentivize customers to shop with a particular store or brand. Consumers can usually get perks, discounts and other benefits for signing up or registering as a member — and for free, in many cases. Loyalty programs are prevalent across multiple industries, including retail, travel, food and dining and more.
As people look for ways to save money to offset rising prices, 50% of consumers say loyalty programs are more important than ever.
"They're right," says Matt Schulz, LendingTree chief credit analyst. "With the cost of seemingly everything getting more expensive by the day, the perks that can come from a loyalty program can be really helpful."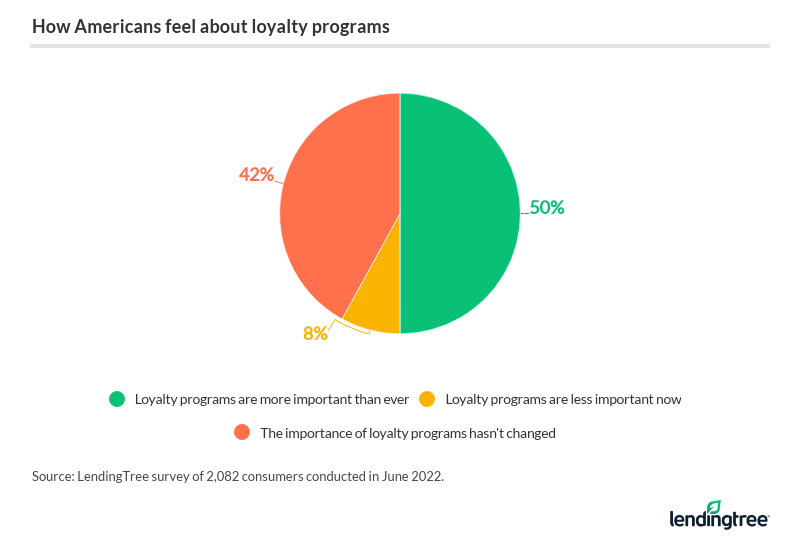 Whether you're talking about free shipping, a free sandwich, discounts on cat or dog food or anything else, every little bit can help.
"The right loyalty program can help people make their dollars go just a little bit further," he says.
Millennials (ages 26 to 41) (56%) are more likely to value loyalty programs than other age groups, as are the highest income earners (those earning $100,000 or more).
Loyalty memberships by the numbers
Loyalty programs are super-popular with Americans — 8 in 10 say they're members of at least one. That percentage jumps to 94% among those with an annual household income of $100,000 or more, compared with 73% who make less than $35,000.
"Unfortunately, that means that many of the folks who most need the help that some of these loyalty programs offer aren't taking full advantage," Schulz says.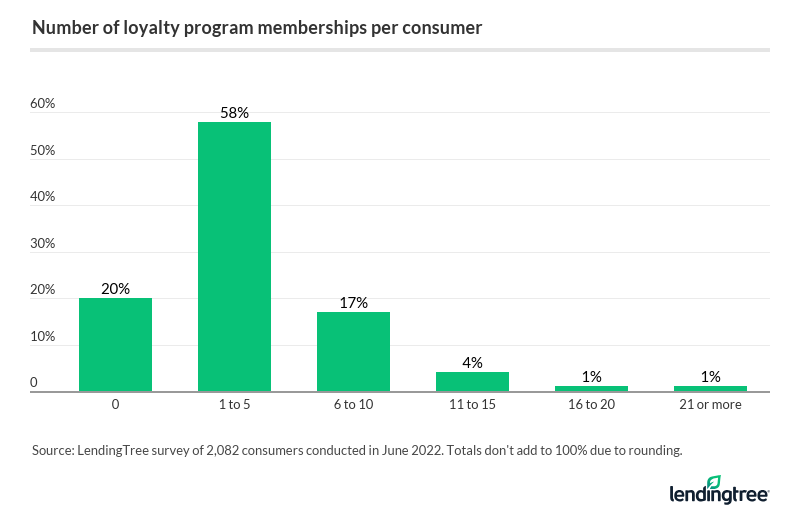 Loyalty programs are the most popular in the following categories:
Miscellaneous retailers (i.e., big-box stores, online retailers and drugstores): 65%
Food and dining (including grocery stores, restaurants, coffee shops and food delivery services): 61%
Shopping (clothes, makeup and shoes): 48%
Entertainment (such as movie theaters, video game stores, bookstores and event tickets): 38%
Travel (including airlines, hotels, vacation rentals and gas stations): 38%
Pet stores: 37%
"It's great that people aren't just taking advantage of high-profile, big-ticket loyalty programs, such as those offered by hotels and airlines," Schulz says. "The truth is that smaller, regular purchases at grocery stores, restaurants, pet shops and drugstores can add up to real meaningful rewards in a pretty big hurry. With rampant inflation, that matters."
Loyalty programs do draw repeat customers, with 72% of members saying they shop more at companies with loyalty programs. However, that doesn't necessarily mean people spend more.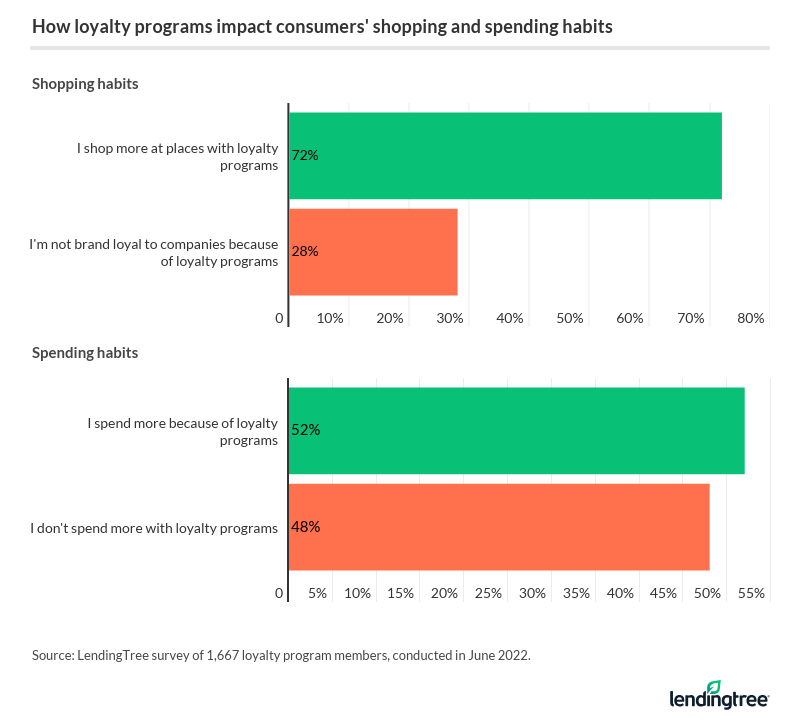 And that may indicate that shoppers are using these programs wisely, Schulz says.
"Retailers love loyalty programs because people who sign up for them are more likely to become regular customers," he says. "That return business makes these programs a big win for retailers, even if customers don't go overboard and spend extra when they're there."
Considering that a May 2022 LendingTree survey found that 1 in 4 Americans were boycotting a product or company, brands need to do all they can to stay on customers' good sides.
Rewards lure Americans into brand loyalty
Though there are various reasons that people decide to sign up for a brand membership, most do it for the incentives: 75% to earn points, 66% to get discount codes and coupons and 56% to access special deals. In particular, female loyalty shoppers are more into discount codes and coupons than their male counterparts (71% versus 60%).
"Over the years, many companies have gotten smarter about what they offer in these programs, doing a better job of catering to the specific needs and wants of their customer base in a way that more general rewards programs can't," Schulz says.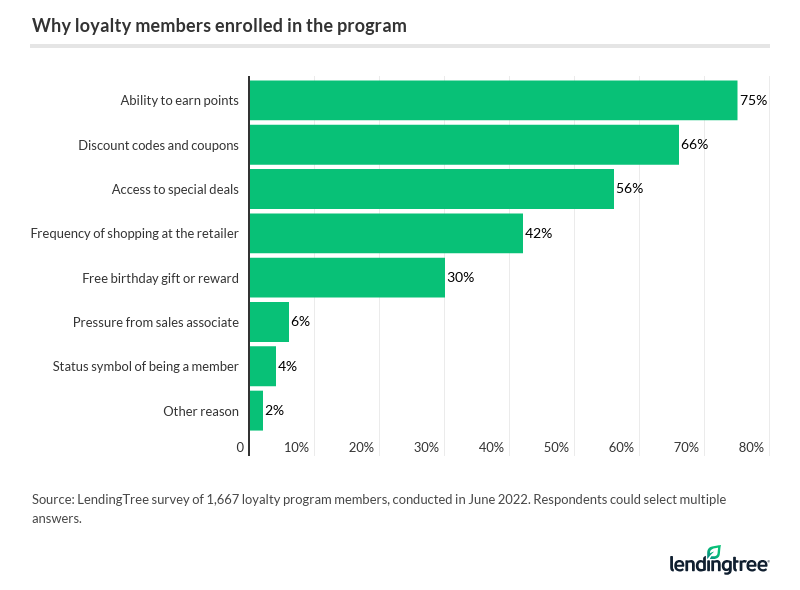 But just because someone joins a loyalty program doesn't mean they'll be loyal forever, as respondents shared various reasons why they might leave. Interestingly, more consumers would leave a loyalty program over a perceived lack of rewards (52%) than those who would leave because of a data breach (41%).
"News of data breaches has become white noise to millions of Americans," says Schulz, adding that some people barely even notice.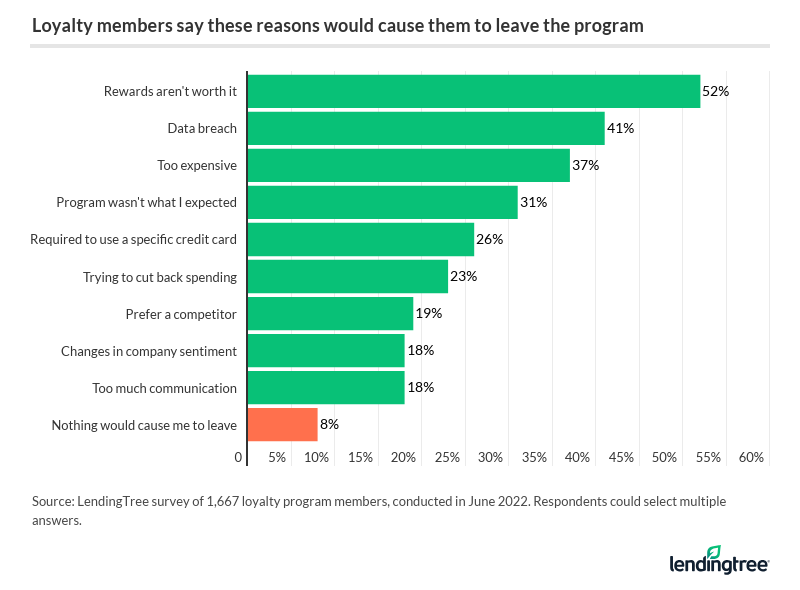 On the other hand, a great loyalty program can certainly drive someone to change the businesses where they spend their money.
"Better discounts, shorter routes to earning free stuff, exclusive deals — these are all things that can help someone extend their budget and could absolutely get people to change their habits," he notes.
Gen Zers (ages 18 to 25) are most likely to leave because of excess communications from the brand (26%, versus 18% overall). In contrast, older consumers — Gen Xers (ages 42 to 56) and baby boomers (ages 57 to 76) — are loyal for the long run, with 1 in 10 saying that nothing would cause them to leave.
Half of loyalty program members signed up at checkout counter
Consumers most often join loyalty programs via the brand website (61%), but 50% of loyalty program members say they signed up at a checkout counter. Women are much more likely than men to register in person (57% versus 42%). Just about half of Gen Zers and millennials say they signed up through an app.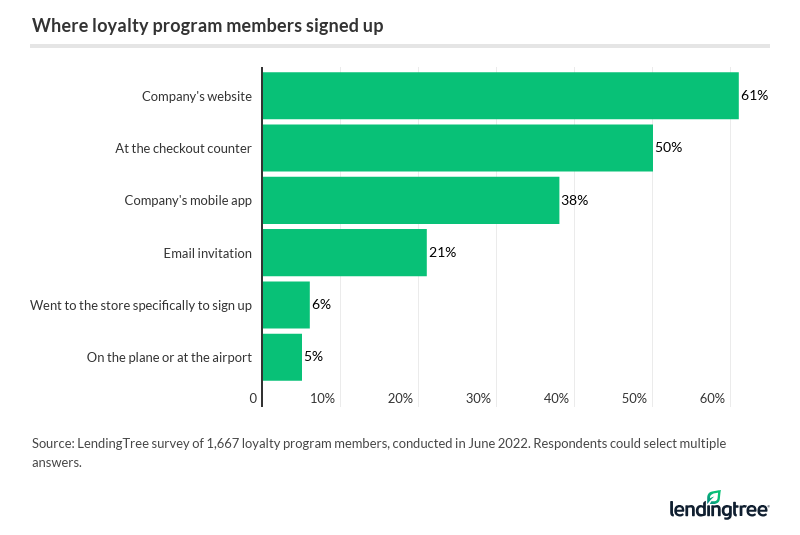 Ultimately, people sign up in the most convenient way for them, and not because they feel pressured — just 5% of Americans say a sales associate talked them into joining a new program. The other reasons given for joining a loyalty program include:
Discount on purchase (66%)
Ability to redeem points for rewards (56%)
Access to special sales or discounts (50%)
Sign-up bonus (44%)
Free birthday gift (39%)
Access to special contests or prizes (22%)
Are loyalty programs right for you?
Joining a loyalty program is often a no-brainer, especially if it doesn't cost you anything but a couple of minutes to join. Scanning your loyalty card or giving your phone number or email can equate to special discounts and savings.
That said, you don't have to join every loyalty program — as an example, if you only make a one-off purchase. Here are three things to keep in mind when signing up for a loyalty program:
Stick with stores you already frequent. Simply put: "The best loyalty program for you is one that fits your lifestyle best," Schulz says. "If you're already shopping at a store regularly and haven't signed up for their loyalty program, there's a good chance you're leaving money on the table." And in today's economy, that's one of the last things you should be doing.
Be mindful of store credit cards. Retail stores often prompt you to sign up for their store credit card to get discounts. An October 2021 LendingTree survey found that 54% of Americans have store credit cards. While it is a form of loyalty, opening a line of credit is a bigger commitment than just a quick registration with your name, email and phone number. For one thing, anytime you open a new credit card, it impacts your credit score. The other big issue is that once you start using the card, you don't want it to cost you more. "Store credit cards can be useful and can come with great discounts and perks," Schulz says. "However, if you carry a balance, they're just not for you because of their sky-high interest rates."
Don't chase rewards. "One of the first rules of rewards is to not overspend to get them," Schulz says. "No matter how lucrative the rewards, spending yourself into debt just to get them doesn't make sense." For example, he explains, you don't have to be an accountant to see that paying a 25% APR to save 15% off a purchase is a bad deal. A less obvious example is buying things you don't need to meet a spending requirement that qualifies you for a higher loyalty program level.
Methodology
LendingTree commissioned Qualtrics to conduct an online survey of 2,082 U.S. consumers, fielded June 10-14, 2022. The survey was administered using a nonprobability-based sample, and quotas were used to ensure the sample base represented the overall population. All responses were reviewed by researchers for quality control.
We defined generations as the following ages in 2022:
Generation Z: 18 to 25
Millennial: 26 to 41
Generation X: 42 to 56
Baby boomer: 57 to 76
While the survey also included consumers from the silent generation (those 77 and older), the sample size was too small to include findings related to that group in the generational breakdowns.