How Does LendingTree Get Paid?
LendingTree is compensated by companies on this site and this compensation may impact how and where offers appear on this site (such as the order). LendingTree does not include all lenders, savings products, or loan options available in the marketplace.
1 in 3 Millennials Have Boycotted A Company Or Product In The Past Year
Updated on:
Content was accurate at the time of publication.
Why use LendingTree?
We are committed to providing accurate content that helps you make informed money decisions. The content on this page has not been reviewed, approved or otherwise endorsed by any credit card issuer. We do maintain partnerships with some issuers, and our site may be compensated through those partnerships. Read our .
In the past year, about one-third of millennials and Gen Xers boycotted a company or product that they had spent money on in the past, according to a new LendingTree report. More than one-quarter of those age groups are still actively boycotting a product today.
With boycotts regularly making headlines, LendingTree asked Americans their views on the controversial practice. While there are many ways you can boycott a company or product, we at LendingTree chose to follow the money.
We asked whether people were currently participating in a boycott – or had in the past year — in which they stopped spending money on a product or company on which they had spent money in the past. We also asked whether people viewed boycotts as an effective tool for creating change and whether they would be willing to boycott their favorite retailer or even their favorite credit card under the right circumstances. What we found was while many Americans feel that people are too quick to call for a boycott, most think they can be effective and would consider joining one in the future.
Key findings
In the past year, 35% of Generation X and 33% of millennials have boycotted a company or product they had spent money on in the past. 30% of Gen X and 26% of millennials are currently boycotting.
Overall, 26% of Americans are currently boycotting a company or product they had spent money on in the past, while 32% had boycotted at some point in the past year.
More than half of respondents (53%) said they'd no longer shop at their favorite retailer if it publicly supported a person or cause they strongly disagreed with
More than half of credit cardholders (55%) said they would stop using their favorite credit card if the issuer publicly supported a person or cause they strongly disagreed with
Nearly 8 in 10 Americans (78%) have boycotted in the past year or would consider doing so in the future under the right circumstances. However, about half (49%) say that people are too quick to recommend a boycott (while just 17% disagree)
Nearly 6 in 10 Americans (58%) said they're more likely to buy from a company that gives to charities or is associated with causes they believe in. Just 9% disagreed.
Who is most likely to currently be boycotting? Men and parents with young kids
Who is most likely to boycott their favorite retailer or credit card for supporting a cause or person they oppose? The wealthy, Democrats and parents with young kids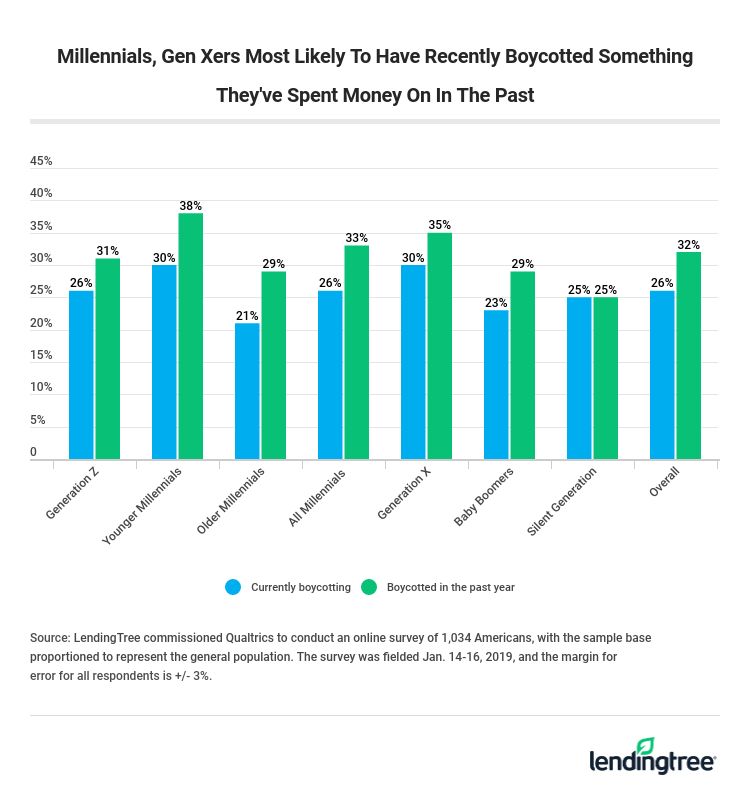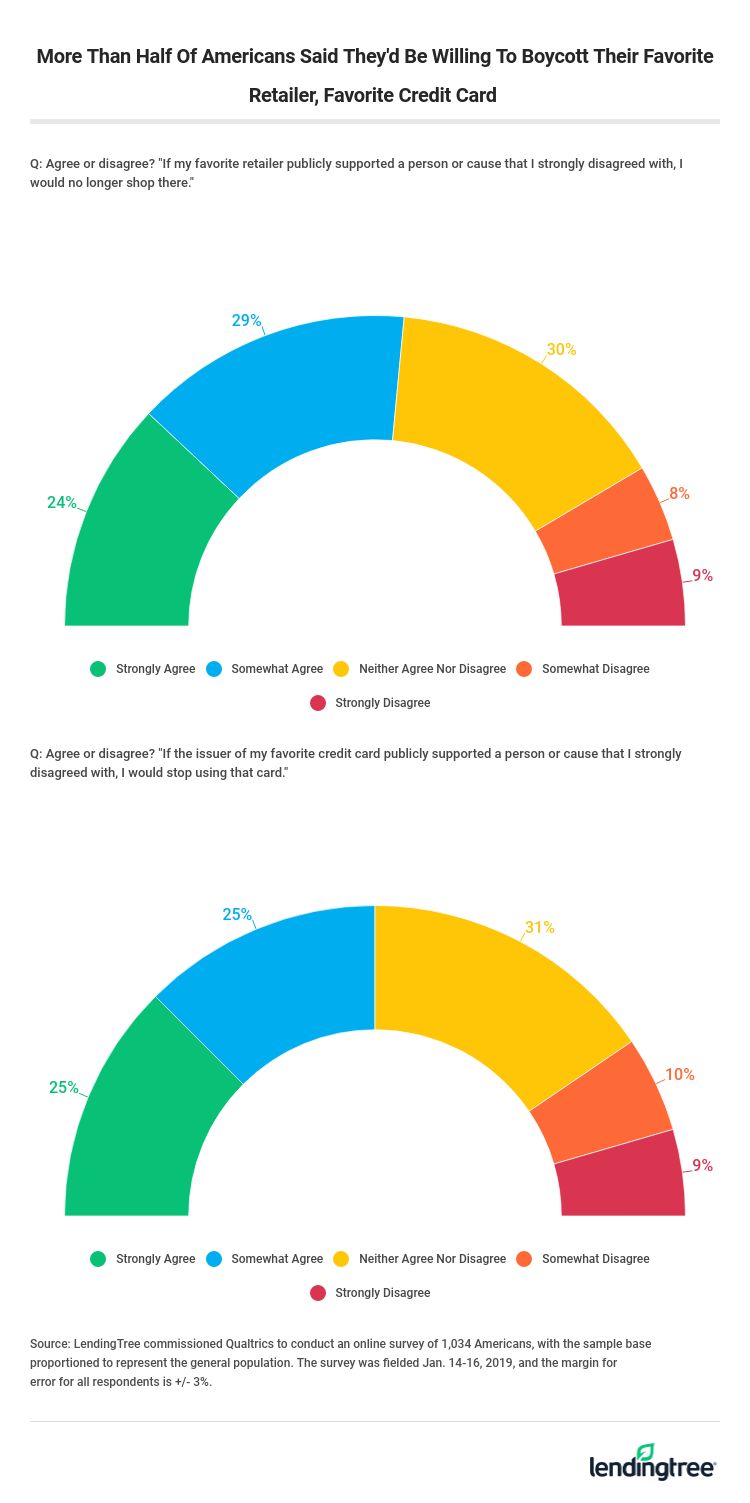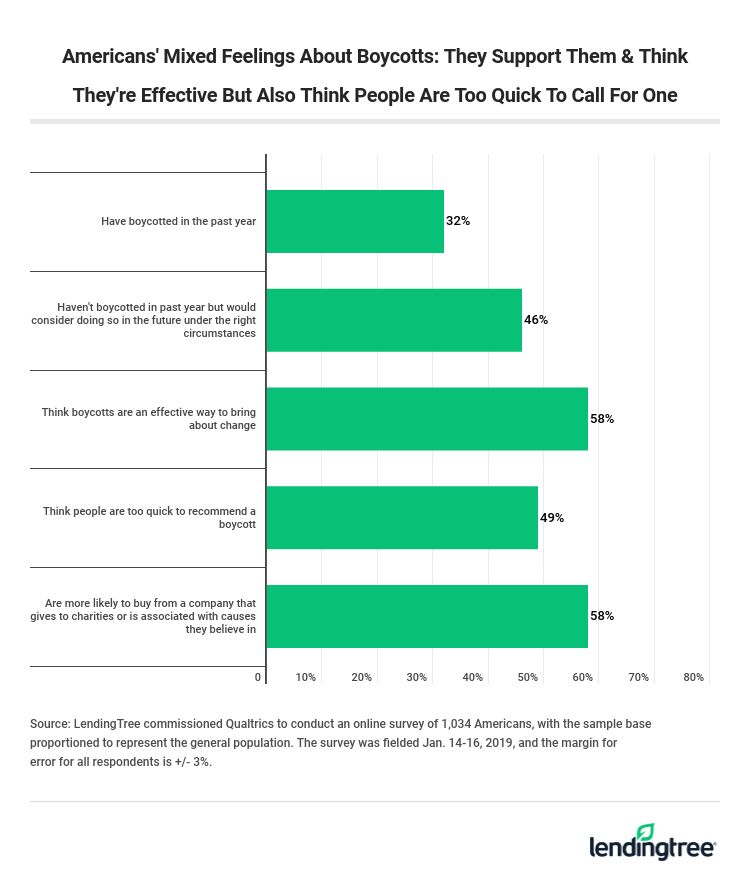 The bottom line: Americans say they're willing to join a boycott, but are they?
These survey results should be an eye-opener for businesses across the country. Your customers are watching what you say and do, and if you back a cause or a person they strongly disagree with, they're willing to kick you and your product to the curb. They'd even be willing to do that to their favorite retailer or their primary credit card.
There is real risk for companies to take a stand on controversial issues, as Nike did in making Colin Kaepernick the face of a major ad campaign or as Dick's Sporting Goods did in restricting gun sales in the wake of the school shooting in Parkland, Florida. However, there can be upside as well, since taking a stance can generate a tremendous amount of publicity and might create some new customers among those supportive of the company's views. The calculus that companies must figure out is whether they'll bring in more people than they'd turn away.
It's not a cut-and-dried decision for consumers, either. If a credit card with lucrative rewards that fit your lifestyle perfectly was issued by a bank whose business practices you disapproved of, would you apply for the card? If your favorite restaurant came out in support of a cause or person that you strongly disagreed with, would you still eat there? Everyone's line in the sand lies in a slightly different place, though these survey results seem to indicate that a large majority of Americans would at least be willing to draw that line someplace.
Ultimately, these results make it clear that most Americans simply want to be heard. I suspect many consumers talk a bigger game about boycotts than they'd ever be willing to play, but it's certainly notable that they're willing to say it. They want businesses to know they're willing to speak with their pocketbook, regardless of whether they ever actually do it. They want those in power to know that there are certain lines that shouldn't be crossed. And they want the powerful to know that if they do cross those lines, the people won't sit idly by.
What's more American than that?
Methodology:
LendingTree commissioned Qualtrics to conduct an online survey of 1,034 Americans, with the sample base proportioned to represent the general population. The survey was fielded Jan. 14-16, 2019, and the margin for error for all respondents is +/- 3%.