How Does LendingTree Get Paid?
LendingTree is compensated by companies on this site and this compensation may impact how and where offers appear on this site (such as the order). LendingTree does not include all lenders, savings products, or loan options available in the marketplace.
Where People Are Kicking Off 2021 With the Most Credit Card Debt
Updated on: January 20th, 2021
Why use LendingTree?
We are committed to providing accurate content that helps you make informed money decisions. The content on this page has not been reviewed, approved or otherwise endorsed by any credit card issuer. We do maintain partnerships with some issuers, and our site may be compensated through those partnerships. Read our .
Many people start a new year promising to improve themselves — including financially — but they often have to contend with leftover holiday debt.
Using an anonymized sample of more than 40,000 LendingTree accountholders, researchers analyzed the 50 largest U.S. metros to see where the highest percentage of people rang in 2021 with a credit card balance.
While more than 8 in 10 cardholders across the 50 metros carried card debt into 2021, two California cities — San Francisco and San Jose — took the top spots, while Hartford, Conn., consumers had the highest median balances.
Key findings
San Francisco (90%), San Jose, Calif. (89.4%), and Boston (88.6%) have the highest percentage of credit card users carrying a balance into 2021.
The lowest percentage of balance carriers are in Oklahoma City (74.2%), Memphis, Tenn. (74.4%), and San Antonio (75.7%).
Hartford, Conn., credit card users are carrying a median balance of $3,994 in card debt into 2021 — the highest among the 50 metros.
The lowest median card debt among the top metros was found in Salt Lake City ($2,636).
Overall, more than 8 in 10 credit card users (83.1%) in the 50 biggest metros are carrying card debt into 2021, owing a median balance of $3,239.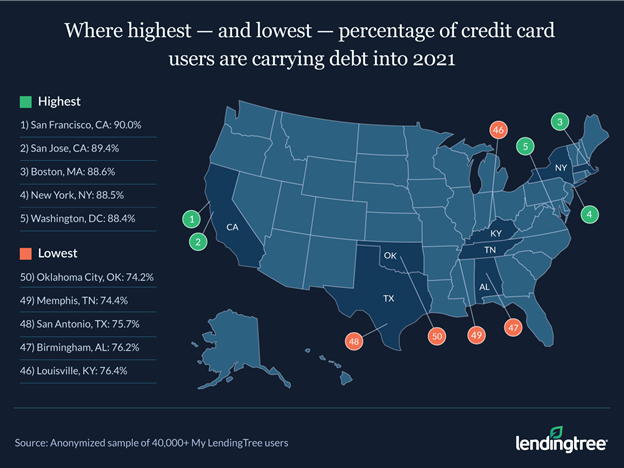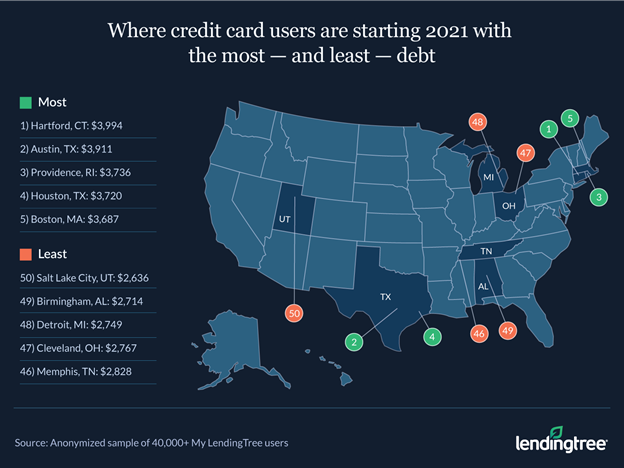 LendingTree chief credit analyst on why these metros are having the most — or least — difficulties with credit card debt
The metros with the highest percentage of people entering 2021 with credit card debt have a few things in common.
"They're huge, expensive to live in and their residents tend to make a lot of money," said Matt Schulz, LendingTree's chief credit analyst.
That indicates one of two things, according to Schulz:
These residents are likely struggling with a high cost of living, and may need credit cards to get by
They may be wealthy, and are not concerned with paying credit card interest
As far as the amount of debt, people with good credit and high income are generally more likely to carry bigger balances, since they usually have access to higher credit limits.
However, there's also a key demographic thread that ties together the metros where the residents have the highest amount of debt: Youth, with all five having younger-than-average populations. When you're young and don't have a lot of financial experience, that scary combination can lead to more debt, especially for those living in big, expensive cities, he noted.
On the flip side, the metros with the fewest credit card debt woes — especially Cleveland, Detroit and Birmingham, Ala. — have lower median incomes. People with lower incomes usually have less credit available to them.
6 tips to get out of credit card debt in 2021
With more than 8 in 10 people starting off the year with a credit card balance because of holiday spending or otherwise, nearly everyone can benefit from learning some solid payoff strategies.
Here are some tried-and-true tips for getting out of credit card debt, even as the pandemic continues to impact the economy.
1. Make or revisit your budget
"The pandemic has changed so much about our lives, including our money, so what was true about your finances a year ago may no longer be," Schulz said.
To make a meaningful plan to knock down credit card debt, you have to know how much is coming in and going out of your household each month. List your expenses and your income to identify places where you can trim. Then, allocate those savings toward your debt.
2. Pick a method and stick with it
The best debt payoff method for you is the one that keeps you motivated.
"If small victories at the start will help keep you going, start by paying off your cards with the smallest debts first and then move on," he said. "If you're motivated by math and the idea of paying the absolute least in interest that you need to over time, focus on the card with the worst combination of interest rate and balance."
3. Use economic impact payments wisely
With a second round of economic impact payments being sent out, be sure to earmark at least a percentage of it toward your debt. The same goes for any other possible cash windfalls, such as work bonuses or tax refunds.
4. Consider consolidation
Consolidating your credit card debts can save you money by reducing your interest rate and streamlining your debt payments into one bill.
Balance transfer credit cards and personal loans can be good options to explore.
5. Pay down debt — but save, too
A strong emergency fund is one of the best ways to protect yourself from future debt.
"Consider this: If you pay off your credit card debt but have no savings, the next unexpected expense will have to go right back on your credit card, starting the cycle of debt once again," Schulz said. However, if you have an emergency fund, you can pay for that little surprise with cash instead of plastic.
6. Ramp up income
If you have the opportunity to pick up a side gig to earn extra income, it could be a great way to fast-track your debt payoff. You could also try selling items you no longer use.
Full rankings
Methodology
LendingTree researchers used an anonymized sample of more than 40,000 LendingTree accountholders from the first 15 days of December 2020 to estimate the percentage of credit card users carrying debt into 2021. We also compiled median credit card debts in those same 50 metros.