How Does LendingTree Get Paid?
LendingTree is compensated by companies on this site and this compensation may impact how and where offers appear on this site (such as the order). LendingTree does not include all lenders, savings products, or loan options available in the marketplace.
Music Festivals Drive Many Americans into Debt
Updated on: July 30th, 2019
Why use LendingTree?
We are committed to providing accurate content that helps you make informed money decisions. The content on this page has not been reviewed, approved or otherwise endorsed by any credit card issuer. We do maintain partnerships with some issuers, and our site may be compensated through those partnerships. Read our .
About 1 in 4 Americans who attended a music festival in the past year are currently paying off debt related to a festival, according to a new report from LendingTree — and that includes nearly a third of millennials.
Giant music festivals like Lollapalooza, Coachella, Bonnaroo and Austin City Limits grab lots of headlines, but these events come in all shapes, sizes and flavors, held in big cities, small towns and everywhere else in between. And it's clear that Americans love them and spend a lot of money to enjoy them. It's common for the largest festivals to charge more than $300 for a basic festival pass — in 2017, the most recent year for which data is available, Coachella alone grossed more than $114 million, according to Billboard.
LendingTree asked consumers about how much they spend on music festivals, how they pay for them and whether they've gone into debt for one. What we found was that while Americans keep flocking to music festivals — almost half of all Americans said they attended one in the past 12 months — for many, their love of music is taking a real toll on their finances.
Key findings:
45% of Americans said they attended a music festival in the past 12 months.
About 1 in 4 (23%) music festival attendees are in festival-related debt, including nearly a third (32%) of millennial festival attendees.
55% of music festival attendees said they're spending more on festivals than in years prior.
41% of music festival goers used credit card rewards or points/miles to pay for festival expenses.
On average, festival attendees drop $100 to $299 on those events annually (according to 38% of respondents). However, 22% spent more than $500.
The most common festival expenses: In addition to the cost of the ticket, 80% bought food, 46% bought a hotel room, 45% bought a new outfit, 39% bought festival merchandise, 26% bought plane tickets, 21% bought VIP passes and 14% rented a camping spot.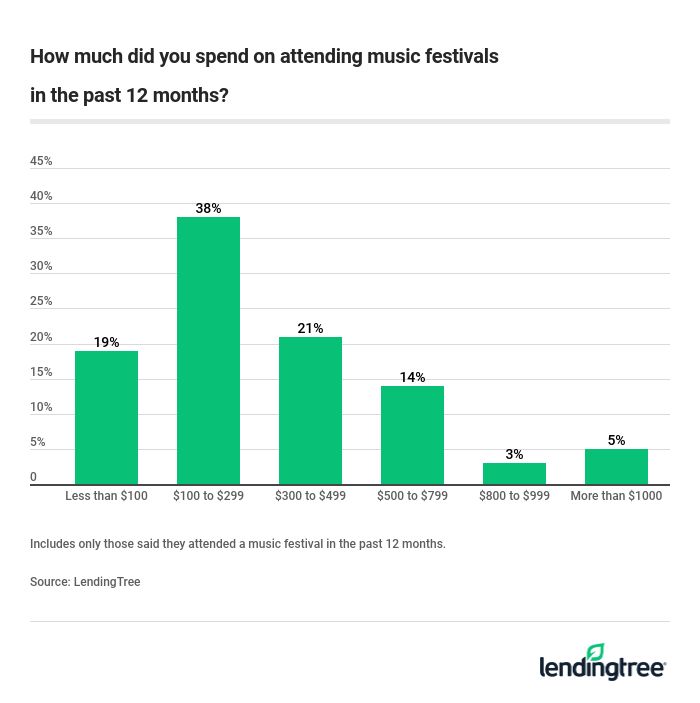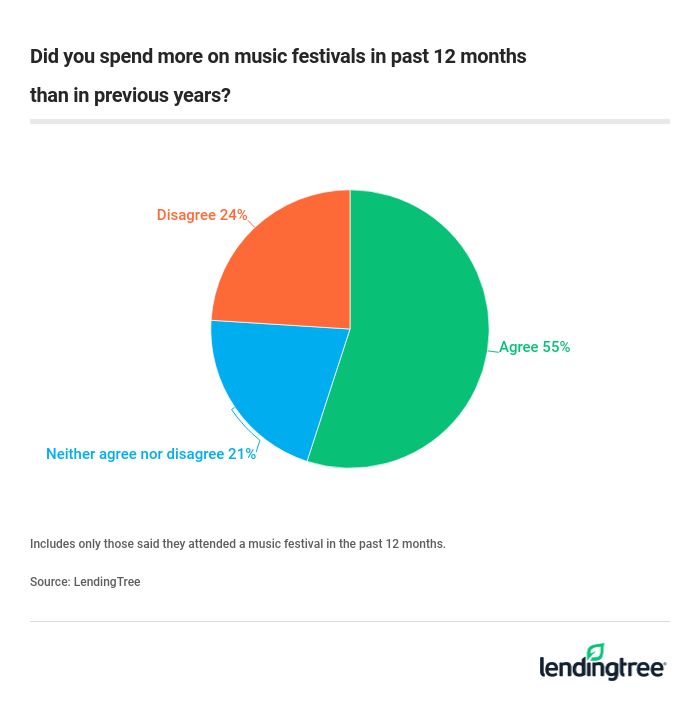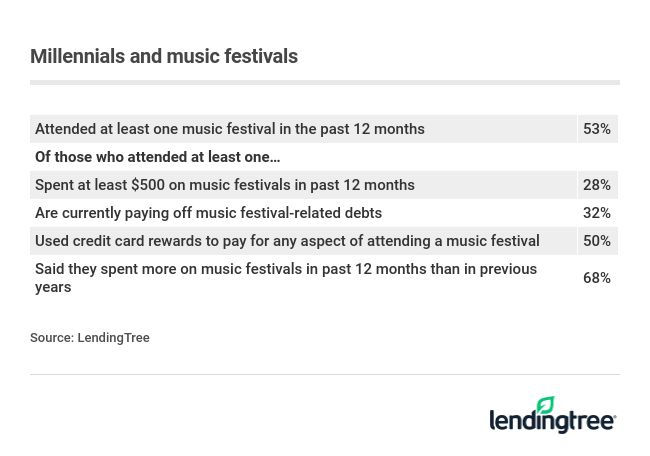 Memorable experiences — at a cost
Americans' love fest with music festivals dates back to Woodstock in 1969 and before. However, as these events have grown and become more elaborate in recent years, the costs associated with them have exploded, too. Sure, you're able to see some of the world's biggest performers — megastars Childish Gambino, Ariana Grande, Billie Eilish, Cardi B and others have been staples of the festival circuit in 2019 — all in one place, but it will cost you.
An advance-sale general admission festival pass for Coachella 2020 cost $399, plus fees. Add in shuttle passes, VIP packages and other add-ons and the sky's the limit as to what you can pay. There's even a $9,500 VIP "safari tent" option that gives access to an exclusive campground, a fully furnished tent, private air-conditioned bathrooms and showers, golf-cart transportation and more.
At Lollapalooza, a four-day general admission pass costs $340, but you can upgrade to a platinum pass for $4,200. You can also upgrade for a "Lolla Insider" pass that gives exclusive access backstage and other perks; they don't put that price on the festival's website, and encourage you to email the festival for info. (Spoiler alert: If you need to ask the price, you probably can't afford it.)
Of course, those costs don't even include the cost of getting there, buying food or festival swag and more. When you consider those prices, and just how many Americans attend a music festival each year, it shouldn't be surprising that so many people are paying off festival-related debt.
The bottom line: Plan ahead!
Yes, the costs surrounding music festivals can be outrageous, but the good news is that they're also predictable. That means that you can plan ahead so you can get your festival on with your friends while limiting the damage to your budget. Here are some tips:
Learn from the past — then start saving
Festival ticket prices and packages do change from year to year, but if you research what tickets, VIP experiences, lodging and other key expenses cost the previous year, you can get a feel for how much you'll need to try to save before next year's show. (You may want to add an extra 10% or so to the prices, just to anticipate any increases that might come.) From there, you can do the math to figure out how much you'll need to put away each month or from each paycheck to get you to your goals.
Leverage credit card rewards
As our survey showed, music festivals leave many Americans wrestling with post-festival credit card debt. It doesn't have to be that way, however. The survey also showed that many Americans use credit card rewards to control the cost of their music festival experience, and with some advance planning, you can, too. For example, consider applying for a travel credit card, then using the miles or points from the sign-up bonus to help pay for your flight to the festival or hotel nights while you're there.
It can work with cash back cards as well. Many cards offer $100 or more as a sign-up bonus when you spend a certain amount in the first three months you have the card. That extra cash can help you extend your festival budget.
Just make certain you can pay the balance on the new card off in full each month. Otherwise, the math doesn't work in your favor because high interest rates will kick in, negating any rewards you earn.
Opt for a shorter stay
Instead of buying tickets for the entire festival, consider buying a single-day pass for the day your favorite act goes on. This isn't always an option — Coachella's website says they don't sell single-day passes — but when available, it's definitely worth considering. For example, a single-day general admission pass to the Austin City Limits Music Festival costs just $105 vs. the $260 price of a three-day pass. At Lollapalooza, a single-day ticket costs $130 while a four-day pass costs $340. When it comes to cost-per-day, the multi-day passes are a better deal, but that doesn't mean they're actually affordable when you factor in overnight stays and food costs.
Consider a payment plan
Most of the biggest festivals offer a payment plan to help folks who may be struggling to afford the ticket. For example, Lollapalooza and Austin City Limits Music Festival offer "layaway" plans, which let you pay a small initial down payment and then pay the remaining balance in installments. Unfortunately, the layaway plan information on both festivals' websites is a little lacking, so be sure to check the website or call the 800-number they provide for more information.
Coachella's website gives much more detail. For a $429 general admission pass to Coachella 2020, you'd make an initial payment of $25 and then pay about $67.33 for each of the next six months until your balance is paid off. There's no interest changed, making it a good option for consumers who want to pay their tickets off over time without paying any extra.
Methodology
LendingTree commissioned Qualtrics to conduct an online survey of 1,019 Americans. The survey was fielded July 11-12, 2019, with the sample base proportioned to represent the general population.