How Does LendingTree Get Paid?
LendingTree is compensated by companies on this site and this compensation may impact how and where offers appear on this site (such as the order). LendingTree does not include all lenders, savings products, or loan options available in the marketplace.
Places Where People Are Most Likely to Have 5-Figure Credit Card Balances
Updated on: August 3rd, 2021
The content of this article is based on the author's opinions and recommendations alone. It may not have been reviewed, approved or otherwise endorsed by the credit card issuer. This site may be compensated through a credit card issuer partnership.
Despite an overall reduction in credit card debt in the U.S. during the coronavirus pandemic, the percentage of cardholders in America's biggest metros with balances of $10,000 or more has risen slightly since 2019, according to new data from LendingTree.
Once again, the metro with the highest percentage is Bridgeport, Conn.
LendingTree analyzed anonymized credit report data from more than 2.5 million LendingTree app users to see which of the 100 largest metros have the most credit cardholders with five-figure balances. What analysts found is that most of the metros with the highest percentages of people with five-figure credit card debt are clustered along the East Coast, while the metros with the smallest percentages were most likely found in the Rust Belt or the South.
TABLE OF CONTENTS
Key findings
Five-figure debt becomes slightly more common: Not all Americans' credit card balances fell during the pandemic. The percentage of cardholders owing $10,000 or more in card debt grew from 15.5% in 2019 to 17% in 2021. The percentage owing $50,000 or more grew, too, from 0.6% to 1.1%.
Bridgeport, Conn., is still the five-figure credit debt capital of the U.S.: As it did in LendingTree's 2019 report, Bridgeport, Conn., has the nation's highest percentage of cardholders that owe $10,000 or more. (Washington, D.C., and Miami were second and third, respectively.) Bridgeport also has the highest percentage of cardholders who owe $50,000 or more.
There's trouble in Texas: The Lone Star State saw two metros enter the top 10 with big jumps. Austin moved from 26th to 6th, while Houston moved from 32nd to 10th. Meanwhile, Dallas jumped into the top 20 — in 18th place — after ranking 33rd in 2019.
Five-figure card debt is rarest in the Rust Belt: Toledo, Ohio, and Grand Rapids, Mich., have the lowest percentage of cardholders who owe $10,000 or more — just 12.5%. Toledo's standing is particularly impressive since the metro didn't rank among the nation's 15 lowest in 2019.
5-figure debt becomes more common
It's been well-chronicled that Americans paid down significant amounts of
credit card debt
during the pandemic. Thanks to reduced spending, government recovery payments and other factors, card debt in the U.S. fell from $927 billion in the fourth quarter of 2019 to $770 billion in the first quarter of 2021. That's a significant decline.
That doesn't mean that everyone's debt went down, though. LendingTree's latest report shows that the percentage of Americans with five-figure credit card debt grew from 15.5% in 2019 to 17% in 2021.
The growth wasn't huge — just a percentage point and a half — but it's still significant, especially during an economically volatile time like the one we're currently facing.
The percentage owing $50,000 or more grew, too, from 0.6% in 2019 to 1.1% now.
The 5-figure credit card balance capitals of the U.S.
Just like in the previous report, Bridgeport, Conn., led the nation's biggest metros in the percentage of cardholders owing $10,000 or more in card debt. Other big East Coast cities — Washington, D.C., Miami and New York — weren't far behind, nor was Oxnard, Calif.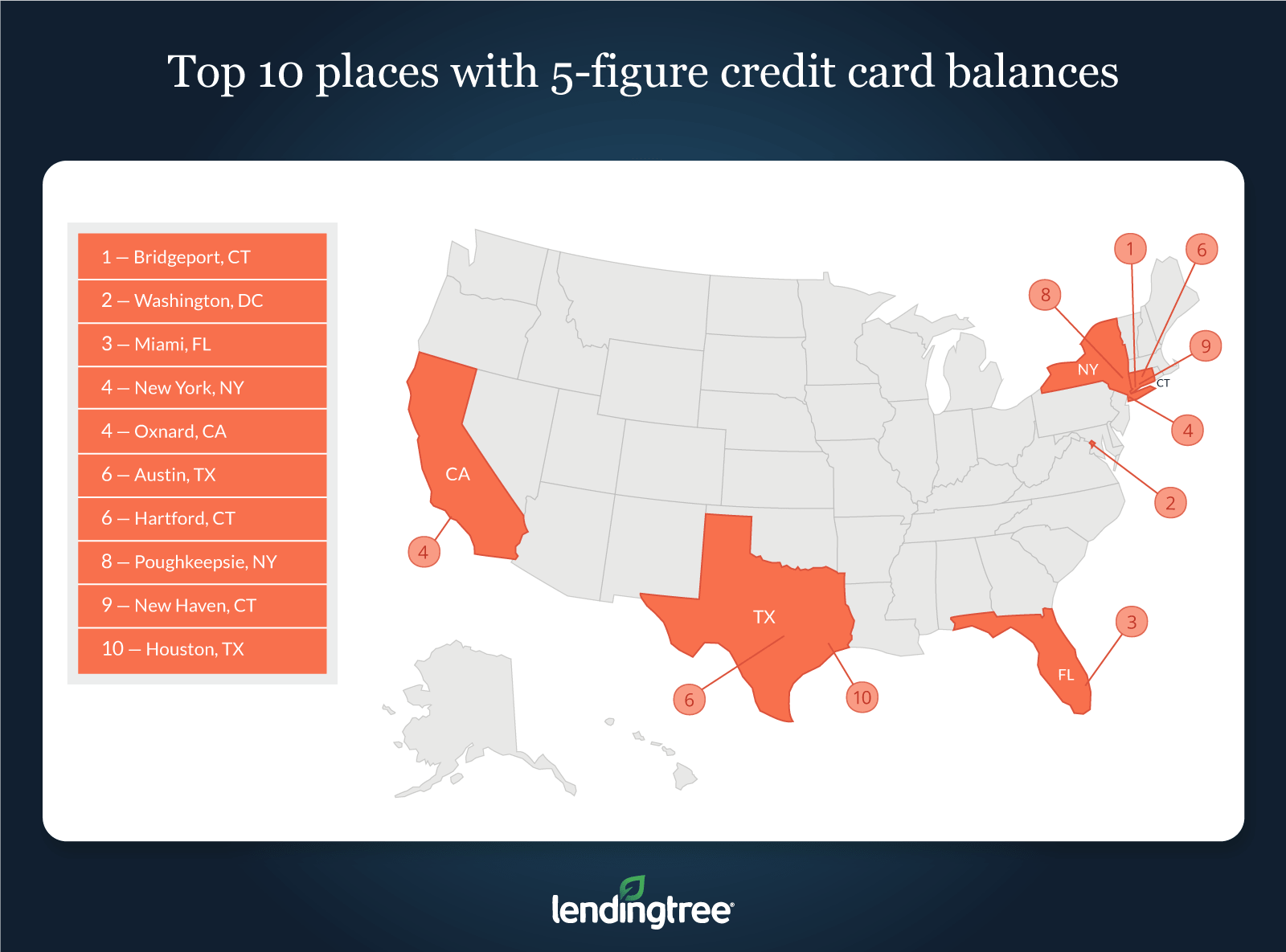 Why these metros? Income is a big part of it. Simply put, you can't run up huge card balances unless you have huge credit limits, and you don't get huge credit limits without having significant income.
Bridgeport's metropolitan area includes Greenwich, Conn., one of the wealthiest communities in the nation. Washington, D.C., and New York have some of the nation's highest per capita incomes. Even Miami, which has a lower average income than many metros of its size, has a significant high-income population.
Still, it's not just all about income. The truth is that the pandemic has amplified the financial hardships facing millions of Americans, leading many to rely more than ever on credit cards and pushing them to max out the cards they have.
A
February LendingTree report
showed that the percentage of credit cardholders with a maxed-out credit card shot higher in all but one of America's biggest metros at the end of 2020. And if you're maxing out credit cards, it may not take long until all those cards add up to five figures in debt.
Trouble in Texas
While the saying goes that "everything is bigger in Texas," that hasn't traditionally been the case with salaries in the Lone Star State. The big metros in Texas have generally trailed behind the big coastal metros in that measure.
However, right now Texas is booming. Many of the state's big cities have seen explosive growth, both in population and job creation. That has sent incomes shooting higher in some places. According to the Federal Reserve, for example, per capita household income in Austin grew from $51,484 in 2015 to $61,977 in 2019.
With that, according to LendingTree data, has come a big jump in the percentage of folks with big credit card debts.
Austin: Tied for sixth-highest percentage in the country, up from 26th; 20.8% of cardholders owe $10,000 or more, up from 16.5%
Houston: 10th highest, up from a tie for 32nd; 20.0% of cardholders, up from 16.2%
Dallas: Tied for 18th highest, up from a tie for 32nd; 19.2% of cardholders, up from 16.2%
That's not the type of growth that Texas is looking for.
5-figure debt is rarest in the Rust Belt
Not all cardholders are seeing the growth that's happening in Texas, though.
The metros with the lowest percentage of cardholders carrying five-figure balances — Toledo, Ohio, and Grand Rapids, Mich. — both headed the other direction.
Toledo fell from 13.6% in 2019 to 12.5%
Grand Rapids fell from 13.0% to 12.5%
These aren't giant decreases, but they matter.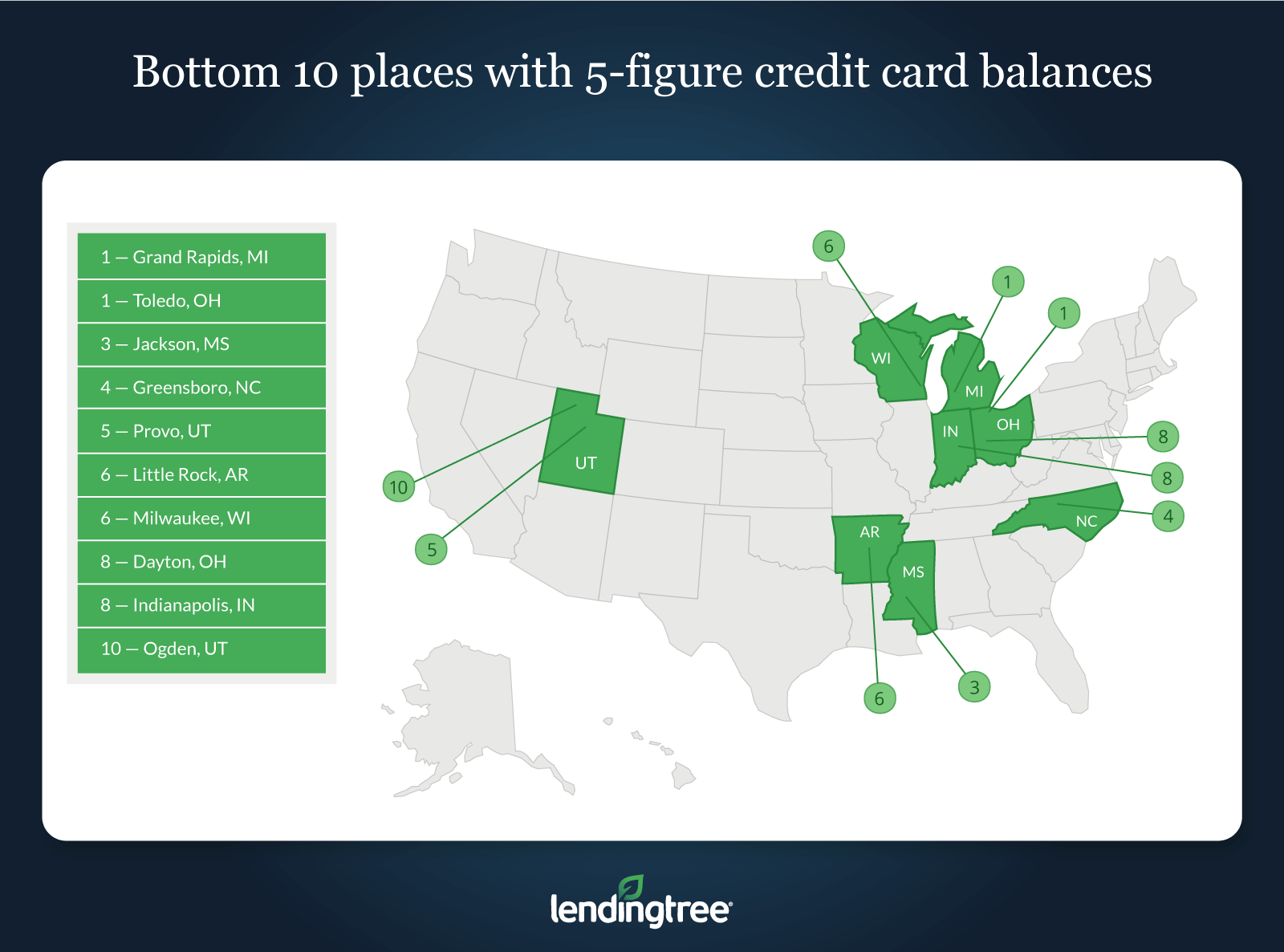 Again, income likely played a big role here. Most of these places have lower incomes than other bigger American metros.
However, it's important to understand that high debt levels are only one indication of credit cardholder health. For example, 33.1% of cardholders in Milwaukee were maxing out their credit cards in December 2020, according to the previously mentioned LendingTree report. That was the highest percentage among the nation's 100 biggest metros and a stark contrast to their strong showing in this five-figure debt report.
No matter where you live, focus on paying down that debt
I've been in the five-figure credit card debt club while living in a big, expensive city. It's awful, and it pretty much consumes your life until you escape it. It took me about five years — and a couple of significant pay raises — to finally eliminate that credit card debt. More than 20 years later, the memories of that struggle are still fresh, and I hope never to return to that place.
If you're still struggling with credit card debt, the worst thing you can do is nothing. Yes, life is crazy expensive in 2021, especially in places like New York, Los Angeles and Washington, D.C., but there are still steps that you can take to help yourself.
Make a budget: You can't make a meaningful plan to tackle your credit card debt if you don't know how much you're bringing in and how much you're spending on a regular basis. Take the time to write down all your recurring bills and then track all your other spending for a couple of weeks. Once you've collected the data, compare those expenses to your income. It may not be a pleasant experience, but it will give you a feel for whether you need to focus your efforts on cutting back expenses or increasing income — or perhaps a little of both.
Bump up your payments, even just a little: Adding an extra $5 or $10 to your credit card payment doesn't sound like much, but it can be significant if added up over the life of your debt.
Set up autopay: Having debt is stressful, and we all have to-do lists that are 100 miles long. Setting up automatic payments for your credit card means there's one less thing that you have to do. Plus, it will ensure that you're never late with a payment again, which helps protect your credit. Just make sure that you pay more than the minimum each time, or you're asking for trouble.
Ask for a lower APR: A March 2021 LendingTree survey showed that 83% of cardholders who asked their card issuer for a lower APR got their request granted, and the average reduction was about 10 percentage points. That can make a huge difference in your ability to pay off your debt and save you hundreds of dollars and several months in payoff time, depending on how much you owe. And that success rate means that it's not just people with perfect credit who are getting their way. The problem is that far too few people ask. Don't let fear or nervousness cost you money. Make the call.
Get a 0% balance transfer card: It may sound strange to tackle credit card debt by getting yourself yet another credit card but, used wisely, a 0% balance transfer credit card can be a godsend. These cards often offer 12 to 18 months with no interest on transferred balances, which can lead to really significant savings and shortening of payoff time. You will need decent credit to get one, though. It's also important to understand the fees, maximums and other fine print that comes with the card. Balance transfer cards can be a little confusing, but they can save you a ton of money if you know how to use them.
Methodology
LendingTree used an anonymized sample of credit reports (April 1 to June 7, 2021) from more than 2.5 million LendingTree app users with active credit cards (excluding charge cards).
Their total balances were then calculated, and the results were aggregated across the 100 most populous metropolitan statistical areas to determine the percentage of cardholders who owe more than $10,000 across all their active cards and the percentage who owe more than $50,000.