How Does LendingTree Get Paid?
LendingTree is compensated by companies on this site and this compensation may impact how and where offers appear on this site (such as the order). LendingTree does not include all lenders, savings products, or loan options available in the marketplace.
44% of Americans Plan to Apply for Store Credit Card This Holiday Season; Big Jump From 2019
Published on:
Content was accurate at the time of publication.
Why use LendingTree?
We are committed to providing accurate content that helps you make informed money decisions. The content on this page has not been reviewed, approved or otherwise endorsed by any credit card issuer. We do maintain partnerships with some issuers, and our site may be compensated through those partnerships. Read our .
A lot more Americans say they're likely to apply for a store credit card this holiday season than did in either of the previous two years, according to a new report by LendingTree.
That's despite the fact that more than half (56%) of people who say they've had a store credit card say they've regretted getting one.
For the third straight year, LendingTree surveyed consumers about their perceptions, behaviors and beliefs around store credit cards, which are typically easier to obtain than other types of cards but also tend to have higher APRs and subpar rewards.
We also reviewed credit cards from the nation's largest retailers for our report. This year, we looked at the terms and conditions of 85 cards from 61 retailers.
We found good news when it came to credit card APRs. They're still high, but they've fallen, thanks mostly to rate reductions by the Federal Reserve in response to the pandemic and ensuing economic crisis.
Not all the news was good, however. We found more people interested in getting these sky-high-APR cards, more regrets among those with these cards and more people relying on them as their primary credit card.
Key findings
Big jump in interest in store cards: 44% of Americans say they're at least somewhat likely to apply for a store card during the holiday shopping season. That's up from 32% in 2019 and 24% in 2018.
Store card APRs fall: The average APR for a new store credit card is 24.24%, down from 25.41% in 2019, thanks largely to Federal Reserve interest rate cuts.
More regrets: More than half (56%) of those who have had a store card regret opening one (and, in many cases, more than one). In 2019, just 46% of consumers regretted getting a store card.
Nearly half have debt: 49% of those who have had a store-branded credit card currently have debt related to that card.
Store card as primary card: Of those who currently have a store-branded card, 59% consider the store card to be their primary card.
Gen X among most likely to apply: 78% of Gen X said they were likely to apply for a store card this year. Others: parents of kids under 18 (72%), those who were laid off/furloughed due to the pandemic (64%) and men (63%).
Spend more, get better rewards: More retailers are trying to drive spending by creating tiered-rewards programs that let consumers earn rewards faster the more they spend.
Interest in store cards grows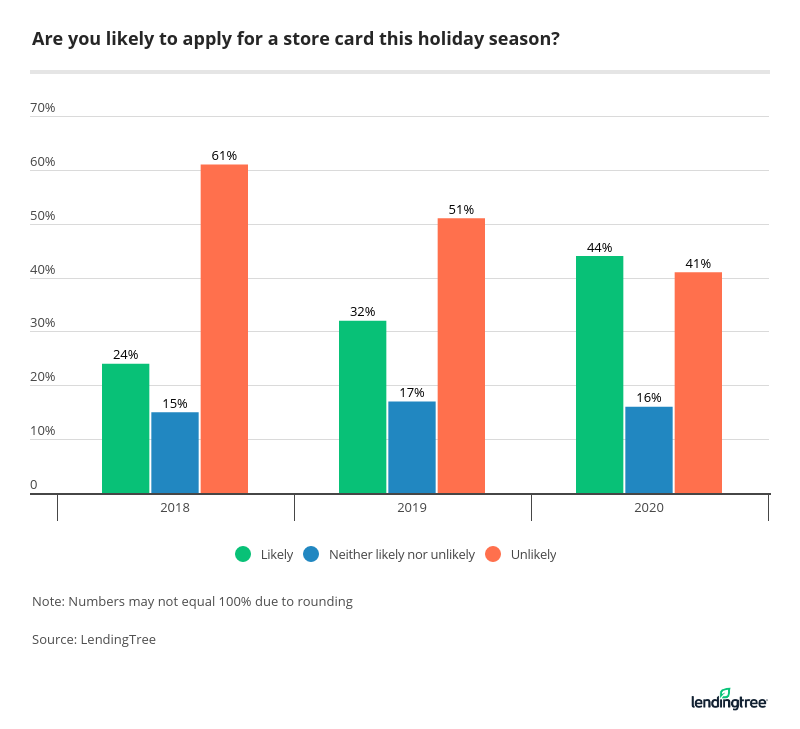 More than 4 in 10 Americans (44%) said they're at least somewhat likely to apply for a store credit card this holiday season. That's up 20 percentage points from just two years ago.
That growth was somewhat surprising when you consider that store credit cards are traditionally associated with a pressure-packed hard sell from a clerk at the checkout counter of a brick-and-mortar store. Nearly two-thirds (63%) of consumers said in our survey that they'd felt pressured by a sales associate in the past to sign up for a new store card.
There's a reason why those pitches continue: They work. Nearly half (49%) of those who said they felt pressured in the past did actually sign up for the card because of that pressure. That's a success rate that most any salesperson would love.
However, with people likely to shop online more because of the pandemic, there will likely be fewer opportunities for those types of face-to-face sales pitches. Yet, more consumers say they're likely to apply anyway. That's certainly good news for retailers, many of which are in dire need of some positivity.
Gen X among most likely to apply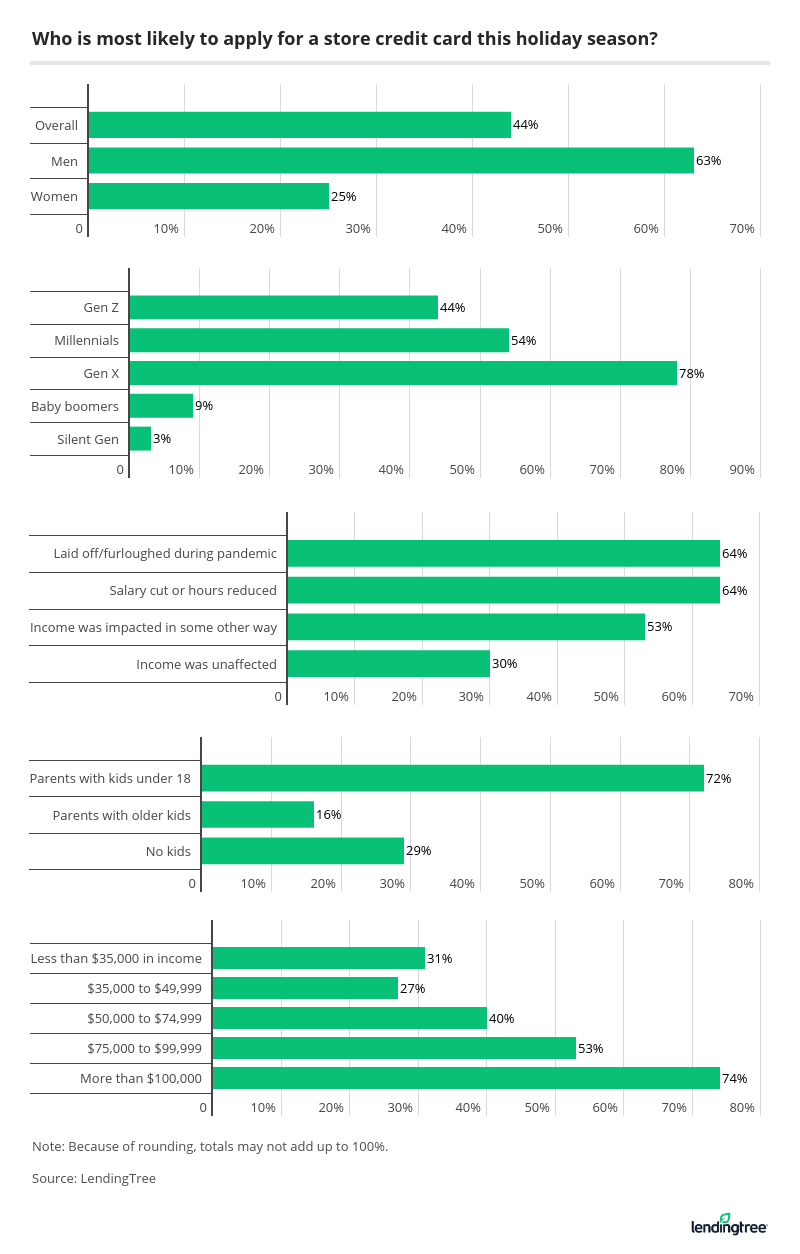 Not all consumers are planning to jump in, however.
Store credit cards tend to attract a wide range of people. People just getting started with credit like them because they're usually easier to qualify for than other types of cards. Folks with imperfect credit and those struggling financially like them as well, for similar reasons.
However, high-income consumers with great credit are also fans as they look to them for discounts on large projects, like a home remodel, or for rewards. Many retailers have introduced tiered-rewards programs in recent years, giving better rewards rates and other perks when you spend more at their store.
This year's survey shows that split well. Young consumers are highly likely to apply, as are those hardest hit financially by the pandemic are most likely to apply. Yet those with incomes of $100,000 or more are among the most likely of any group to say they'll apply.
Rates dip but remain sky-high
It's always vital to know the possible APRs associated with a credit card before you apply for it, but that's particularly important with store cards because the rates are often far higher than those of regular credit cards – sometimes even nearing 30%. That's certainly still true in 2020, even though rates for all credit cards have fallen, largely thanks to the Federal Reserve lowering the rates in the early days of the pandemic.
Retail credit card APRs fall but remain far higher than other credit cards
2020
2019
2018
Average APR for new store credit card
24.24%
25.41%
24.97%
Average APR for all new credit cards
19.29%
20.59%
20.62%
Note: The all credit card average shown is the one that was most current at the time that year's Store Card Report was released.
While the average store credit card interest rates have changed, cards that had high APRs in 2019 tend to still have high rates today. Those with low rates last year tended to have low ones this year. That's why the below list of cards with the highest and lowest APRs is remarkably similar to last year. The retailers are the same, though in slightly different order, and some of the rates have changed, but not all of them.
Store cards with the lowest APRs
Minimum APR
Maximum APR
Bass Pro Shops Club MasterCard
9.99%
24.24%
Dillards Rewards American Express card
9.99%
24.99%
Military Star credit card
10.24%
10.24%
Apple Card
10.99%
21.99%
REI Co-op World Elite Mastercard®
11.49%
23.49%
Store cards with the highest APRs
Minimum APR
Maximum APR
Big Lots credit card
29.99%
29.99%
The Diamond Credit Card from Zales
29.99%
29.99%
BP Visa® Credit Card
29.99%
29.99%
Discount Tire Credit Card
29.99%
29.99%
Brandsource credit card
28.49%
28.49%
One major positive: For the first time in the three years we've done this study, no card featured an APR of 30% or higher. Yes, four cards had 29.99% APRs, but none breached the 30% barrier.
Store card regrets continue to grow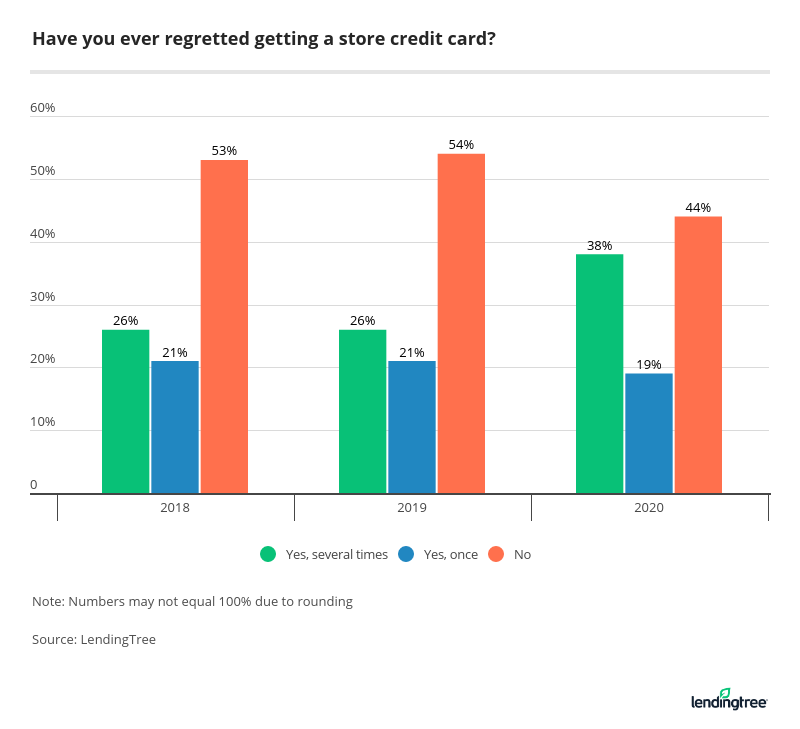 With those sky-high rates, it's easy to see why some people would end up regretting signing up for a store credit card. Those sign-up bonuses can be great – 65 of the 85 reviewed cards had one, typically a gift card or some discount on the first purchase made with the card. Still, if you carry a balance on one of these cards, the interest you pay with those high APRs can easily exceed what you saved with that initial discount.
Unfortunately, nearly half (49%) of those with a store card have debt associated with it.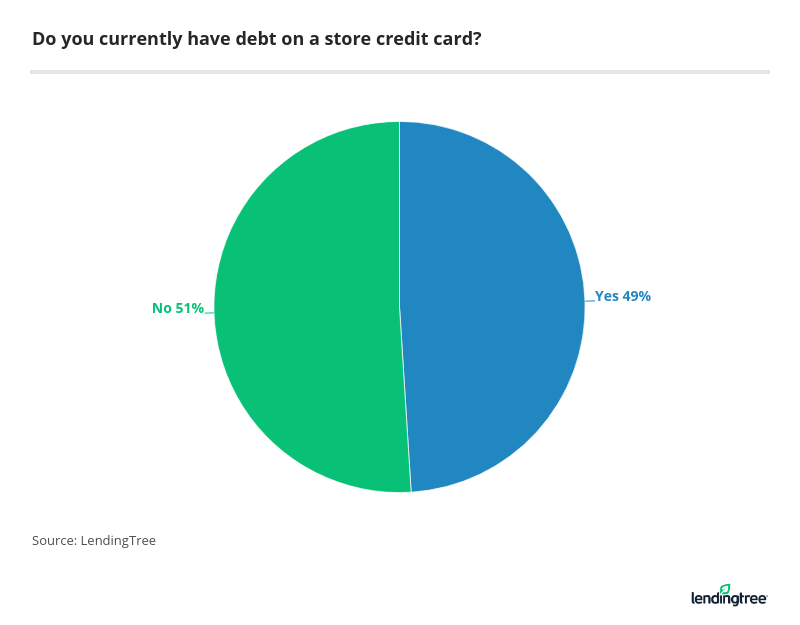 That number may be troubling, but perhaps it shouldn't be surprising, given that more than half (59%) of folks with a store card said that it was the credit card that they used the most.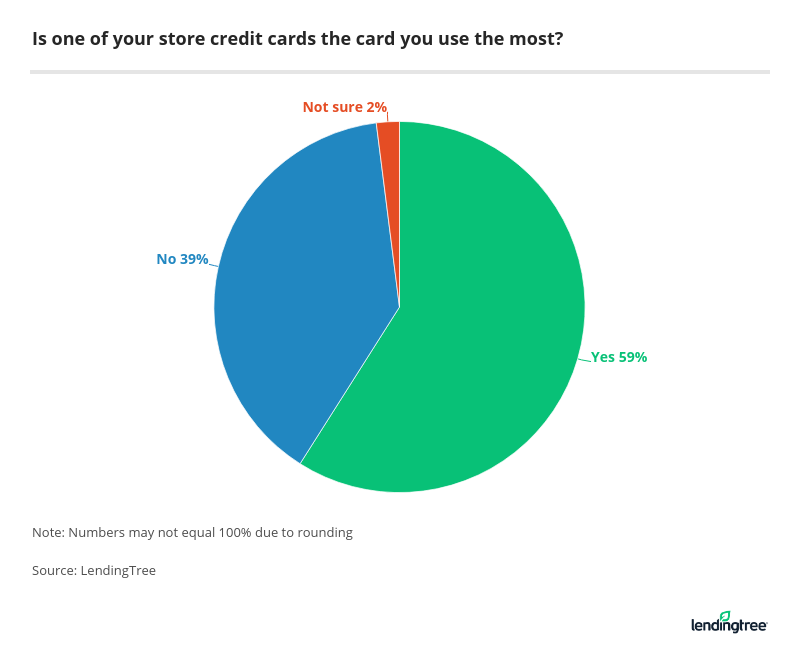 Again, for many people, a store card is one of the few credit card options available to them. Especially today, with many financial institutions still dialing back lending in the wake of the pandemic, it can be challenging for someone with poor credit or thin credit to qualify for a general-purpose credit card.
That can make a store credit card – especially from a retailer they might visit frequently such as a Walmart or Target – really appealing, despite the high rates.
The bottom line: Proceed with caution
In normal times, it's best to avoid store credit cards if you expect to carry a balance. The rates are simply so high, even by credit card standards, that the math works against you in a big hurry.
These, of course, aren't normal times, though. Sometimes the old rules don't apply.
When compared to payday loans, for example, a store credit card can be the best of a bunch of subpar options for folks whose financial lives have been flipped upside down by the pandemic. They must be used wisely, however.
Here are a few tips for getting the most out of a store credit card:
Beware of deferred interest: About a third of the store cards we reviewed (28 of 85 cards) offered "special financing" deals, which typically allow the cardholder to pay off a purchase in a specified number of months with no interest. In most cases, there's a catch, though: Fail to pay the purchase off in full during the zero-interest period and you'll get hit with a bill for all the interest you would've accrued back to the initial purchase date. That means that while special financing deals really can save you big bucks, it's crucial that you play by the rules because what you don't know can cost you.
Know APRs and fees before you apply: This is good advice with any credit card, but it's particularly important with store cards because the interest rates are so high, and the pressure is often on to make a quick decision.
Anticipate deadlines, exceptions, spending minimums: Do you have to use your card in a certain number of days to get that sign-up bonus? Do you have to spend a certain amount before you can get that big discount? Are there some things that you can't use your bonus on? Virtually every card has quirks and nuances. The more you know about them before you apply, the better.
Look for the other logo: Some store credit cards can only be used with one retailer or one group of retailers. Others can be used most anywhere. That's an important distinction. How do you know the difference? If the card comes with a logo for Visa, MasterCard, Discover or American Express along with the retailers' logo, you can use it anywhere those types of cards are typically accepted.
Resist the pressure: This may be the most important advice of all. People make bad financial decisions when they're under pressure. Whether you're online or in a brick-and-mortar store, take the time to understand more about the card before you apply. If you're offered a card and you aren't sure what to do, say no and then read up on the card later. If the offer still sounds good to you, apply next time you shop there. Chances are all the things you liked about the offer will still apply and you'll be making a more informed choice.
Methodology
LendingTree reviewed credit card offers from 61 of the nation's biggest retailers, including both brick-and-mortar and online-only stores. In all, 85 cards were reviewed. Of those cards, some were co-branded — meaning that in addition to the retailer's name and/or logo, they bore either a Visa, Mastercard, American Express or Discover logo and could, therefore, be used anywhere that accepted those types of cards — and some were not co-branded — meaning they could only be used in that particular store or family of stores. We reviewed basic terms and conditions, including APRs and annual fees, as well as evaluating the cards' rewards programs. We primarily reviewed offers online but also reviewed paper documents for those cards that were not available to be applied for online. Credit card offer data is accurate as of Oct. 2, 2020.
LendingTree commissioned Qualtrics to conduct an online survey of 1,028 American consumers, with the sample base proportioned to represent the overall population. The survey was fielded Sept. 11 to 14, 2020.
We defined generations as the following ages in 2020:
Gen Z: 18 to 23
Millennial: 24 to 39
Gen X: 40 to 54
Baby boomer: 55 to 74
Silent generation: 75 and older