How Does LendingTree Get Paid?
LendingTree is compensated by companies on this site and this compensation may impact how and where offers appear on this site (such as the order). LendingTree does not include all lenders, savings products, or loan options available in the marketplace.
2018 Store Credit Card Study: Regrets, Sky-High APRs Common
Updated on: October 18th, 2018
Why use LendingTree?
We are committed to providing accurate content that helps you make informed money decisions. The content on this page has not been reviewed, approved or otherwise endorsed by any credit card issuer. We do maintain partnerships with some issuers, and our site may be compensated through those partnerships. Read our .
Card offer details were accurate as of October 17, 2018.
Nearly half of Americans who have had a store credit card have regretted getting one, according to a new report from LendingTree.
That means that millions of Americans wish they'd chosen differently when faced with a decision that countless consumers face every single day, and it is easy to see why they might feel that way.
LendingTree reviewed credit cards from 50 of the nation's largest retailers for our 2018 Store Credit Card Study (see the full methodology here). We found that while most of the cards we reviewed came up with some sign-up bonus or reward, the average store card APR is nearly 25% and many cards from the nation's top retailers come with other fine print that could leave cardholders paying far more in interest than they would with other types of credit cards.
Key findings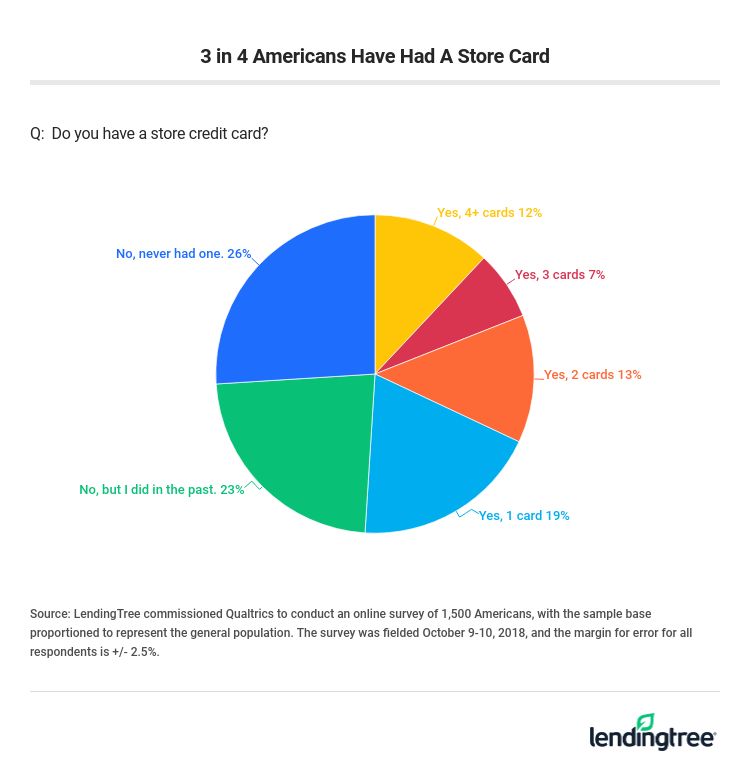 3 out of 4 Americans have had a store credit card — and half of them regret getting one
Seventy-four percent of Americans have had a store card before, and one in three Americans have at least two right now. However, 47% of Americans who have had a store card said they've regretted getting one.
Among the most likely to have regretted getting a store card: Parents with kids under 18 (59% said they've regretted) and Generation X (59%).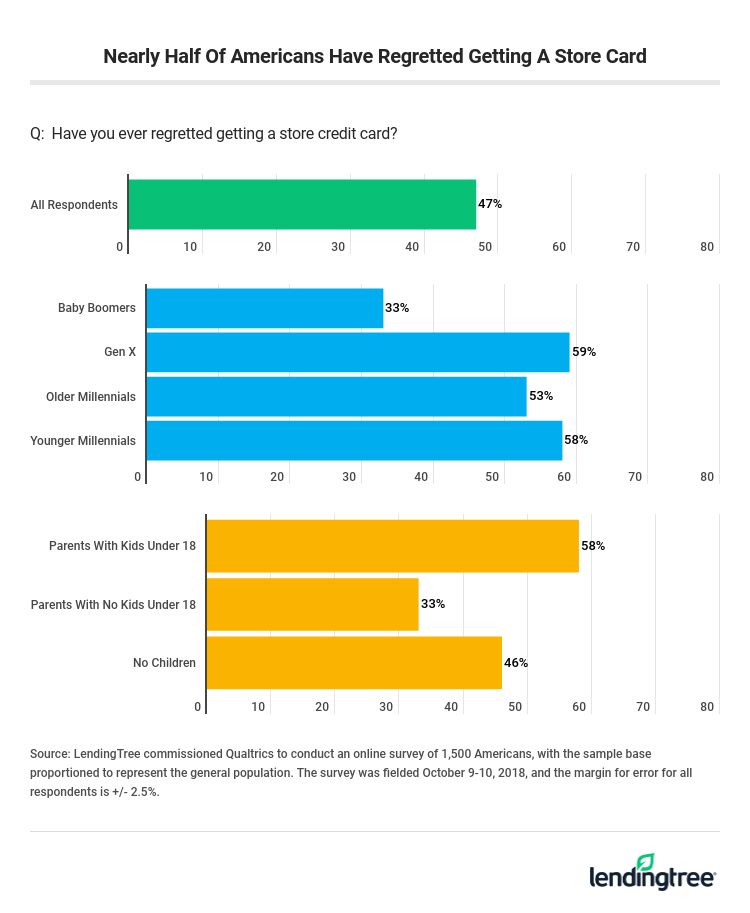 The average APR for a store credit card is 24.97%
That's more than 8 percentage points higher than the average APR that Americans pay on their credit card debt — 16.46%, according to the latest numbers from the Federal Reserve — and it should give pause to anyone considering applying for one of these cards. If you don't think you'll be able to pay your balance in full at the end of the month, just say no to store cards.
Co-branded retail cards – cards with a Visa, MasterCard, American Express or Discover logo which are used anywhere those cards can be used – had a slightly lower APR (23.20%) than non-co-branded cards. Those cards, which can only be used at a certain retailer or family of retailers, had an average APR of 26.93%.
And while most general-purpose credit cards come with a range of possible APRs based on the applicant's creditworthiness, 46 of the 68 store cards came with a single possible APR. The average for those cards: 26.80%.

Only 1 store card has an APR below 10%, while 4 others have APRs below 13%
The Bass Pro Shops CLUB Mastercard® (9.99% on Bass Pro Shops and Cabela's purchases. 15.24%, 18.24% or 26.99% Variable for other purchases. APR) was the only card of the 68 that we reviewed with a possible APR in the single digits. However, there's an important caveat. That lower APR is only for purchases at Bass Pro Shops or Cabela's. The standard APR for other purchases is much higher.
The Dillard's Rewards American Express card (U.S. Prime Rate + 6.74% to 21.74% variable), the Military Star® card (10.24% variable APR), the Nordstrom Visa Signature® (18.90% to 25.90% variable APR) and the REI MasterCard (13.99% - 23.99% variable APR) were the cards with the next lowest starting APRs. However, three of those four cards featured a range of possible APRs that went to at least 24%. Only the Military Star® card offered a single rate.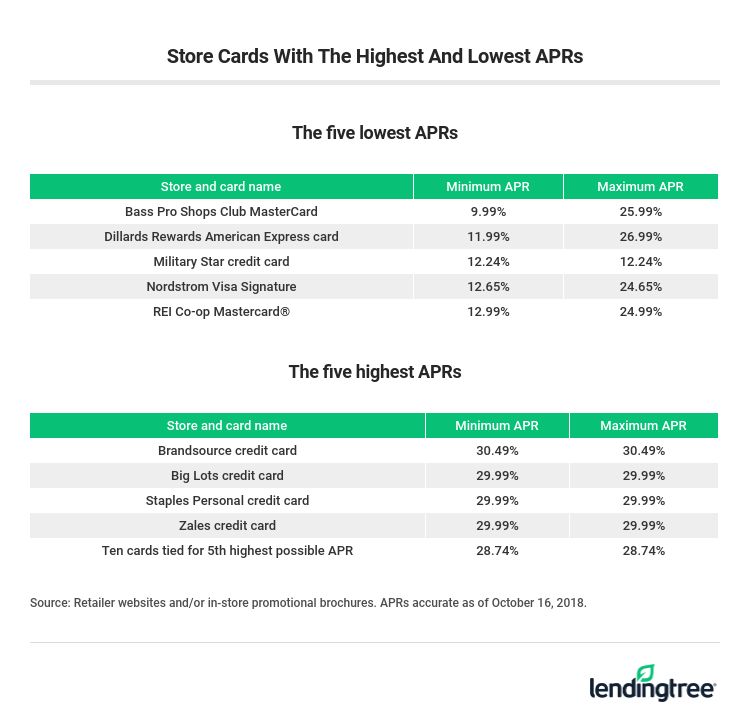 4 store cards have APRs of 29.99% or higher
Of the 68 cards we reviewed from 50 of the nation's biggest retailers, the highest APR we found was Brandsource credit card from Brandsource credit card.
Three cards – the Big Lots Credit Card, the Staples Personal credit card and the Zales Credit Card – have APRs nearing 30%. Those rates are similar to other cards' penalty rates and the APRs given to seriously delinquent cardholders.
These four cards all come with "special financing" offers that may allow a cardholder to avoid paying those sky-high rates during a promotional period. (For example, the Brandsource credit card comes with special financing offers of 0% interest for 6, 12, 18 or 24 months, though the terms and conditions say the following: "These offers are not available all the time and may be limited to specific merchandise and/or have a minimum payment and purchase requirements as disclosed in the offer.")
However, all of these offers come with a catch — one that is very common in the world of store credit cards. And if you don't understand what you're getting into when you apply, there could be a big unpleasant surprise waiting for you at the end of that 0% period.

88% of 'special financing' offers come with a big catch – deferred interest
Those four high-APR cards — and nearly 90% of the 25 cards that we reviewed that came with so-called special-financing offers — came with deferred interest clauses. That means cardholders who aren't able to pay their balance in full during an interest-free introductory period (often 0% for anywhere from six to 24 months) would find themselves facing sky-high interest rates once that period ended.
Here's how it could work:
You buy a $1,000 TV and finance it for 12 months with no interest.
At the end of the 12-month interest-free period, you've just made minimum payments of $25 to $30 per month on the purchase.
Because you didn't pay the balance in full, you would be charged with all the interest that would have accrued on the purchase dating back to the original purchase date.
Assuming that you'd be charged 24.97% —the average APR for a store credit card – you would then be hit with more than an extra $200 in interest payments, which you could have avoided if you had paid the balance in full.
Life happens, so it's certainly not always possible to pay off a balance during an introductory period. However, if deferred interest comes into play, it's important to pay as much of the balance off as early as possible. That'll help minimize the interest balloon payment you'd face at the end of the term.
These are the kinds of issues that people don't think of when they're offered a credit card at the checkout counter of their favorite store, but they're incredibly important.

Two-thirds of Americans realize that store cards have higher APRs
Sixty-six percent of Americans said they agree that store cards "typically charge higher APRs than other credit cards" – and they're right. (Just 6% disagreed.) That's a positive sign because it means that cardholders are aware that the card they're applying for likely has an APR. However, that also means that many Americans likely know they're making a bad choice for themselves but go ahead and do it anyway.

Sign-up bonuses and rewards are common with store cards — but they aren't everywhere
Fifty-six of the 68 cards (82%) came with some perk for signing up. The most common was a discount (either a set dollar amount or a percentage) on your first purchase with the card.
Some examples:
Kohl's offers 30% off your first purchase with the Kohl's Charge, plus another 15% discount when your card arrives in the mail.
REI offers a $100 gift card when you make a purchase in the first 60 days of having its REI MasterCard.
Home Depot offers a $100 discount on a purchase of $1,000 or more in the first 30 days with its The Home Depot Consumer Credit Card.
These perks mean that store cards can be a good deal for shoppers. If you pay your balance in full at the end of every month to make those high APRs a moot point, bonuses like these can save you real money. But if you need to revolve a balance, these cards probably just aren't for you.

Men are more likely than women to have store cards
More than half of men (53%) said they currently have a store card, while just 41% of women said the same. Men are also more likely to have had a store card in the past but not have one currently. In all, just 21% of men said they had never had a store card, whereas 31% of women said that.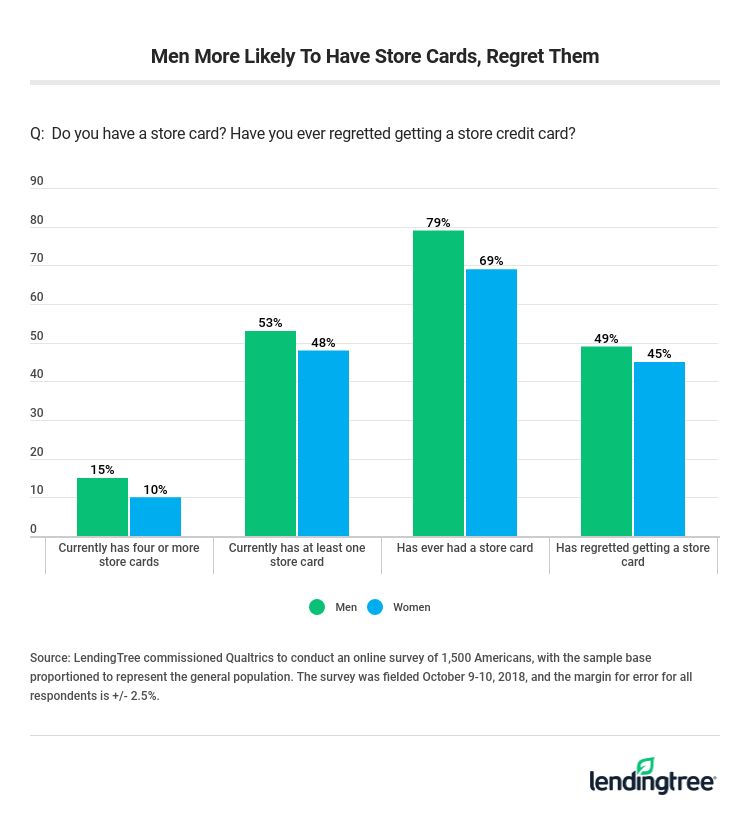 Half of Americans say they're "highly unlikely" to apply for a store card this holiday season
However, one out of four Americans (24%) said they're at least somewhat likely to apply for one this holiday season.

Wealthy Americans are most likely to have store cards and feel burned by them
The wealthier you are, the more likely you are to have ever had a store card and to have regretted having one:
88% of those with household incomes of $100,000 or higher have had a store card versus 73% of those who make $25,000 to $50,000 per year, and just 53% of those who make less than $25,000
58% of those with household incomes of $100,000 or higher have regretted getting a store card versus 44% of those who make $25,000 to $50,000 per year, and just 43% of those who make less than $25,000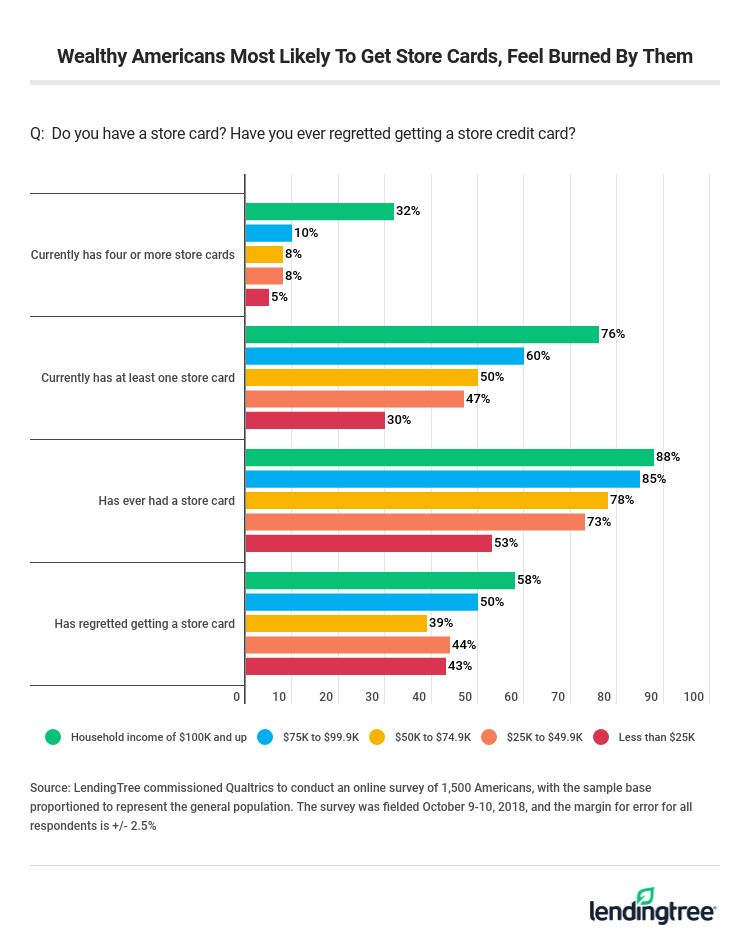 The bottom line: Should you get a store credit card?
When it comes to store cards, the choice is simple: If you carry a balance month to month, you shouldn't get one. The APRs are so high that the math doesn't work. You don't have to be an accountant to understand that paying 25% on a balance to save 20% on a purchase doesn't make any sense. As good as that offer might sound, if you can't pay, stay away.
If you can pay the bill in full at the end of the month, however, these cards can work for you. That $70 Amazon gift card, that 30% discount at Kohl's and offers from many other retailers can really help extend the family's holiday shopping budget. That's a big deal when you're living paycheck to paycheck.
Most of us don't think logically when it comes to store credit cards, though. We're offered the card while we're standing in the checkout line, the checker mentions the 15% discount and all we can think of is how good it would be to save that money. Often, we say no, but sometimes we don't.
Your best move when it comes to store cards is not to allow yourself to be pressured. Stores rely on that pressure to get people to apply for their cards, and it often works but it doesn't have to. Here's what to do if you're interested in a card, but aren't sure if you're making the right choice:
When offered the card, say no but ask for more information about the card.
They'll likely give you a brochure or flier. Take it home with you and read up on the details of the card.
If the card offer still sounds appealing after you learn more about it, apply for the card the next time you go to that store. Chances are the offer will still be good on your next trip, and you'll be able to make a much more informed decision.
Methodology
LendingTree reviewed credit card offers from 50 of the nation's biggest retailers, including both brick-and-mortar and online-only stores. In all, 68 cards were reviewed. Of those cards, 36 were co-branded — meaning that in addition to the retailer's name and/or logo, they bore either a Visa, MasterCard, American Express or Discover logo and could, therefore, be used anywhere that accepted those types of cards — and 32 were not co-branded — meaning they could only be used in that particular store or family of stores. We reviewed basic terms and conditions, including APRs and annual fees, as well as evaluating the cards' rewards programs. We primarily reviewed offers online but also reviewed paper documents for those cards that were not available to be applied for online. Credit card offer data is accurate as of October 17, 2018.
In addition, LendingTree commissioned Qualtrics to conduct an online survey of 1,500 Americans, with the sample base proportioned to represent the general population. The survey was fielded Oct. 9-10, 2018, and the margin for error for all respondents is +/- 2.5%.