How Does LendingTree Get Paid?
LendingTree is compensated by companies on this site and this compensation may impact how and where offers appear on this site (such as the order). LendingTree does not include all lenders, savings products, or loan options available in the marketplace.
Metros With the Most Fraud Alerts
Published on: April 11th, 2018
Editorial Note: The content of this article is based on the author's opinions and recommendations alone. It may not have been reviewed, commissioned or otherwise endorsed by any of our network partners.
LendingTree researchers use anonymized customer data to determine where people were most likely to request that a fraud alert be placed on their credit reports.
If you are concerned you may be a victim of, or vulnerable to, identity theft, you can request that a fraud alert be added to your file with any of the three major credit bureaus. Once a fraud alert has been added, that will signal to potential creditors that they should take extra care to confirm your identity before opening new accounts or approving large purchases on your accounts.
Reasons to add a fraud alert can vary. You might have simply misplaced your credit card or lost your driver's license or another ID. In another increasingly common case, you might have been alerted by a company that your personal information was exposed in a data breach, such as recent revelations at Uber and Equifax. (Disclosure: LendingTree is the parent company of MagnifyMoney.)
LendingTree looked at anonymized data from a sample of the over 7 million LendingTree accountholders to see where people are most likely to have asked a credit bureau to place a fraud alert on their credit report. LendingTree, available online and at app stores, offers free credit monitoring that includes alerts within 30 minutes of activity on your credit report.
Key Findings:
The average rate of fraud alert requests among all cities we reviewed is 6.4%.
Las Vegas and Houston tie for the highest rate of fraud alerts, at 13.6%.
Miami and New York are close behind, tied at 12.9%.
Rochester, N.Y. has the lowest rate of people requesting fraud alerts at 2%. Nearby Buffalo, N.Y. has 2.6%.
Big cities lead the pack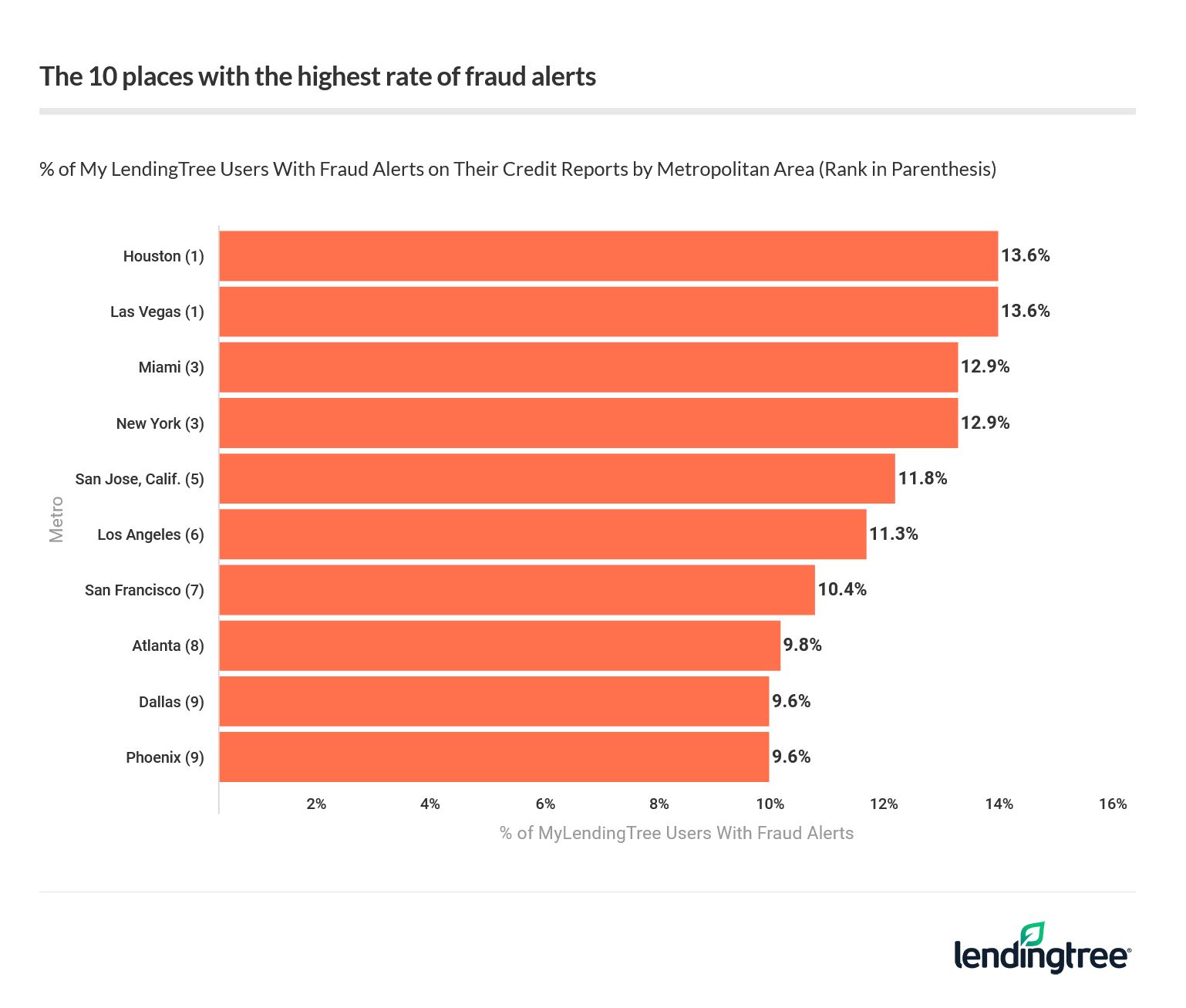 1 (tie) – Las Vegas
LendingTree users with fraud alerts: 13.6%
Thanks to the famed gaming and tourist draw of Las Vegas, public financial transactions are frequent, and anything related to money is a big deal. Vegas visitors and residents may be more susceptible to a common form of identity theft — skimming. Skimming is the practice of placing a device that records card information over an existing card slot, such as at an ATM or gas pump, along with a camera to record the PIN pad input. The practice of skimming exists around the country, but the problem may be especially pronounced in Las Vegas, where tourists and gamblers frequently use ATMs, and incidents are rising at gas stations.
1 (tie) – Houston
LendingTree users with fraud alerts: 13.6%
While the case of the local megachurch pastor accused of fraudulently selling defaulted Chinese bonds to the elderly may be shocking, it probably hasn't resulted in many fraud alerts. More immediately concerning to residents is the recent bust of a ring of alleged identity thieves who were caught with thousands of financial documents taken from Houston mailboxes.
3 (tie) – Miami
LendingTree users with fraud alerts: 12.9%
Miami, like Las Vegas, has a particularly vicious problem with credit card skimming, and the frequency is rising around the state. Even law enforcement officers have gotten in on the crime spree, with not just one, but at least two officers, separately convicted for identity theft using information available to police for crime fighting.
3 (tie) – New York
LendingTree users with fraud alerts: 12.9%
New York's most notorious fraud cases generally involve high-dollar investments, a la Bernie Madoff and Martin Shkreli, but plenty of regular folks are victimized, too. From skimmers to data breaches, to embezzling money intended for special needs children, New York, as in most things, has it all.
5 – San Jose, Calif.
LendingTree users with fraud alerts: 11.8%
Maybe it shouldn't be a surprise that the place where so much of our personal data is collected and handled – Silicon Valley – would be concerned with identity security. High profile events, like the scandal involving Facebook user data, may make the front page of papers across the world, but even tech legend Steve Wozniak was the victim of high tech fraud when his bitcoins were stolen.
Rust Belt and Missouri cities have the fewest alerts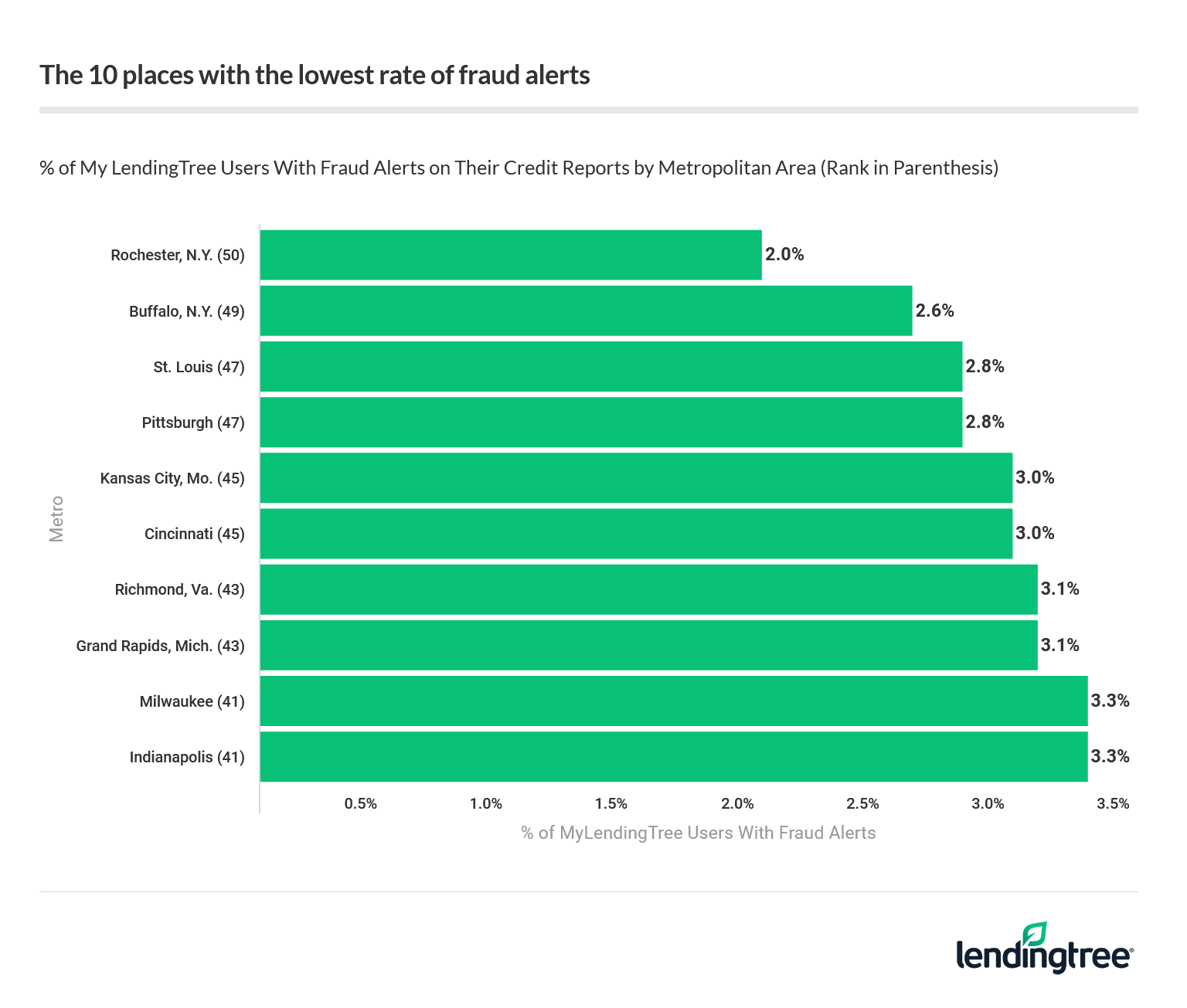 These cities have far fewer fraud alerts than those at the top of our list, but that doesn't mean residents should ignore the threat of fraud and identity theft. Phone scammers are targeting people in Rochester (2% of LendingTree.com users have fraud alerts on their credit reports), there's identity theft in Buffalo (2.6%) and card skimming rears its head in Pittsburgh (2.8%).
Should you ask for a fraud alert?
The three different kinds of fraud alerts available to consumers are:
Initial fraud alert: for those who suspect they might be vulnerable. It expires after 90 days but is renewable.
Extended fraud alert: for those who are confirmed victims of identity theft. Documentation, such a police report, is required, and this kind of alert stays in place for seven years.
Active duty fraud alert: for service members who are deployed overseas. It lasts a year.
Anyone who even casually follows the news or checks into social media is aware of seemingly endless string of data breaches involving people's credit cards, or even more sensitive information, like Social Security numbers. Concerns have also risen over the last couple of weeks about how our social media profiles are used, and whether that information can be exploited for purposes of fraud.
Anyone who has a clear sense that they're vulnerable to identity theft shouldn't hesitate to ask for a fraud alert, or to consider a full credit freeze. Some signs that you might be at risk include:
Unexpected or unexplained activity on your credit report
A stolen or lost wallet
Stolen or lost mail
Suspicion of someone in your personal circle
Announcement of a data breach from a company with which you conduct business
Suspicion following a call or email exchange where you gave personal information
If you think that any of your children might be at risk of identity theft, a PIN-protected credit freeze may be appropriate, as it's unlikely a minor will need to open a line of credit for some years.
Regardless of an immediate concern about fraud, consumers should regularly monitor their credit. Consumers are no longer limited to waiting a year in order to request a free credit report, paying to get one earlier or paying for basic credit monitoring.
Free services are easily accessible from a computer browser or mobile device, and many have alerts. LendingTree.com notifies users within 30 minutes of notable changes, such as a credit inquiry.
Fraud alert vs. credit freezes
Consumers who want to open new utility accounts, credit card accounts, buy a car or even apply for jobs may find that a fraud alert is more suitable than a strict credit freeze. A credit freeze will bar anyone from pulling a credit report until the freeze is lifted with a PIN. On the other hand, a fraud alert lets creditors know that there is some danger of identity theft, and therefore, they should take extra care to confirm the identity of the person requesting a new account or making changes to an existing one.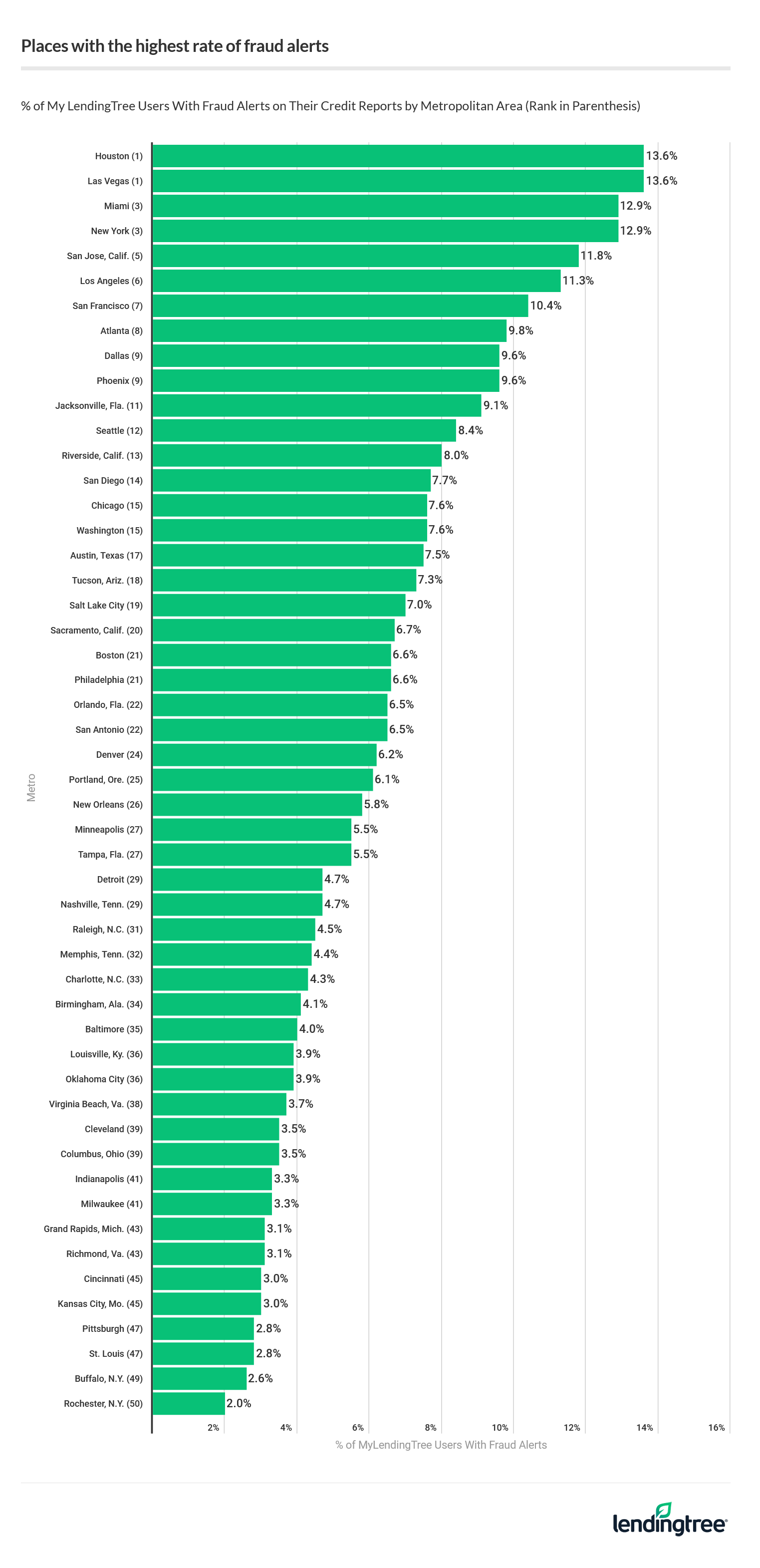 Methodology:
The rate of fraud alerts was calculated from an anonymized sample of the over 7 million LendingTree users during the three-month period between November 2017 and January 2018, who were grouped into metropolitan statistical areas ("MSAs") by zip code. The results were limited to the 50 largest MSAs, by population. LendingTree receives credit report information from TransUnion.