How Does LendingTree Get Paid?
LendingTree is compensated by companies on this site and this compensation may impact how and where offers appear on this site (such as the order). LendingTree does not include all lenders, savings products, or loan options available in the marketplace.
Can I Pay for a Funeral With a Loan?
Published on: August 8th, 2019
Editorial Note: The content of this article is based on the author's opinions and recommendations alone. It may not have been previewed, commissioned or otherwise endorsed by any of our network partners.
At a bare minimum, a funeral will cost thousands of dollars. Factors such as location, included services, and the policies of the funeral home chosen can have an impact on costs.
For families who may not have the funds saved or available to pay for a funeral, it can be difficult to afford the financial aspects of a funeral. Some individuals may even consider taking out a funeral loan in order to pay for the funeral. Here's what to consider before going that route.
Paying for funeral expenses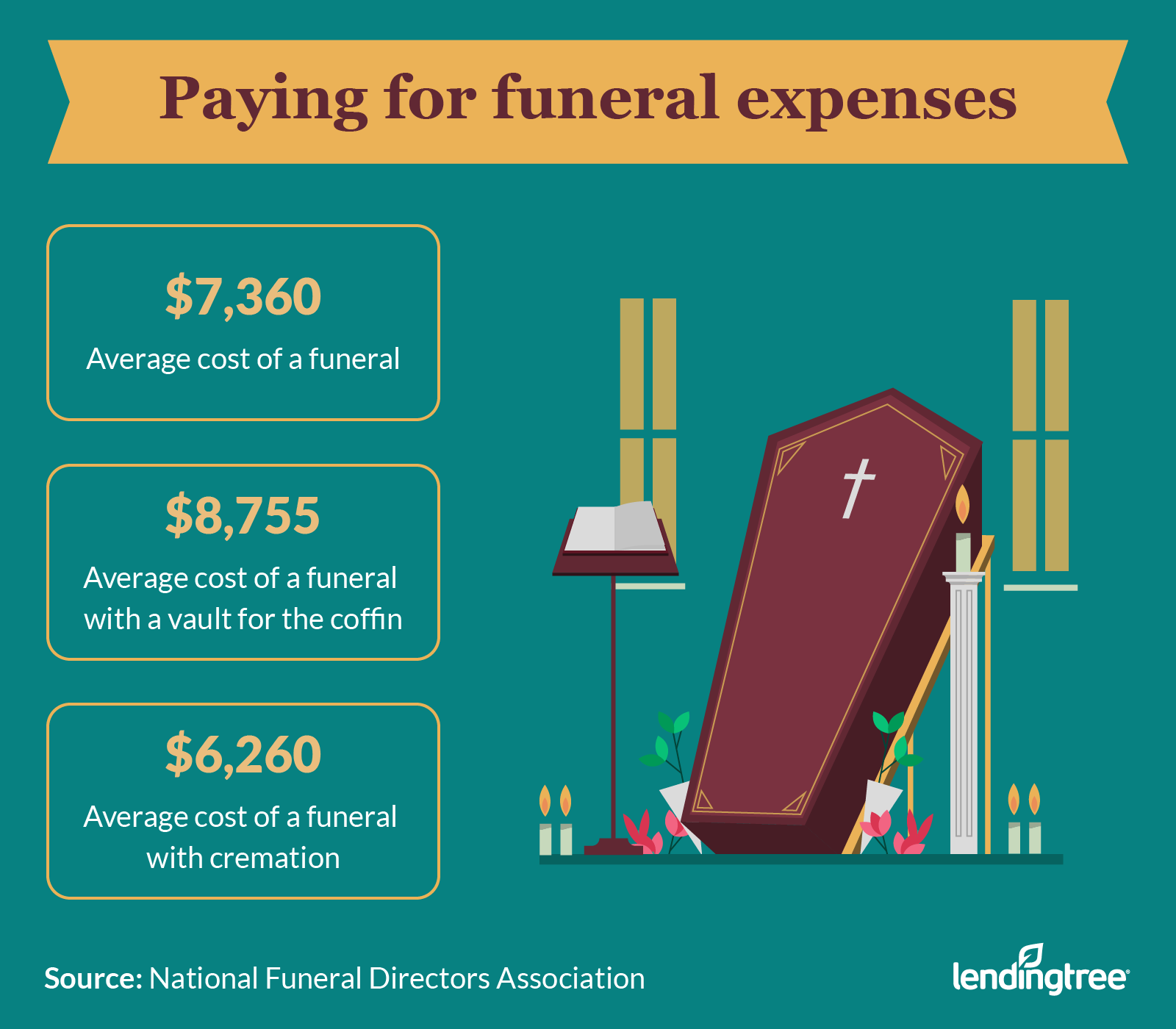 The average cost of a funeral in 2017 in the U.S., with viewing and burial, was $7,360, according to the National Funeral Directors Association (NFDA). The cost jumps to $8,755 if the cemetery requires a vault for the coffin – which the NFDA notes is generally the case.
That average does not include additional common expenses such as cemetery fees, monument or marker costs, flowers or other ornamental pieces for the viewing, or running an obituary in the paper or online.
The total breakdown of expenses for a funeral that the association lists include:
Services fee
Removal and transfer of the remains to the funeral home
Embalming and body prep for viewing
Use of facilities and staff for the viewing
Funeral ceremony
Hearse
Service car/van
Memorial printed package
Metal casket
Funerals with a cremation cost less
A funeral with a cremation option is more affordable, with an average cost in 2017 of $6,260. The average cost, as calculated by the NFDA, includes:
Basic services fee
Removal/transfer of remains to funeral home
Embalming and other preparation of the body
Use of facilities and staff for viewing and a funeral ceremony
Use of a service car/van
Basic memorial printed package
You can choose loan terms from
Cremation fee
Cremation casket and urn
This amount does not include the costs for an account vault, cemetery monument/marker costs or other miscellaneous charges, such as flowers or an obituary.
Who covers funeral costs
Typically, covering the cost of a funeral falls to the surviving spouse or partner of the deceased, says Brent Weiss, CFP and co-founder of Baltimore-based Facet Wealth, a wealth management services company. If there is no surviving spouse, he notes that ideally, there will either be funds left to the estate to cover the costs of the funeral, or the family members will have to pay out of pocket and hope to get reimbursed.
Unfortunately, when the costs of a funeral arise unexpectedly – and the deceased individual does not have a plan for financing a funeral in place – the added stress can be difficult for a family who has to devise a way to pay for the expenses.
"Losing a loved one, at any age, is a very difficult thing," Weiss explains. "Adding financial stress to the already existing emotional stress only compounds the difficulty for the family. It is important to plan ahead so as to avoid the financial burden, and, more importantly, to have the ability to properly celebrate the life of the ones we love."
What to do if you can't afford a funeral
For families that lack access to the money necessary for a traditional funeral service, there may be options that can help save on costs:
Speak with the funeral home director: The NFDA encourages anyone looking to plan a funeral to speak with the director about their budget constraints and work out a plan for paying for the services and associated costs. Depending on the funeral home's policy, it may even be possible to work out a payment plan or to utilize a combination of payment options, including credit card, cash, check or a pre-arranged funeral fund.
Reduce certain steps or services: You have the right to speak with the funeral home director about ways to reduce costs by altering the funeral package. "This is a very personal decision, but the cost savings can be significant and help families avoid putting themselves in a difficult financial situation," Weiss points out.
Take out a funeral loan: It is possible to take out a loan to cover the cost of the funeral, but Weiss cautions that doing so should come with careful consideration and include cost-cutting measures to ensure the debt taken on is not extreme, especially if you have bad credit. "With emotions heightened following the death of a loved one, taking on debt to pay for services can make matters worse between family matters," he warns.
Consider using credit: A credit card could be another option depending on your credit limit. If you can qualify for a promotional 0% interest credit card and repay the amount charged before the promotional period ends, you could avoid paying interest altogether. This could be an affordable alternative to a personal loan.
Look at other loan products: A secured loan, like a home equity loan, may be an option for those who are comfortable with using their home as collateral and want to minimize interest costs. A payday alternative loan, meanwhile, is offered by credit unions and could be good for borrowers with less-than-perfect credit.
Borrowing for a funeral: What is a funeral loan?
A funeral loan, which is essentially a personal loan, can be used to cover funeral expenses. Only borrowers with good credit will qualify, though, and the best rates are reserved for borrowers with the best scores. However, it can be a realistic option for some families, though financial experts like Weiss caution against taking out debt for a funeral.
"A proper celebration of life and showing respect to the ones we love can, in many cases, be seen as an emotional investment in family and our well being," Weiss admits. "If finances do not permit paying for the funeral out-of-pocket or from savings, then a funeral or personal loan can be a good way to provide the capital required."
Pros
Funds can be readily available: Planning a funeral often needs to happen very quickly, and depending on the lender and your credit score, you can have funds from a funeral loan in as quickly as one business day.
May help alleviate financial burden: Depending on the situation, the stress of financing a funeral when you don't have the immediate funds available may feel overwhelming; a loan may help you with a solution to alleviate the immediate financial stress.
Allows you to pay for the funeral over time: As with any type of personal loan, a funeral loan gives you the flexibility of making payments over time, or paying off the loan early if you're able to.
Cons
Your credit may not be high enough: If you don't have a good credit score, it may not make financial sense to turn to a personal loan to cover the costs of a funeral. That's because a personal loan could come with triple-digit rates depending on your score.
You could add extra financial stress: Especially depending on the situation surrounding the funeral, adding extra debt and financial burden on top of the stress of a death of a loved one could be a significant drawback.
Makes you liable for all expenses: Unlike a financing option that, for example, sees family members split the cost a funeral between them all to lessen the overall cost, taking out a personal loan is an individual decision – and thus, the financial obligation is yours alone.
5 steps to taking out a funeral loan
If you do choose to consider a funeral loan, you may follow these steps to make a loan more affordable:
Make a list of your priorities: Weiss suggests discussing what is most important to the family so you only incur expenses for things that are truly valuable. For instance, does your loved one want a burial, or cremation? Will you want to pay for a viewing, or choose a more private event?
Get several estimates for the funeral: It can be helpful to speak or meet with different funeral homes to get estimates of cost, so you can choose the lowest cost in order to secure the lowest loan (and avoid paying back more in interest.)
Know your credit score before applying for a loan: If you have a strong credit score, you will likely find an affordable loan with a good interest rate and a good repayment term, Weiss notes. But on the other hand, if your credit score is low, a personal loan can be very expensive and cause more harm than good. "At the end of the day, make sure the personal loan has a reasonable interest rate and that the required monthly payments fit into the rest of your financial plan," he says. "Do not make the mistake of putting yourself or your family in a difficult financial situation."
Apply for preapproval with several lenders: Most lenders will let you get preapproved for a loan with a soft credit check. Since a soft check doesn't affect your credit, you can see the kinds of rates and terms you may qualify for without hurting your score.
Review lender rates and fees: Once you have a few lenders you like, compare their fee structures. If you haven't already, read borrower reviews to get a sense of how the lender conducts itself. This can help you narrow down your list to one lender.
Once you are comfortable with a lender, you may formally apply. Doing so will trigger a hard check on your credit. The lender will work with you to have the funds deposited into your account so you may pay for funeral services.
3 personal loan lenders to consider
Discover Personal Loans
Discover Bank are from the direct bank and payment services company that offers the major credit card, Discover, in several forms, as well as additional other financial offerings, including home loans, personal loans, home equity loans, student loans, debt consolidation loans and banking.
The fine print
Discover Bank can be used to pay for a funeral and include financing up to $35,000. You can check to see if you qualify online with a Soft Pull. In order to qualify for a Discover personal loan, you need to be a U.S. citizen and have a minimum household income of $25,000. If you are approved for a loan, your monthly rate is fixed and will not change. You can choose loan terms from 36 to 84 months.
Pros
Can pay back the entire loan in 30 days without interest: One major benefit of the Discover loan is that if you are able to pay back the entire loan within 30 days, you will not pay any interest on the loan.

No origination fee

: That means you won't pay a fee to get the loan.
Same-day decision: In most cases, you will receive a same-day decision on if you qualified for the loan.
Cons
Late fees: If you miss a payment, or are late making a loan payment, you may be charged a late fee of $39 if payment is not received in full by the due date.
High interest rate: Depending on your loan terms and credit score, you could be charged a monthly APR as high as 24.99%.
OneMain Financial
OneMain Financial is a century-old lending company that strives to offer personalized lending options, which means that in order to get a loan or other service, you will most often meet with a human loan specialist to walk you through the process.
The fine print
OneMain Financial offers personal loans that can be used specifically to pay for funeral expenses, including unforeseen expenses, like your own travel and clothes. You can apply online to see if you qualify for a personal loan and will need to provide a copy of a valid, government-issued ID, proof of residence and proof of income; however, you will still need to visit a local branch in-person to finish the application process.
Loan amounts range from $1,500 to $20,000, with APRs from 18.00% to 35.99% and terms from 24 to 60 months.
Pros
No prepayment penalties: There are no fees for paying off your loan early.
Same-day funding: If your loan is approved by noon, you can receive your funds in the same day as you apply.
Cons
There are state restrictions: If you live in Alabama, California, Georgia, Ohio, or Virginia, you are subject to a minimum loan amount that varies from $2,100 to $3,100.
You may not qualify for a larger loan without a qualifying vehicle: For larger loan amounts, OneMain Financial requires a first lien on a motor vehicle that's not more than eight years old, meets their value requirements, and is titled in your name with valid insurance.
Avant
Avant is a newer company, founded in 2012 in Chicago as an online lending company. They offer online lending through personal loans, as well as a credit card. Avant partners with WebBank to offer their services.
The fine print
Avant offers personal loan that range from $2,000 to $35,000, with APRs ranging from 9.95% to 35.99%. You can choose loan terms from 24 to 60 months. In order to apply online for a loan, you will need your name, address, income and Social Security number. There is no prepayment penalty or balloon payment at the end of your loan.
Pros
Soft Pull

: You can see if you qualify for a personal loan online without it affecting your credit score.
Fast funding: Once you are approved, you can receive your funds the next business day.
Cons
Up to 4.75%

 origination fee: Avant charges an administration fee. Competitors may not charge a fee on their personal loan products.
Most loans use daily interest: According to Avant's detailed FAQ section, most personal loans use simple daily interest, which means that interest on the loan accrues daily on the loan's outstanding principal balance. As you make monthly payments, the amount paid toward interest will decrease, as the outstanding principal amount is lowered.
Alternatives to a funeral loan
"The single best way to pay for a funeral is to prepare for the cost before it happens," explains Weiss. He recommends that every individual and/or family meet with a financial professional to ensure that an estate plan, or other means of financing is in place, for the costs of a funeral, which while difficult to discuss, is inevitable at some point in everyone's life.
Additionally, some alternatives to paying and affording a funeral could include:
Utilize life insurance: For younger families, life insurance can be a great way to help cover the costs of a funeral and to provide for family members for years to come, says Weiss. "The right policy can be affordable and can provide the funds and the liquidity needed if an unexpected event occurs," he adds.
Establish an emergency fund: Every family should make it a priority to establish an emergency fund or a separate bank account that is designed to pay for emergencies, Weiss suggests.
"It does not have to be specifically earmarked for a funeral, but it should be large enough to pay for a disruptive life or financial event. With the average funeral cost getting close to $10,000, it is becoming more important to families to plan ahead for this cost," he adds.
Shop around: For families that may not have the immediate resources or liquidity to pay for a funeral, it is important to shop around for more affordable options, Weiss explains. He notes that not everyone is aware that they have the right to look at multiple funeral homes to get a better understanding of what it should cost.
"From the viewing, to the burial, to the service there is no standard cost," he points out. "Make sure you look at all of your options and find the right solution – it can save you hundreds, if not thousands."