How Does LendingTree Get Paid?
LendingTree is compensated by companies on this site and this compensation may impact how and where offers appear on this site (such as the order). LendingTree does not include all lenders, savings products, or loan options available in the marketplace.
85% of College Students Don't Know FAFSA Determines Free Aid Like Grants and Work-Study
Updated on:
Content was accurate at the time of publication.
The Free Application for Federal Student Aid (FAFSA) opens the door to financial aid, including grants, work-study and student loans. Unfortunately, many students have misconceptions about the FAFSA, which could be costing them valuable financial support.
LendingTree surveyed more than 1,000 undergraduate students to test their knowledge and understanding of the FAFSA and the overall financial aid process. We discovered that many students misunderstand this crucial form, and they could be missing out on financial aid — or taking on more student debt than they need to — as a result.
Key findings
85% don't know the FAFSA can get them free financial aid
The FAFSA opens the door to various types of financial aid, including grants, work-study and student loans. Unfortunately, 85% of the college students we surveyed weren't aware that the FAFSA determines eligibility for free gift aid, and not just loans.
Likewise, about half (49%) didn't know it also determines eligibility for federal grants, and 78% didn't realize it does the same for the federal work-study program.
When asked what the FAFSA is used for, only 53% of college students surveyed selected the correct answer: determining how much, and what types, of financial aid a student qualifies for.
In addition, more than 1 in 4 students (27%) believe the FAFSA's main purpose is to give financial aid to students under a certain income — but while this statement is part of what FAFSA does, it's not the whole story.
Regardless of income, there are reasons to submit a FAFSA. For one thing, any student in an eligible program can qualify for certain types of aid, such as unsubsidized federal student loans. And not only is the FAFSA the source of information for states and schools doling out these various kinds of financial aid, but it's also worth having your FAFSA submitted in case your financial circumstances change throughout the year.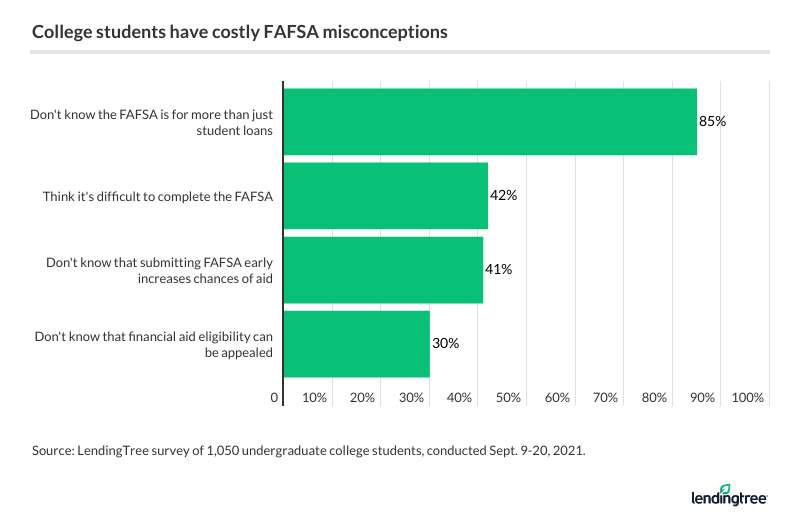 41% don't know that filing the FAFSA early can increase the odds of getting aid
Not only is it a good idea for every student to fill out the FAFSA regardless of their income, it's also a best practice to submit it as early as possible.
The FAFSA opens on Oct. 1 every year for the following school year. Some federal and state grants are distributed on a first-come, first-served basis, so filing early can increase your chances of getting more financial aid.
Unfortunately, 41% of students weren't aware that it's preferable to file early, with women (45%) slightly more likely to lack this information than men (38%).
In fact, 42% of those who plan to file this year do not plan on doing so as early as possible. While these students will put themselves in the running for financial aid and loans, they could unknowingly be reducing their financial aid award by waiting to file.
43% think you need to accept all the student loans you're offered
After you submit the FAFSA and are accepted into college, you'll receive a financial aid award letter. This award letter details how much aid you're eligible to receive, including any grants and student loans.
You're not required to borrow all of the student loans you're offered. In fact, it's a good idea to only take on the minimum amount of debt you need for school. Despite this, however, 43% of college students thought you must accept the full student loan amount for which you're eligible.
This misconception was highest among Black students (52%) — followed by Latino students (48%), Asian students (46%) and white students (34%) — possibly because of a relatively large number of first-generation students in the Black community. This could lead to students taking on more student debt than they need.
Even though your financial aid offer is framed as an "award," remember that you don't need to borrow all (or even any) of the student loans you're offered. Figure out exactly how much you need to borrow for school, and use our student loan calculator to see what repayment will look like.
If the amount seems burdensome, consider applying for scholarships or opting for a less expensive school.
1 in 5 students don't plan to fill out the FAFSA this year
Given these misconceptions about the FAFSA, it's not surprising that some students don't plan to submit this important form at all. According to our survey, 20% of undergraduate college students didn't have plans to complete the FAFSA this year or weren't sure if they would.
Of that group, 33% believe they won't qualify for any financial aid. As mentioned above, the FAFSA determines eligibility for both need-based and non-need-based aid — there's no income cutoff, so it's worth it for every student to fill it out.
Another FAFSA-related roadblock for students might be confusion around the form itself. More than 40% of college students think it's difficult to complete the FAFSA, and 20% of students aren't confident they know how to fill out the FAFSA at all.
If you're feeling lost when it comes to this important financial aid form, these resources could help:
You can also find valuable information on the Federal Student Aid website. Once you start the process, you might find that the FAFSA is more straightforward than you think.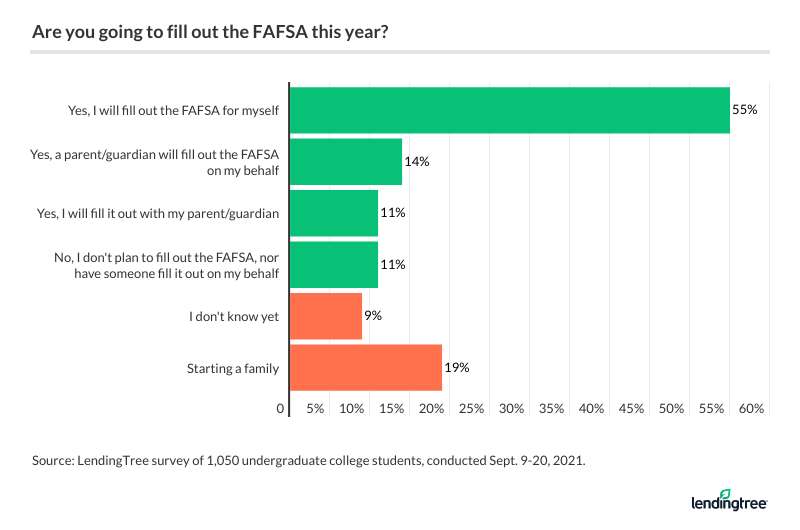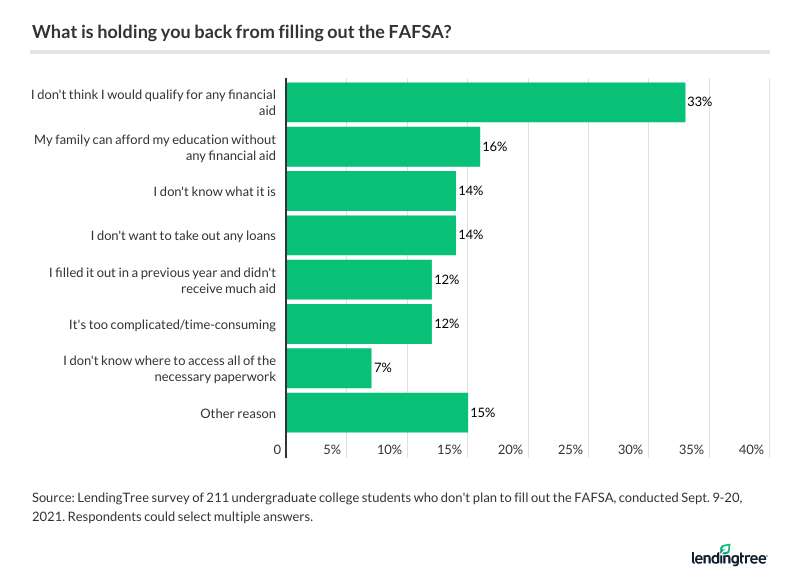 College costs have brought 58% of college students to tears
The cost of college tuition has been rising steadily year by year over recent decades — a trend that has brought many college students to tears. In fact, more than half of respondents (58%) reported crying about the cost of college, including 69% of women and 46% of men.
The cost of college has been especially stressful for Latino students, 66% of whom say they've cried about the expense. That compared to 61% of white students, 54% of Black students and 50% of Asian students.
What's more, nearly half (47%) of college students have considered dropping out because of the cost of their education and/or living expenses. This number was also highest among Latino students (53%), followed by white students (47%), Black students (44%) and Asian students (34%).
But while submitting the FAFSA is an important financial step for any college student, applying for scholarships can be helpful too — according to our survey, though, 20% of college students have never applied for a scholarship.
That number was higher among first-generation college students (26%), compared to those whose own parent(s) had attended college (18%).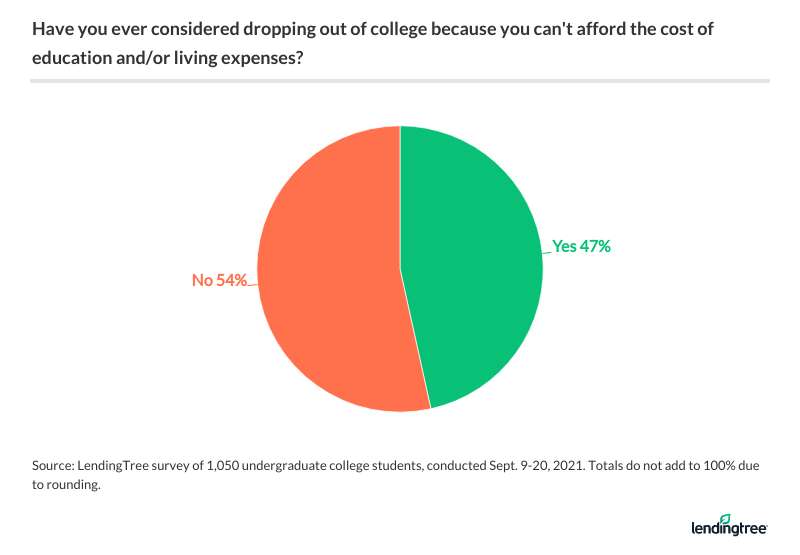 59% of students have had issues reaching their financial aid office
While a school's financial aid office is a crucial resource, many students (59%) say they've had issues getting in touch with a representative at the office. The main obstacle they encountered was long wait times.
When asked to rate their school's financial aid office on a scale of one to five (five being most helpful and knowledgeable), more than half (52%) gave it a mark of 3 or below.
Similarly, more than 1 in 5 students (23%) said they didn't think their college cared about their ability to afford an education.
Not only should your financial aid office be available to teach you about your financing options, but it should also help you if you need to appeal your financial aid offer.
It is possible to file an appeal, but 30% of students don't know this, according to our findings. That's especially true among first-generation college students compared to those whose parent(s) attended college (37% versus 27%).
Not only is it a good idea for college students to submit the FAFSA every year, but it's worth reading on how to appeal your financial aid award if it falls short. This guide on financial aid appeals explains more.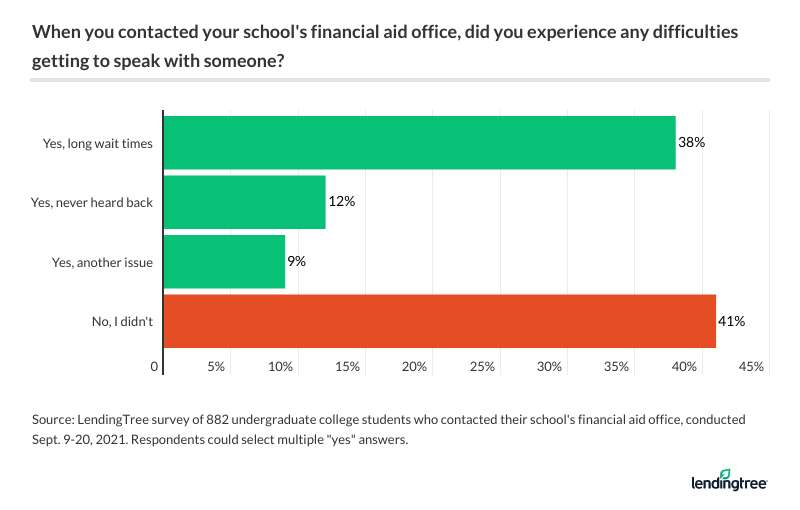 Methodology
LendingTree commissioned Qualtrics to conduct an online survey of 1,050 undergraduate college students ages 18 to 25, fielded from Sept. 9 to Sept. 20, 2021. The survey was administered using a nonprobability-based sample, and quotas were used to ensure the sample base represented the overall population. All responses were reviewed by researchers for quality control.