How Does LendingTree Get Paid?
LendingTree is compensated by companies on this site and this compensation may impact how and where offers appear on this site (such as the order). LendingTree does not include all lenders, savings products, or loan options available in the marketplace.
LGBTQ Student Loan Borrowers Face Rough Road: Survey
Updated on: June 24th, 2019
Why use LendingTree?
We are committed to providing accurate content that helps you make informed money decisions. Our partners have not commissioned or endorsed this content. Read our .
Having to work multiple jobs and scraping by paycheck to paycheck, with the lingering worry that you'll probably never be able to buy a house.
Many in the LGBTQ community are so concerned with such fallout from their student loans that they regret borrowing at all. In fact, 54% of those surveyed said they wish they'd avoided education debt, only a slight decrease from the 60% figure cited in our 2018 survey of LGBTQ borrowers.
Student loans weighed heavily on respondents from all income levels, particularly because of the specific problems LGBTQ students endure, such as discrimination in their own home and when seeking outside help with their finances.
Unfortunately, LGBTQ community members also reported feeling behind on other financial goals, including retirement planning, due in no small part to their student loan, credit card and other debt.
Key findings
About 3 in 10 LGBTQ borrowers say their student loan debt is unmanageable. Slightly less — 23% — feel their debt is "very manageable," while most (48%) said their debt is "somewhat manageable."
Despite their regrets about borrowing, 62% are glad they went to college. Most (58%) reported feeling accepted by their college peers — although more than 1 in 10 did not feel accepted.
Roughly 4 in 10 LGBTQ borrowers said they've been denied financial help due to their sexual orientation. About 14% of them said they'd experienced this discrimination on multiple occasions.
Student loans have also stopped 87% of respondents from reaching key financial milestones. Specific goals missed due to student debt include homebuying (41%), moving out (27%), buying a first car (23%), starting a family (19%) and getting married (18%).
Nearly 6 in 10 LGBTQ borrowers also have other types of debt. Credit card debt (63%) is by far the most common, but other sources include auto loans (38%), personal loans (20%) and mortgages (16%).
The majority of borrowers in the LGBTQ community (65%) are familiar with student loan refinancing, but only 38% have refinanced their debt. Those who have refinanced said they mainly did so to lower monthly payments or lower their interest rate. Ultimately, 63% of those who refinanced said refinancing helped them move closer to their financial goals.
Many LGBTQ borrowers have more student loan debt than they can handle
The LGBTQ community includes many student loan borrowers with regrets — again, 54% polled say they wish they could have a redo.
"I regret taking out my student loans because my degree didn't help me get a well-enough-paying job to cover the cost of living, plus my student loan debt," said one respondent. "Now I am stuck working two jobs just to stay above water, which is very frustrating."
Although the reasons for regret vary, having taken on too much debt is a common theme. Nearly 29% of LGBTQ borrowers feel their debt isn't manageable, though a plurality of respondents (48%) describe their debt as "somewhat manageable."
Finding a well-salaried job isn't necessarily a problem unique to LGBTQ borrowers — among all college seniors with loans to repay, about 7 in 10 expressed doubt they'd be able to make ends meet, according to a recent LendingTree survey.
Still, LGBTQ professionals undoubtedly face more obstacles in the workplace than the average college graduate. In fact, 1 in 4 LGBTQ workers report facing discrimination at their job within the last five years, according to nonprofit Out & Equal Workplace Advocates' 2019 report.
But despite some regrets, 62% of borrowers in the LGBTQ community say they're glad they attended college. For some, it's one of the places in society where they felt most accepted — about 58% reported feeling welcomed by peers on campus.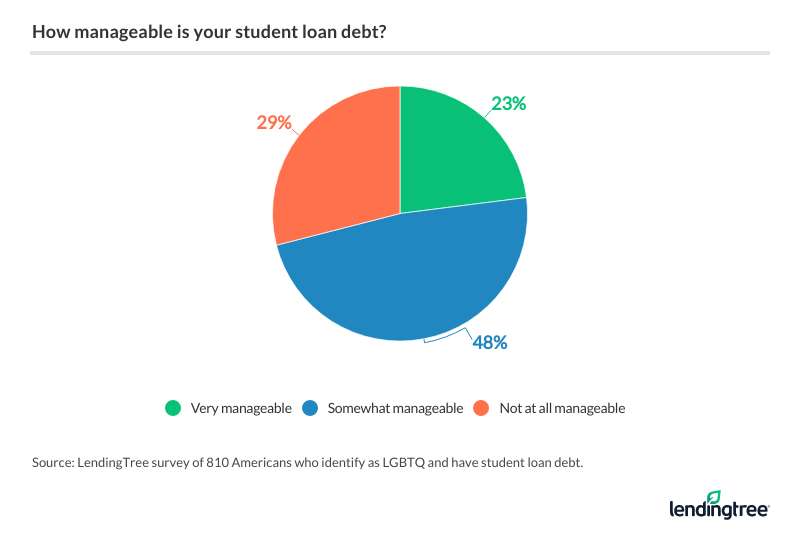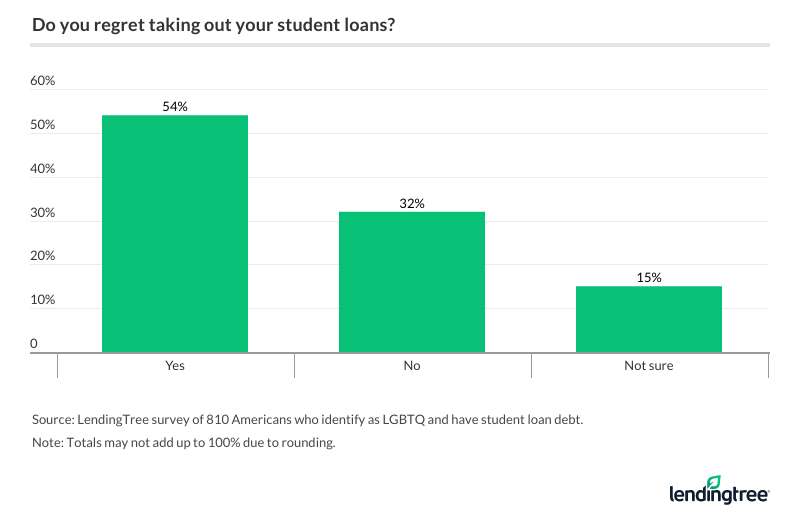 Some LGBTQ borrowers get turned away by financial professionals
Unfortunately, many LGBTQ members in debt have found a less-welcoming atmosphere away from their college campus. About 40% of the borrowers we surveyed said their sexual orientation caused others to decline to offer financial help. And 14% report multiple instances of this type of discrimination.
In fact, the number of LGBTQ individuals denied financial assistance due to their sexual orientation increased from our 2018 survey, from 32% to 40%.
"Reaching out for financial help is hard enough. Throw in discrimination and homophobia, and it can be downright miserable," said David Rae, the founder of a Los Angeles-based wealth management firm. "Look for resources specifically tailored for the LGBT community. I'm not alone as an out and proud financial planner."
Chicago-based financial planner Brian Thompson, whose clients include LGBTQ couples, agrees that more financial-service providers are reaching out to the community. "My advice is to look for non-traditional places. We're out there and eager to help."
And there are some encouraging signs out there, including the growing number of scholarships reserved for LGBTQ undergrads.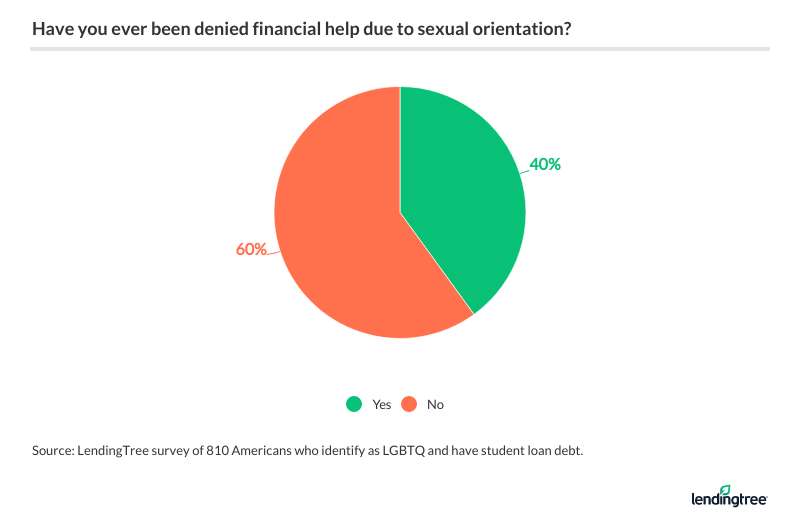 And some also lack key support from family
Aside from facing the possibility of discrimination in public settings, 60% of our survey respondents also reported feeling at least partially unwelcome within their own families. In addition, about 28% reported that they have been kicked out of the home because of their sexuality.
A lack of family support could harm LGBTQ individuals right out of the gate. Without parental support, students could end up taking out more loans. Parents can also play a broad role in securing financial aid, such as by providing their information on the Free Application for Federal Student Aid (FAFSA).
Without mom, dad or more family in their corner, LGBTQ borrowers' repayment could also be harmed. Those who report not feeling at least somewhat accepted by their families are more likely to say their debt is unmanageable (38%) than those who feel accepted at home (26%). They're also more likely to report not being on the right track for retirement (62% versus 45%).
"Knowing that people will have your back, or possibly provide financial support if things get hairy, helps keep us in a healthy mental state," said John Schneider, a co-host of the Queer Money podcast. "In addition, those that have familial support are more likely to also have financial support when they leave the home, compared to those that are leaving because their home is not a welcoming place."
And there may be other less-obvious, and potentially dangerous, consequences. LGBTQ student borrowers who don't feel supported by their families are twice as likely to report that their debt has kept them from leaving a bad relationship. Overall, 15% said their student loans had kept them from walking away from an ill-fitting partner.
With overwhelming debt comes unachieved financial goals
With a heavy student loan debt burden in some cases and a lack of a support system in others, it's no surprise that 87% of LGBTQ borrowers are falling behind on their other financial goals.
Most notably, 41% of respondents say their debt had stopped them from being able to buy a home. Other financial goals left unmet include:
Pursuing passions (35%)
Traveling (26%)
Moving out (27%)
Buying a first car (23%)
Starting a family (19%)
Getting married (18%)
At the same time, student loans aren't the only money-related problem for many of the LGBTQ individuals we surveyed. About 57% report being burdened by other types of debt. Credit card debt is far and away the biggest bugaboo of those respondents, at 63%, although that figure was down significantly from 79% in our 2018 survey results.
"This is the first bit of good credit-card-debt news we've seen in a while," said Schneider, also a founder of Debt Free Guys, adding that perhaps a somewhat stronger economy may have helped matters.
In 2019, auto loans (38%), personal loans (20%), mortgages (16%) and shorter-term loans (15%) also accounted for LGBTQ borrowers' debt.
Student loans and secondary debt have also dimmed many LGBTQ borrowers' hopes in terms of saving for retirement: Nearly half of the people we surveyed (48%) don't think they're on the right track, with 56% saying they don't even have a retirement investment account, such as a 401(k) or IRA.
"I can't save," one respondent told us. "I contribute a small amount to a 401(k), but it's not significant enough for retirement — yet [it's] all I can barely afford."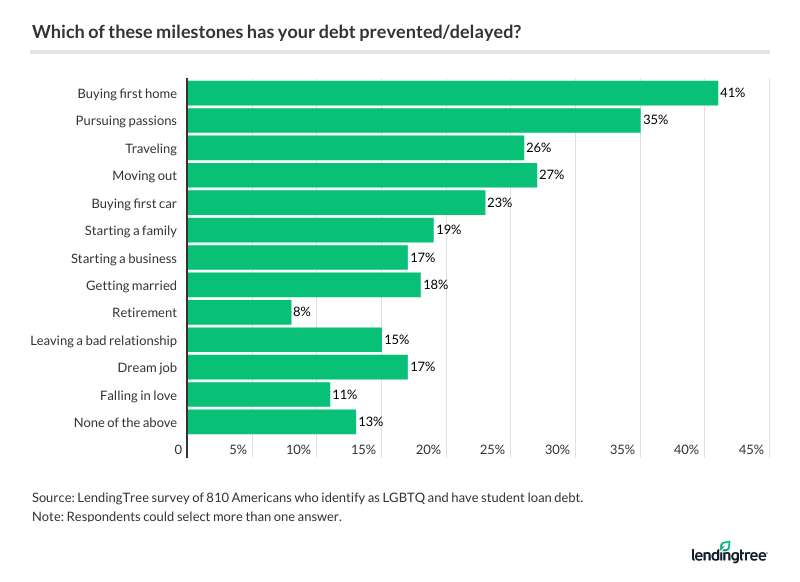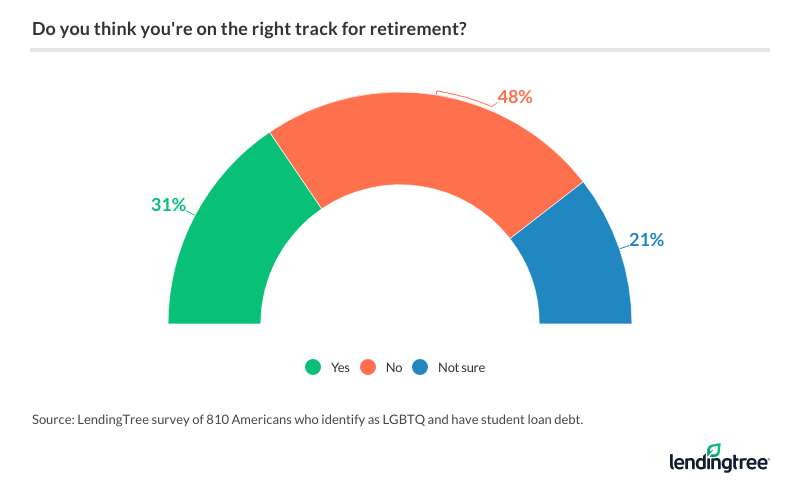 Finding student loan relief via refinancing, other strategies
For LGBTQ borrowers, there's no single solution to all of their student loan concerns. Some could benefit from pursuing student loan forgiveness or enrolling in income-driven repayment (if they have federal student loans), while others might be better off cutting expenses and throwing extra income at their outstanding balance.
For creditworthy LGBTQ borrowers — or those with creditworthy cosigners — student loan refinancing could offer some relief. It allowed some of the survey's respondents to either decrease their monthly payment or reduce their interest rate, along with providing the additional perk of consolidating multiple older loans into one new, simpler repayment.
While 65% of the borrowers surveyed say they are familiar with the practice of refinancing, only about 38% report having gone ahead with it. That's a significant departure from the approximate 66% who said they refinanced in our 2018 LGBTQ survey.
Of those who did refinance in this latest survey, however, 63% say it helped them advance toward achieving other financial goals.
Methodology
LendingTree commissioned Qualtrics to conduct an online survey of 810 Americans who identify as LGBTQ (lesbian, gay, bisexual, transgender, queer) and have student loan debt. The survey was conducted between June 6 and June 10, 2019.