Most Promising Places to Open a Restaurant
Published on: October 24th, 2018
Editorial Note: The content of this article is based on the author's opinions and recommendations alone. It may not have been previewed, commissioned or otherwise endorsed by any of our network partners.
There's no shortage of movies and TV shows about the plight of restaurant owners — their initial struggle and ultimate rise to success. But the restaurant industry can be punishing, leaving many entrepreneurs with only the effort and dashed dreams.
LendingTree analyzed the 50 largest U.S. cities to see which offers prospective restaurateurs the best shot at success. Many top spots are in once-overlooked Midwestern cities now experiencing urban renewal. The least promising cities have historically been the restaurant industry's most competitive.
Eating out has long been an American pastime — and growing. More than 1 million restaurants operate in the U.S., generating $799 billion in sales. Restaurants are expected to create 1.6 million new jobs by 2027. But despite the size and scope of the industry, it remains a challenging landscape for business owners. Changing consumer tastes and purchase behavior, as well as rising labor costs, continue to put pressure on restaurant owners, who must evolve their business models, menus and technology to keep their doors open.
However, it's not all bad news for the industry. Restaurant sales have seen an uptick in recent years though it's unclear if that's due to an increased number of diners or Americans simply spending more. But a national rise in wages could motivate people to eat out more often. Either way, it creates a growing opportunity for restaurateurs. And despite commonly held beliefs that nearly all restaurants fail right away, their median life span is about 4 1/2 years.
What we considered in our study
To find out where prospective restaurant owners may have a better chance at succeeding, we looked at four factors within the 50 largest metros in America:
Average estimated annual revenue: Using the reported monthly deposits of more than 5,400 restaurant owners who sought small business loans on the SnapCap by LendingTree business loan platform, we estimated their annual revenues and adjusted them based on prices in their particular city. For example, rent and labor in San Francisco are significantly higher than the same costs in Cincinnati, so raw revenues only tell part of the story. We normalized the revenues using the regional price parity index from the Bureau of Economic Analysis so that $10 in Cincinnati revenue represents the same buying power as $10 in San Francisco.
Estimated payroll costs per employee: To get a sense of where labor costs may have a smaller impact on restaurants, we used the total annual payroll and employees for restaurants in each metro, as reported in the County Business Patterns survey from the U.S. Census Bureau to calculate the average annual cost per employed person.
Number of restaurants per 100,000 households with incomes of $50,000 or more. These households spend the most on eating out, according to the Bureau of Labor Statistics, but some metros may be underserving these households eager for new restaurant choices.
Number of restaurants per 100,000 residents aged 35-54.  Gen Xers have a greater appetite for restaurant spending than millennials or baby boomers, according to the same BLS survey. This may present an opportunity for cities dominated by this generation with relatively few restaurants.
Opportunity is ripe in 'flyover country'
While traditional foodie destinations like New York and San Francisco are saturated with restaurants,  up-and-comers have room to grow. You may not immediately think of Milwaukee and Cincinnati as foodie destinations, but they represent opportunities for new restaurant owners to find their footing. The restaurant population in these cities is less dense than in other areas while labor costs are lower, leaving room for newcomers to make a name for themselves.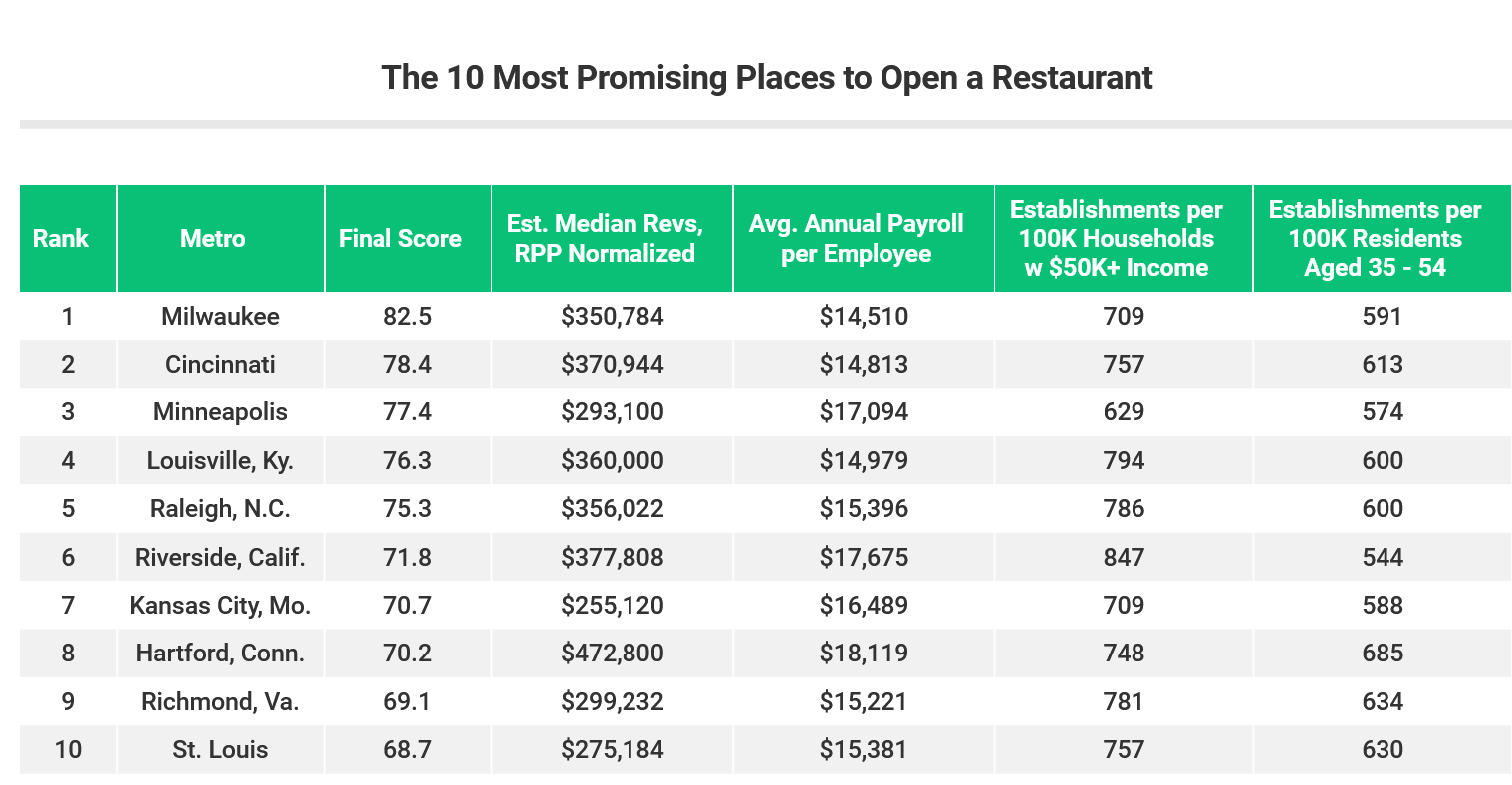 1. Milwaukee
Final score: 82.5
Hello Milwaukee. Milwaukee ranked highest in our study, earning a score of 82.5. There are 709 restaurants per 100,000 households with an income of $50,000 or more. Among residents between the ages of 35 and 54 – the age group that spends the most on dining out – there are 591 restaurants per 100,000 people. Milwaukee diners may be hungry for a wider array of options.
About 1,576,236 people live in the area where the median age is about 38 years old, within the threshold of the group that spends the most at restaurants.
New eateries are popping up in the area, but businesses face the same problems that are plaguing the industry at the national level. Restaurateurs in Milwaukee have a limited selection of culinary professionals, creating competition among business owners trying to fill cooking positions.
However, the market is holding up despite multiple recently reported restaurant closings. The estimated normalized median revenues of restaurants in the Milwaukee area is $350,784 and the average annual payroll per employee is $14,510. Payroll costs are a bit lower in Milwaukee, edging it above No. 2 Cincinnati, where the normalized median revenue is $370,944 and the average annual payroll is $14,813.
2. Cincinnati
Final score: 78.4
Second-place Cincinnati. While Cincinnati's restaurant scene is prosperous, the majority of eateries in the city are chain establishments. But residents tend to prefer independent restaurants, creating a prime opening for prospective local restaurateurs.
There are about 2,180,746 people living in the area where the median age is about 38 years old, about the same as Milwaukee.
3. Minneapolis
Final score: 77.4
Ranking No. 3 in our study, Minneapolis has even fewer restaurants among the designated demographics. There are 629 establishments per 100,000 households with $50,000 or more in income, and 574 restaurants per 100,000 residents between the ages of 35 and 54 years old.
Minneapolis has seen a number of restaurant closings in the past year, many opening and shuttering their doors within 12 months. Rather than one unifying reason, restaurant owners say they have closed down because of varying circumstances, from rising costs and local competition to poor locations and restaurant concepts.
But some Minneapolis restaurants and chefs have gained national attention and the city's wine scene is becoming one of America's best. As Minneapolis' culinary profile rises, new restaurant owners could benefit from diners who are eager to try the next big thing.
Entrepreneurs face challenges in culinary capitals
The lowest-ranking metros in our study are cities with world-renowned restaurant scenes. The local restaurant industry is overcrowded in these places, making it difficult for new restaurant owners to be successful.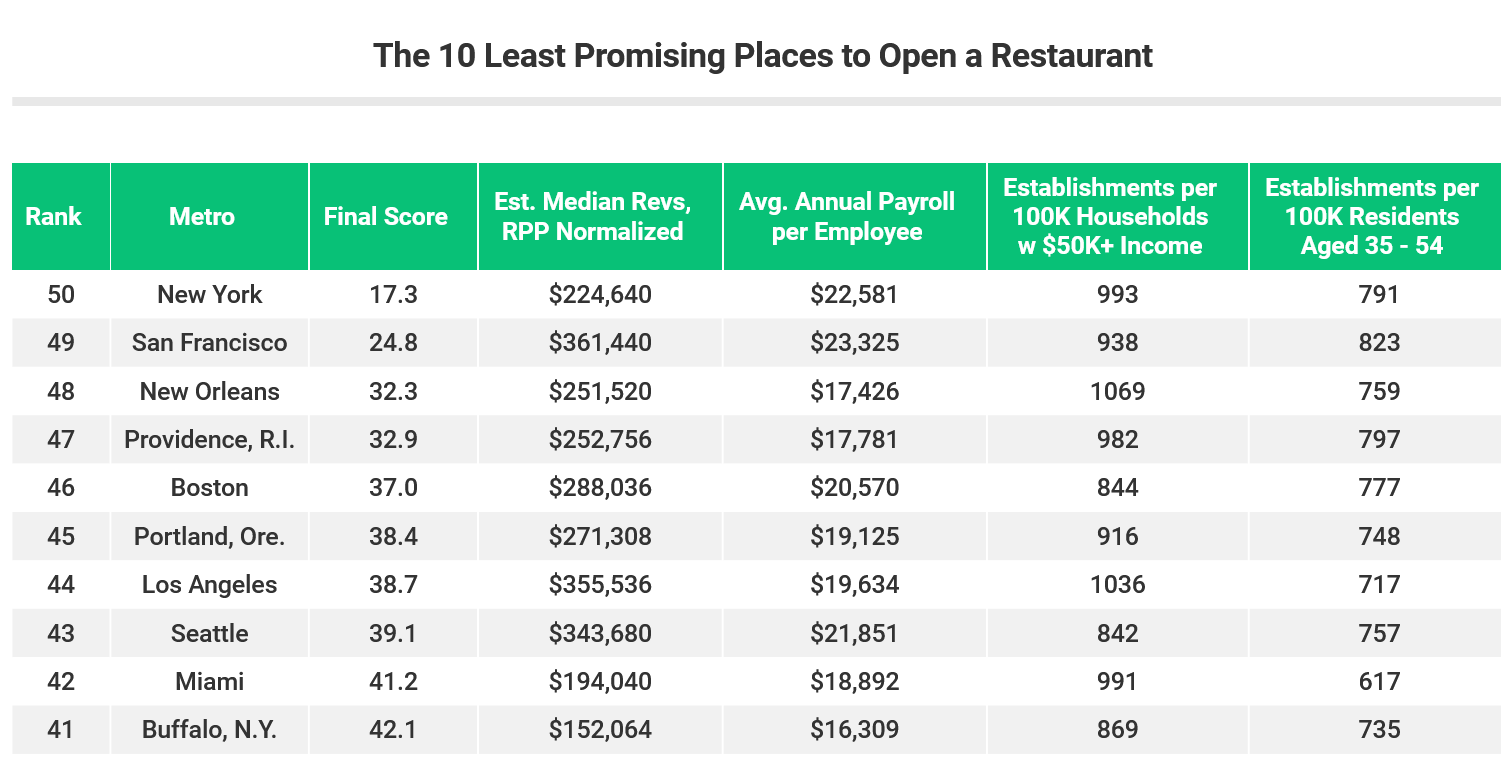 50. New York
Final score: 17.3
Big Apple. New York ranked last at No. 50, earning a score of 17.3. The adjusted median revenue is relatively low, $224,640, and payroll costs are high at an average annual payroll per employee of  $22,581. There are 993 restaurants per 100,000 households with incomes of $50,000 and 791 establishments per 100,000 residents between the ages of 35 and 54.
49. San Francisco
Final score: 24.8
San Francisco, in the No. 49 spot, is about as equally dense but restaurants in the area rake in more money. The normalized median revenue for restaurants in the city is $361,440, but the average annual employee payroll is $23,325, which means even higher labor expenses than New York. San Francisco restaurant owners also have high food expenses  as well, especially when restaurateurs increasingly have to cater to diners expecting quality, ethically sourced selections.
48. New Orleans
Final score: 32.3
Big Easy. Our third least promising place to open a restaurant is New Orleans. Though far smaller by population compared with New York and San Francisco, the Southern city has more a competitive restaurant scene. There are 1,069 eateries per 100,000 households with $50,000 in income, and 759 restaurants per 100,000 residents between the ages of 35 and 54.
Though the cities at the bottom of our list have flourishing food cultures, their high costs and fierce competition do not make them ideal for new restaurant owners.
Financing can be an extra hurdle
In addition to the challenges brought on by location, new restaurant owners may have difficulty funding the operation as well. Obtaining restaurant financing can be challenging, especially if the owner has no previous experience owning or managing a restaurant, said Hunter Stunzi, senior vice president of small business at LendingTree.
Lenders often view restaurants as higher-risk businesses because of high turnover and failure rates, he said. Most new restaurants will have significant upfront costs, and owners usually need outside financing. Start-up costs could include:
Leasing or purchasing a location
Permits
Outfitting the building for the restaurant
Leasing or purchasing equipment
Hiring staff
Purchasing perishable inventory
Marketing
All of these expenses can add up quickly. Long before buying their first commercial stove, business owners should first visit a bank to seek financing from the Small Business Administration, Stunzi said. An SBA loan could cover fixed expenses such as the location purchase and buildout. Online alternative lenders could be a good option for leasing equipment or obtaining working capital to cover inventory, marketing and payroll, he said.
Whether submitting an application to a bank or an online lender, new restaurant owners should be prepared to submit a clear business plan and a detailed description of their past experience, as well as the current management team at the restaurant. New owners would also have a better chance of approval if they have a strong personal credit profile and assets to offer as collateral on a loan.
"Any lender to a new restaurant will be very focused on the business plan and the owner's experience," Stunzi said.
Prospective restaurateurs can learn more about the steps to starting a restaurant here.

Methodology
The 50 largest metropolitan statistical areas ("MSAs") in our study were scored according to four categories, based on their relative rankings between the highest and lowest values, for a highest score of 100 and a lowest of 0. These four scores were then averaged for the final score, with a highest possible final score of 100 and a lowest of 0. The four categories are:
Averaged estimated annual revenues, normalized by regional price parity
Estimated annual labor costs per employee
Number of restaurants per 100,000 households with incomes of $50,000 or more
Number of restaurants per 100,000 residents aged 35-54
Sources: Proprietary data from a sample of more than 5,400 restaurants on the SnapCap by LendingTree small business loan platform; "Regional Price Parities by State and Metro Area," U.S. Bureau of Economic Analysis, May 17, 2018; "County Business Patterns 2016," U.S. Census Bureau; "Consumer Expenditure Survey 2017," U.S. Bureau of Labor Statistics.