How Does LendingTree Get Paid?
LendingTree is compensated by companies on this site and this compensation may impact how and where offers appear on this site (such as the order). LendingTree does not include all lenders, savings products, or loan options available in the marketplace.
Places With the Most Family-Owned Businesses
Updated on: January 24th, 2020
Why use LendingTree?
We are committed to providing accurate content that helps you make informed money decisions. Our partners have not commissioned or endorsed this content. Read our .
Family-owned businesses of all sizes help drive the U.S. economy, whether they're mom-and-pop shops or Fortune 500 companies. They're economic players in cities and states across the country, especially those west of the Mississippi. LendingTree researchers found that West Coast cities and western states dominate our list of the places with the most family-owned businesses.
To qualify as a family-owned business, two or more people from one family must have a majority stake in the business. Across the 50 metro areas that were analyzed, family-owned businesses represent about 29% of all firms.
Key findings
Phoenix tops our list of cities with the highest rate of family-owned businesses. About 38% of businesses in the metro area are family owned. Phoenix is also the only place in the top five not located in a West Coast state.
At the state level, Idaho boasts the most family-owned businesses — nearly half of businesses in the state are family owned. South Dakota and Wyoming ranked No. 2 and No. 3, respectively.
California cities claim the next two spots behind Phoenix. Sacramento is in second place with a family-owned business rate of 36.6% while Riverside earns the No. 3 spot with a rate of 35.6%.
Seattle and Portland, Ore. are also high-ranking West Coast cities — they're in positions four and five, respectively. In fact, the only East Coast city in the top 10 is Orlando, Fla., in 10th place.
Eastern cities round out the bottom three — Boston, New York and Buffalo, N.Y., all have family-owned business rates below 24%.
Researchers also identified the industries in which family-owned businesses are most likely to operate. About half – 49.1% – of reporting family-owned firms are involved in management of other companies and enterprises.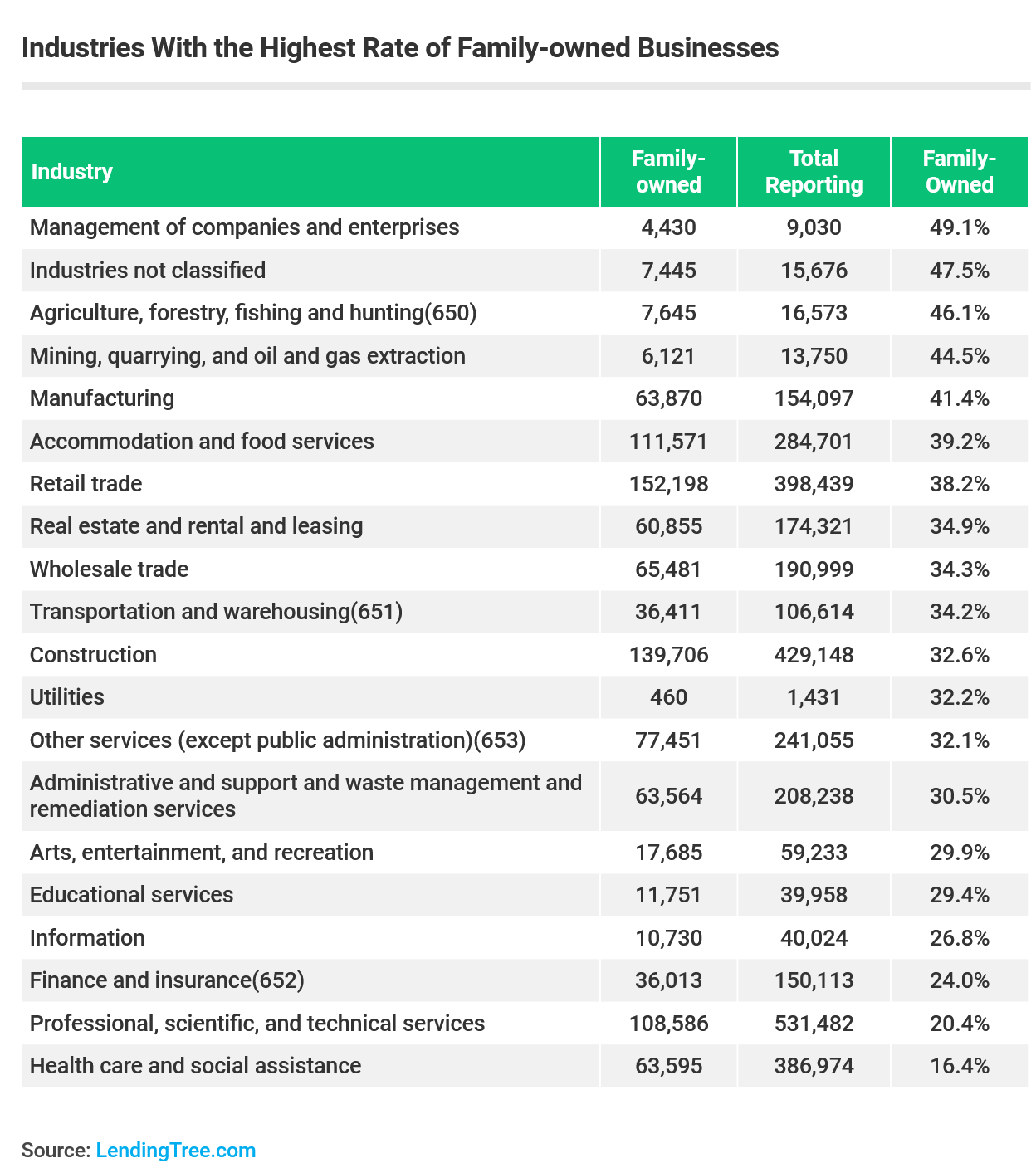 Look westward to find the most family-owned businesses
1. Phoenix
Phoenix has a family-owned business rate of 38%, earning the city first place on our list. Out of 39,529 reporting firms, 15,016 companies are family owned. Arizona as a whole ranks No. 8 in our study with a rate of 38.9%.
The top industries in the Phoenix metro area include advanced business services, aerospace, cybersecurity, financial services and software, among others. Phoenix offers businesses tax credits and incentives to operate in the area and enforces minimal regulations. For instance, there is no corporate franchise tax in Arizona. Several resources exist for small business owners in Phoenix, including SCORE Greater Phoenix, Maricopa Community College System's Small Business Development Center and the Arizona Commerce Authority Small Business Checklist.
2. Sacramento, Calif.
Sacramento's family-owned business rate is 36.6%. In the metro area, 7,674 of 20,983 reporting firms are family-owned companies; overall, California ranked near the middle of the pack at No. 27. California has a family-owned business rate of 31.1%.
Family-owned businesses in Sacramento span a range of industries and include engineering firms, farms, wealth management companies and public relations agencies. Local organizations like the Capital Region Family Business Center support family-owned firms in the Sacramento area.
3. Riverside, Calif.
Riverside ranks third with a family-owned business rate of 35.6%, just one point behind Sacramento. Out of the 31,509 reporting companies, 11,212 are classified as family-owned businesses.
Agriculture and food, health and medical, manufacturing, professional services, retail, restaurants, technology and entrepreneurship are just some of the key industries in Riverside. Riverside offers incentives to local business owners, including site selection assistance and incentives to cut the costs of construction, air conditioning and lighting. Additionally, the Riverside County Economic Development Agency provides resources to local businesses, including assistance relocating or expanding a company.
Tips for running a successful family business
Merging family and business could lead to complex challenges and relationships among relatives. But with the right approach, you could make sure your family business endures through many generations. Here are a few tips to follow when running a family-owned business.
1. Set boundaries.
Consider keeping personal matters separate from work. Setting boundaries and ground rules could help you avoid discussing work at all hours, even at home. Maintaining this separation would also keep non-family employees from feeling left out of conversations.
2. Seek outside perspectives.
In addition to working with family members, considering hiring non-family help when it best suits the business. Lawyers or business consultants can be valuable third parties when it comes to creating business plans or drawing up documents.
3. Plan for the future.
Succession planning would be crucial if you expect to one day retire or leave the company. Determine who would be taking control of the family business when you step away, whether that be another family member or an outside party. You should also decide how the business would be valued and under what circumstances any shareholders may leave.
If you're looking to get additional funding for your family-owned business, see how you can get a business loan in a few simple steps.
Methodology
To find the places and industries with the most family-owned businesses, LendingTree researchers analyzed 2016 data from the Census Bureau Survey of Entrepreneurs. Specifically, researchers compared the number of reported firms to the number of firms that reported being family owned. Family ownership is defined as two or more people from one family having a majority of ownership of the business.