How Does LendingTree Get Paid?
LendingTree is compensated by companies on this site and this compensation may impact how and where offers appear on this site (such as the order). LendingTree does not include all lenders, savings products, or loan options available in the marketplace.
Metros With the Biggest Jump in Private Million-Dollar Businesses
Published on: July 17th, 2019
Editorial Note: The content of this article is based on the author's opinions and recommendations alone. It may not have been reviewed, commissioned or otherwise endorsed by any of our network partners.
In cities across the country, an increasing number of businesses are generating million-dollar revenues. As those companies continue to succeed, employees and community members stand to benefit.
LendingTree analysts compared the number of million-dollar privately owned businesses in 2014 with those in 2016 (the most recent year for which data is available) to see where owners were most successful in taking their businesses to the next level. Researchers used data from the U.S. Census Bureau's American Survey of Entrepreneurs and limited the data to businesses with employees.
Many of these million-dollar firms likely remain in the small business category, based on the U.S. Small Business Administration's size standards. Revenue limits for small businesses range from $750,000 to $38.5 million, depending on the industry in which the company operates.
Although Silicon Valley and other Bay Area cities in California are home to some of the largest companies, more unexpected metros had the most private businesses jump into the million-dollar range.
Key findings
Austin, Texas topped the list with a 15.1% increase in privately held companies surpassing $1 million in revenue between 2014 and 2016. The number of Austin firms in that category rose by 1,857.
Jacksonville, Fla. and Riverside, Calif. came in a nose behind, with an increase just under 15%. The number of firms rose by 963 and 2,359, respectively.
Buffalo, N.Y. was the only metro on our list to lose businesses with seven figure revenues: The city in upstate New York was down by four such firms, a reduction of 0.1%.
Baltimore and Oklahoma City made the smallest gains, at just over 1%, or 187 and 117 businesses, respectively.
Los Angeles had the largest number of firms to pass the million-dollar mark – 6,664 – followed closely by New York at 6,568. Those large numbers represent increases of almost 8% and 5.2%, respectively, leaving them in the 16th and 29th spots on the list.
Places with the biggest jump in million-dollar businesses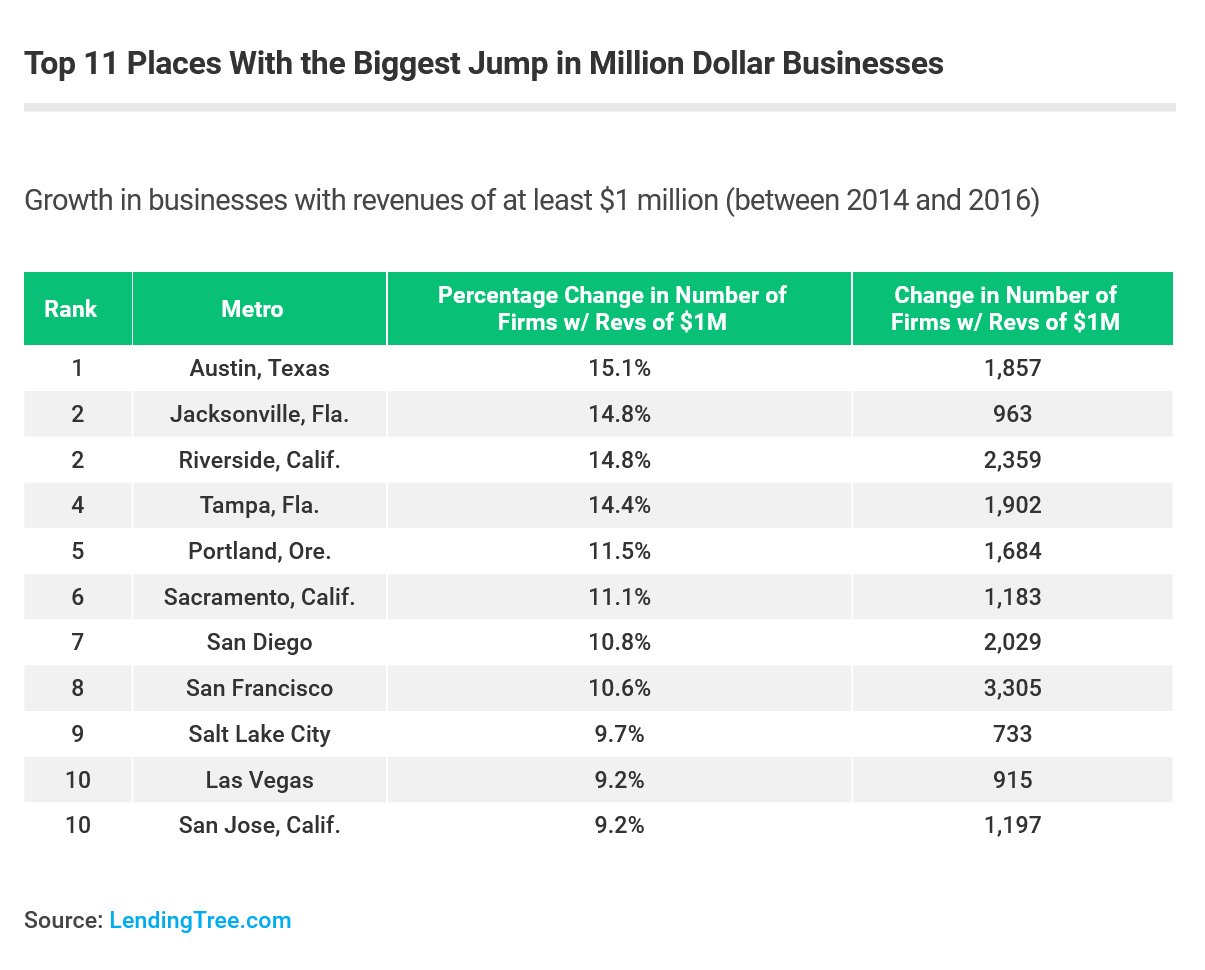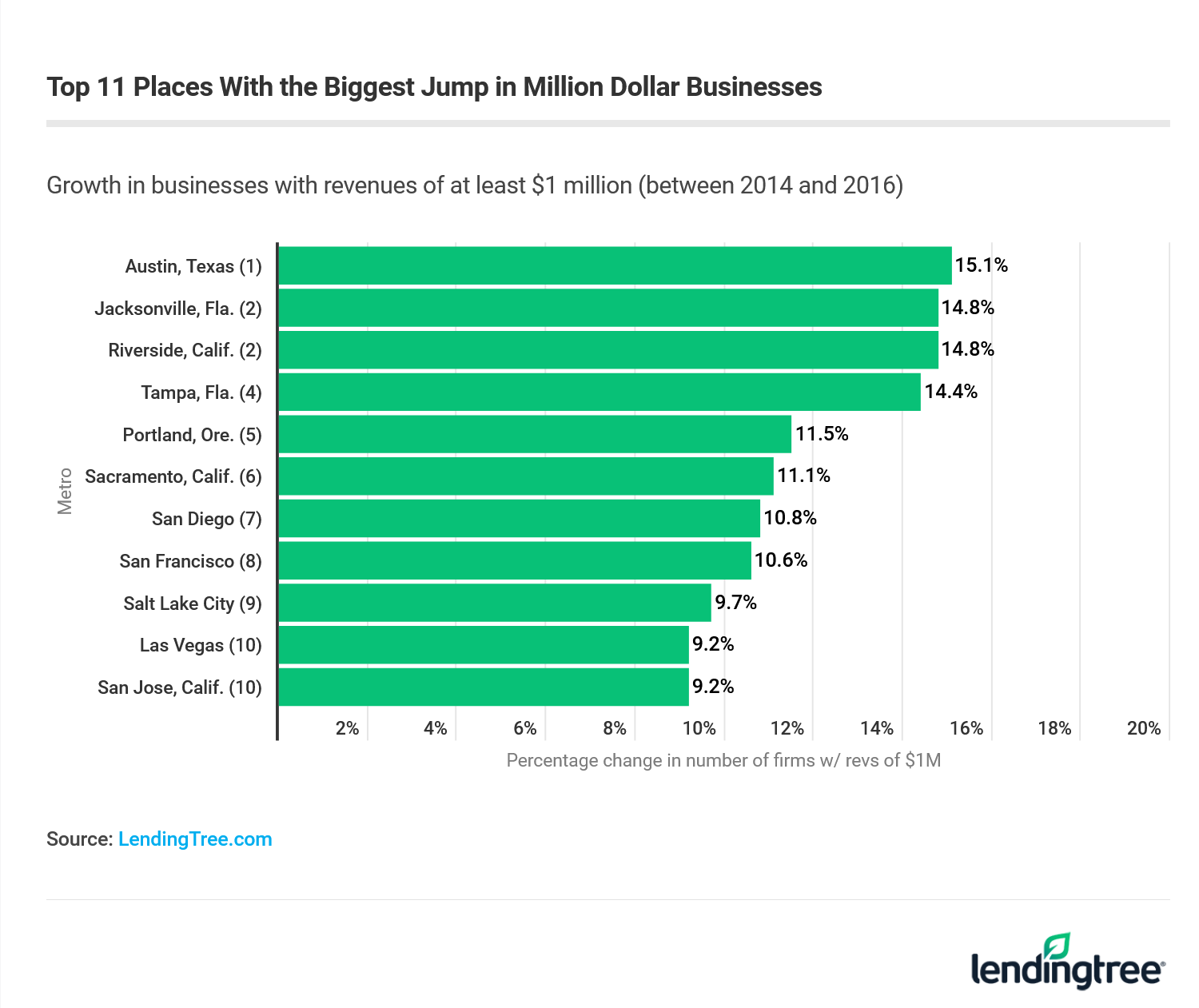 1. Austin, Texas
The Texas capitol saw the largest growth among private million-dollar businesses between 2014 and 2016. In that time frame, 15.1% of privately owned businesses, or 1,857 companies, passed the $1 million revenue mark.
Austin's small business growth and entrepreneurship have contributed to an overall healthy business climate in the metro area. And the unemployment rate in Austin — at 2.3% — is among the lowest in the country. Some of the top employers in Austin include major tech companies like Dell, IBM, Apple and Amazon. But accompanying population growth has led to issues of affordability and equity in the community, which city leaders will likely need to address as Austin continues to grow as a business hub.
2. Jacksonville, Fla.
In second place, Jacksonville saw 963 private companies become million-dollar businesses between 2014 and 2016, accounting for 14.8% of all privately owned firms in the metro area.
While many metros in Florida depend on tourism and retail businesses, Jacksonville has a thriving manufacturing sector. Jacksonville is a hub for transportation, with access to multiple airports, seaports, railroads and major interstates. The aviation and aerospace industries also have a large presence in Jacksonville, partly because of nearby naval stations and other military operations.
2. Riverside, California
Tied with Jacksonville for the No. 2 spot, Riverside also saw a 14.8% change in the number of private firms generating more than $1 million in revenue. In total, 2,359 private businesses crossed the $1 million threshold between 2014 and 2016.
Riverside is part of the Inland Empire, a two-county region in Southern California. Riverside leads the region's legal, financial and educational industries. The City of Riverside launched the Small Business Support Series this year to promote growth among small businesses. The program provides three months of workshops and mentorship for businesses that opened less than five years.
Metros with the smallest bump in million-dollar businesses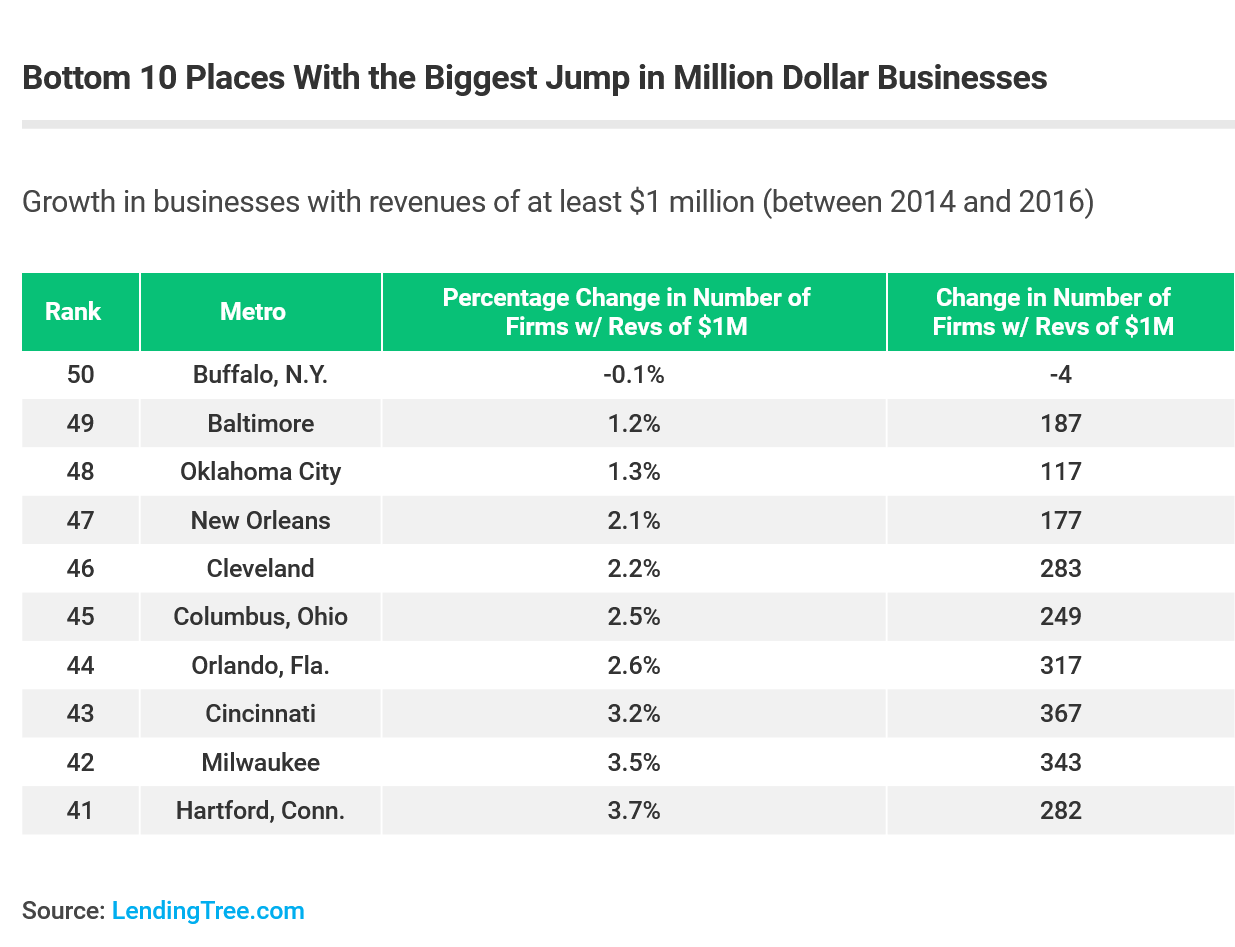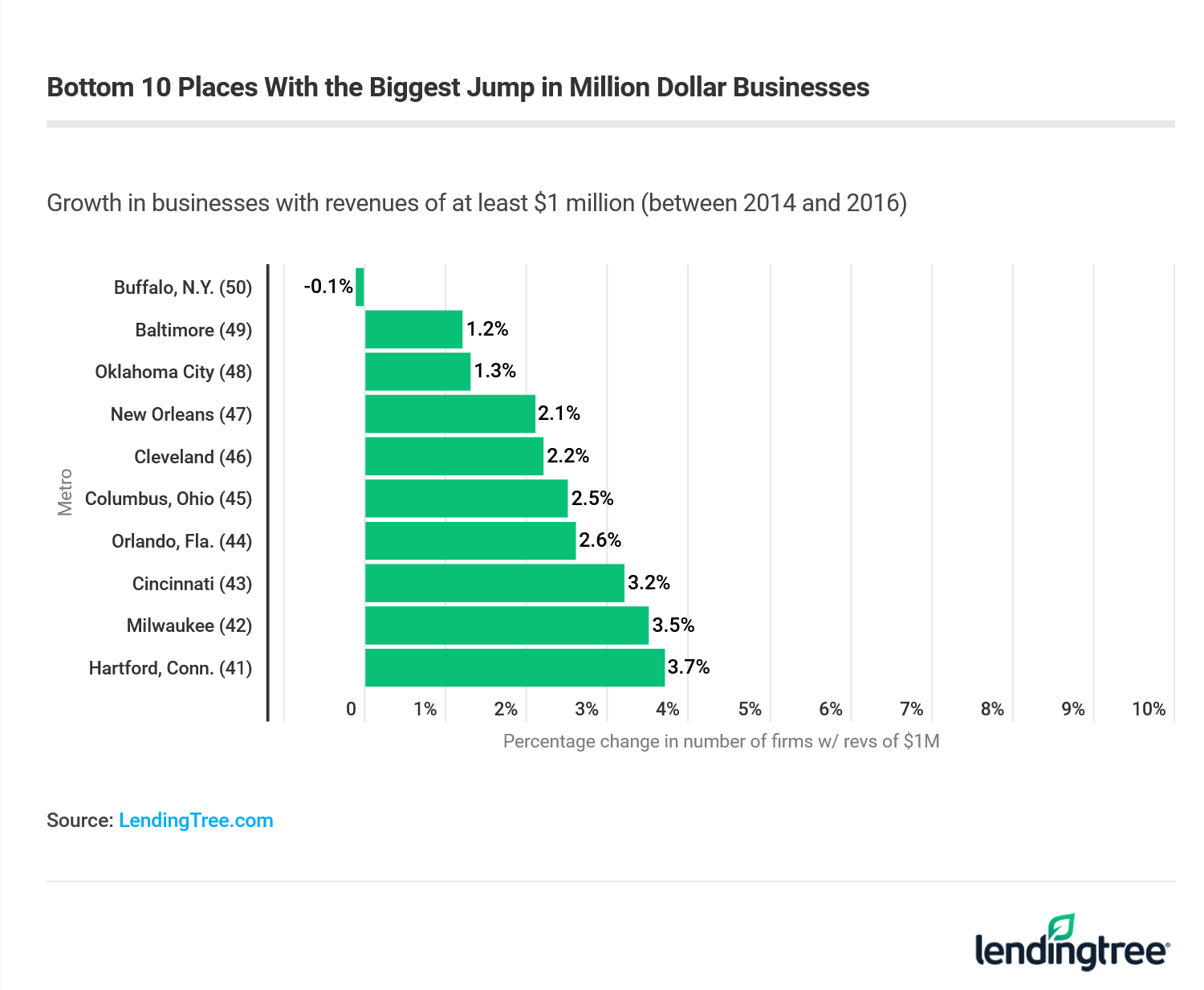 50. Buffalo, N.Y.
Buffalo lost four privately owned million-dollar firms between 2014 and 2016, the only metro area on our list to see a reduction in companies earning seven figures. The -0.1% change put Buffalo at the bottom of our ranking.
Local health care systems and large retailers, such as Wegmans and Tops Markets, are among Buffalo's largest employers. To attract businesses to the area, Buffalo offers incentives focused on infrastructure development grants, as well as tax credits and exemptions. Such incentives include no state corporate income tax for manufacturing companies, no inventory or real personal property tax and no sales tax on purchases of production or research equipment.
49. Baltimore
Between 2014 and 2016, 187 private businesses in Baltimore became million-dollar firms. The 1.2% increase is the smallest percentage change in our study.
The Baltimore region represents the core of Maryland's economy, generating half of the state's GDP. Major employers in the area include military institutions, health care companies and defense contractors, such as Lockheed Martin, Northrop Grumman and Booz Allen Hamilton. The Brookings Institution considers Baltimore one of America's older industrial cities that has struggled to build jobs and boost employment in new sectors in recent years.
48. Oklahoma City
Slightly ahead of Baltimore, Oklahoma City saw a 1.3% change in the number of privately owned businesses generating $1 million or more, an increase of 117 private firms.
Aviation and aerospace are among Oklahoma City's most prominent industries, along with biotechnology and energy. Oklahoma City's natural gas reserves and wind power attract large energy companies to the region. Oklahoma City is also at the intersection of several major highways, making it a prime location for transportation and logistics companies.
Methodology
Analysts compared the number of privately held employer-firms in the 50 largest metropolitan statistical areas with sales and receipts of $1 million or more in 2016 with the number in 2014.  The data was reported by the American Survey of Entrepreneurs conducted by the U.S. Census Bureau.