How Does LendingTree Get Paid?
LendingTree is compensated by companies on this site and this compensation may impact how and where offers appear on this site (such as the order). LendingTree does not include all lenders, savings products, or loan options available in the marketplace.
Best Places for Boomer Entrepreneurs
Published on: October 3rd, 2018
Why use LendingTree?
We are committed to providing accurate content that helps you make informed money decisions. Our partners have not commissioned or endorsed this content. Read our .
Entrepreneurship is not just a young person's thing. Many baby boomers, as they edge into retirement, have decided to take their hard-earned experience and work for themselves. In a new study, we've found places particularly great for boomers who want to have a try as entrepreneurs.
To determine the best places for boomer entrepreneurs, LendingTree analysts created a final score based on three elements: We used census data to calculate the median and average earnings of boomer-owned businesses, as well as the share of businesses founded by boomers.
What we considered in our study
Define boomer entrepreneurs. Boomer entrepreneurs are those born between 1946 and 1964 who reported being self-employed and actively engaged in the workforce in 2016.
We considered both average (mean) and median business incomes. Medians can tell us how much most people are earning, while the average can give us a sense of how much income there is overall. A bigger gap between median and average indicates that there is a lot of money to be made, but fewer people are earning it.
We used the percentage of new businesses that were founded by boomers. We determined this by looking at the rate of businesses founded by boomers in the last five years, based on those seeking loans on our business loan platform (originally reported in August 2018). This is an indication of how attractive and hospitable metros are to entrepreneurs in that age bracket.
Key findings
San Jose – the seat of the Silicon Valley – is by far the best place for boomer entrepreneurs, with a final score of 93.6. In addition to representing high business income, San Jose boasts the largest share of boomer business founders.
San Francisco comes in second with a score of 86.5, thanks to remarkable earnings potential, relative to the other metros on our list (it also came in first on our best places for women entrepreneurs), indicating that boomers are sharing in the general prosperity of self-employed entrepreneurs there.
Boston earned the third place on our list, with a score of 74.1.
New Orleans, Miami and Orlando ranked last on our list, with scores of 16.4, 20.5 and 21.1, respectively.
Top 10 places for boomer entrepreneurs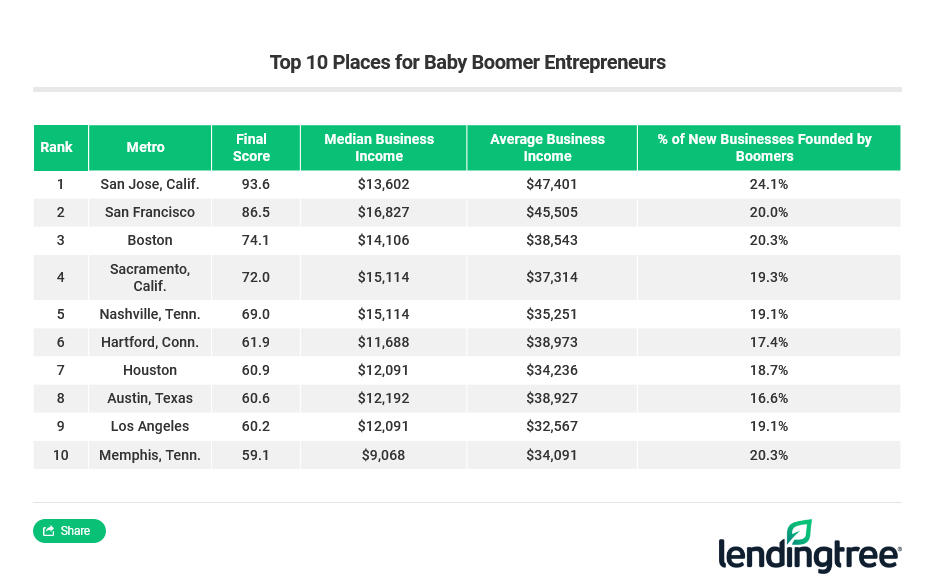 Baby boomers who work for themselves tend to earn a more decent living in the best cities for boomer entrepreneurs.
They take home higher business incomes compared with their counterparts in other metro areas. Not only that, in these cities, the percentages of boomers who own their own businesses are also higher. This is great because self-employed, older people can tap into a larger entrepreneurial network in their age cohort that can offer support and share experiences and advice.
Here's a closer look at the best U.S. cities for boomer entrepreneurs out of 50 metros reviewed:
1. San Jose, Calif.
San Jose tops the list largely due to the high business incomes boomer entrepreneurs earn there. The average business income is $47,401 among baby boomers in this city, the highest amount among all cities examined. And the boomer entrepreneurs' annual median business income is $13,602, ranking fifth in that category.
Boomer entrepreneurs are also more common in San Jose. More than 24% of San Jose's new businesses founded in the last five years were run by baby boomers, the highest percentage among all cities.
2. San Francisco
San Francisco stands out with the highest annual median income for business owners who are baby boomers, at $16,827. This means that earnings of most boomer entrepreneurs in the Bay Area are on the higher end. The city comes at No. 2 in terms of the average business income, at $45,505 a year.
San Francisco also has a large share of entrepreneurial boomers. One in every five new business founders are people born between 1946 and 1964.
3. Boston
Though on the opposite side of Silicon Valley, Boston is a similarly ideal place for boomer entrepreneurs. Boomer Bostonians have a medium business earning of $14,106, one of the highest figures for boomer entrepreneurs across the country.
The New England metro also has the second-highest rate of new businesses founded by baby boomers — 20.3% — tied with Memphis, Tenn.
4. Sacramento, Calif.
The capital of California placed second for median earnings among self-employed baby boomers — $15,114. The average business income boomers earn is also on the higher end, at $37,314. The share of new businesses owned by boomers in the city 19.3%, coming at No. 4.
5. Nashville, Tenn.
Next up is a Tennessee metro, Nashville, which also ranks No. 5 in terms of the percentage of new businesses opened by boomers, at 19.1%. Nashville shares second place with Sacramento for the median business earnings for baby boomers.
6. Hartford, Conn.
Boomer entrepreneurs in Connecticut's capital on average earn an impressive annual income of $38,973. That's the third-highest number among all cities examined in this study.
Boomer business entrepreneurs can expect a median business income of $11,688, which is on the lower end of the top 10 metros. In Hartford, the percentage of new business founders who are baby boomers is 17.4%, a tad lower than the national average of 18%.
7. Houston
Then we have Huston, which scores a point lower than Hartford. Among boomers earning a business income in Houston, the median is $12,091 and the average is $34,236.
New businesses owned by baby boomers have also sprung up in Houston. Among all the new businesses that came out in the last five years, 18.7% of them were founded by people ages 54 to 72.
8. Austin, Texas
Austin is another Texas metro to make the Top 10 list. Among boomers who own businesses in Austin, the median annual income is $12,192 and the average is $38,927.
But overall, Austin doesn't have quite robust a boomer entrepreneurship scene. About 16% of the new businesses were founded by baby boomers in the last five years, the lowest rate among the top 10 metros and lower than the average.
9. Los Angeles
Los Angeles proves itself to be a solid place for boomers to take the leap into starting a business by faring above average in all three ranking factors. The median business of $12,091 and the average of $32,567 show that boomer entrepreneurs in Los Angeles are able to outearn their counterparts in other metro areas. The California city also ranks high in terms of the share of new boomer business founders, at 19.1%.
10. Memphis, Tenn.
The last city to make the Top 10 list is Memphis. The Tennessee city stands out with the second highest percentage of new business owners who are baby boomers, at 20.3%.
Self-employed baby boomers earn decent business incomes in Memphis, with the average of $34,091. The median business earnings — $9,068 — is a bit lackluster. It's the only five-figure income among the top 10 metros.
Bottom 10 places for boomer entrepreneurs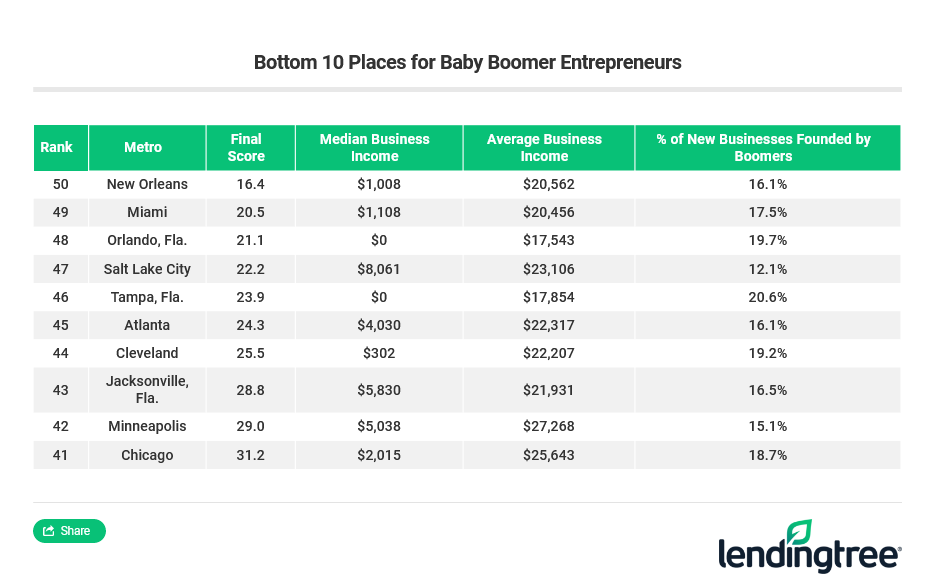 Self-employed baby boomers in these metros bring in far less than similar cohorts in other cities.
Boomers in New Orleans — the city at the very bottom of our list — earn a median business income of just $1,008, less than 13% of the national average. While boomer entrepreneurs on average take home $20,562 each year, that's only two-thirds of the national average.
In two Florida cities, Orlando and Tampa, self-employed baby boomers earn a median business income of $0. This means at least half of the businesses founded by boomers there don't profit at all.
Besides these two cities, Florida has two other metros that make the bottom 10. Miami is the second-worst major city for self-employed baby boomers. Jacksonville ranks a bit higher, landing at No. 43 of all 50 metros assessed.
The bottom 10 cities also have fewer baby boomers participating in entrepreneurship. In Salt Lake City, only 12.1% of the new businesses in the past five years were founded by boomers. It's the lowest rate in the country.
Why some of the results might surprise you
You might have noticed the low median and average business income results, which are quite striking. On average, across the 50 metros we reviewed, the median business income represents about 18% of the total median income, and the average business income is about 38% of the total average income. But there are two things to keep in mind:
Self-employed work varies greatly. We identified entrepreneurs in the census data as those who reported that they were self-employed and active in the workforce. That can mean a lot of different things. It could be that they spend a few hours a week working for a couple of veteran clients as a career winds down or drive as part of a ride-sharing service. It could mean that a handyman takes on jobs here and there. It could also mean that a physician runs a successful pediatrics practice or a fund manager runs a profitable hedge fund.
Business income isn't necessarily a person's sole income. This is especially true for people who are also receiving Social Security income, retirement benefits and/or investment income. Plenty of people work part-time jobs to supplement their business incomes. And it's also possible that people handle their business income in a way that they don't report it as personal income.
Top places for boomer entrepreneurs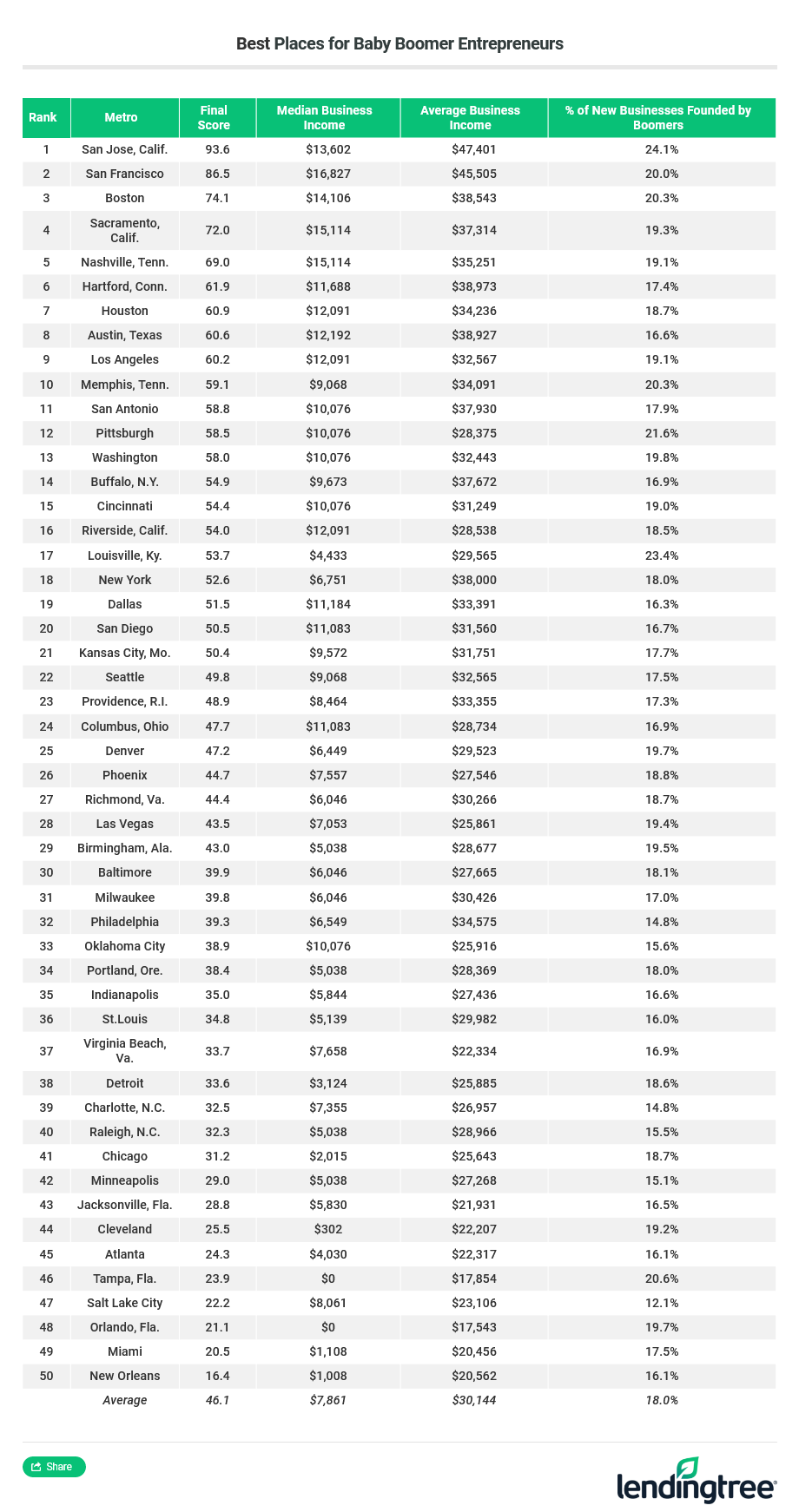 Methodology
Each of the 50 largest metropolitan statistical areas ("MSAs") was scaled against each other, so that the most positive result for each factor was 100 and the most negative was 0, on three factors: median business income for boomers, average (mean) business income for boomers, and the percentage of businesses founded in the last five years that were started by boomers.  The first two factors were calculated from the U.S. Census Bureau's American Community Survey for 2016 calculated from microdata housed in IPUMS USA, and the latter was calculated using anonymized data of borrowers seeking small business loans on the LendingTree platform (originally published here). All three factors were weighted evenly.  Baby boomers are defined by the Pew Research Center as those born between 1946 and 1964.