How Does LendingTree Get Paid?
LendingTree is compensated by companies on this site and this compensation may impact how and where offers appear on this site (such as the order). LendingTree does not include all lenders, savings products, or loan options available in the marketplace.
What Percentage of Businesses Fail and How to Improve Your Chances of Success
Updated on: August 7th, 2020
Editorial Note: The content of this article is based on the author's opinions and recommendations alone. It may not have been previewed, commissioned or otherwise endorsed by any of our network partners.
Have you ever considered starting your own business? You're not alone. According to the latest U.S. Small Business Administration data, there are 31.7 million small businesses in the United States. Undoubtedly, though, with millions of businesses in the country, some are bound to fail.
Businesses falter for a variety of reasons: Owners might face financial constraints, workforce issues or burnout. Before you dive into entrepreneurship, take a long look at the small business failure rate, so you can be sure not to add yours to that statistic.
Percentage of businesses that fail
According to data from the U.S. Bureau of Labor Statistics, about 20% of U.S. small businesses fail within the first year. By the end of their fifth year, roughly 50% have faltered. After 10 years, only around a third of businesses have survived.
Surprisingly, business failure rates are fairly consistent. Even during the economic downturn starting around 2008, failure rates stayed roughly the same with the exception of the smallest establishments. Notably, it was very small businesses — those with five or fewer employees — that exited at higher rates during the Great Recession.
COVID-19 exception
Still, there are signs that the coronavirus pandemic may test the conventional wisdom that economic factors don't have a significant impact on the startup success rate. Yelp, the business listing and review site, noted in June that 41% of all business closures noted on their site since March — startups and established businesses — were permanent.

Why do small businesses fail?
There are many reasons new businesses fail, from misreading the market to hiring the wrong people and facing legal challenges.
1. Lack of demand for the product or service
Almost half — 42% — of startup businesses fail because people don't actually need or want what they're selling, according to research firm CB Insights. This means that assessing the potential market is essential to ensure success.
Figuring out if there's a market for your product or service requires talking to potential customers to understand their problems and needs. It's a mistake to assume you know what their pain points are or that your product will be attractive simply because it's an advancement in your field.
2. Cash flow problems
Managing money is a stumbling block for many new businesses — 29% of failed startups point to cash flow problems as a central issue. Insufficient cash flowing in and out of the business is a result of other problems, such as lack of product-market fit, failure to capitalize on opportunities or hesitation in seeking capital.
Many businesses operate on lean margins, which leaves little room for financial error. Success can depend on figuring out how to run efficiently in order to build up a cushion and acquire some security and flexibility.
"I put a tremendous emphasis on cash flow and having a solid financial platform," said Tom Raymond, a SCORE mentor in Detroit. "Most startups don't even know what an Excel spreadsheet is."
3. Problems attracting the right talent
Employees are a company's most important resource, so hiring the wrong ones or creating the wrong positions just about guarantees major problems. Almost a quarter — 23% — of failed businesses cite having the wrong team as a main reason their business folded.
In some cases, founders have a desire to do everything themselves, despite lacking the capabilities or skills for certain tasks. In other cases, they want to hire their friends or relatives over more experienced or more suitable people. Some businesses fail because leadership positions are misaligned, the staff lacks diversity or the board is mismanaged.
4. Not researching the competition
It's essential to investigate who else is already trying to fill your target audience's needs. Neglecting to look critically at the competition is cited as a reason for failure by 19% of startups that fold.
A sector with other entrants indicates that there's a true market need that businesses are competing to meet. But a crowded field or a sector with extremely well-funded and experienced competitors will be more difficult to enter successfully than a more sparsely-populated one. Either way, businesses with a unique value proposition will be most successful in edging out others for customers' attention.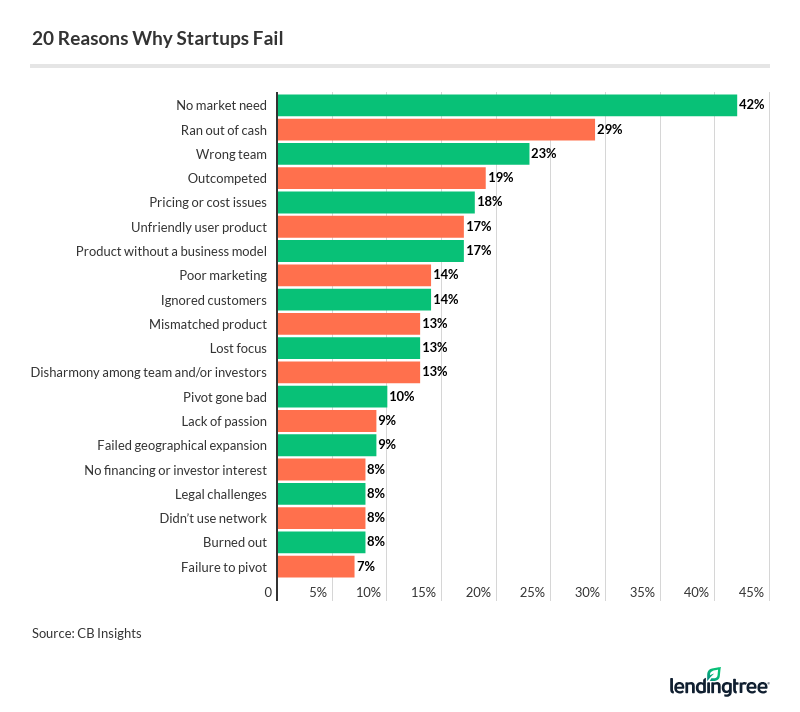 Industries with the highest survival rates
If you have been considering starting a small business in alternative energy, health care or information security, you're in luck — these are the industries projected to grow the fastest over the next several years. The startup success rates in these fields are likely to be relatively good.
The Bureau of Labor Statistics shows that jobs as installers and technicians for solar and wind power are predicted to grow 63% and 57%, respectively, by 2028. Jobs for home health aides are projected to grow by 37% in that period, while physician assistant and nurse practitioner jobs are likely to increase by 31% and 28%, respectively. For an information security analyst position, jobs are poised to rise 32%.
Other fast-growing industries
Other industries in which jobs are expected to grow by 2028 include:
Software development: Software developer jobs, up 26%.
Physical therapy: Jobs for physical therapy assistants and aides are likely to grow 27% and 23%, respectively.
Forestry: Jobs for forest fire inspectors and prevention specialists are expected to increase by 24%.
Industries with the lowest survival rates
A diverse set of industries will likely see declines between 2018 and 2028, including:
Wired telecommunications carriers (-127%)
Printing and related activities (-85%)
Apparel and leather manufacturing (-40%)
Communications equipment manufacturing (-24%)
The business failure rate in these industries are predicted to be higher than average.
Restaurant failure rate
While there's a widespread conception that restaurants fail at a much higher rate than other businesses, restaurants established in 2010 (in the wake of the Great Recession) followed a similar pattern as other businesses, with about 18.5% failing the first year and 42.4% failing after five years. The survival rate at the 10-year mark is even markedly improved for restaurants — 57.6% of food service businesses established in 2010 were still around in 2019, whereas just 38% of businesses of all types established in 2010 survived their first decade.
However, it is worth noting that data on food service establishments is combined with accommodations, which includes hotels and other types of lodging.
Effects of COVID-19
The restaurant industry was growing in 2019 and poised for more growth in 2020 as consumers continued to spend more on food away from home. However, these projections have been dampened by the coronavirus pandemic, with restaurant sales falling to their lowest level in more than 35 years in May, according to the National Restaurant Association.
How to succeed in your first year of business
Fortunately, not every business is destined for failure. Here are a few tips on how you can succeed in your first year of business:
Create a business plan
All too often, business owners forgo a business plan. They have big ideas and jump right in before gaining a thorough understanding of what their business can offer.
Raymond, the SCORE mentor, helps new business owners make "short and sweet" business plans that include an executive summary, a description of the business's goals and objectives, a marketing plan, an operations plan, a management plan and a financial plan.
"The written business plan and the financial plan — the cash flow projections — are extremely vital to getting started," Raymond noted. "The rest of the stuff kind of falls in line if you have a solid set of goals and objectives and a good, solid financial platform to move your business forward."
Repair your credit
There's a lot of funding available for startups, but it's generally only accessible to those with decent personal credit. Raymond advises business owners to obtain free personal credit reports from Experian, Equifax and Transunion via AnnualCreditReport.com to find ways to improve their score. Review your reports and notify the credit bureaus of any mistakes.
In addition, immediately contact any creditors with which you are delinquent and seek arrangements for repayment. Get those credit arrangements in writing, send copies to each credit bureau and follow them diligently.
Keep expenses low
Every new business owner has some startup costs, but if you're not careful you might end up writing more checks than you're bringing in. Cut costs wherever you can and find ways to make your operations as efficient as possible to keep spending low.
If you stay focused on that goal and on satisfying your customers, you'll be putting your best foot forward. A surprising 14% of businesses that fail have said that ignoring their customers was a major reason why they didn't succeed. It's easy to get caught up in to-do lists and internal goals, but success requires thinking about your customers' needs in everything you do.
Utilize and build your network
People in your network may well be your first customers. Your network can also open the door to other valuable connections. Nurture your network with authenticity and enthusiasm, always giving as much or more than you receive.
Train employees well
Focus on cultivating the most useful roles in your business and filling them with the right people. For example, effective leadership and good salespeople are key. Considering that 23% of those whose businesses failed have cited having the wrong team as a major factor, it's important to think carefully about who you're turning to as you build your venture. Once you've got the right team in the door, put quality, well-considered training in place so they know what is expected of them and how to accomplish it.