How Does LendingTree Get Paid?
LendingTree is compensated by companies on this site and this compensation may impact how and where offers appear on this site (such as the order). LendingTree does not include all lenders, savings products, or loan options available in the marketplace.
Nearly 3 in 4 Parents To Spend More This Halloween To Help Make up for Lousy 2020
Updated on: October 26th, 2020
Why use LendingTree?
We are committed to providing accurate content that helps you make informed money decisions. The content on this page has not been reviewed, approved or otherwise endorsed by any credit card issuer. We do maintain partnerships with some issuers, and our site may be compensated through those partnerships. Read our .
Can going overboard on Halloween make up for a less-than-spectacular year?
Probably not, but according to a new LendingTree survey, most parents are going to give it a try.
The survey reveals that nearly 3 in 4 parents with kids under 18 say they're planning to spend more on this Halloween in part because their kids have already missed out on so many other celebrations in 2020 because of the COVID-19 pandemic.
For many, however, it won't be the first time going overboard on Halloween. More than half of Americans admit to spending more than they can afford on the holiday at some point in the past.
Here's what we found:
Key findings
Nearly 3 in 4 (71%) parents with kids under 18 said they're spending more on Halloween this year because their kids have already missed out on so many other celebrations in 2020.
More than half (54%) of Americans admit to spending more on Halloween than they can afford at some point in the past. The most common reason: They wanted their decorations to look as good as their neighbors'.
More than a third of consumers (34%) say they signed up for a new streaming service purely for Halloween content. 
38% of consumers have purchased Halloween items specifically for social media this year, and men (57%) are far more likely to have done so than women (18%).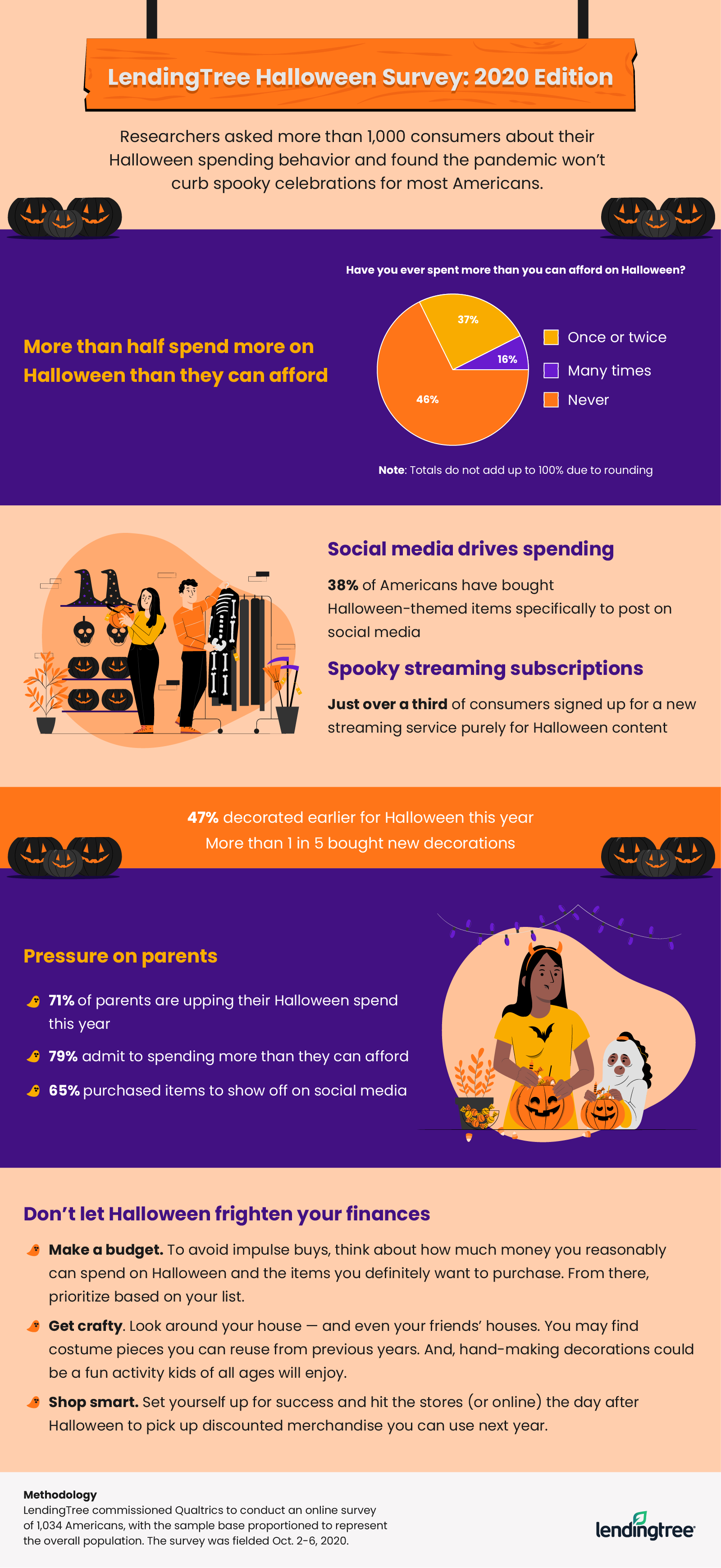 Making up for a bad year
It's not shocking to say that 2020 has been an incredibly stressful time for pretty much everyone. The toll that the coronavirus crisis has taken on the country's physical, emotional and financial health has been nothing short of staggering. Even those who've been lucky enough to not get sick or have loved ones become ill, get sick or lose their jobs have likely felt at least some impact.
Parents, in particular, have faced huge challenges. Many schools remain closed. Social distancing has been factored into play dates, if they happen at all. Birthday parties, Little League games and school graduations have been affected. That, and more has made 2020 a downright difficult year for both parents and their little ones.
To help offset some of that disappointment, our survey shows that many parents are looking to Halloween to help create a much-needed bright spot in an otherwise dark year.
In fact, nearly 3 in 4 parents with young kids said they're planning to spend more on Halloween this year because their kids had already missed out so much because of the pandemic.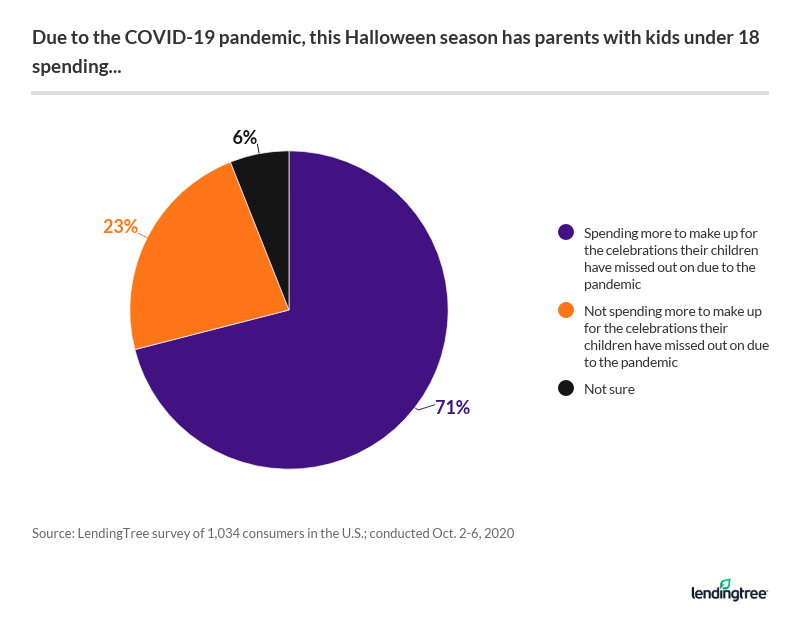 Perhaps not surprisingly, Americans with higher incomes are the most likely (86%) to spend more, but they're hardly the only ones. Even 60% of those making $25,000 or less agreed.
Dads are far more likely than moms (81% versus 49%) to spend more this Halloween to help make up for the crummy year, and Generation X (81%) is the largest age group of parents to say the same, compared to 75% of Gen Z and 65% of millennials.
Going into debt for Halloween
The fact that so many parents are ramping up their Halloween spending this year is significant because Americans already spend a scary amount on this holiday.
More than half (54%) of Americans admit that they've spent more than they can afford on Halloween at some point in the past. For many of those who did, it was either about impressing their friends and neighbors or about putting a smile on their kids' faces.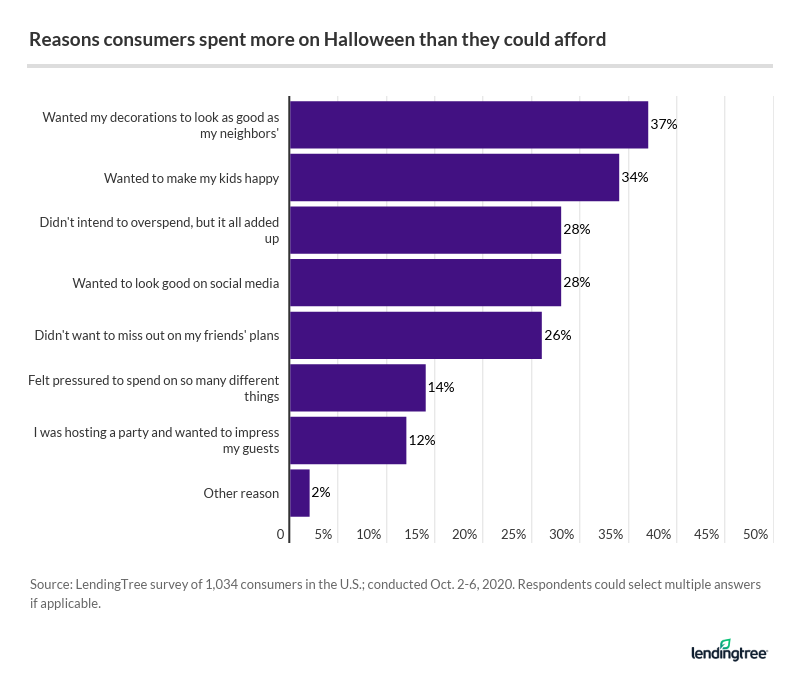 Social media plays a big role in driving holiday spending, too. Nearly 4 in 10 Americans (38%) said they'd purchased Halloween items specifically to post on social media. Another 20% won't be doing that this year, but say they have in the past. Surprisingly, Gen X and men are the most likely groups to say they've done so. Nearly 2 in 3 Gen Xers (62%) and 57% of men said they had.
Streaming services are scary popular
Throughout the pandemic, as so many Americans have found themselves more socially isolated than ever before due to quarantine and shutdown orders, streaming services have played an increasingly important role in people's lives. Halloween is no different.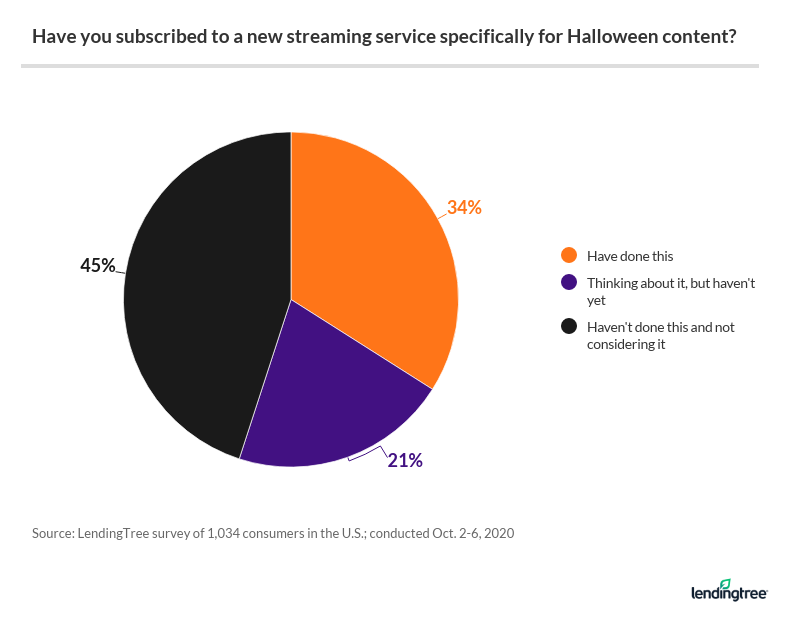 Nearly 2 in 3 parents of young kids (63%) have subscribed to a streaming service just for Halloween content, as have 61% of Gen Xers.
There is a noticeable gender gap, though: Men are nearly five times more likely than women (56% to 12%) to have done so.
The bottom line
If you simply rush into spending just to make your kids feel better and wind up knee-deep in debt, ultimately you may end up making things worse for your family overall.
Here are a few tips for ramping up your Halloween without taking on too much debt:
Make budgets and shopping lists: The more you plan, the less likely you are to start impulse buying, and that's a huge factor in overspending. Be thoughtful, be thorough, and then make a list and stick to it.
Leverage credit card rewards: Cashback credit card rewards can really extend your holiday budget.  And you don't have to wait to get the physical card in the mail to start shopping with it; it's usable immediately. Many other store cards offer discounts and bonuses, too. Just beware of the high interest rates that often come with these cards. 
Get creative: Halloween doesn't have to be pricey to be awesome. Great costumes and decorations can be made with cheap supplies, even things that just may be laying around the house. Check out Pinterest, Instagram and other sites for some inspiration. You can even get your kids involved and make a family project out of it.
Be honest: If you need to dial back the spending on Halloween this year, it is OK. Hard financial times often require difficult choices. One of the keys to keeping financial woes from wrecking your Halloween is to have a family meeting and talk to your kids about what's happening in your financial lives. You don't have to tell them everything. Just talk to them honestly and in a way they'll easily understand. They may not like it, but that's OK. Tell them that sometimes hard choices must be made for the best of the family. Chances are they'll understand.
Stay safe:Few things destroy financial lives like medical emergencies. Don't forget that COVID-19 is still a force to be reckoned with. It doesn't have to stop you from enjoying your Halloween, but it is crucial to wear a mask, wash your hands, keep socially distant and do whatever else it takes to stay healthy and safe.
Methodology
LendingTree commissioned Qualtrics to conduct an online survey of 1,034 consumers in the U.S., with the sample base proportioned to represent the overall population. The survey was fielded Oct. 2-6, 2020.
Generations are defined as the following ages in 2020:
Gen Z: Ages 18-23
Millennials: Ages 24-39
Gen X: Ages 40-54
Baby boomers: Ages 55-74