How Does LendingTree Get Paid?
LendingTree is compensated by companies on this site and this compensation may impact how and where offers appear on this site (such as the order). LendingTree does not include all lenders, savings products, or loan options available in the marketplace.
Nearly 87 Million Americans Already Stockpiling For Potential Coronavirus Winter Wave
Published on: December 1st, 2020
Why use LendingTree?
We are committed to providing accurate content that helps you make informed money decisions. The content on this page has not been reviewed, approved or otherwise endorsed by any credit card issuer. We do maintain partnerships with some issuers, and our site may be compensated through those partnerships. Read our .
With another deadly wave of the coronavirus outbreak likely to take grip this winter, more than a third of consumers — or 86.7 million Americans — have already started stockpiling household supplies.
Many consumers remember all too well the frustrations of going from store to store in the early months of the pandemic, in an effort to find such scarce products as toilet paper and hand sanitizer. Not only are consumers taking strides to avoid a repeat of that scenario, but many are spending more money in the process, a LendingTree survey has found.
Key findings
More than a third of consumers (34%) — or 86.7 million — have already begun stockpiling supplies for a potential winter wave of COVID-19. An additional 35% plan to stockpile, but haven't done so yet. That number jumps to 44% for parents with kids under 18 (compared to 28% with adult children and 26% with no kids).
Of those who have begun stockpiling, the most-purchased items include: food (64%), hand sanitizer (61%), cleaning supplies (60%), face masks (60%), water (49%) and paper products (49%).
Consumers have spent $359 on average stocking up on coronavirus-related supplies during the month of October and the first week of November. When we conducted a similar survey at the beginning of the pandemic in March, Americans had spent $178 on average.
49% of Americans said there were some supplies they regret not purchasing when the first wave of the coronavirus pandemic hit the U.S. Among those with regrets, paper products (49%), cleaning supplies (46%), hand sanitizer (43%), face masks (38%) and alcohol (30%) were the items consumers most wished they had stocked up on.
27% of consumers have credit card debt related to purchasing pandemic-related supplies. Those most likely to be in debt include Americans laid off or furloughed due to the pandemic (42% vs. 15% whose income was not impacted) and parents with young children (39% vs. 18% of those with adult kids and 19% of those with no kids).
34% of consumers have already stocked up on supplies
Americans aren't waiting for the last minute to stock their cupboards for the winter. In fact, more than 1 in 3 consumers — about 86.7 million — have already purchased products they anticipate needing during a potential winter wave of COVID-19. On top of that, an additional 35% of consumers plan to stockpile products but have not done so yet.
Consumers in Generation X have been most proactive, with 44% of Gen Xers having already stockpiled followed by:
39% of members of Generation Z
35% of millennials
21% of baby boomers
Parents of minor children are also more likely to get a head start on their shopping. In fact, nearly half of parents with children under 18 — 44% — have started stockpiling supplies compared to 28% of parents with adult children and 26% of non-parents.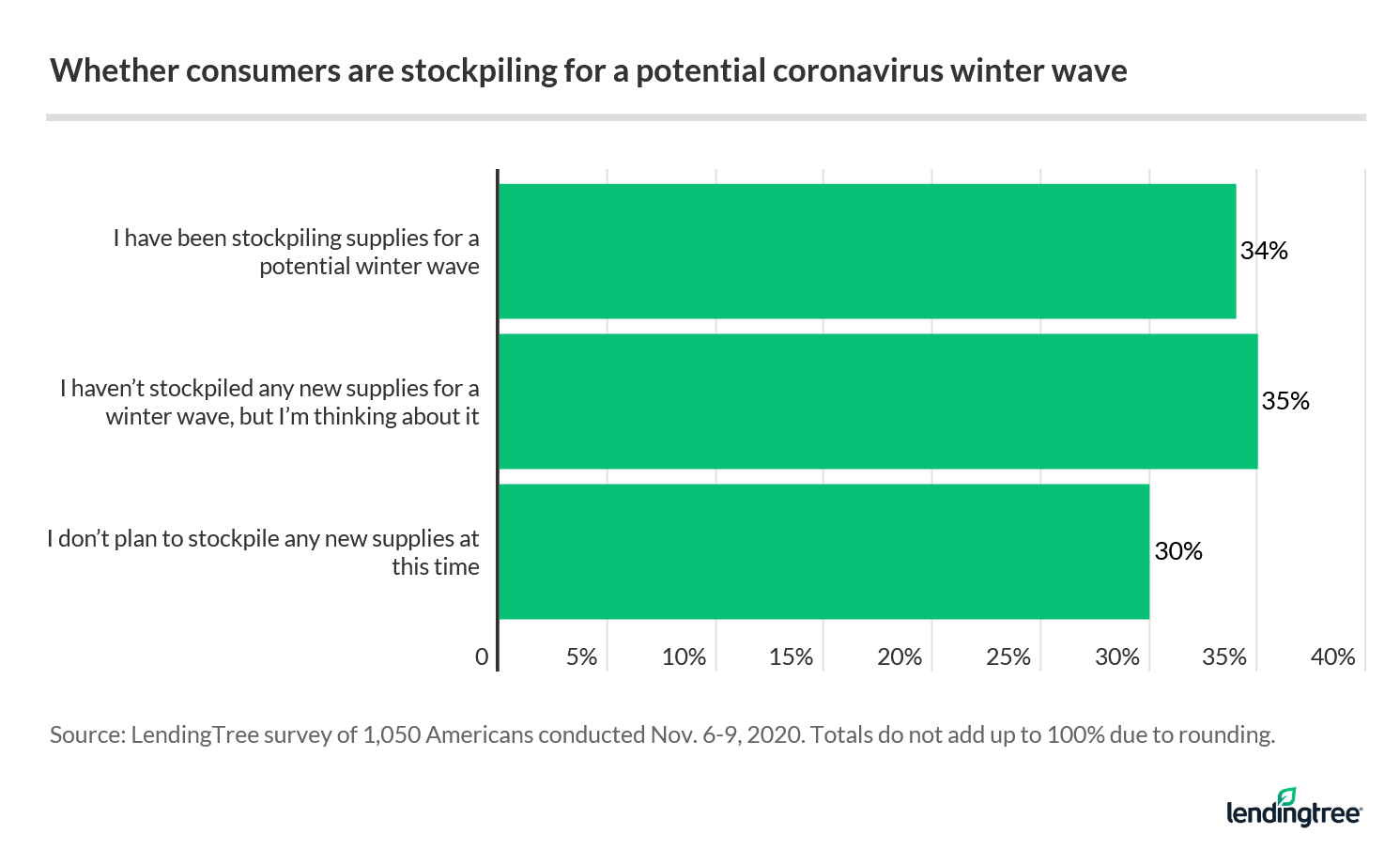 Food, hand sanitizer, cleaning supplies, masks and water topped the list of supplies consumers are stockpiling. "It's all about making sure you stay clean, hydrated and fed," said Matt Schulz, chief credit analyst at LendingTree.
However, Americans aren't just focused on household needs. In fact, 45% have stockpiled alcohol, 23% have purchased entertainment items (such as books and games) and 23% have bought beauty products.
Consumers are also making sure their four-legged family members are taken care of, with 34% stockpiling pet food.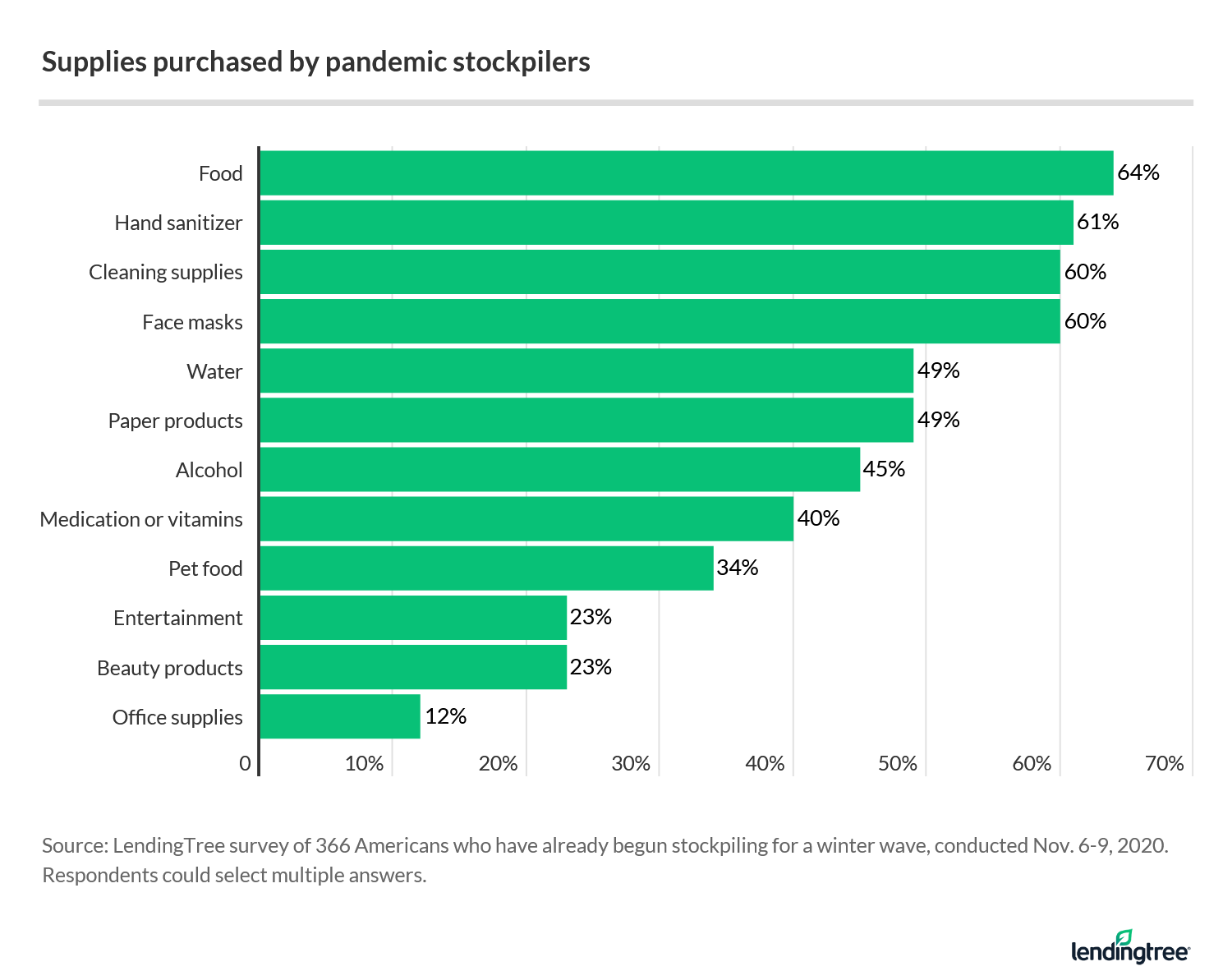 Nearly half of Americans regret not purchasing certain supplies when the pandemic first hit
Consumers are going into the winter season with the wisdom gleaned from the spring. As Americans prepare for another rise in COVID-19 cases, many are buying items they wished they had purchased in March when the disease outbreak unfolded.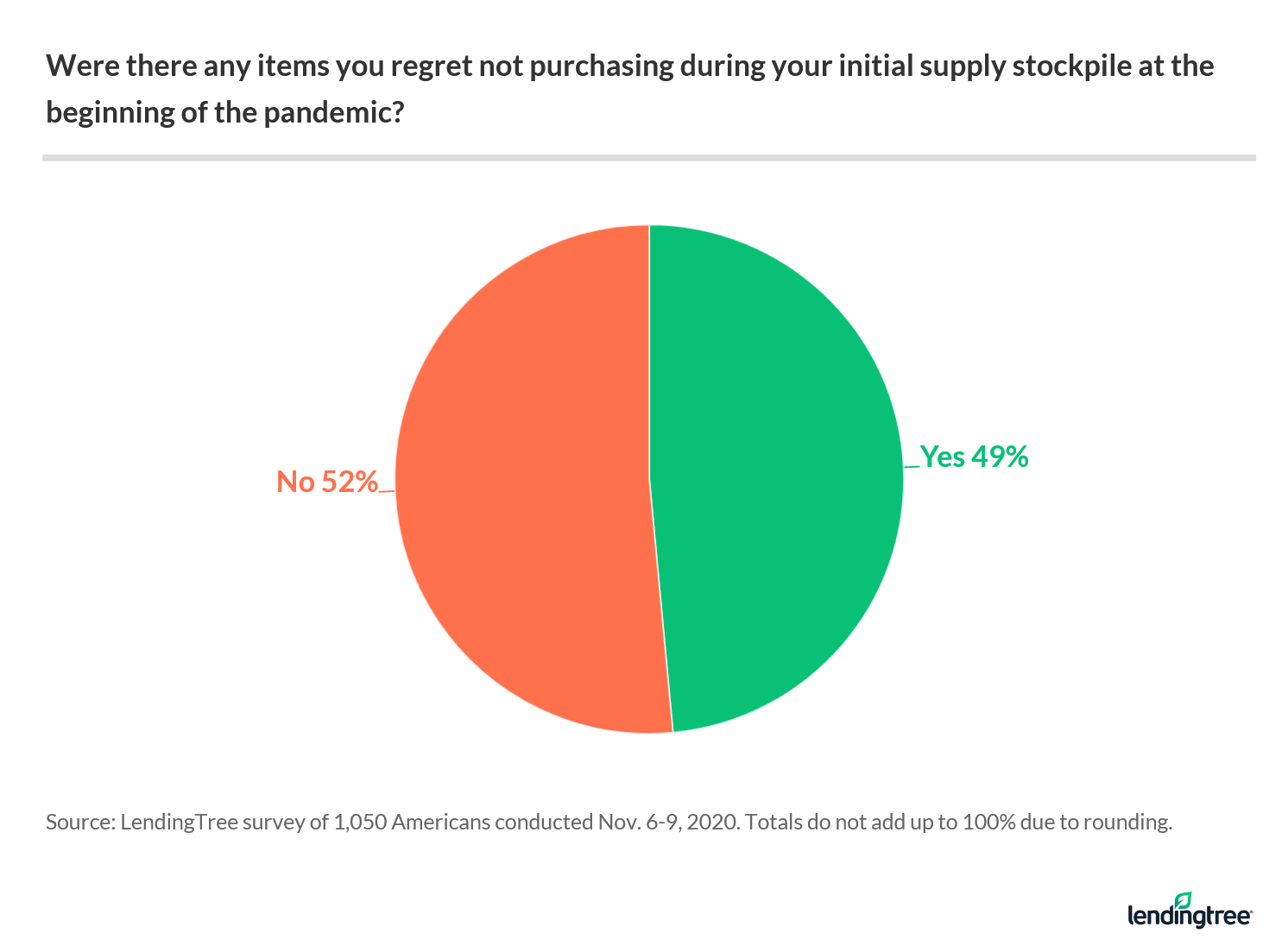 Among the 49% of respondents who said there were items they regretted not purchasing back in March, paper products topped the list (49%), followed by cleaning supplies (46%) and hand sanitizer (43%). Nearly a third of respondents — 30% — said they regretted not purchasing alcohol.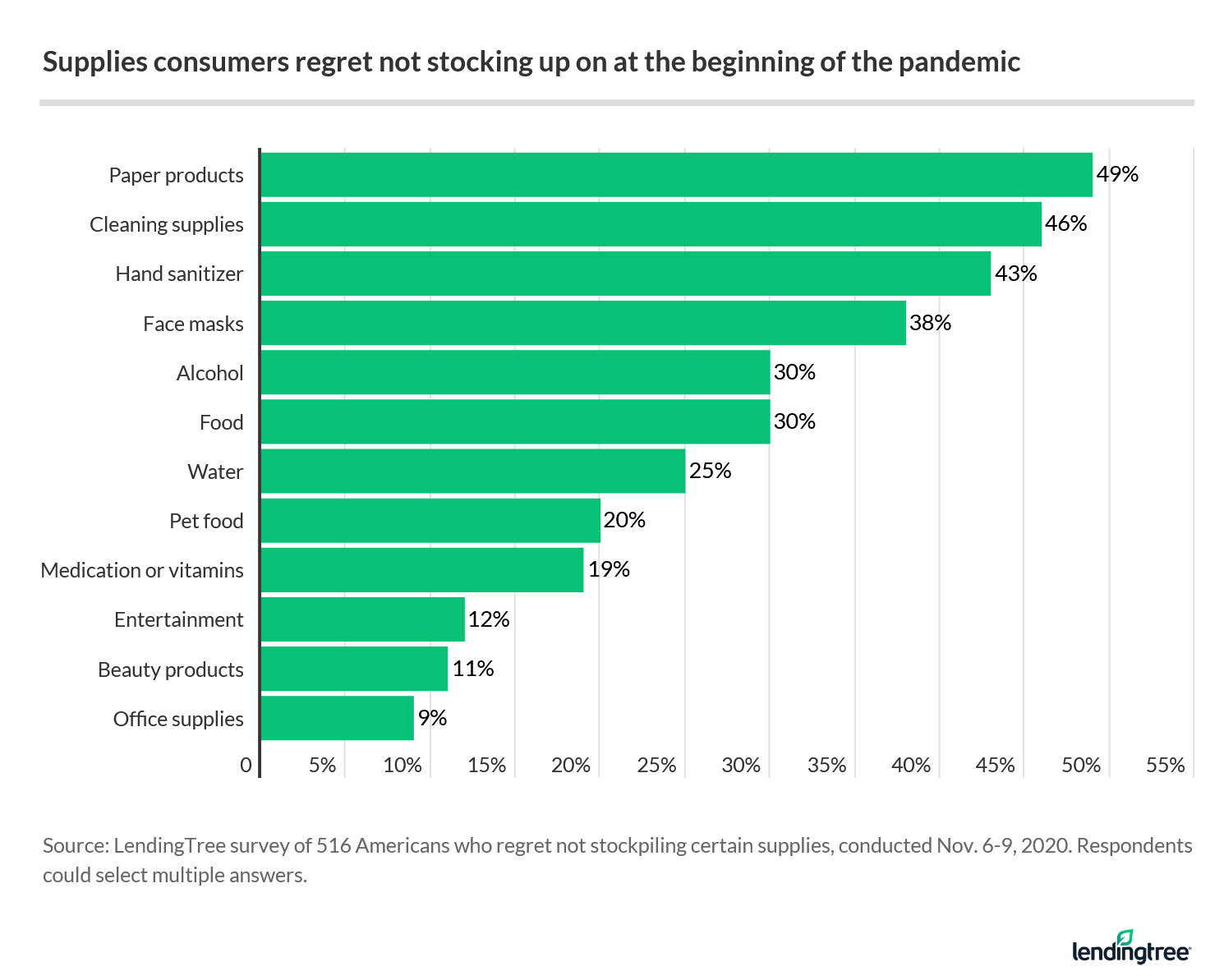 On the flip side, 26% of consumers said there were items they stocked up on that they now regret purchasing. Interestingly, alcohol topped that list, as 38% of those who had regrets wish they had not stocked up on alcoholic beverages.
In addition, 35% said they regretted buying some of the food they stocked up on, and, surprisingly, 35% regretted purchasing face masks.
"For many, masks became a major bone of contention as the pandemic wore on and became increasingly politicized," said Schulz. "It's likely that many Americans might've bought masks in the early going but became increasingly convinced that they didn't need to wear them as the months passed."
Average supply spending nears $400 as many incur credit card debt
In the spring, a LendingTree survey found that Americans were spending, on average, $178.44 stockpiling supplies in preparation for self-quarantine — this time, consumers are spending more. Americans have spent, on average, $359.08 buying pandemic supplies during the month of October and the first week in November.
"I'm not surprised that people will spend more stockpiling this fall than last spring, but there is some danger to that," said Schulz. Indeed, 27% of consumers have racked up credit card debt as a result of buying supplies in preparation for a second wave of coronavirus.
Consumers who lost work due to the pandemic were most likely to incur debt, as 42% of those who were laid off or furloughed have pandemic supply-related credit card debt compared to 15% of those whose income has stayed intact throughout the crisis. "For many Americans, this is definitely not a time to overspend, even if it is on items like hand sanitizer and wipes," Schulz said.
When it comes to the generations, Gen Xers were most likely to go into debt, with 40% doing so compared to 30% of Gen Zers, 28% of millennials, and 12% of baby boomers.
Parents of minor children were also likely to use credit cards to buy pandemic supplies as 39% of parents with children under 18 have credit card debt due to stockpiling, compared to 18% of those with adult kids and 19% of non-parents.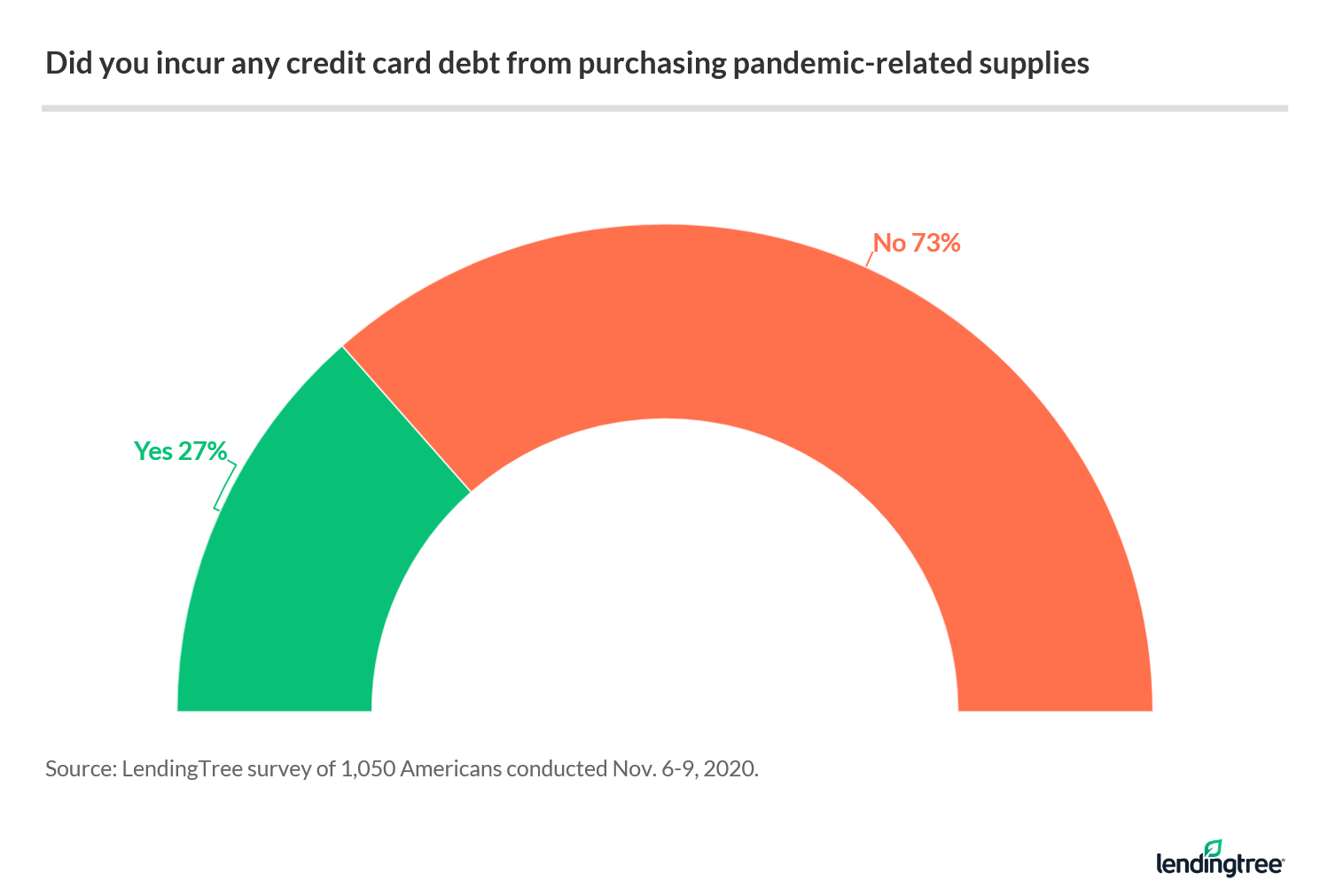 The bottom line — prepare, but don't panic
The uncertainty surrounding the pandemic may cause anxiety, but preparing for the unknown can give you a sense of comfort — and protect your finances. "Stockpiling is often impulse buying, and the best way to combat impulse buying is by making a budget and a spending plan," said Schulz.
Consider the following tips when creating your plan.
Take an inventory of your spring purchases. Leverage your experience from the last several months and make some thoughtful decisions about what you truly need. "Think about how long a container of wipes can last you or how long it takes to go through a bottle of hand sanitizer," Schulz said. That way, you're less likely to buy more than what's necessary.
Consider the change of seasons.

One thing that'll surely be different about a winter wave is the weather itself. Think about what supplies you might need when self-quarantining in colder weather that you might not have needed in the spring and summer, such as shovels, ice melt and batteries in case of a winter storm.

Assess your job security and emergency fund. If you're out of work or think you might lose your job, it might be a better idea to stockpile enough for a couple of weeks rather than a couple of months. If you don't have much saved in an emergency fund, you may not want to spend all of your money on items you may not use.
Use credit cards that pay you back.

If you do choose to use credit cards to stock up on supplies, consider using a

cashback card

or applying for a card with a sign-up bonus or intro 0% APR deal. However, strive to pay off the entire balance on your cash back card when the statement is due or the interest will cancel out the benefit of any rewards you received.

Remember your mental health.

While it's important to protect your physical health with items like masks, wipes and hand sanitizers, your emotional health matters, too. "If you're financially able, make sure to leave room in your budget for some fun," Schulz said. Whatever you use to help you relax and decompress when times get tough should have a place in your pandemic budget. "This doesn't mean that you should go and spend $2,000 on a Peloton if you don't have the money, but putting a little bit of money aside for some fun can help make what could be a long, cold winter a little brighter."
Methodology
LendingTree commissioned Qualtrics to conduct an online survey of 1,050 Americans, with the sample base proportioned to represent the overall population. The survey was fielded Nov. 6-9, 2020.
Generations are defined as the following ages in 2020:
Gen Z: Ages 18-23
Millennials: Ages 24-39
Gen X: Ages 40-54
Baby boomers: Ages 55-74
While the survey also included consumers from the Silent Generation (defined as those age 75 and older), the sample size for that group was so small that findings related to that group weren't included in the generational breakdowns.