Americans Spend $178 Stockpiling for Coronavirus Pandemic
Published on: March 18th, 2020
Editorial Note: The content of this article is based on the author's opinions and recommendations alone. It may not have been previewed, commissioned or otherwise endorsed by any of our network partners.
The coronavirus outbreak is now a global pandemic, and Americans are doing whatever they can to keep their families safe. In many cases, that means stockpiling food, water and medicine.
In preparation for self-quarantine, Americans are spending $178.44 on average stockpiling supplies, a LendingTree survey found. See how spending varies among generational lines, income brackets and parental status.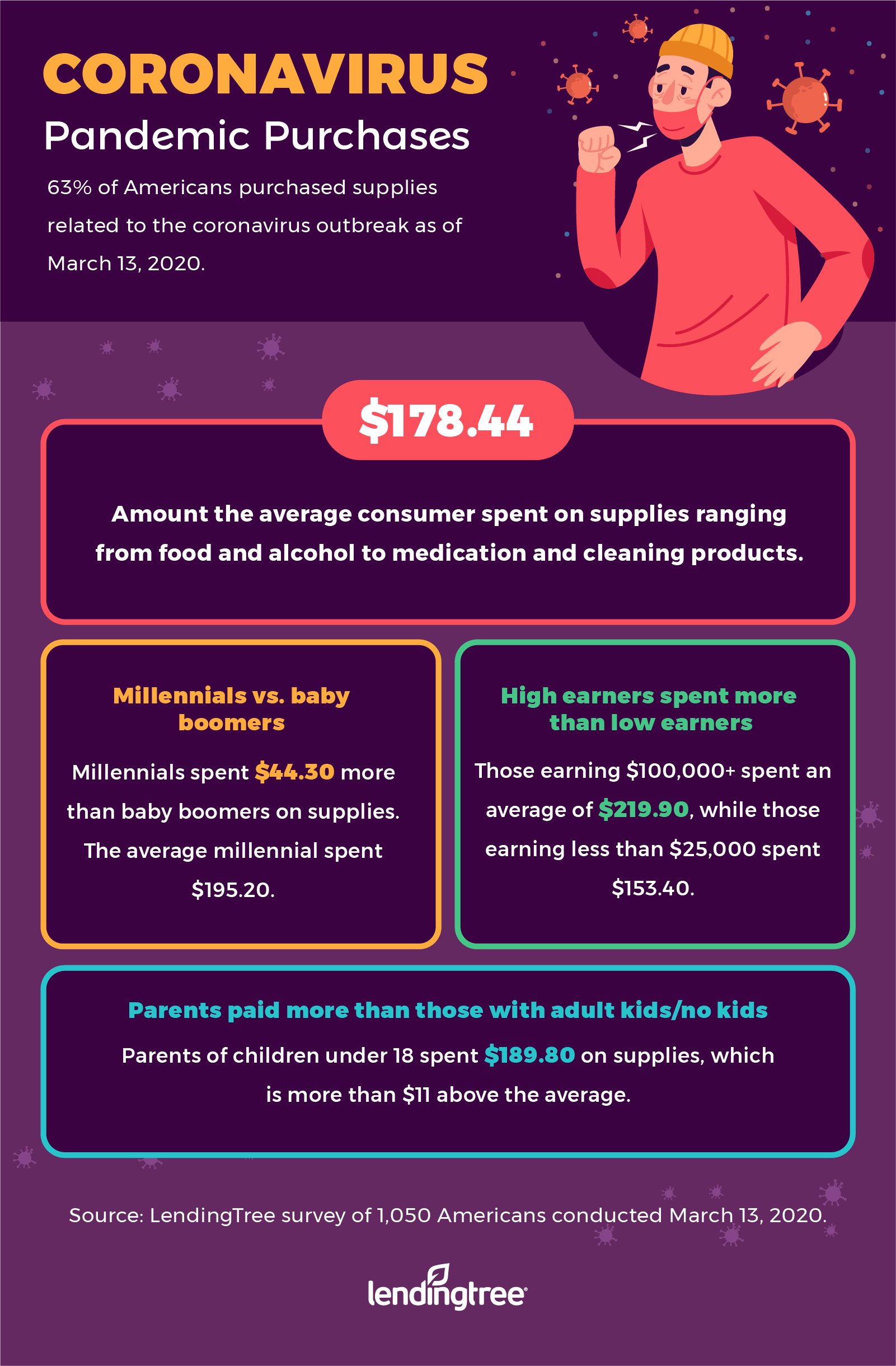 Table of contents
Key findings
63% of consumers purchased supplies related to the COVID-19 outbreak, spending an average of $178.44.
The most popular purchases among those who stockpiled include:

Cleaning supplies: 77%
Food: 69%
Paper products, such as toilet paper: 68%
Water: 62%
Medication or vitamins: 47%
Alcohol: 24%
Entertainment, such as books or movies: 13%
Office supplies: 6%

Millennials spent the most on supplies, at $195.23. Baby boomers spent the least, at $150.88.
High earners spent a lot on supplies as well, surpassing $200 for those earning more than $75,000.
Parents of kids under 18 spent slightly more than couples without children, at $189.83 and $181.12, respectively.
Compared with Americans of other generations, millennials are the most likely to purchase necessities like water and medication, as well as spending money on amenities like entertainment.

Baby boomers are most likely to purchase paper products, and Gen Xers are the most likely to purchase alcohol.
High-income earners outspend others on provisions, may flee to second homes
Our survey found that earners in the top two income tiers ($75,000 and above) had an edge while buying COVID-19 provisions, spending over $200. Most Americans spent less than $180, and Americans who earned less than $25,000 spent closer to $150. Here's a breakdown of how much people spent to prepare for the coronavirus outbreak, split among income lines.
Money can buy you access to more than just toilet paper and hand sanitizer. When rumors swirled about New York City being placed on mandatory lockdown, wealthy residents picked up and fled to their second homes outside of the city, according to New York Times reporting.
Rich Americans also don't have to worry about the cost of coronavirus testing or treatment, while low-income earners may already be just medical emergency away from financial ruin.
Millennials outspend baby boomers by nearly $50
Millennials, adults ages 24-39, spent a good chunk of change stockpiling for a coronavirus quarantine, at $195.23. Gen Xers spent $179.24, while baby boomers spent the least at just $150.88.
If you're wondering who may be to blame for a toilet paper shortage at your local supermarket, one generation outspent the rest when it comes to paper products: baby boomers. Eight in ten baby boomers who stockpiled supplies admit to buying paper products during their shopping excursions.
Millennials, meanwhile, admitted to buying cleaning supplies (77%), food (70%), water (67%), paper products (62%) and medication/vitamins (54%). Compared with other generations, they also spent the most on entertainment, such as games, books and movies. Gen Xers spent the most on a different type of entertainment: Alcohol (29%).
Here's a breakdown of supplies purchased by all consumers amid the coronavirus pandemic:
Parents with young children spend more than those with adult kids or no kids
It's expensive having kids, even more so while preparing for an emergency. In contrast to child-free Americans, parents of young children spent more while stockpiling for a coronavirus outbreak.

Still, parents with adult children actually spent less than people with no children at all. This makes sense, though: Americans with adult children are more likely to be Gen Xers or baby boomers, who spent the least of any other generation. Plus, adult children may help their parents cover stockpiling costs. Millennials, who may have children under 18 if they have children at all, spent more than the other generations.
Having trouble keeping up with COVID-19 spending? You're not alone
Nearly two-thirds of Americans have purchased supplies amid the coronavirus pandemic, but 39% of Americans have seen a reduction in wages due to the outbreak. In essence, some Americans are spending more money even though they're making less, all in the name of emergency preparedness. It's important to consider the ramifications for increased spending during the coronavirus pandemic.
"Most people's financial margin for error is tiny, so this outbreak has the chance to cause a real money crunch for many Americans," said Matt Schulz, chief industry analyst at CompareCards. "If you're concerned about being able to pay your credit card bills, call your issuer and tell them. I promise you won't be the first person to do so."
Schulz said that some banks waive late fees, temporarily reduce APRs, extend payment deadlines and increase credit limits for cardholders who are hit hard by disasters.
"In times of crises, these changes can make a real difference, so it's undoubtedly worth your time to make the call if your financial life has been upended."
Methodology
LendingTree commissioned Qualtrics to conduct an online survey of 1,050 Americans, including 664 who purchased supplies as of March 13, 2020, with the sample base proportioned to represent the overall population.
We defined generations as the following ages in 2020:
Gen Z: 18-23
Millennials: 24-39
Gen X: 40-54
Baby boomers: 55-74
Silent Generation: 75 and older
Members of the Silent Generation (ages 75 and older) were also surveyed, and their responses are reflected in the overall percentages among all respondents. However, they were excluded from the generational breakdown due to the low sample size within that demographic.