How Does LendingTree Get Paid?
LendingTree is compensated by companies on this site and this compensation may impact how and where offers appear on this site (such as the order). LendingTree does not include all lenders, savings products, or loan options available in the marketplace.
3 in 10 Engaged Couples Will Take on Debt for Their Wedding
Updated on:
Content was accurate at the time of publication.
When a couple says their wedding vows, they commit to a lifelong union of their aspirations, life goals and finances. However, many couples kick off married life by taking on thousands of dollars. In fact, about three in 10 engaged couples plan to take out debt to cover wedding expenses, according to a LendingTree survey conducted in April 2020. Read on to find out how much they borrowed, what kind of debt they borrowed and why they borrowed it.
Key findings
About 3 in 10 engaged couples are taking on debt for their wedding. Those who changed wedding plans due to the coronavirus pandemic were more likely to take on wedding debt than those who stuck with their original plans.
Of those taking on debt, most (60%) will use credit cards, while 39% will take out a personal loan and 29% will borrow from friends or family.
37% of engaged couples have argued about costs during the wedding planning process. That number is highest among older millennials aged 31-39 (48%) and those who postponed their wedding due to the pandemic (44%).
57% of to-be-weds are receiving financial help from their parents, but that money may come with strings attached: 39% of couples receiving financial help for the wedding from their parents have argued with Mom or Dad about costs.
More than a third (36%) of men took on debt for their partner's engagement ring. This debt is on top of wedding costs. Among engaged women, the percentage was 23%. When the big day is over, 29% of couples will take on additional debt for the honeymoon.
29% of engaged couples will take on debt for their wedding
Wedding bells are often followed by wedding bills — nearly three in 10 engaged couples take on debt for their wedding, meaning that they could be left paying for their special day long after they say "I do." Additionally, 18% were unsure if they would take out debt, meaning that the total number of couples left in debt over their wedding could be higher.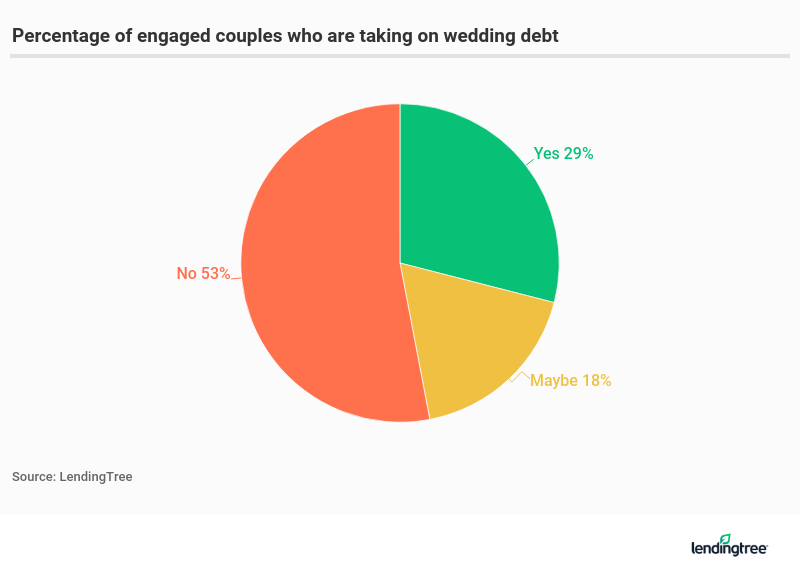 Among couples who changed their wedding plans due to the COVID-19 pandemic, about 35% took on debt, compared with 29% of couples as a whole. It makes sense that the couples who had to change plans might need more money to fund their weddings. By changing dates, some couples may have lost deposits or had to book new, costlier wedding dates than originally planned.
A majority of couples will take on less than $10,000 in wedding debt
Of those who expect to take on debt to cover wedding costs, 72% plan to take on less than $10,000 worth of debt to finance their wedding. Just over one in 10 couples plan to take out $20,000 or more.
See the breakdown below:
Less than $1,000 (6%)
$1,000 – $4,999 (31%)
$5,000 – $9,999 (34%)
$10,000 – $19,999 (17%)
$20,000 or more (12%)
Couples will likely use a mixture of debt and other financing methods to pay for their big day, seeing that the average wedding costs about $25,000, according to research from companion site ValuePenguin.
Credit card, personal loan debt are most common among couples
Engaged couples that took out debt were most likely to use credit cards when compared with personal loans and borrowing from friends and family.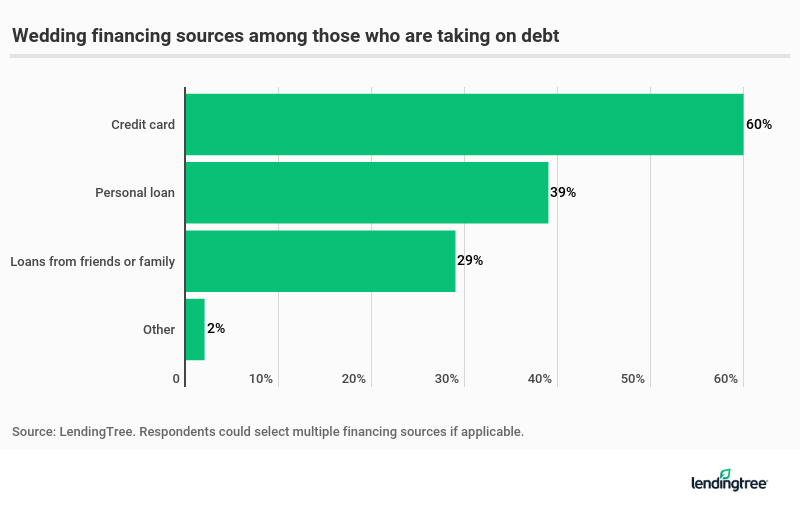 Using a credit card to finance a wedding is an option to cover big-ticket wedding expenses rather than dipping into savings, and it can even be an opportunity to help couples earn rewards, like airline miles. However, paying for wedding expenses with a credit card also means you'll have to pay compound interest when a balance is carried month over month.
Personal loans were also a popular option for couples who needed wedding financing, with nearly four in 10 turning to wedding loans. As an unsecured loan, the borrower doesn't require collateral, though strong credit will likely be needed for qualification. Even then, personal loans can come with high APRs, meaning that a couple's wedding expenses will come with the added cost of interest even as they benefit from a fixed interest rate and repayment timeline.
Nearly 8 in 10 couples plan to pay off wedding debt within a year
It may be concerning that so many couples plan to take out debt to cover wedding costs, but the good news is that they don't plan on keeping that debt around for long. The vast majority of couples (77%) who plan on taking on debt to cover wedding expenses plan to pay off that debt within one year.
Here's when the couples we surveyed plan to completely get out of debt from their wedding:
By the day of the wedding (17%)
One month after the wedding (16%)
2-6 months after the wedding (31%)
7-11 months after the wedding (13%)
A year after the wedding or longer (23%)
Just under a quarter of those taking on debt to cover wedding expenses will need more than a year to repay that debt.
Where couples are taking on the most wedding debt
Couples in some regions of the country take out wedding debt at higher rates than couples elsewhere. Nearly four in 10 engaged couples living in the Middle Atlantic region (which comprises New York, New Jersey and Pennsylvania) are going into debt for their wedding. Just 21% of those living in the East South Central region (which includes Kentucky, Alabama, Tennessee and Mississippi) said the same.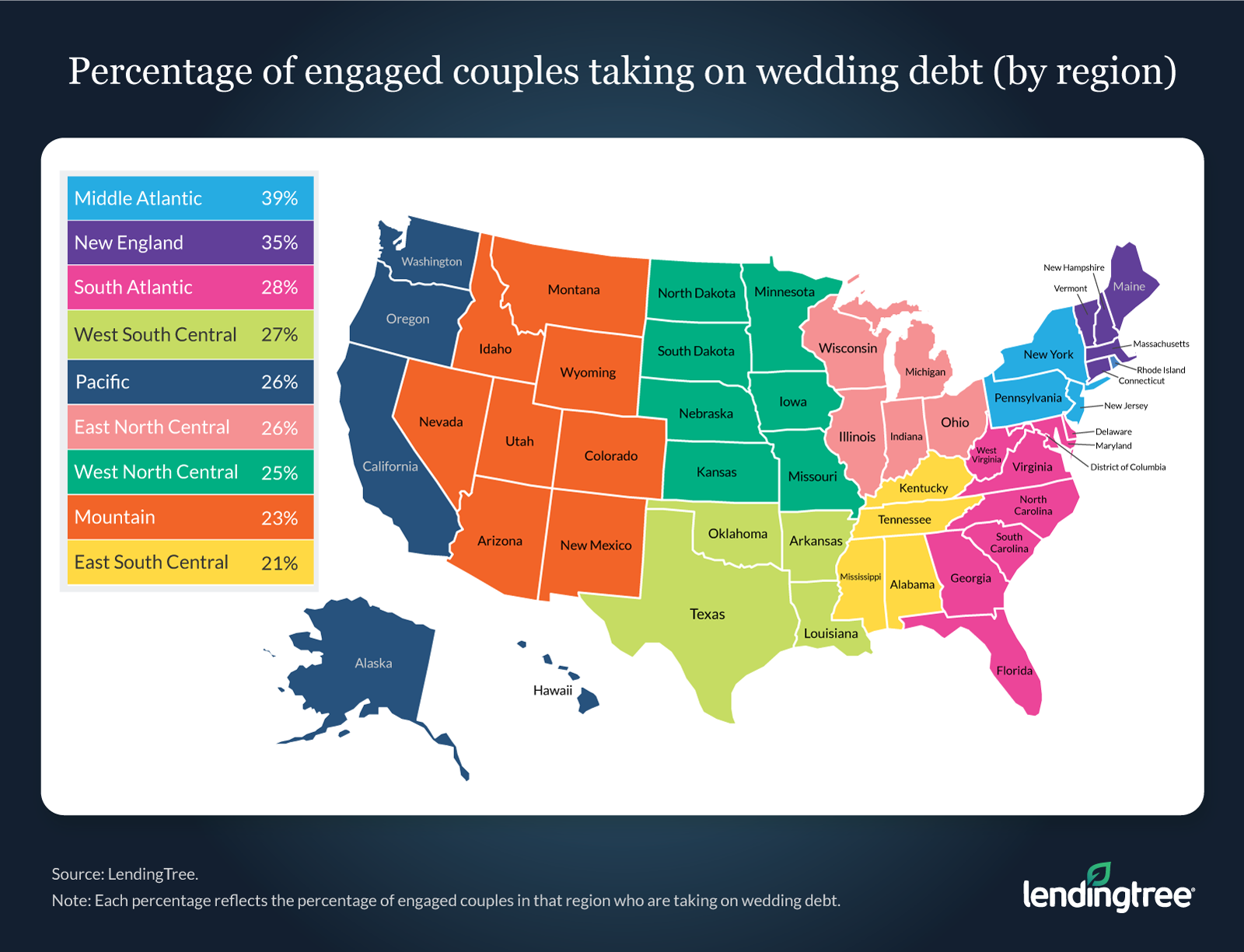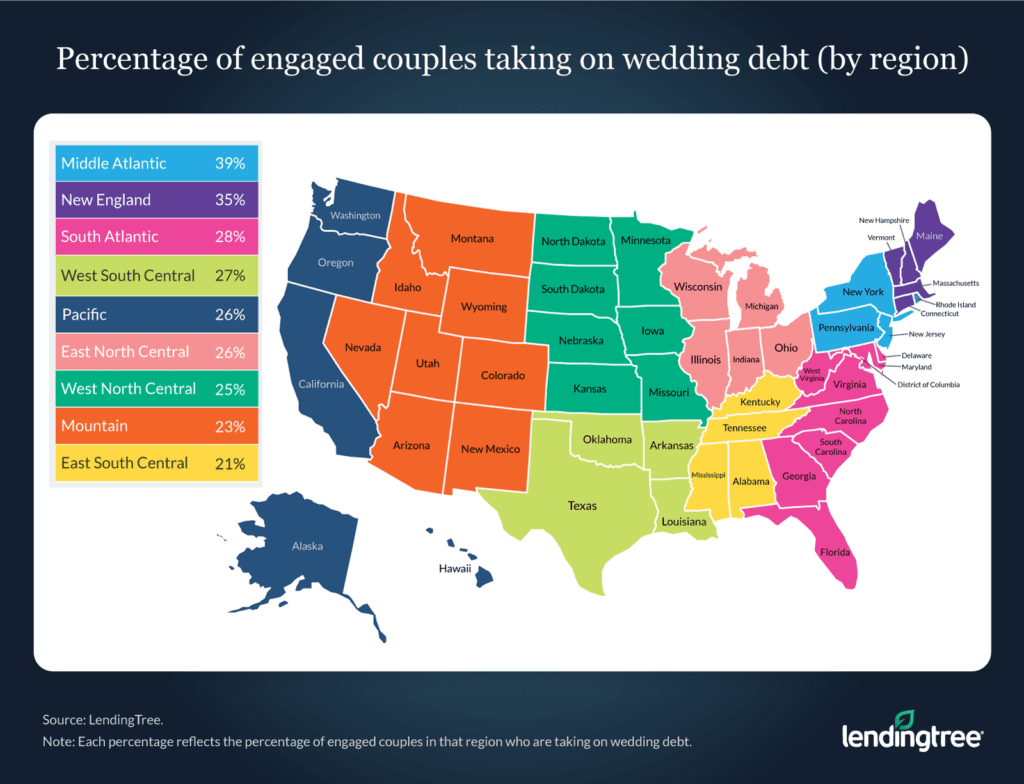 The average cost of a wedding depends on where you live. Wedding venues in certain parts of the country, for example, are far more expensive due to increased demand, so it makes sense that engaged couples in some regions need to lean on financing tools to pay for a more expensive ceremony. Couples in some areas of the country are likely to pay twice as much for a wedding as they'd pay in others. See a breakdown of average wedding costs by state below:
Average cost of a wedding: Highest and lowest
Most expensive places to get married
Least expensive places to get married
Hawaii: $37,827
Alabama: $17,216
New Jersey: $36,943
Arkansas: $17,433
District of Columbia: $36,082
Kentucky: $17,607
Massachusetts: $35,966
West Virginia: $18,228
Connecticut: $35,702
Tennessee: $18,346
Source: ValuePenguin
For many couples, money leads to contention around the wedding
Engaged couples go to great lengths to plan the wedding ceremony and reception they've always wanted. Making that dream a reality is easier said than done, though, and it comes at a price that often goes beyond the literal cost. Our survey found that 37% of couples argued about wedding expenses.
The arguments don't start and end with the couples, either: Fifty-seven percent of couples received financial help from their parents, and of those, nearly four in 10 reported arguing with their parents over wedding costs.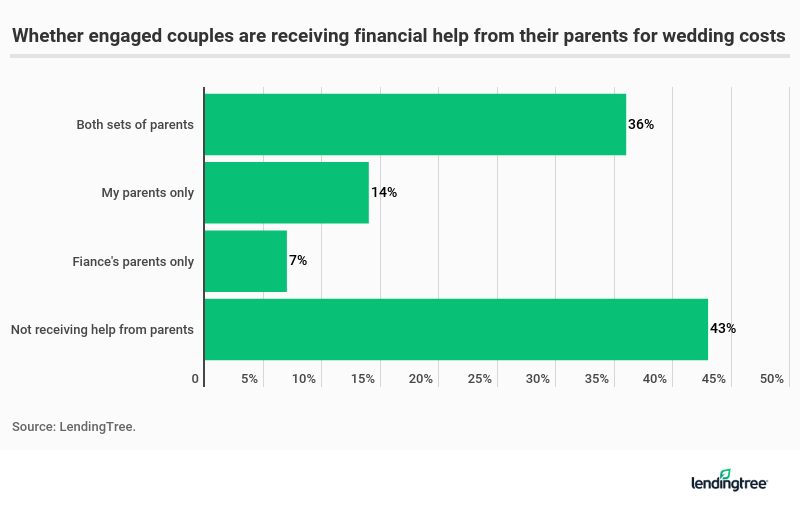 A third of couples believe 'it's worth it' to take on wedding debt
You can't put a price on having the perfect wedding day — at least that's how 33% of the couples we surveyed see it. In addition, nearly half said that they took on debt to pay for their wedding to help them afford the day they've always dreamed of having.
See the breakdown of why couples decided to take on wedding debt below:
Want to have the wedding of their dreams (46%)
It's worth it (33%)
Didn't see any other option (28%)
Committed to using a certain pricey vendor (20%)
Didn't plan on it, but the costs keep adding up (20%)
But many couples were unprepared for the cost
Many of the couples we surveyed didn't feel they had a choice but to take on debt to finance their wedding, with a fifth of them admitting that they didn't plan on it but were unprepared for the total cost of the wedding.
The cost of renting a venue was the biggest surprise to couples. One in five couples were most surprised by how much they'd end up spending booking a venue. The other most surprising costs were: photographer (12%), flowers (11%) and caterer or baker (10%).
Methodology
LendingTree commissioned Qualtrics to conduct an online survey of 920 Americans who are currently engaged to be married. The survey was fielded April 6-10, 2020.