How Does LendingTree Get Paid?
LendingTree is compensated by companies on this site and this compensation may impact how and where offers appear on this site (such as the order). LendingTree does not include all lenders, savings products, or loan options available in the marketplace.
1 in 3 Americans Will Attend a Wedding This Summer, Ready to Spend More Money Than Ever Before
Updated on:
Content was accurate at the time of publication.
The coronavirus pandemic has cast a shadow over the wedding industry during the past year. But now, with renewed optimism, thanks in part to the rollout of COVID-19 vaccination, many people feel comfortable enough to attend weddings this summer — and some plan on spending more money than ever before.
While only a quarter of Americans reported attending a wedding in the past year, nearly one-third plan on attending at least one wedding in summer 2021 alone, according to our new LendingTree survey of more than 2,000 respondents. See how else wedding trends have changed in the analysis below.
Key findings
1 in 4 Americans attended a wedding during the pandemic
Wedding-related businesses have been undeniably impacted by the coronavirus pandemic over the past year, as many engaged couples had to cancel or postpone their weddings to keep their loved ones safe. Still, that doesn't mean Americans stopped getting married altogether.
Over a quarter of those surveyed (26%) attended a wedding during the past year, despite the coronavirus pandemic. Of those who did, 72% went to an in-person event, 22% celebrated virtually, and 7% went to both types of nuptials.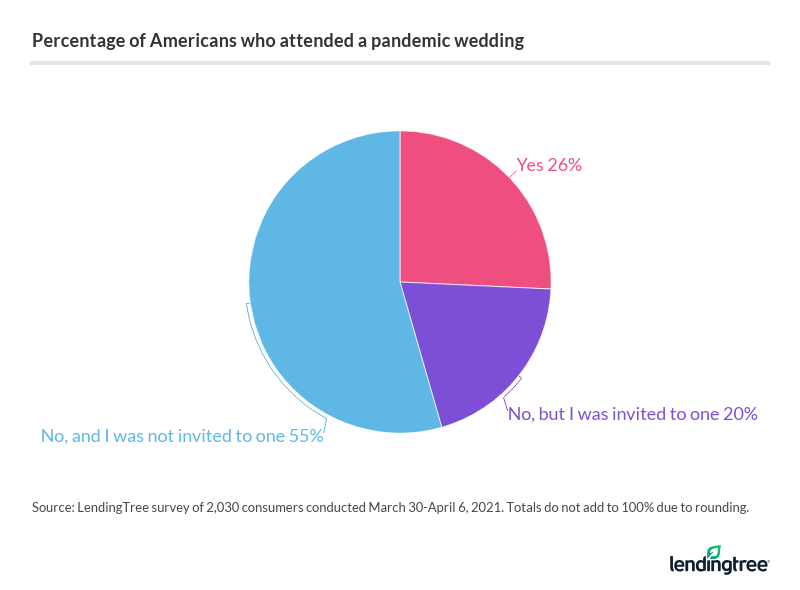 Younger Americans were far more likely to attend a wedding in the past year when compared with older generations. Among those surveyed, 37% of Gen Zers and 39% of millennials said they went to a wedding during the pandemic, compared with 21% of Gen Xers and just 8% of baby boomers.
Over half of those who attended a pandemic wedding went into debt
Hosting a wedding is notoriously expensive, but even attending someone else's wedding can leave a gaping hole in your budget. Many wedding guests even end up taking out debt to pay for things like airfare, hotel stays and wedding gifts.
Among those who attended a wedding in the past year, 54% said they went into debt to cover related costs, at $1,518 on average.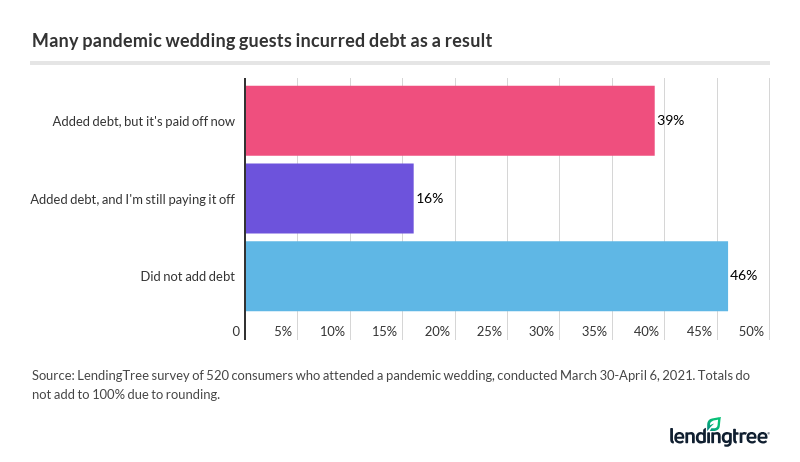 The coronavirus pandemic adds another complex layer to the cost of attending a wedding. Of those who went to an in-person wedding, many guests opted to spend extra money to feel safer:
50% invested in high-quality face masks
21% paid for a rapid COVID test
11% upgraded their hotel room for more space
6% flew first class
1 in 5 Americans declined a wedding invitation amid the pandemic
There are many valid reasons to decline a wedding invite — a highly contagious virus is certainly one of them. Twenty percent of Americans were invited to a wedding in the past year but did not attend, our survey found. Nearly half of those who declined a wedding invite said it caused tension between them and the bride and/or groom.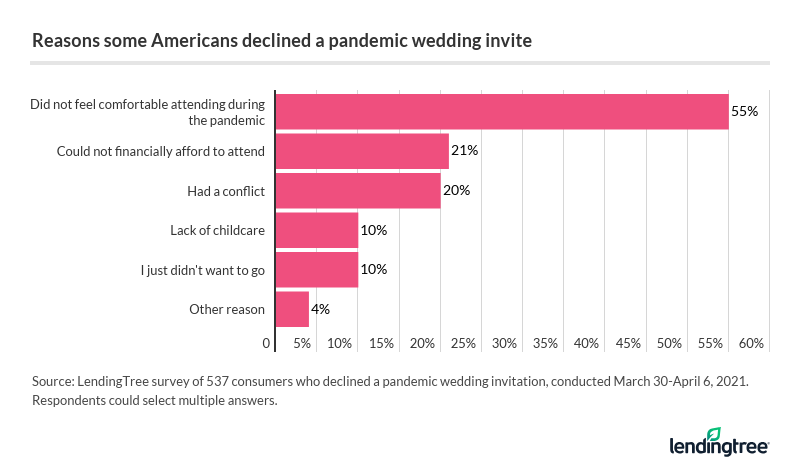 Of those who turned down a wedding invitation, the main reason was feeling uncomfortable attending during the pandemic, cited by 55% of those who RSVP'd no. The next-most-common reason was financial constraints, at 21%.
Wedding guests use presents to make up for their absence
Some couples opted to take their vows in front of their friends and family over Zoom or another video-conferencing service, rather than hosting a gathering in-person.
And while it may be safer to have a virtual wedding during a pandemic, it's also cheaper — for the newlyweds as well as their guests. Perhaps because they saved money on travel and lodgings costs, Americans spent more on gifts for virtual weddings than they did for in-person events.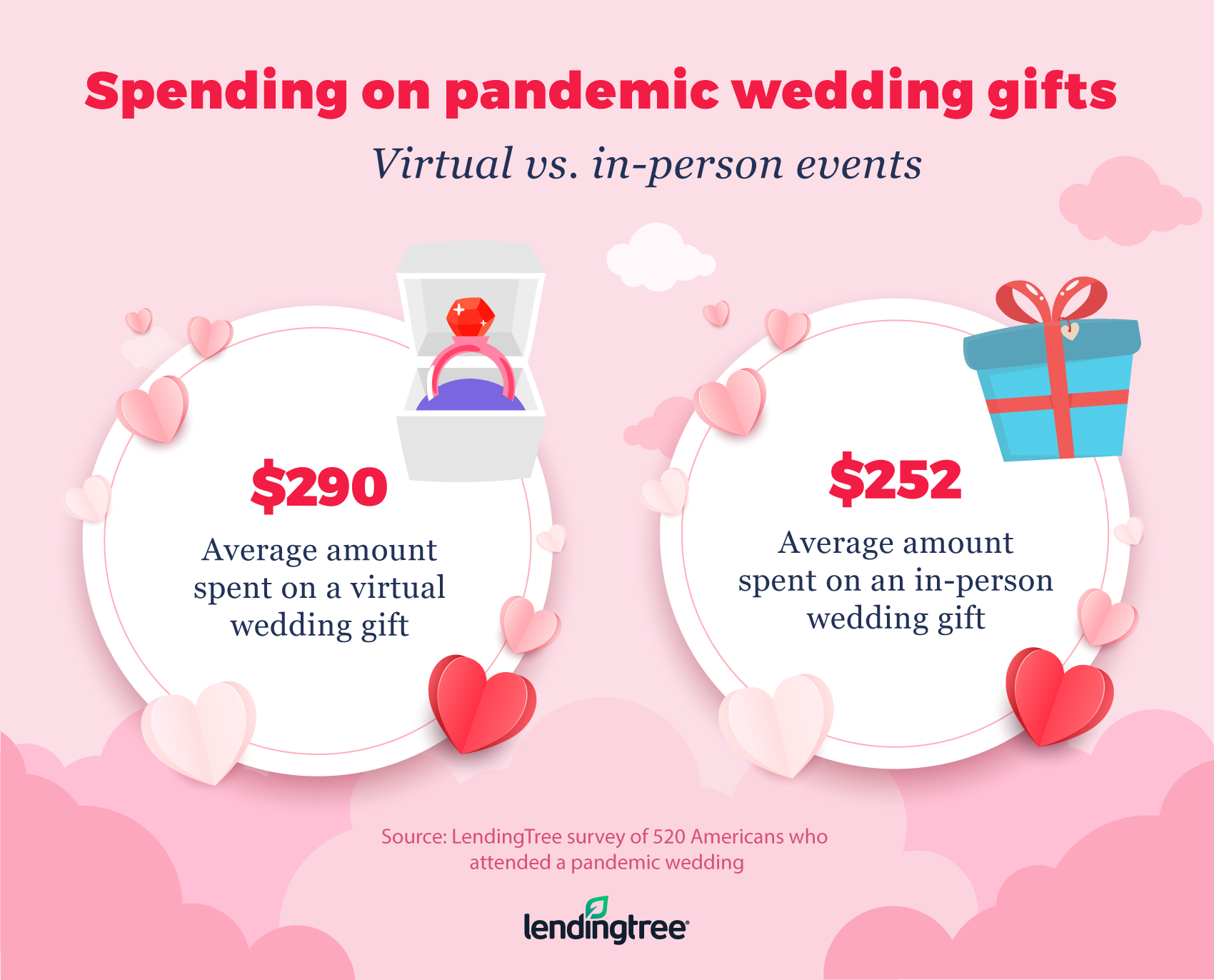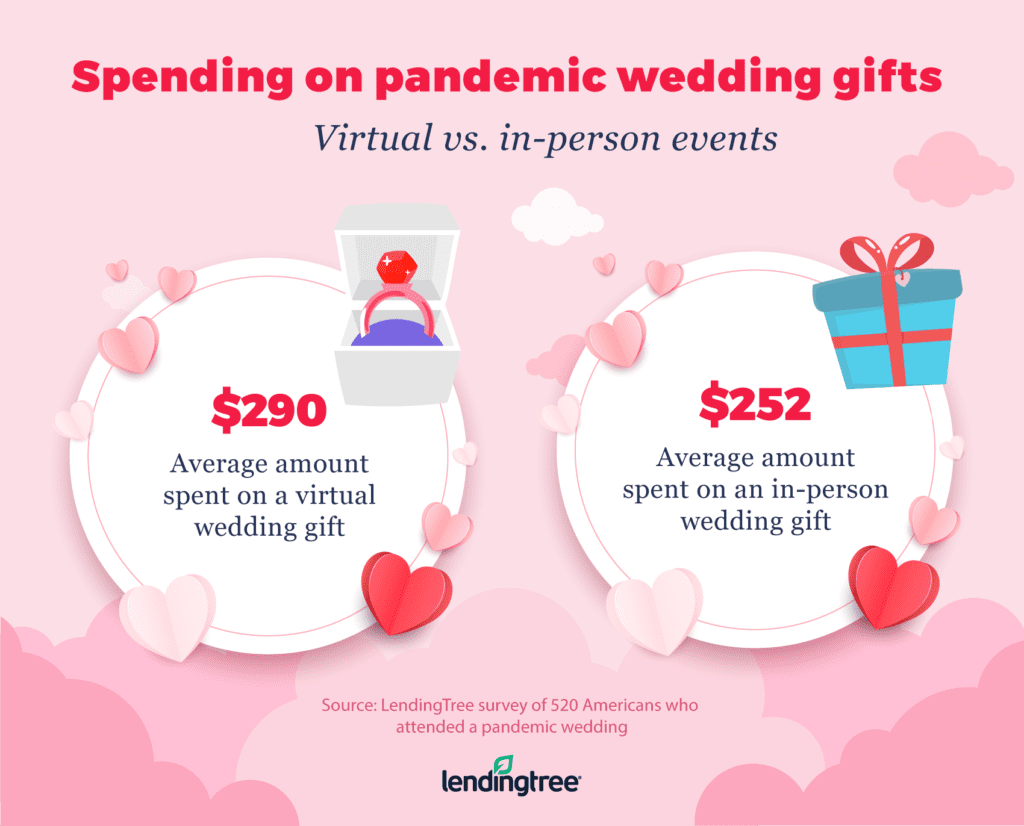 In fact, weddings weren't the only place where guests who didn't attend in person felt the need to send a present anyway. For example, more than a quarter of those surveyed (26%) said they were invited to a virtual bridal shower during the past year, and about half of them reported feeling pressure to send a gift.
1 in 3 Americans plan to attend a wedding this summer
COVID-19 vaccines have given many people hope that the country can resume some semblance of normalcy in summer 2021, particularly when it comes to in-person gatherings. About a third of respondents (32%) plan to attend a summer wedding, and 1 in 10 plan on attending more than one wedding this summer.
Americans under 40 — meaning millennials and Gen Z — were also much more likely than older generations to say they planned to attend one or more weddings this summer.
Wedding spending is expected to rise with attendance
Many Americans expect to spend more money attending weddings than ever before, now that COVID-19 vaccination is available. In all, 43% of those questioned said they expected their wedding-guest expenses to rise over the coming year, specifically because of the vaccine rollout.
If you fall into this group, know that there are ways to keep your costs to a minimum, even as the world slowly returns to the old, pre-pandemic normal. Likewise, you can offset those costs through other savings. With a little budgeting and planning ahead, those attending weddings this summer can feel comfortable spending a little more money without going into debt.
Methodology
LendingTree commissioned Qualtrics to conduct an online survey of 2,030 U.S. consumers from March 30, 2021 to April 6, 2021. The survey was administered using a non-probability-based sample, and quotas were used to ensure the sample base represented the overall population. All responses were reviewed by researchers for quality control.
We defined generations as the following ages in 2021:
Generation Z: 18 to 24
Millennial: 25 to 40
Generation X: 41 to 55
Baby boomer: 56 to 75
While the survey also included consumers from the silent generation (defined as those 76 and older), the sample size was too small to include findings related to that group in the generational breakdowns.