How Does LendingTree Get Paid?
LendingTree is compensated by companies on this site and this compensation may impact how and where offers appear on this site (such as the order). LendingTree does not include all lenders, savings products, or loan options available in the marketplace.
63% of Engaged Couples Postponed Their Wedding Due to Coronavirus
Published on: April 20th, 2020
Why use LendingTree?
We are committed to providing accurate content that helps you make informed money decisions. Our partners have not commissioned or endorsed this content. Read our .
The coronavirus pandemic has invented a new reality for Americans, who are told to shelter at home, keep a distance from others and avoid big gatherings. For engaged couples, the outbreak forces them to choose between sacrificing the hard work and money they've put into wedding planning, or risking the safety of guests by keeping their wedding plans.
Most engaged couples decided to postpone or downsize their weddings due to the COVID-19 pandemic, according to a LendingTree survey. More than half of those couples lost out on money, at $3,300-plus on average. Our data also uncovered why people decided to postpone, what their families thought and which vendors couples kept.
Key findings
63% of engaged Americans have postponed their wedding because of the coronavirus outbreak. Just 22% said they're moving forward with their original plans, while 8% are opting for a courthouse marriage or elopement instead.
40% of those who postponed their wedding have set a new date. Most (64%) opted to push it to at least September.
56% of those who changed their wedding plans lost money by doing so. On average, respondents who lost money said they're out $3,320.50 due to nonrefundable deposits, payments and fees.
Couples who postponed were able to keep most of their original vendors. Of the vendors they held onto, 66% were able to keep their photographer, 59% were able to keep their cake bakers, and 56% and 51% were able to keep their ceremony and reception venues, respectively.
Engaged Americans most wanted to keep their venues (41%) when selecting a new wedding date, followed by their photographer (15%) and wedding planner (13%).
Two-thirds cited social distancing guidelines when asked about their decision to change wedding plans, and 59% wanted to help reduce the spread of the coronavirus. For 46%, the fact that friends and family could no longer travel also contributed to their decision.
53% of people who decided not to postpone believe the threat of coronavirus outbreak will be calmed, if not over, by the time the wedding's held. In addition, 24% said their wedding date holds special significance.
One in four have canceled or postponed their honeymoon, and 42% lost money by doing so.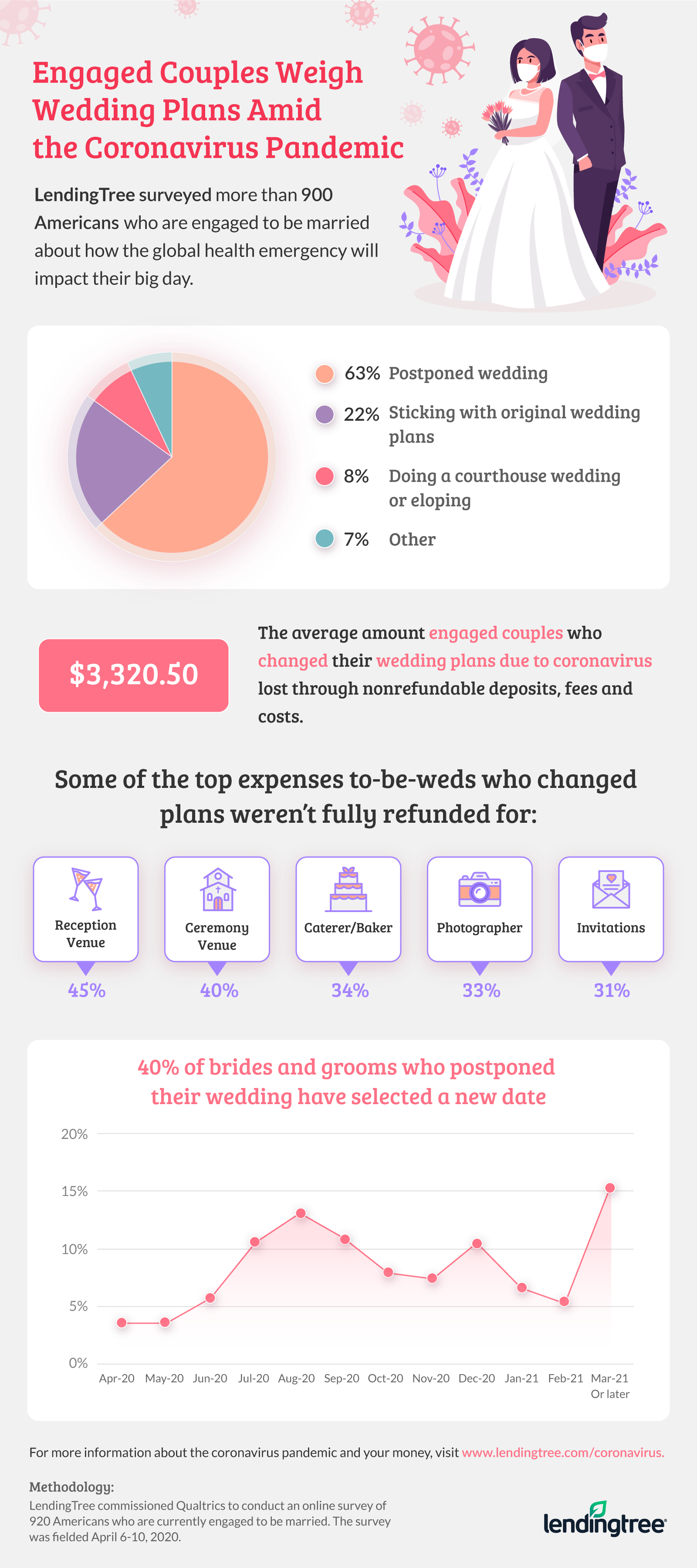 63% of engaged couples postponed their weddings due to COVID-19 outbreak
Wedding season 2020 is upon us, but it's been turned upside down by the coronavirus pandemic. Social distancing guidelines dictate that people stay six feet apart and avoid mass gatherings in large groups of people, making a wedding all but impossible to pull off.
As a result, 63% of engaged Americans have decided to postpone their weddings due to the outbreak. Eight percent of couples have decided to go for a courthouse wedding or elopement instead, while 22% are forging ahead with their current wedding plans.
Timing is an important factor when analyzing which couples decided to postpone and which didn't. Of those who postponed their wedding, most (58%) said the original date was set for before June 1, while 15% had initially planned to wed in June. Meanwhile, nearly half (48%) of couples who opted to stick with their plans aren't getting married until March 2021 and beyond.
66% of couples postponed to comply with social distancing guidelines
Weddings are intimate celebrations complete with eating, drinking and dancing. But in an era of social distancing, you can't truly do any of these things in large groups. It makes sense that most engaged couples have decided to move their weddings — not just for the sake of a good party, but for the health and safety of their loved ones.
Two-thirds of couples decided to postpone to comply with social distancing guidelines, and 59% want to help stop the spread of the coronavirus. Engaged Americans are also keeping their guests in mind: 46% decided to postpone because their friends and family can't travel to take part in their big day.
The CDC has recommended against all nonessential travel for people at high risk of severe illness due to COVID-19, which means that grandparents and other senior family members would have to miss the wedding if it weren't postponed.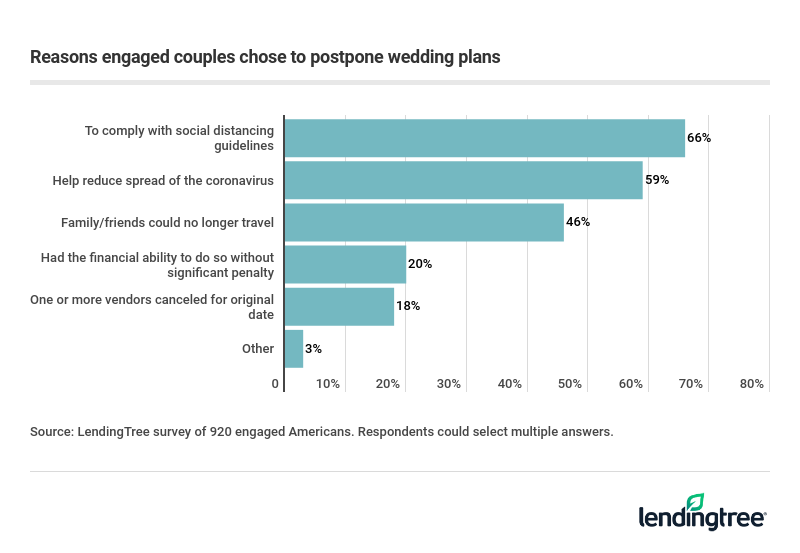 When faced with the decision to postpone, some couples faced backlash
During the wedding planning process, couples are bound to hear some negative feedback from overconfident family members. Amid the coronavirus pandemic, that backlash is palpable.
Four in 10 couples have received backlash from friends and family, whether they decided to postpone or not: 14% got "a lot" of criticism, while 26% heard "some" complaints. Those who chose to postpone their wedding plans got more complaints than those who didn't, with nearly half (47%) saying they faced backlash, compared with 23% of those who kept their original plans.
Engaged couples and wedding vendors alike are losing money
Wedding vendors and couples stand to lose a lot of money due to COVID-19. When it comes to date flexibility and refunds on deposits, it comes down to the individual wedding vendors and their policies.
The vast majority (71%) of couples who changed wedding plans said most of their vendors were flexible about the change. Here's a list of the vendors brides and grooms will still use: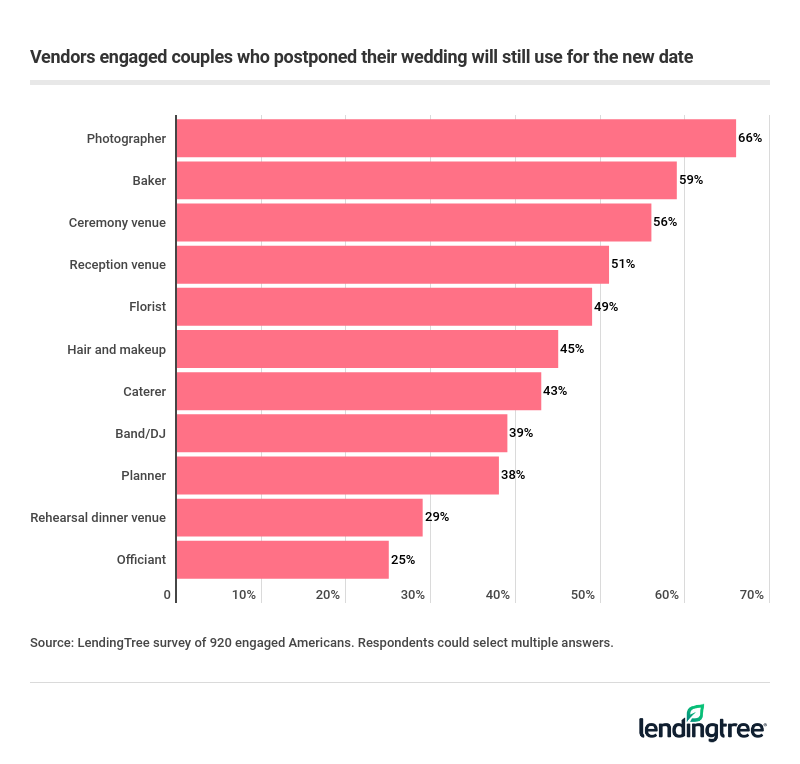 Vendors are encouraging couples to postpone their weddings rather than downsizing and canceling in an effort to keep the wedding industry afloat, according to Megan Sheppard, a wedding photographer based in Boone, N.C.
"There's a huge movement in the wedding community asking couples to please postpone, don't cancel, just because that hurts so many different small businesses if you're canceling your wedding," said Sheppard. "You're going to get married either way, so why not have that wedding that you planned and dreamed of, but at a later date?"
Engaged couples lost $3,300+ on nonrefundable deposits, payments and fees
It goes without saying that weddings are a pricey ordeal. The average wedding costs nearly $25,000 in 2020, according to data from ValuePenguin. Our LendingTree survey found that more than half of engaged couples who postponed their wedding due to COVID-19 concerns lost money, at $3,320.50 on average. Out of all vendors, couples were most likely to lose money on their reception venue, ceremony venue and caterer/baker deposits.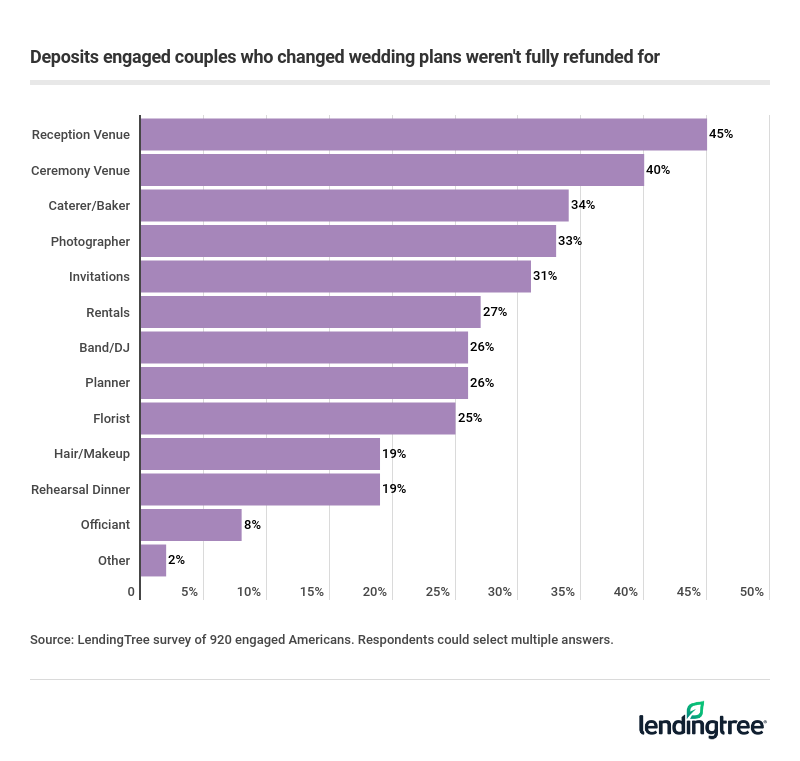 Jason Lynch, who was supposed to marry his fiance Rob McAuliffe on March 28, postponed his wedding to Labor Day weekend. While he is thankful that the venue could move his wedding to a later date free of charge, Lynch and his fiance lost $400 on a shuttle driver deposit and $2,000 on flowers. Instead of paying for a florist again, Lynch and his husband-to-be plan on saving money on their upcoming wedding by going to a local grocer for flowers.
Vendors in the wedding industry suffer income loss
With couples postponing and sometimes canceling their weddings, vendors have to wait months to get the paychecks they expected, if they get paid in full at all. Most wedding vendors work on a deposit system, meaning that the couple pays a deposit upfront (typically 25% to 50% of the total cost of the vendor), then paying the remainder just before the wedding.
Wedding vendors that were counting on getting paid in the peak months of the wedding season, beginning in May, have to make due without expected income.
"It's like someone telling you, 'Hey, we have your paycheck, but you're not going to get it for another four or five months,'" Sheppard said. "I'm doing fine, but I hate it for my couples."
Travel restrictions put honeymoon plans up in the air
Although the CDC doesn't generally issue travel restrictions, it recommends that people suspend all cruise travel and nonessential travel, especially those who are at a higher risk of severe illness due to COVID-19. As a result, in addition to weddings, couples are also having to postpone and cancel their honeymoons.
One in four engaged couples has postponed or canceled their honeymoon as a result of the coronavirus pandemic, and about four in 10 (42%) of them lost money in the process. Couples should check their credit card's travel insurance policy to see if they can recoup any of the lost expenses.
Lynch and his future husband had planned to honeymoon in Hawaii in late June, and he's not sure if they'll be able to make that trip. Many speculate that it will take months, or even years, for travel to return to normal after the coronavirus pandemic has peaked.
Despite COVID-19 fears upending wedding plans, love prevails
It takes a lot of time and money to make a wedding happen, and it can be heartbreaking for couples who've spent months poring over wedding planning to have to postpone or cancel their big day. While the coronavirus pandemic has been an emotional and financial drain on many engaged couples, most of them are still planning on getting married, one way or another.
The majority of couples (64%) who have changed their wedding date have moved it until September, if not later. But many couples have remained optimistic — after all, if both partners are safe and healthy, that's all you can ask for during these times of uncertainty.
"With everything going on in the world, it's given us some perspective," Lynch said. "We're just very thankful that the biggest thing we have to mourn is postponing our wedding a couple months and we're very privileged."
Methodology
LendingTree commissioned Qualtrics to conduct an online survey of 920 Americans who are currently engaged to be married. The survey was fielded April 6-10, 2020.