How Does LendingTree Get Paid?
LendingTree is compensated by companies on this site and this compensation may impact how and where offers appear on this site (such as the order). LendingTree does not include all lenders, savings products, or loan options available in the marketplace.
41% of Consumers Have Already Shopped an Early Black Friday Sale
Updated on: November 18th, 2020
Why use LendingTree?
We are committed to providing accurate content that helps you make informed money decisions. The content on this page has not been reviewed, approved or otherwise endorsed by any credit card issuer. We do maintain partnerships with some issuers, and our site may be compensated through those partnerships. Read our .
Black Friday has come early this year. In fact, more than 4 in 10 consumers said they've already shopped an early Black Friday sale in the beginning of November, according to a recent LendingTree survey of 1,050 consumers.
The pandemic may alter shopping patterns this holiday season, the survey found, as some said they may opt to shop on Cyber Monday and online instead of traditional in-person Black Friday store visits this year. No matter how they shop, though, those who plan to hit the early sales said they expect to rack up some credit card debt in the process.
Key findings
By the end of the first week of November, 41% of U.S. consumers had already shopped in a sale advertised as "Early Black Friday." In total, around two-thirds (67%) of Americans expect to participate in Black Friday and/or Cyber Monday shopping this year.
Because of the pandemic, 38% of consumers said they're more likely to participate in Cyber Monday this year, while only 25% said the same about Black Friday.
3 in 10 of those who plan to participate in Black Friday or Cyber Monday expect to incur credit card debt as a result of their shopping. The shoppers most likely to go into debt include members of Generation X (45%), those who were laid off or furloughed (41%), parents of kids under 18 (40%) and men (35%).
More than 1 in 10 (13%) of Black Friday shoppers plan to hit their first store at midnight, while another 15% said they'll start shopping before 7am. And, though many retailers now give employees off on Thanksgiving Day, 18% said they still plan to shop on Turkey Day. As for Cyber Monday, 28% of planned shoppers said they'll log on at midnight.
29% of consumers admit to getting into an argument with another shopper during past Black Friday sales. That jumps to 36% for men (vs. 17% for women) and 43% for Generation Z (vs. 32% of millennials, 40% of Gen X and 7% of baby boomers).
More than two-thirds of Americans will shop Black Friday and Cyber Monday sales — and many have already begun
For many people, the holiday shopping season begins once the Thanksgiving leftovers have been packed away, and they head out in search of Black Friday and Cyber Monday sales. In fact, around two-thirds of consumers plan to shop one or both of the big sale days. Here's how it breaks down: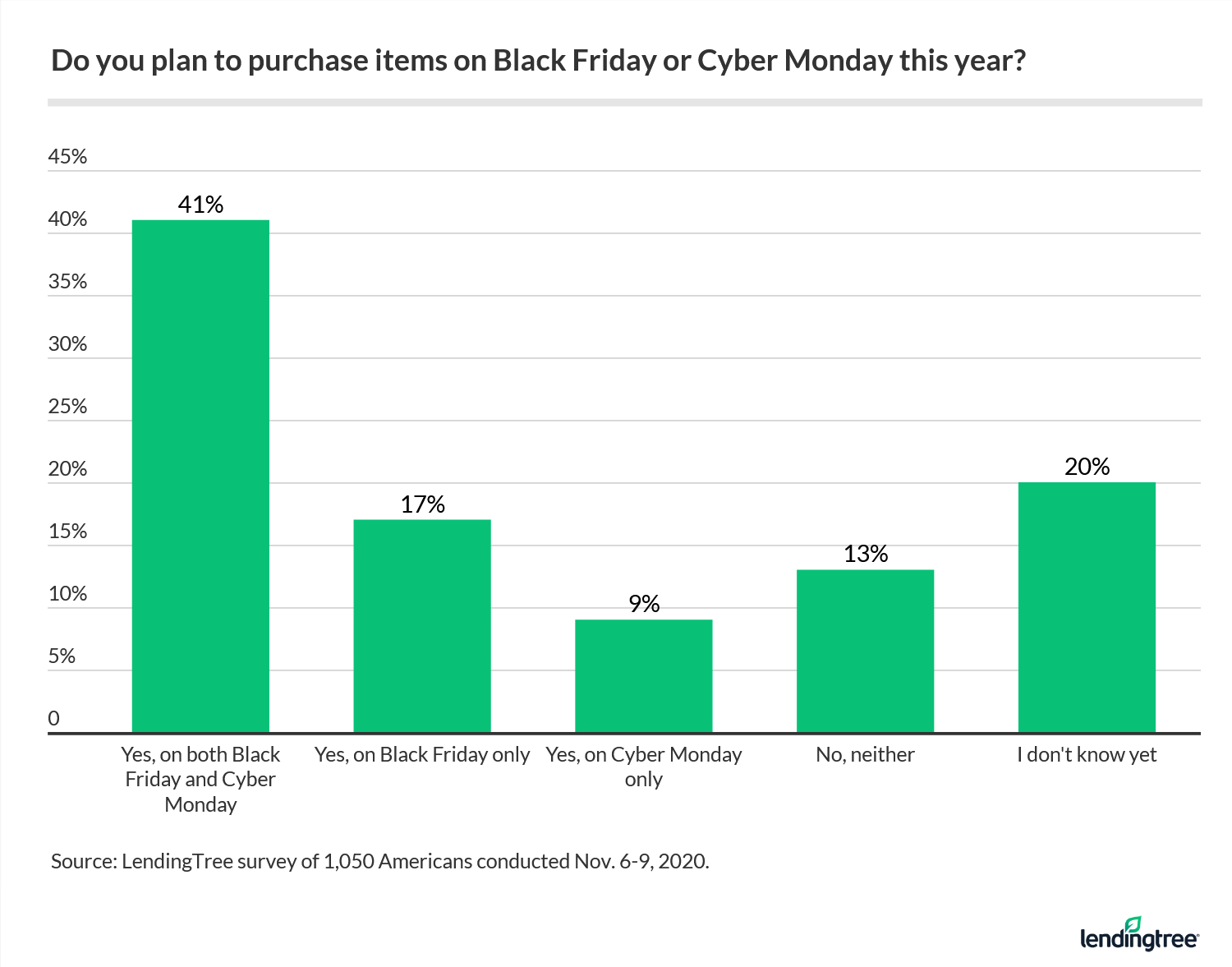 Keep in mind that this survey was conducted during the first week of November, and 41% of consumers had already shopped an "Early Black Friday" sale.
"That's a big number," said Matt Schulz, chief credit analyst at LendingTree. "However, early Black Friday deals have become far more common in recent years, so people expect them now and are ready to take advantage of them."
Black Friday has in fact evolved over the years from a single day into a multi-week event both in-store and online. This year, the coronavirus pandemic is poised to alter the way we shop even further — for instance, the survey found that more people were likely to shop on Cyber Monday rather than on Black Friday (38% versus 25%).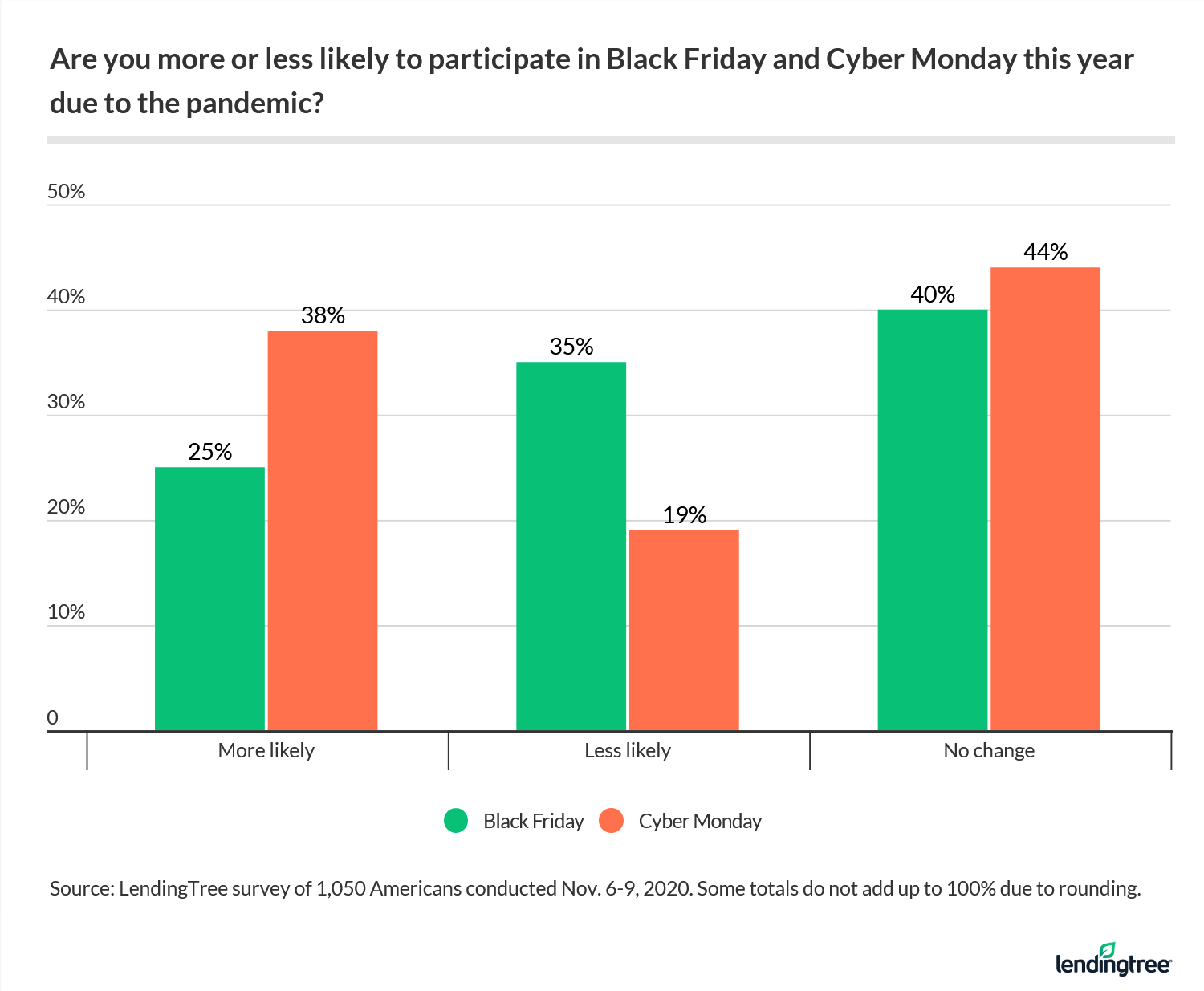 The survey also found that nearly half of respondents (45%) plan to do all of their shopping online (which could be done safely from home) rather than visit a physical store; another 44% said they'd be doing a combination of both.
Holiday sale shoppers are competitive, from midnight shopping to arguing with fellow deal hunters
Snagging the most coveted deals often means lining up, camping out, losing sleep and even a fight or two — but competitive shoppers feel it's worth it.
In fact, 47% of shoppers plan to hit the stores on Thanksgiving and/or head out in the wee hours of Friday morning. As for Cyber Monday, 28% of shoppers said they plan to log on at midnight.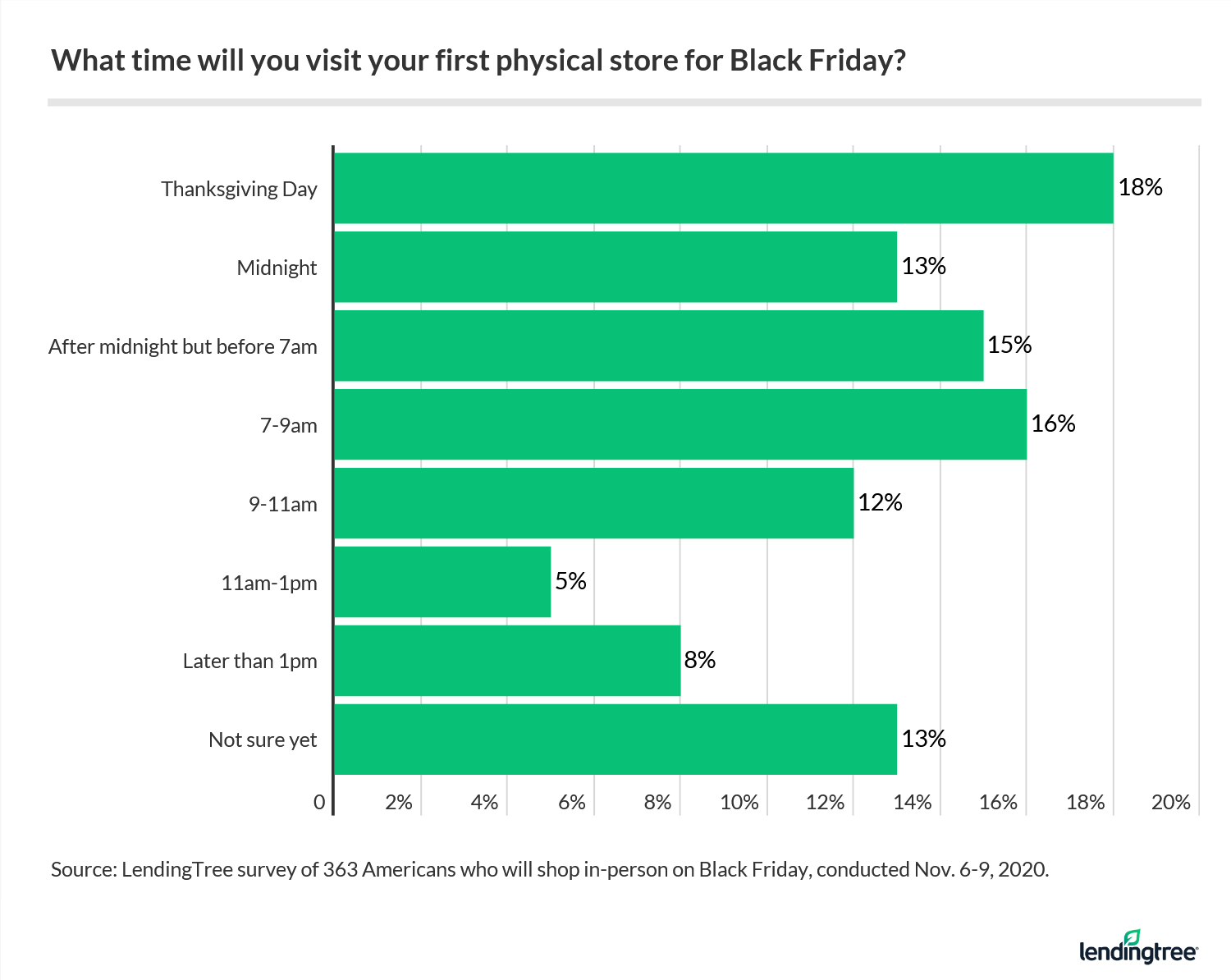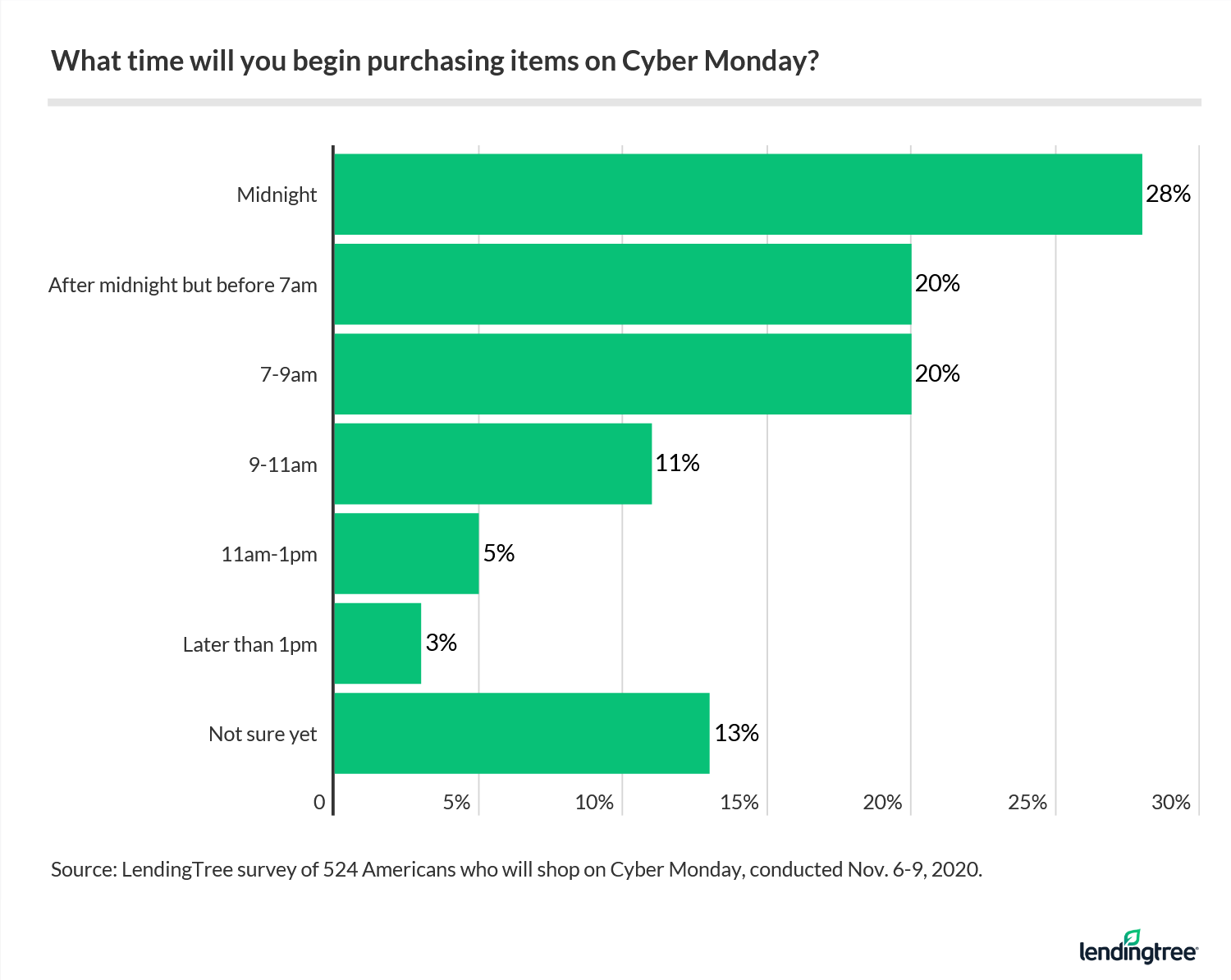 Master shoppers usually head to the stores with a gameplan in mind, by scouting the sales in advance and mapping out what they need to buy and where (49%). A slightly smaller percentage of shoppers (43%) take more of an open-minded approach, focusing on certain categories of purchases rather than specific items.
But with discounted items limited and oftentimes scarce, plus a higher-than-normal volume of shoppers, it's no wonder things sometimes become heated.
Nearly 30% of all respondents admitted they've gotten into an argument with a fellow shopper during Black Friday, with Gen Z and men being the groups most likely to have done so, at 43% and 36%, respectively.
Holiday shopping can be super-intense, and never more so than on Black Friday, said Schulz.
"A lot of people like the excitement of shopping on Black Friday, with all the people and the energy around. However, it doesn't take much for that excitement to turn into real trouble," he said.
Whether it's reaching for the same item or someone line-cutting, not to mention everyone's lack of sleep, things can escalate quickly.
"The best thing that people can do if shopping gets out of hand is just to step back and take a breath. Chances are that item that you're fighting over can be found somewhere else, so be the bigger person, swallow your pride and move on," said Schulz.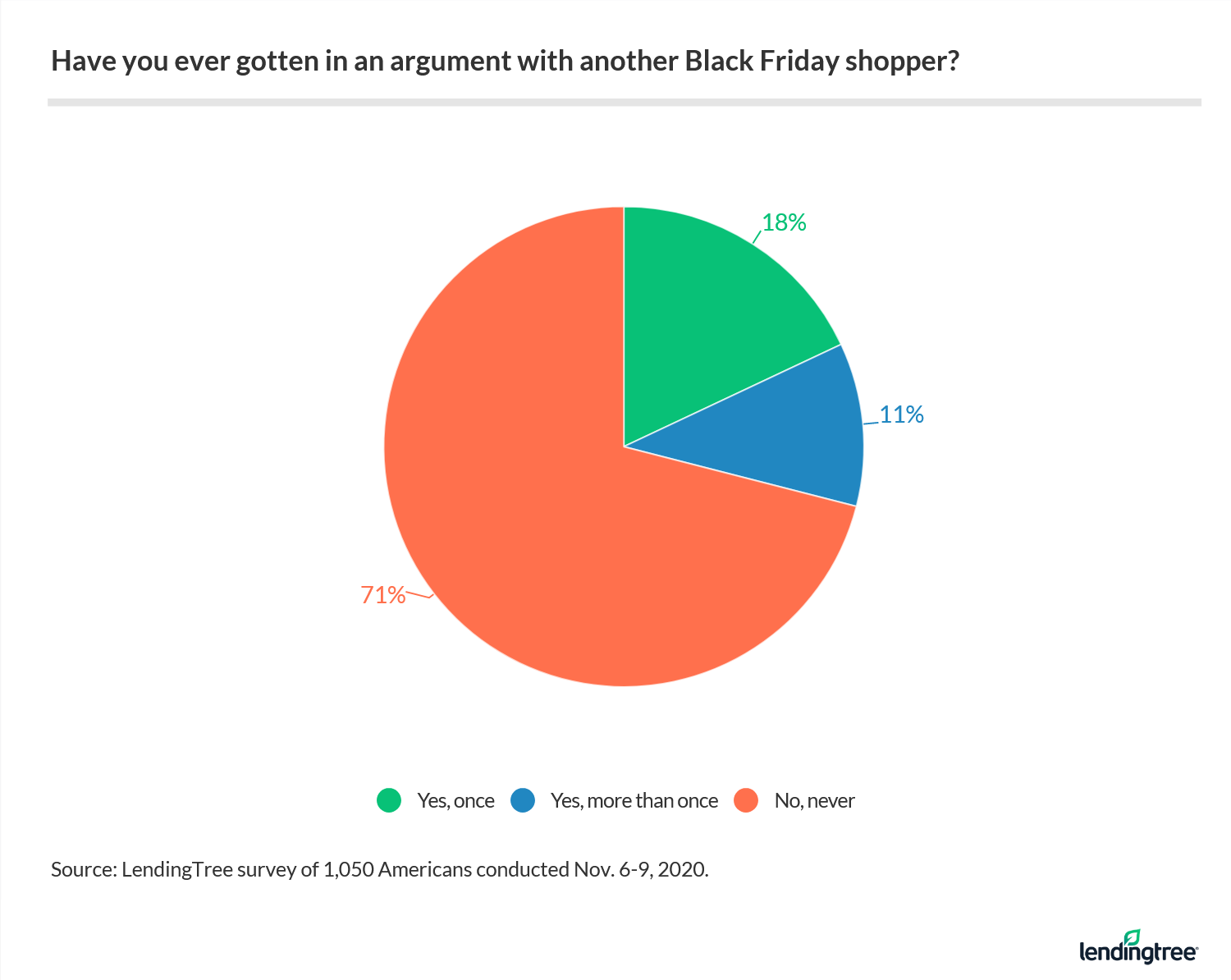 Fighting aside, 55% of consumers classify themselves as "competitive" when it comes to Black Friday and Cyber Monday shopping; the percentage was even higher for Gen X at 63%.
3 in 10 shoppers expect to incur Black Friday and Cyber Monday debt
Among consumers who plan to participate in Black Friday or Cyber Monday, 30% expect to incur some credit card debt in the process. The groups most likely to start the New Year off with a credit card balance from holiday shopping include:
More men (35%) than women (18%)
Gen X (45%), far more than Gen Z (27%), millennials (24%) or baby boomers (17%)
Parents with kids under 18 (40%) versus 21% of those with adult children and 14% of those without kids
Consumers who have been laid off or furloughed due to the pandemic (41%) versus those who did not lose income (19%)
According to Schulz, he's not surprised by that breakdown.
"As a Gen X man with a kid under 18, I know just how expensive the holiday season can be," he said. "There's a ton of pressure on parents to make the holidays special for their kids, especially in the wake of the mess that 2020 has been."
That drives a lot of parents to go overboard when they really shouldn't, Schulz noted, and that often manifests itself on these popular shopping days, when it can be easy to get caught up in the excitement and spend yourself into debt.
How to make the most out of holiday sales without hurting your wallet
Holiday sales can be a great way to save, or they may actually cause you to overspend and take on debt. According to Schulz, "the best way to avoid debt is to be thoughtful, plan ahead," and this can help ward off impulse buying, which is often the top budget-killer.
You can also use some other tools in your arsenal to stretch your budget even further:
Rack up rewards: More than a quarter (26%) of shoppers in the survey said they'll use a rewards credit card to pay for purchases. "Rewards credit cards can be an amazing tool for Black Friday and Cyber Monday shopping [as] cash back and points can really extend your budget," according to Schulz. Sign-up bonuses from new cards can be attractive, too.
Bonus tip: If you've accumulated rewards throughout the year, consider cashing them in for store gift cards to shop with or to give as gifts.
Be selective if using store cards: Store credit cards can help with your holiday shopping budget and provide additional discounts (and 9% of people in the survey plan to use them). Just be sure you understand what you're getting into, said Schulz, warning that store card APRs are typically steep.
"Don't be blinded by that discount offer or pressured by the checkout clerk," he said. Instead, take your time to understand the details of the card, such as interest rates, fees and other specifics. If you do use them, try your best to pay the balance in full or as quickly as possible.
Consider a balance transfer card: If you do end up in debt, you might consider a new card that has a lengthy introductory 0% APR offer on balance transfers. This allows you time to pay off charges over an extended period of time and avoid interest.
"Because COVID has wreaked such havoc on the economy, these cards are a bit harder to get today than they were last holiday season, but if you have good to great credit and a bit of debt, it's absolutely worth considering applying for one of these cards," said Schulz.
Start the season with an introductory 0% APR: You could also give yourself more wiggle room from the get-go by applying for a card that has an introductory 0% APR offer on purchases.
"As anyone who has struggled with debt knows, interest is a killer," said Schulz. "Being able to avoid interest for a year or more can make a huge difference in how long it takes to pay off that debt."
But no matter what your holiday shopping preference is, Schulz recommends communicating with your family and friends in advance to set expectations and reduce the pressure to spend, especially if you've experienced a COVID-related loss of income. Then, be strategic as you shop on Black Friday and Cyber Monday so you can save rather than splurge.
Methodology
LendingTree commissioned Qualtrics to conduct an online survey of 1,050 Americans, with the sample base proportioned to represent the overall population. The survey was fielded Nov. 6 to Nov. 9, 2020.
Generations are defined as the following ages in 2020:
Gen Z: Ages 18-23
Millennials: Ages 24-39
Gen X: Ages 40-54
Baby boomers: Ages 55-74
While the survey also included consumers from the silent generation (defined as those age 75 and older), the sample size was so small that findings related to that group weren't included in the generational breakdowns.