How Does LendingTree Get Paid?
LendingTree is compensated by companies on this site and this compensation may impact how and where offers appear on this site (such as the order). LendingTree does not include all lenders, savings products, or loan options available in the marketplace.
1 in 3 Americans Have Declined a Date Because of Money
Updated on:
Content was accurate at the time of publication.
When it comes to dating and money, there are two primary camps: those who can't put a price on love, and those who can. Hopeless romantics may argue that love is free, but the average first date costs $77, a LendingTree survey found.
Americans spend hundreds of dollars on dates annually, and many say finding a partner would be easier if they had more money. More than 1,200 people weighed in on the cost of dating, giving us a clear picture of how modern lovers are spending their money.
Key findings
Our survey respondents spent an average of $696.98 on dating in 2019. Women spent much less than men, at $499.96 and $861.29, respectively.
The average cost of a first date is $77. Millennials spend the most on first dates, at $83. Baby boomers spend the least, at $58.

Most respondents (81%) go on less than three dates per month.

More than half (51%) of respondents think dating would be easier if they had more money. One in three respondents has turned down a date because they didn't have the cash.

15% of respondents have borrowed money for a date, including 19% of all men surveyed.

Three-quarters of those surveyed think it's more expensive to be in a couple than it is to be single. Just one in 10 respondents currently has dating-related debt.
One in five respondents would consider hiring a professional matchmaker. Of those who have hired a matchmaker, most (78%) paid less than $500, and most (53%) were unsuccessful.
27% of respondents use dating apps, spending six hours per week looking for love on average. Most use free dating apps, while 18% spend between $11 and $20 per month.

Among those surveyed, men use dating apps at a higher rate than women (34% versus 20%).
Americans spend nearly $700 on dates annually
Dating can be exciting, nerve-wracking, expensive — and all of those things at once. The typical American could expect to spend several hundred dollars every year on dates, whether they're dining out or enjoying other local activities.
Average amount Americans spent on dating in 2019
Overall
Men
Women
Gen Z
Millennials
Gen X
Baby Boomers
$696.98
$861.29
$499.96
$365.70
$695.40
$902.50
$632
And since it's critical to make a good first impression, respondents reported spending $77 on a first date, on average. Millennials spend the most on first dates, while baby boomers pay the least.
How much would you spend on a first date?
Average
Gen Z
Millennials
Gen X
Baby Boomers
$77
$72
$83
$82
$58
And if you wanted to offset that cost with a coupon? For the most part, it doesn't seem to be a problem for daters. Our survey found that 76% of respondents would not be bothered if their date used a coupon or gift certificate to pay for the date. One in five said it would be a turnoff on a first date, but for 5% of respondents, it just wouldn't fly at all.
Dating etiquette: Survey findings suggest that men still pay
In traditional courtship of a bygone era, men paid because they had the money, but that's no longer the case in every relationship. In a heteronormative relationship, is a man always obligated to pay even if the woman earns more, or does that responsibility fall on whomever asked the other person out?
Our survey found that women ($499.96) spend a lot less on dates every year than men ($861.29). They also spend less on a first date than men, at $61 and $92, respectively. Of course, this may account for some heterosexual couples; indeed, all relationships are unique, and those partners will handle their money as they see fit.
1 in 3 respondents have turned down dates because of money
You might just consider yourself lucky to be asked on a date. But even if you've conquer the feeling of excited nerves and introversion, there might yet be one more roadblock waiting to derail your love life: money. A third of respondents have even turned down a date due to a shortage of cash.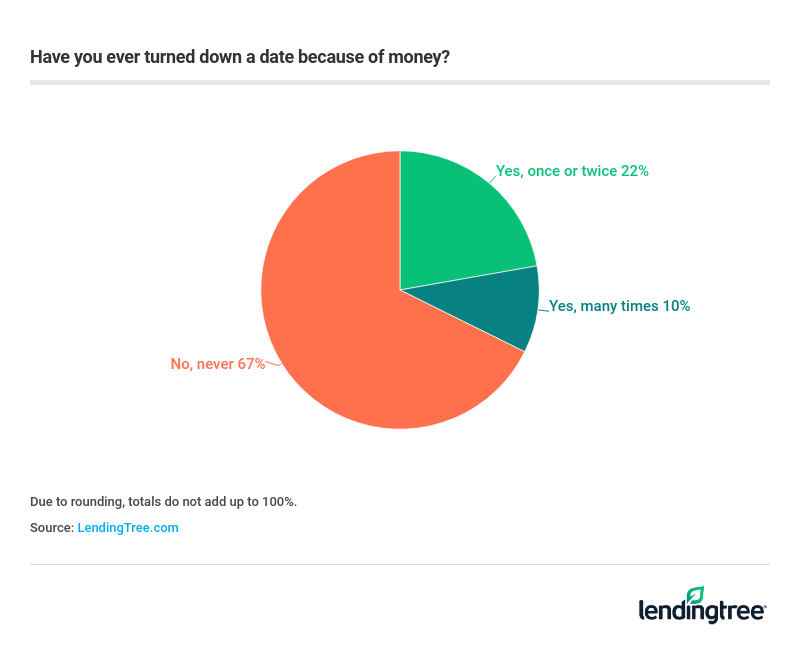 Dating is expensive, considering that survey respondents reported spending $77 on a first date. (Don't get us started on Valentine's Day, either.) That said, it's not unheard of to try to find a cheap or free date idea. Driving your new boo down a winding country road to a homemade picnic can be just as romantic (if not more so) than going out to a restaurant or movie theater.
Half of respondents would be upfront if they were too broke to date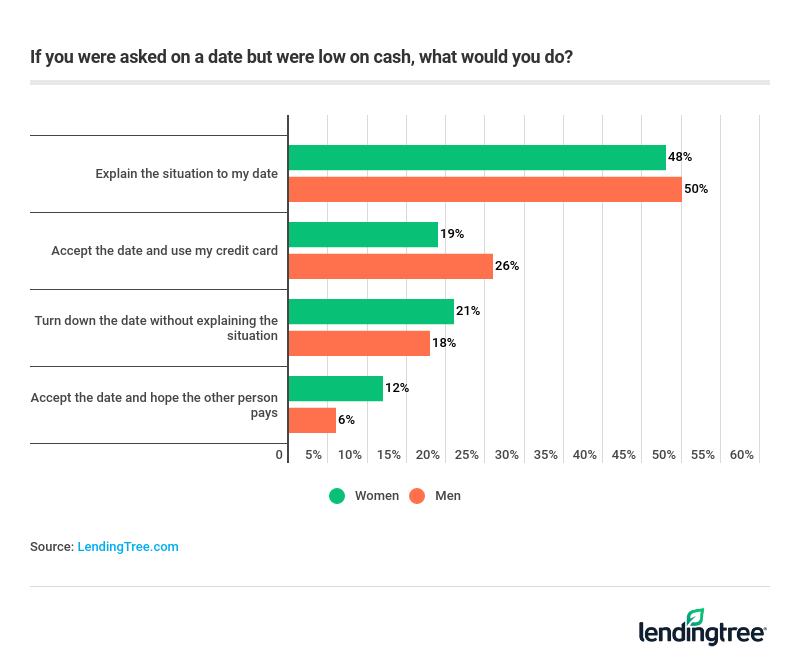 When it comes to dating, Americans hope that austerity pays off. If they were asked out on a date but didn't have the money, most respondents (49%) would just explain the situation. About 23% would pull out the plastic and pay with a credit card, but 20% would turn down the date without explaining the situation.
Some people would accept the date and hope the other person pays: 6% of men and 12% of women (9% of all respondents in total).
Americans lean on free dating apps to find love
Online dating has become the most popular way American couples meet, according to a 2019 Stanford University study. It's no surprise that 27% of those we surveyed use dating apps, and that younger generations — Gen Z and millennials — are using them at a higher rate. Plus, one in three men use dating apps, compared with just one in five women.
But that's not to say that the more senior generations aren't taking advantage of technological advances in dating — there are websites dedicated to 55-plus dating, after all.
Do you currently use any dating websites or mobile apps?
Total
Gen Z
Millennials
Gen X
Baby Boomers
No
72%
65%
66%
72%
87%
Yes
28%
35%
34%
28%
13%
Of the people who use these dating apps and websites, not many of them want to pay for these services. More than half pay nothing at all, and 79% of respondents pay $10 per month or less. Most people seem pretty averse to shelling out hard-earned cash before the first date; four out of five Americans would not consider paying a professional matchmaker, either.
Methodology
LendingTree commissioned Qualtrics to conduct an online survey of 1,281 Americans, with the sample base proportioned to represent the overall population. The survey was fielded Jan. 2-10, 2020.
For the purposes of this survey, generations are defined by the following ages in 2020:
Generation Z: ages 18-23
Millennials: ages 24-39
Generation X: ages 40-54
Baby boomers: ages 55-74
Silent generation: ages 75+