How Does LendingTree Get Paid?
LendingTree is compensated by companies on this site and this compensation may impact how and where offers appear on this site (such as the order). LendingTree does not include all lenders, savings products, or loan options available in the marketplace.
Americans' Biggest Financial Turnoffs: Relying on Parents for Money, Unemployment and Debt
Updated on: February 14th, 2022
Why use LendingTree?
We are committed to providing accurate content that helps you make informed money decisions. Our partners have not commissioned or endorsed this content. Read our .
Living in the family basement or not pulling in a paycheck have long been red flags on the dating scene. And though the COVID-19 pandemic may have pushed otherwise eligible bachelors and bachelorettes into these situations, they run the risk of turning off potential romantic partners.
Nearly 8 in 10 Americans (77%) have financial turnoffs — from partners being unemployed to having lots of debt — and 25% of Americans' turnoffs have stopped a relationship in its tracks, according to the latest LendingTree survey of 2,100 respondents.
The survey data also indicates that when dating turns into an exclusive relationship, money-related concerns become money-related arguments for 61% of couples, many of whom aren't completely open with their significant others about the true state of their finances.
Key findings
1 in 4 Americans says a money-related topic has been a dating deal breaker in the past. This is especially common among Gen Zers (32%) and millennials (31%).
Relying on parents for money (44%) is Americans' top financial turnoff in a potential romantic partner. Rounding out the list of top five financial turnoffs are being unemployed (42%), bragging about money (40%), having debt (37%) and living at home (26%).
Money can cause tension, and couples who have partially combined finances (70%) are more likely to argue about money than those who are fully combined (60%) or entirely separate (57%). Spending decisions cause most money arguments among couples, followed by disagreements about savings habits.
47% of coupled consumers think they're better with money than their significant other. Men (50%) are more likely to agree than women (45%).
Should you tell your partner about your credit score or debt? 37% say they don't know their significant other's credit score, 32% don't know how much debt they have and 28% don't know their general money philosophy.
Dating fraught with financial complications, not 'affordable' for all
Wondering who might pick up the tab for drinks, dinner or a movie isn't the only way money complicates dating. There are also financial turnoffs that could end a date or a new relationship, or stop one before it starts. In fact, 25% of respondents say something related to money has been a dating deal breaker in the past, especially among Gen Zers ages 18 to 25 (32%) and millennials ages 26 to 41 (31%).
And though our survey indicates financial turnoffs are widely shared, two groups are more likely than their peers to report being turned off by money-related characteristics of potential romantic partners:
Women (81%) report more financial turnoffs than men (72%)
The more money you make, the more likely you are to have a financial turnoff (and this is true at every income level)
Dating isn't just fraught. It's also not free. Nearly half of survey respondents (45%) say they can't afford to date, whether it's to pay for their date, themselves or, more broadly, put their best foot forward without worrying about exhibiting a financial turnoff of their own.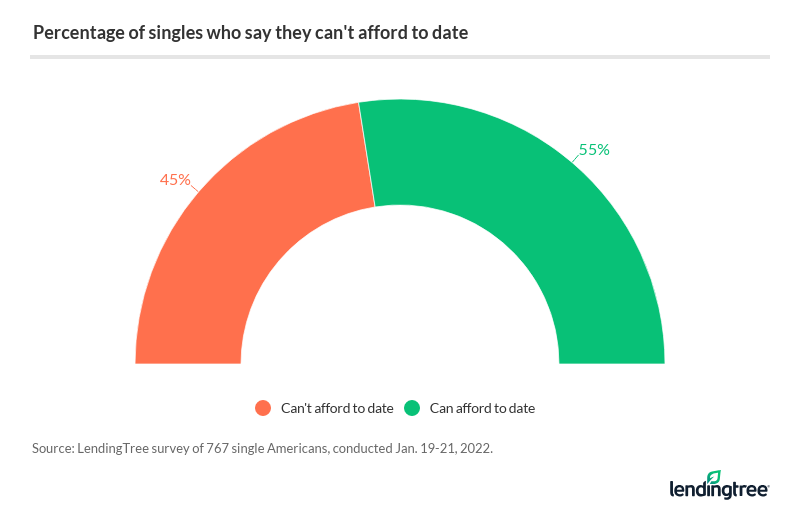 Relying on parents, unemployment among most common financial turnoffs
Someone who has struck out on their own and gained financial independence from their family is traditionally seen as more of a "catch." That perception holds for some Americans today, with almost 8 in 10 saying they have at least one type of turnoff.
A person relying on their parents for money is the top financial turnoff (44%), followed by:
Someone who's unemployed (42%)
Someone who brags about how much money they have (40%)
Someone who has a lot of debt (37%)
Someone who lives with their parents (26%)
Across types of relationship statuses, the biggest turnoff varied between relying on parents for money or being unemployed. Here's how that broke down:
Married: Relying on parents for money (49%)
Dating or engaged: Being unemployed (44%)
Committed civil union: Relying on parents for money and being unemployed (46%)
Divorced or separated: Relying on parents for money (44%)
Widowed: Relying on parents for money (56%)
Those who are single and have never been married were the outlier, being most worried about someone who brags about how much money they have (41%).
Meanwhile, more than 1 in 2 women say they're turned off by dates who rely on parents for money or who are unemployed. For their part, about 1 in 3 men share these turnoffs.
Given these ingrained perceptions, some of the biggest financial turnoffs reported in our survey aren't altogether surprising.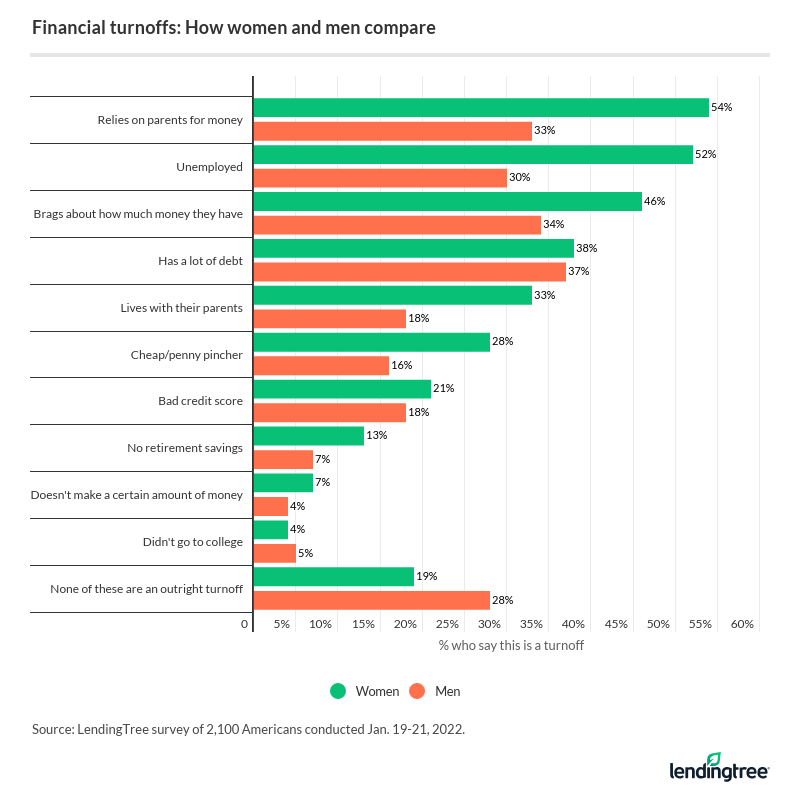 LendingTree chief credit analyst Matt Schulz says the COVID-19 pandemic and its effects on the economy — first, significant shutdown measures, then rising inflation — have furthered our preconceived notions around money and dating.
"It's always going to be sexy to be financially stable and independent, but that's even more true in volatile economic times like we're in right now," Schulz says. "Life in a pandemic is stressful and difficult enough. It makes all the sense in the world that people would want a partner they can depend on financially. It's one less thing they need to worry about."
Schulz warns, however, that being lauded for financial certitude "can keep people from coming clean about their problems when they do arise."
"Folks might prefer to suffer in silence rather than risk being seen as a failure in the eyes of their partner," he adds. "That's a big reason why it's important to start open and honest communication about money early on in relationships and to be kind and compassionate when you do."
Majority of Americans argue about money with significant others
If you've argued with a significant other over money, join the club. More than 6 in 10 of those with a romantic partner say they've argued about financial topics.
For couples, debate most often centers around spending decisions (40%) or disagreements about savings habits (25%). Questions of "who pays for what" (17%) and how to get out of debt (17%) also prove contentious.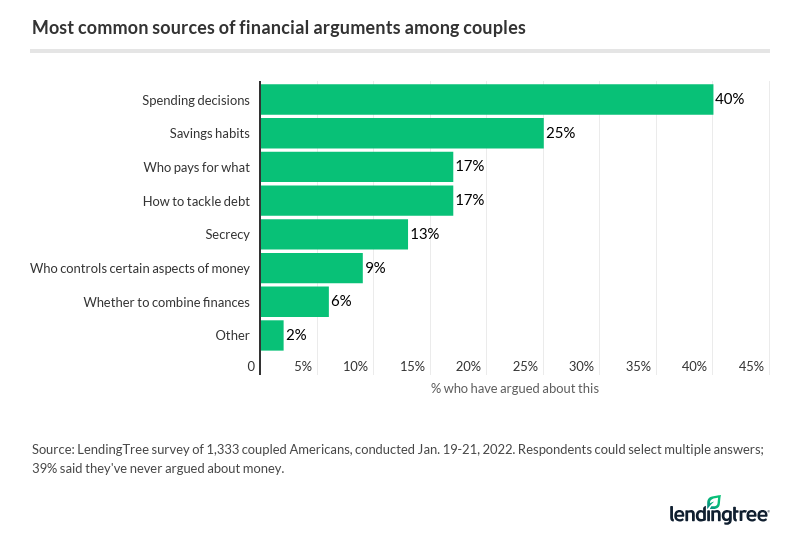 Aside from the content of money-related arguments, it's worth looking at the cause. According to our survey results, financial fights can stem from three choices in mindset:
| | |
| --- | --- |
| 1. One's approach to money as it relates to their partner's | Couples who both identify as "spenders" are most likely to argue about money, followed by those with different approaches. Those who are both "savers" are least likely to quarrel over cash. |
| 2. Combining finances or keeping them separate | Couples who have partially combined finances (70%) are more likely to argue about money than those who are fully combined (60%) or entirely separate (57%). |
| 3. Confidence in individual financial savvy versus belief in their partner's | Almost half (47%) of coupled respondents say they think they're better with money than their significant other. |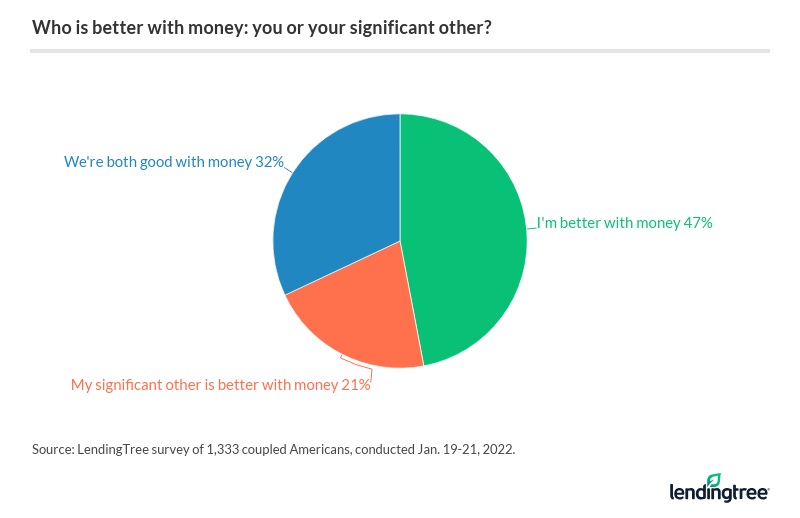 Almost 4 in 10 couples admit to having different approaches to money. So, unless you happen to be matched perfectly with your significant other, talking about money respectfully (instead of arguing) will likely take a concerted effort, Schulz says.
"It's important in these conversations to actually listen and try to understand your partner," he says. "You're not always going to agree about everything, but if you understand the other person's point of view and their priorities, you can probably come up with compromises and solutions that work for both of you.
"Also, just don't be a jerk. Your tone and your attitude in these discussions are really important. If you come in looking for a fight, you're probably going to get one. Whereas, if you come in ready to listen and work together, good stuff can happen."
Many Americans aren't well acquainted with their significant other's finances
Another potential cause for money-related debate: being left in the dark. In fact, nearly 1 in 4 of respondents who have romantic partners (24%) are keeping a financial secret from their significant other. Hidden debt is the most common financial secret.
"Not everyone needs to be an open book about their finances with their partner," Schulz says. "However, if you're starting to talk about a future with someone, those discussions probably ought to include real talk about debt. In many cases, it may actually help bring you closer together. Plus, having someone in your corner and helping you with your battle with debt can be a big deal, too."
Many Americans are open with their partners about various financial topics: 79% know their salary, 68% know how much debt they have, 63% know their credit score and 63% know how much they have saved.
Of course, it's what you or your partner don't know about the other's finances that could, like a ticking time bomb, eventually erupt into a heated debate.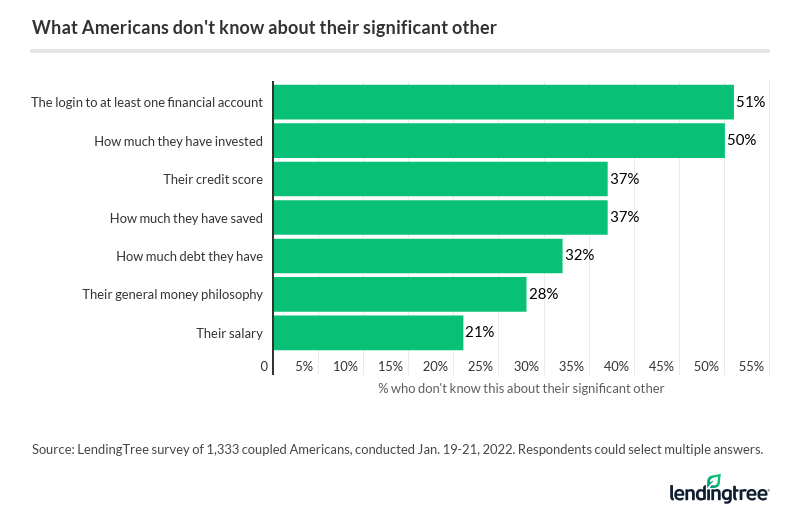 "It's disturbing overall just how little people know about their significant other's finances," Schulz says. "These are awkward conversations to have, and they may end up leading to some conflict and fights. Ultimately, however, for a relationship to be successful, you have to be open and honest, and that's certainly true when it comes to money."
Methodology
LendingTree commissioned Qualtrics to conduct an online survey of 2,100 consumers from Jan. 19-21, 2022. The survey was administered using a nonprobability-based sample, and quotas were used to ensure the sample base represented the overall population. All responses were reviewed by researchers for quality control.
We defined generations as the following ages in 2022:
Generation Z: 18 to 25
Millennial: 26 to 41
Generation X: 42 to 56
Baby boomer: 57 to 76
While the survey also included consumers from the silent generation (those 77 and older), the sample size was too small to include findings related to that group in the generational breakdowns.