How Does LendingTree Get Paid?
LendingTree is compensated by companies on this site and this compensation may impact how and where offers appear on this site (such as the order). LendingTree does not include all lenders, savings products, or loan options available in the marketplace.
LendingTree Survey Reveals 41% of Americans Have Moved for Love, With Women More Likely to Regret It
Updated on: February 9th, 2021
Why use LendingTree?
We are committed to providing accurate content that helps you make informed money decisions. Our partners have not commissioned or endorsed this content. Read our .
Love can compel you to step outside of your comfort zone, even to the point of uprooting your life and getting a mortgage with your "bae."
A new LendingTree survey finds that 41% of Americans have moved for love, and men are more willing to relocate than women. Some, including 4% of millennials and 8% of Generation Z, even took a leap amid the coronavirus pandemic to quarantine with their partner. That's some serious amore.
While gathering survey responses, we defined "moving" as relocating at least one hour away from respondents' current home, and "love" as a romantic relationship.
Key findings
About 4 in 10 (41%) of Americans have relocated in the name of romance. When broken down by age, more than half of love-struck millennials (56%) and Gen Z (52%) confessed to moving for love, compared with 37% of Gen X and 19% of baby boomers.
Respondents had varying reasons for following their hearts (and partners) to new digs. For example, 10% of women said they relocated after getting engaged or married, while 17% of men made a college choice based on where their high-school sweetheart was headed. (Awwww.)
The top three states for romance relocation are Florida (11%), California (10%) and New York (7%).
Not all romantic movers had happy endings, though. Women were more likely than men to regret moving for love, at 22% versus 9%, respectively. Just under a third (31%) of men are no longer with the person they relocated for; nearly half (46%) of women said the same.
4 in 10 Americans have moved for love
When survey respondents were asked if they've ever moved for love, 41% said yes. The reasons given were:
Being in a long-distance relationship and moving to be closer to their significant other
Selecting their college based on a romantic relationship that started in high school
Choosing to move with a significant other who got a new job and needed to relocate
Getting engaged or married and moving in with their partner
Moving during the coronavirus pandemic to quarantine with their significant other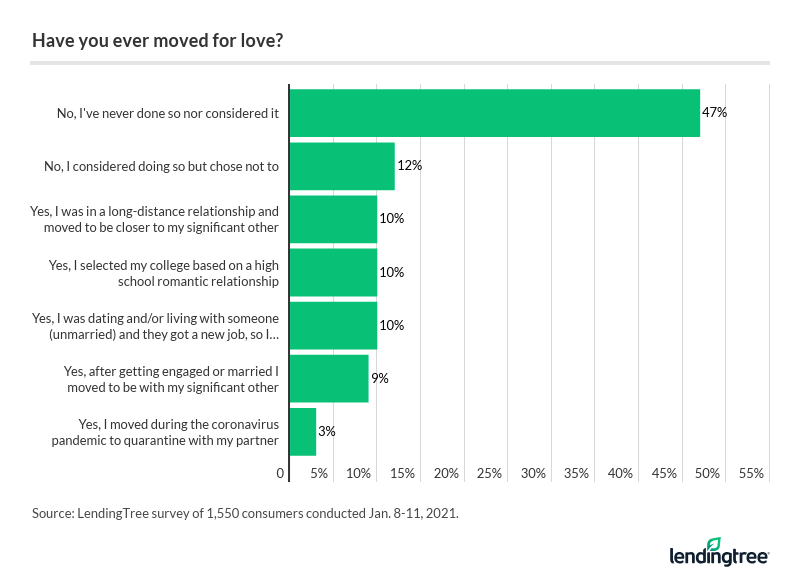 More than a third (39%) of those who relocated for romance bought a home with their partner. Another 49% moved into a rental.
Ultimately, pragmatism might be driving more couples to shack up together than grand romantic gestures.
"Splitting household expenses can increase your prospects of becoming a homeowner," said Tendayi Kapfidze, LendingTree's chief economist. "While renting, it enables you to save more and can increase your budget when buying."
Men are more likely to move for love than women
Our survey data show that men seem to be more willing to move than women — 45% versus 36%, respectively.
Another noteworthy demographic trend: Baby boomers were most likely to decide against moving for love, at 81%. They either considered it and landed on a "no," or never even let the thought of moving for a partner cross their mind. Savage.
Bless their optimistic hearts: Millennials (56%) and Gen Zers (52%) were more likely to say they've moved for love.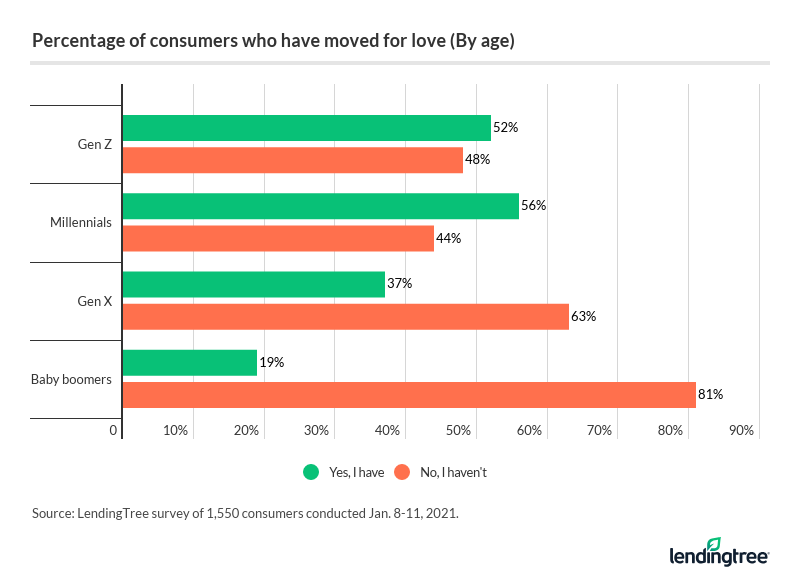 More than 1 in 4 (27%) of those who moved for love were dating their partner for less than a year before relocating. Additionally, more than 4 in 10 (44%) had been dating for one to two years prior to their move.
Florida tops the list for romance relocation
Nearly half (44%) of the survey respondents who moved for love relocated to another state. The Sunshine State was the top destination, at 11%. With Florida's tropical weather, breathtaking beaches and romantic sunsets, who can blame the lovebirds?
The states rounding out the top five places for love relocation are:
California: 10%
New York: 7%
Texas: 6%
North Carolina: 5%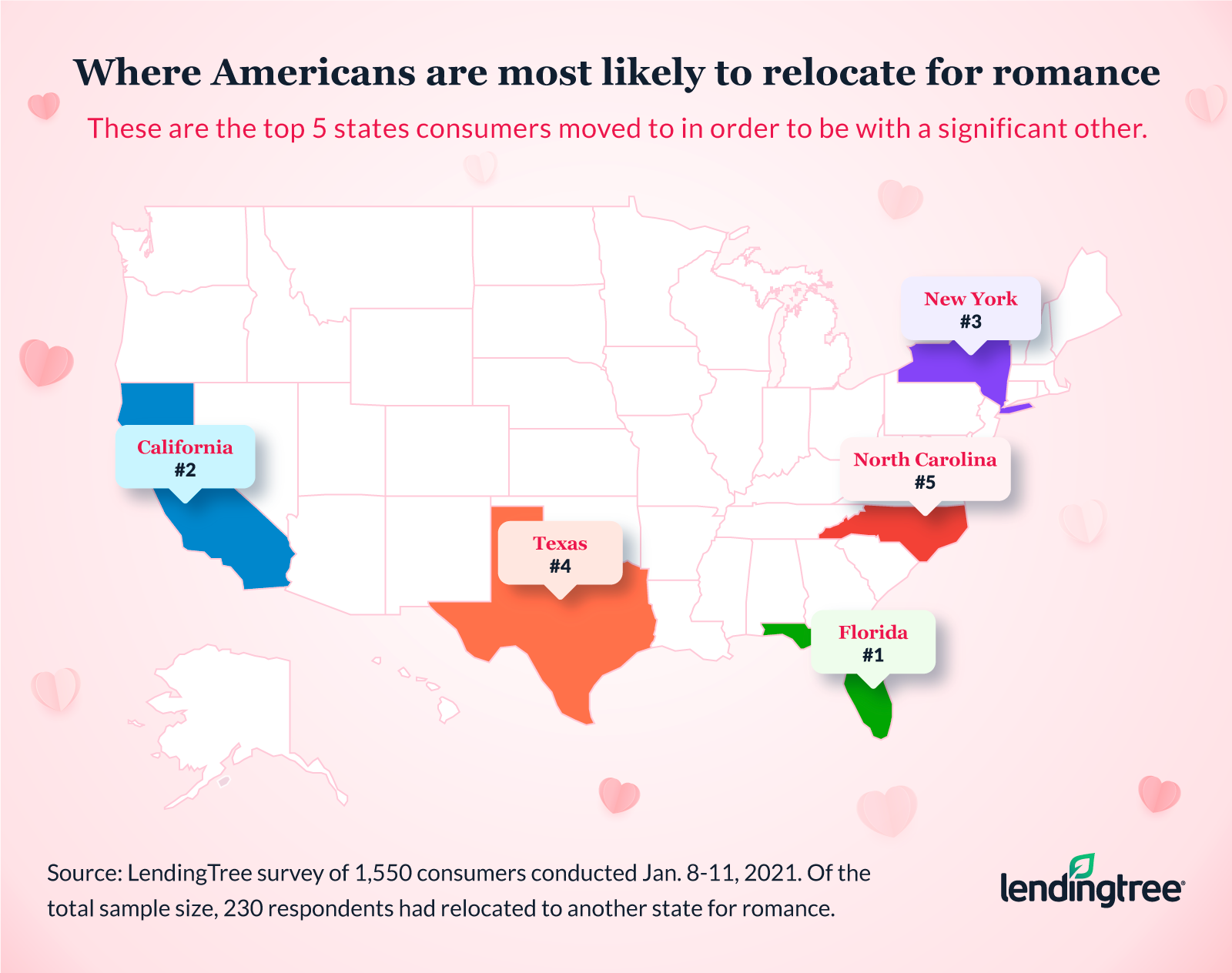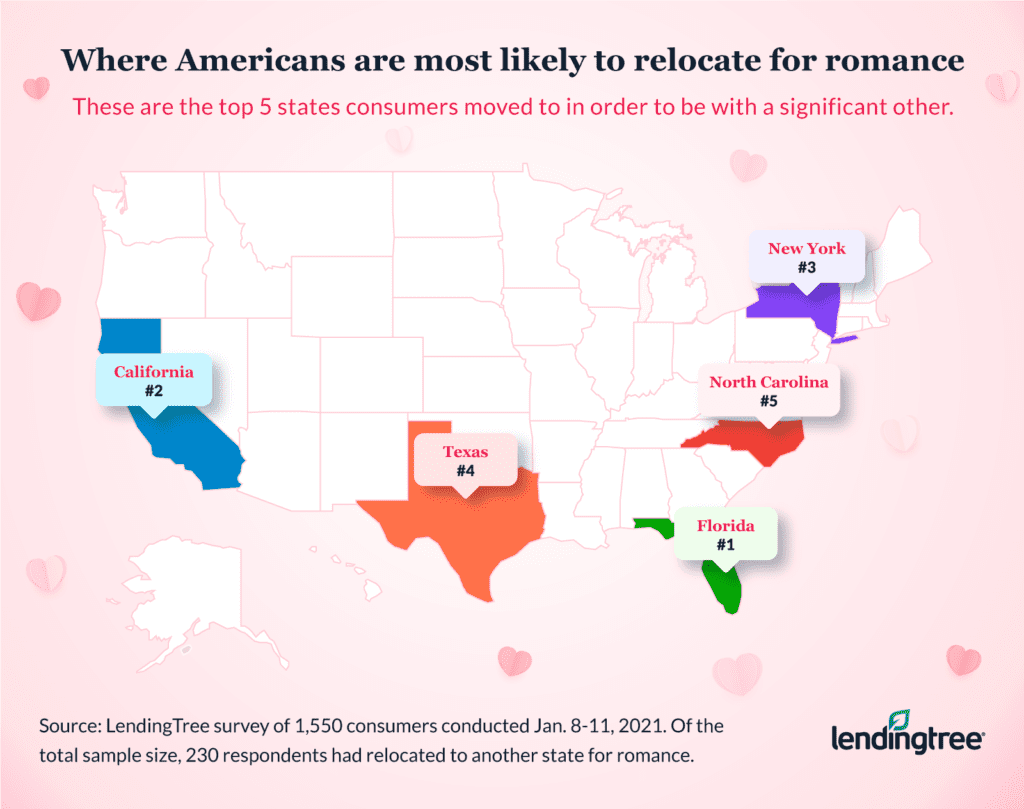 More than 1 in 5 (21%) of those who moved for love moved between 100 and 249 miles away from their previous residence. Another 11% moved more than 1,000 miles away. For reference, that's the same distance it takes to go from New York City to Tampa, Fla. That's quite the commitment.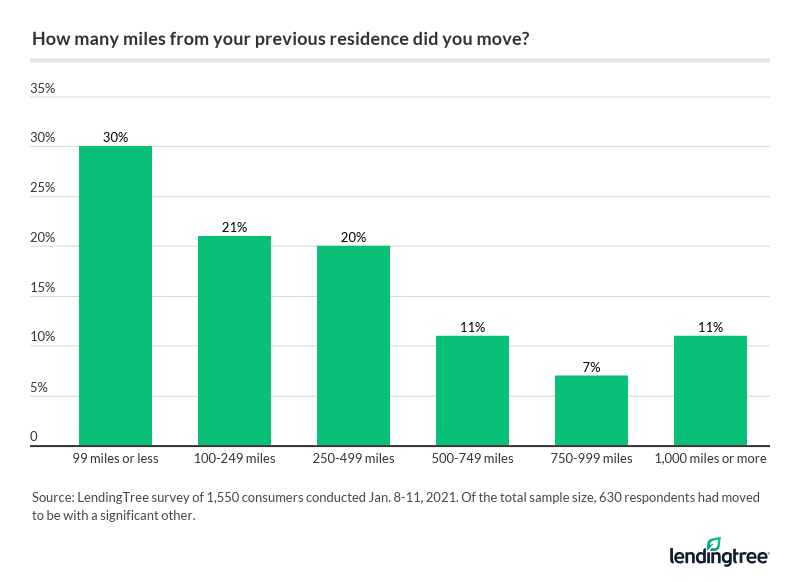 More than a third (38%) of the "movers for love" racked up debt to relocate. Of those who incurred debt, nearly half (47%) had at least a $5,000 balance. (Ouch.)
Women are more likely to regret moving for love
About 1 in 7 (15%) of Americans who chose to move for love ended up regretting their decision. When broken down by gender, women are more than twice as likely than men to regret moving for love — 22% versus 9%, respectively.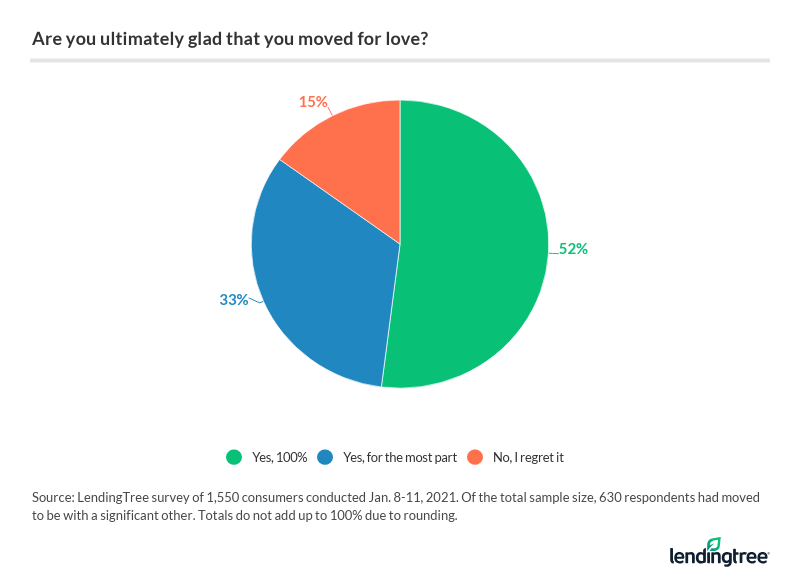 The reasons for regret include:
No longer with the person they moved to be with: 62%
Didn't end up liking the place they moved to: 25%
Had to leave a job they really loved: 17%
Moving left them in a bad financial position: 15%
Methodology
For this survey, LendingTree commissioned Qualtrics, an experience management firm, to field an online survey of 1,550 Americans. The survey was conducted using a non-probability-based sample and the sample base was proportioned to represent the overall population. Responses were collected Jan. 8-11, 2021 and were reviewed by researchers for quality control.
We used the following age ranges to define generations in 2021:
Generation Z: 18-24
Millennials: 25-40
Generation X: 41-55
Baby boomers: 56-75
The survey also included responses from members of the silent generation (ages 76 and older). They were excluded from the generational breakdowns, however, due to the small sample size.