How Does LendingTree Get Paid?
LendingTree is compensated by companies on this site and this compensation may impact how and where offers appear on this site (such as the order). LendingTree does not include all lenders, savings products, or loan options available in the marketplace.
Half of Americans Said a Restaurant They Loved Has Gone Out of Business Due to Pandemic
Updated on:
Content was accurate at the time of publication.
Why use LendingTree?
We are committed to providing accurate content that helps you make informed money decisions. The content on this page has not been reviewed, approved or otherwise endorsed by any credit card issuer. We do maintain partnerships with some issuers, and our site may be compensated through those partnerships. Read our .
The restaurant industry has no doubt been one of the hardest hit during the COVID-19 pandemic. In fact, half of Americans said a restaurant they loved has gone out of business in the past year, according to a LendingTree survey of more than 1,000 Americans.
Besides mandated shutdowns that forced restaurants in some areas to stay closed for periods of time, eateries are also feeling the impact of changed consumer behaviors, including those who have been avoiding or cutting back on indoor dining.
Key findings
Half of Americans said a restaurant they loved has gone out of business due to the coronavirus pandemic. Shuttered eateries were even more prominent in the Northeast, where 65% of respondents said the same.
Seven in 10 Americans have dined indoors at least once during the coronavirus pandemic. Those most likely to dine indoors include Gen Z (83%), six-figure earners (82%) and those living in the South (75%).
Nearly 60% of consumers have become big tippers, including at restaurants (28%), for food delivery (26%) and/or for takeout (17%). However, 23% said they did not tip at all the last time they picked up takeout from a restaurant, and 10% didn't tip the last time they ordered food delivery.
Many consumers dine out with strings attached. For example, 25% will only dine out with those in their immediate household, and 20% will only visit a restaurant if they can sit outdoors. And, they take safety protocols seriously: 41% said they've left a restaurant because it was overcrowded or people weren't wearing masks.
A third of consumers said their stance on dining out during the pandemic has caused tension with friends or family.
Half of Americans said a favorite restaurant has closed its doors
Many consumers said goodbye to a beloved restaurant because of the pandemic — about half, in fact. Northeast restaurants were hit particularly hard, with 65% of respondents noting that a favorite of theirs shut down.
"The pandemic has been an absolute catastrophe for the restaurant business," said Matt Schulz, chief credit analyst for LendingTree, especially smaller, family-run establishments. "So many have closed and so many more are teetering on the edge and will likely continue to until we see a major decrease in COVID-19 cases and these restaurants are open to their full capacity. That's likely not happening anytime soon."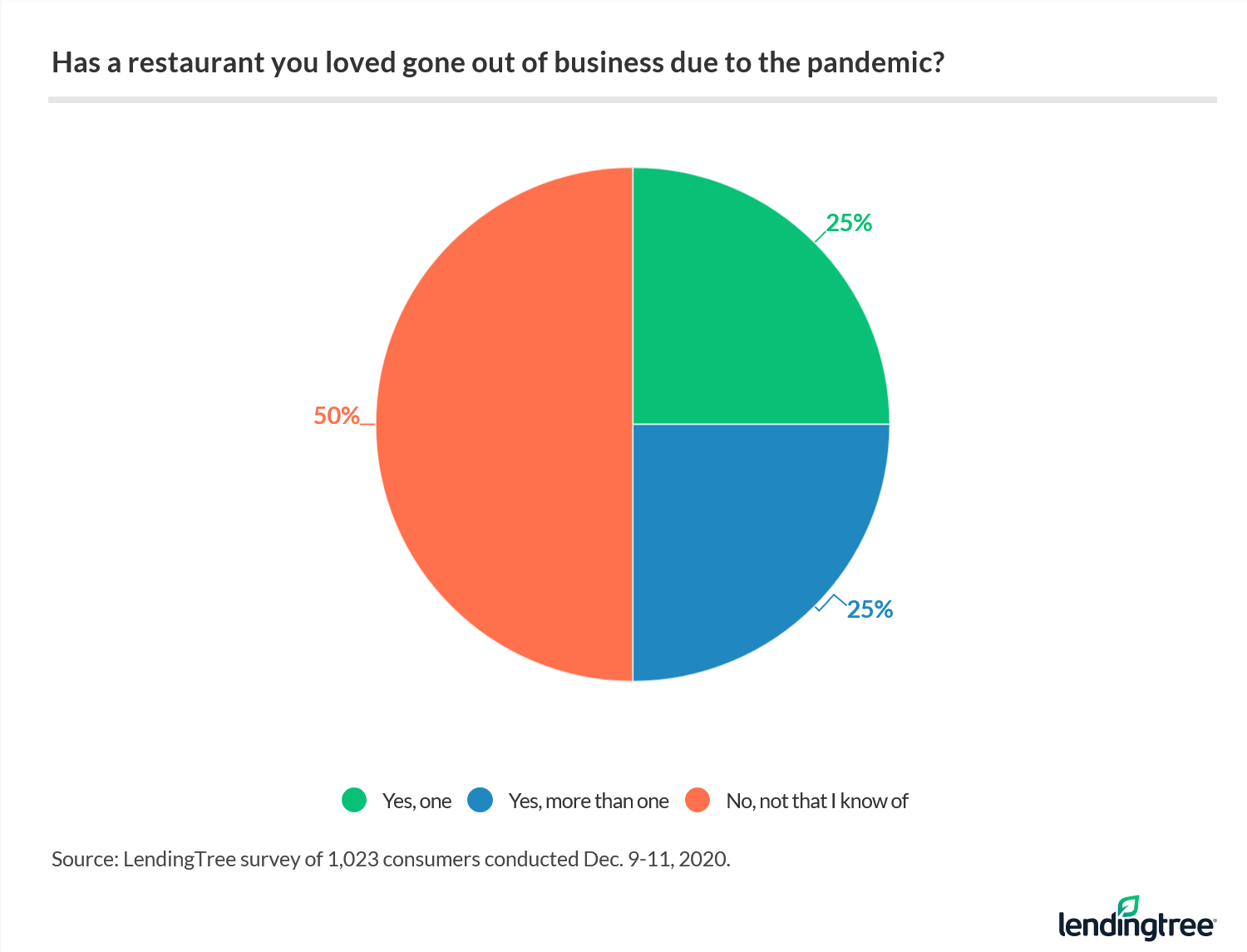 Besides weathering state-mandated closures, restaurants have also been faced with patrons eating out less often than before the pandemic. For example, 61% of consumers said they dined out at least once per week pre-pandemic. During the month of November 2020, however, that percentage dropped to 37%. Takeout and delivery frequency stayed the same, however, with around 57% saying they ordered in one or more times per week both before and during the pandemic — but that doesn't make up for the dining out losses.
What's more, in the past month, 37% of those surveyed did not dine at a restaurant at all. And, 18% said they have not patronized a restaurant in any way during the entire pandemic, including takeout/delivery.
"A huge number of Americans have avoided restaurants entirely throughout the pandemic, and that is understandable," said Schulz. Besides the obvious health and safety reasons, a significant part of the population simply can't afford the luxury of restaurant food right now, he added. "Millions of Americans have seen their financial world crash down around them and as much as they might like to visit their favorite Italian restaurant, sushi place or taqueria, it just is not a reality for them."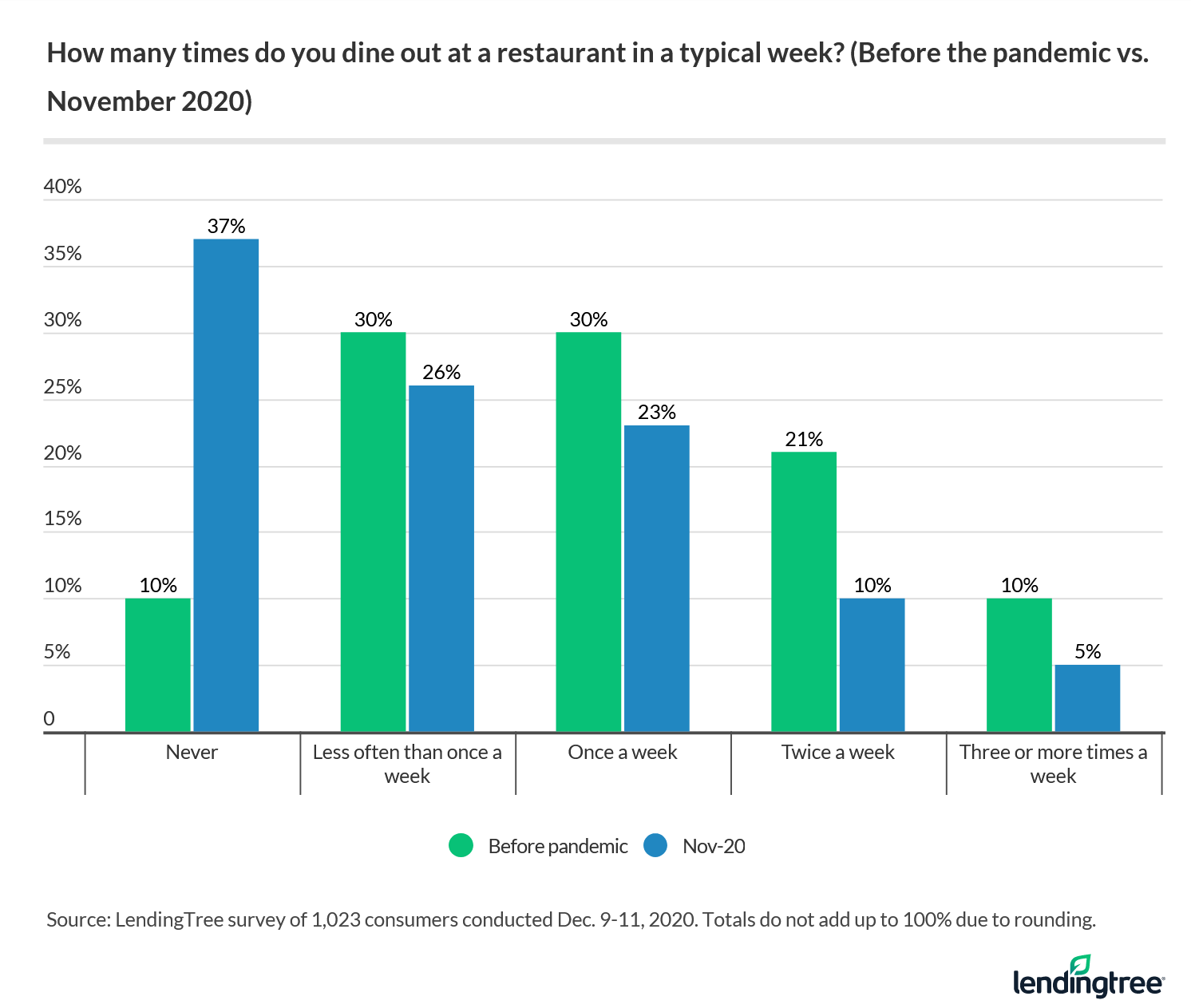 For those who can still afford to dine out, they have high expectations and strong feelings around the safest way to do so.
Consumers still dine out, but with strings attached
While 3 in 10 say they haven't dined indoors at all during the coronavirus pandemic, the majority of consumers have ventured out at least once. Baby boomers were the most hesitant to eat out, with 32% saying they will not do so under any circumstances.
There seems to be two extreme perspectives on dining out: On one hand, 18% of respondents have already returned to their pre-pandemic dining out behavior despite spikes in coronavirus cases. And then there's the 10% who don't think they'll ever go back to their normal dining out habits, and another 8% who say normalcy won't return until 2022 or later.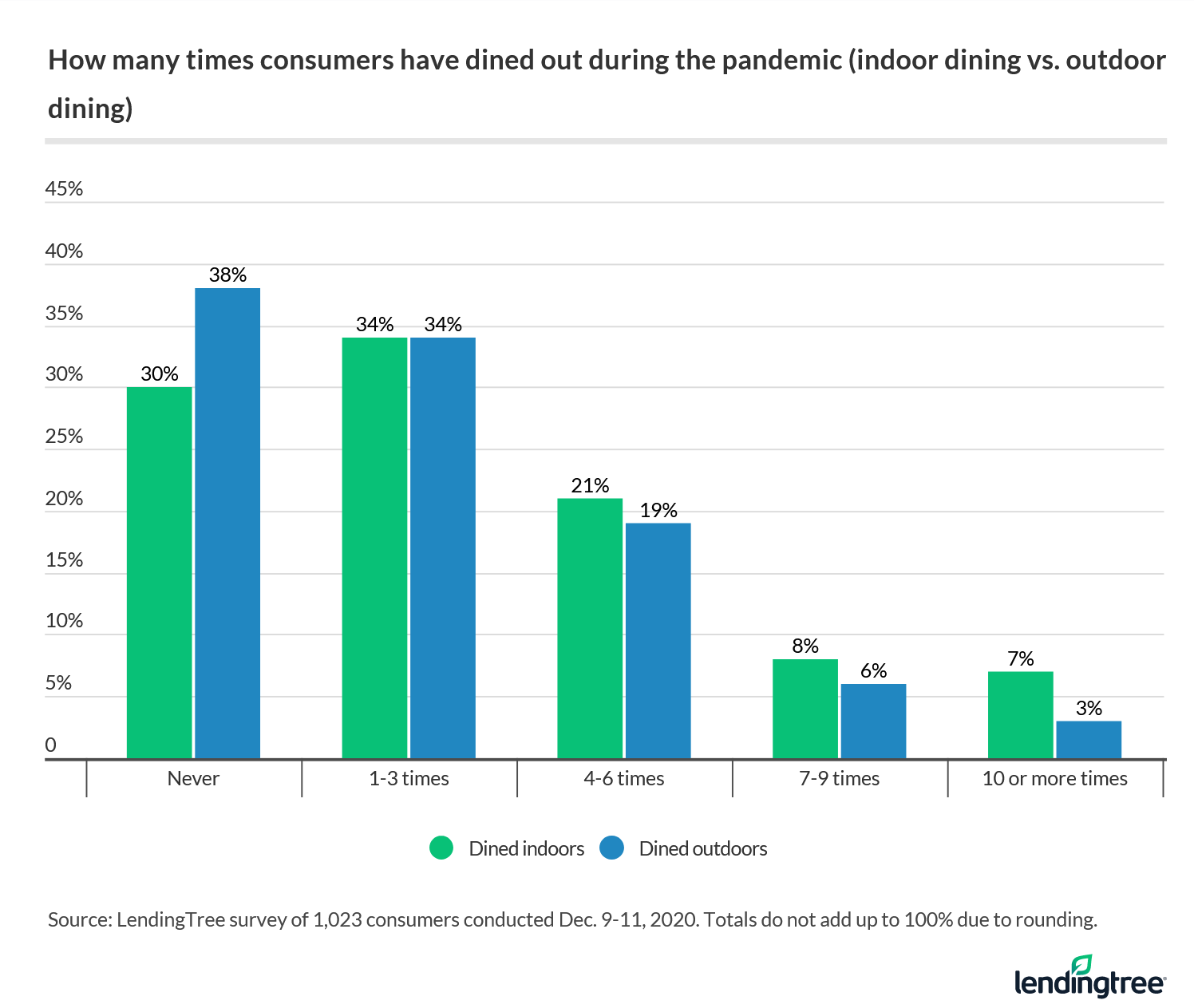 For those who are going out, there are some key things they will look for to make them feel comfortable.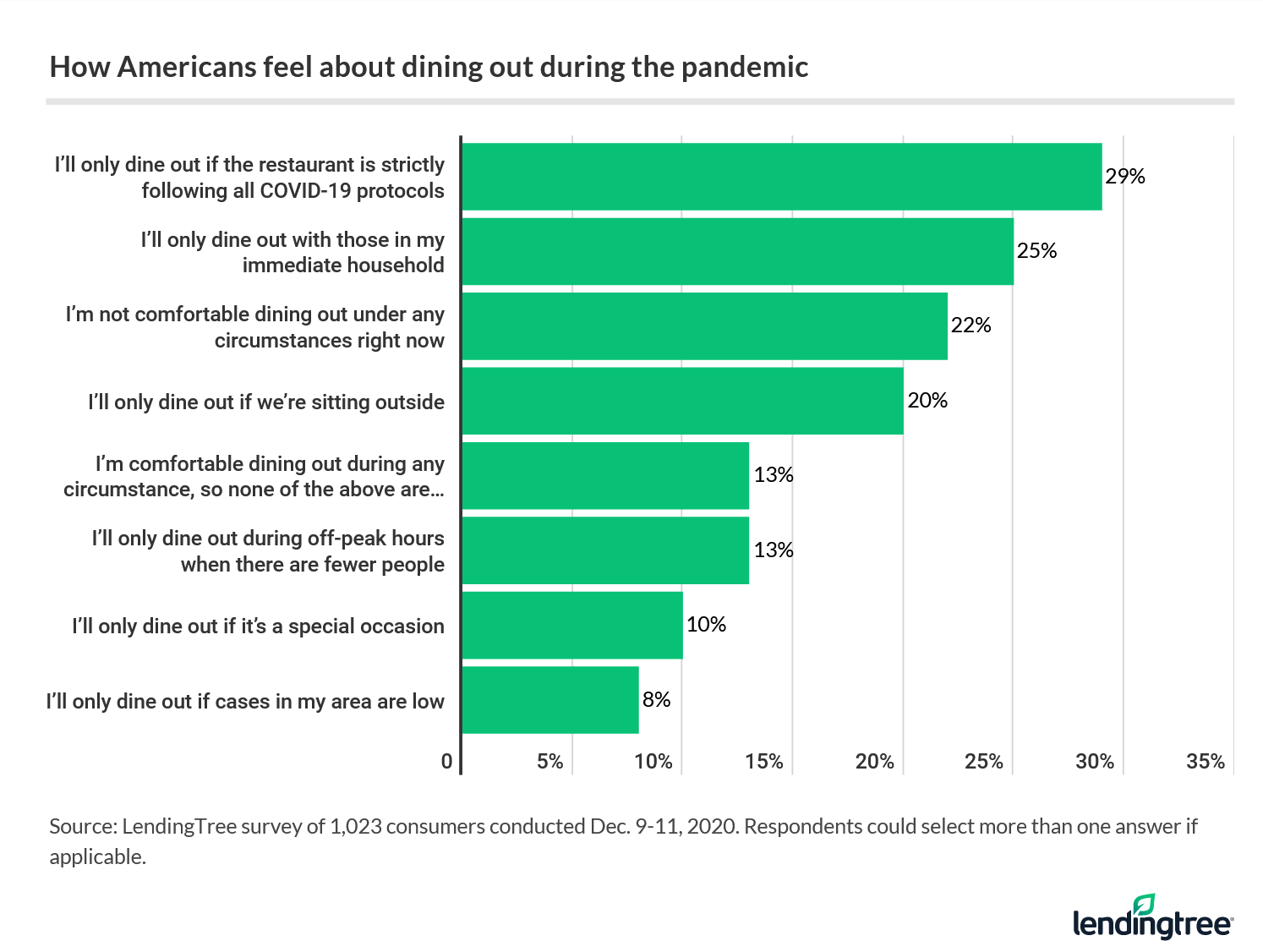 If at any time they feel that the situation is unsafe, such as a restaurant serving a higher capacity of people than allowed or a lack of masks, consumers have no problem getting up and leaving.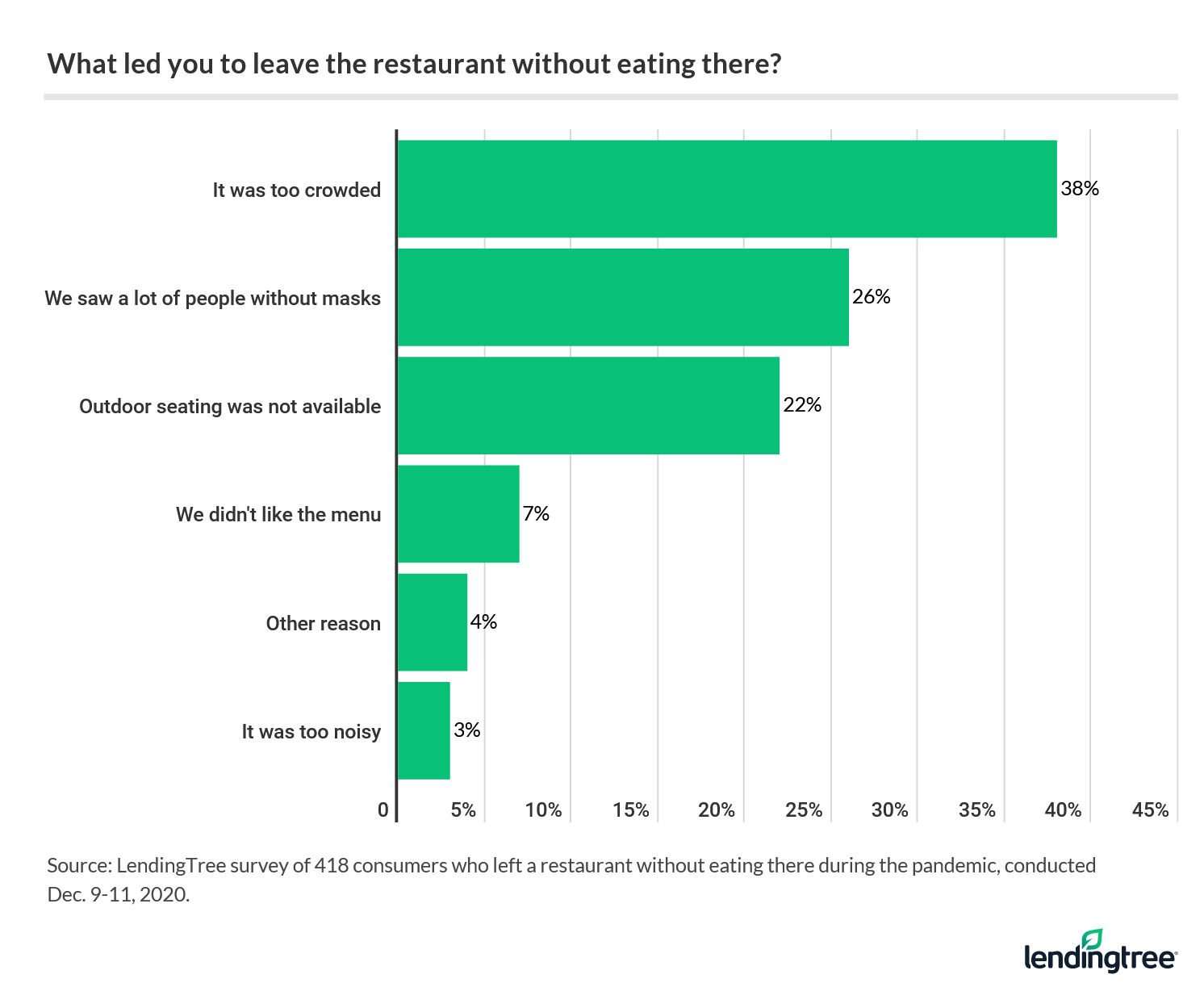 Like all things pandemic, people have strong feelings when it comes to whether or not dining out is worth the risk, with a third saying it's caused tension with friends and family who have opposing views. More men said this than women (41% versus 24%), while Gen X (47%) and Gen Z (46%) reported more tension than millennials (38%) and baby boomers (10%).
Still, the majority of consumers are looking forward to returning to their pre-pandemic dining out behavior this year. For 64% of respondents, they expect that to be by spring, summer or fall, or once they get vaccinated.
Consumers try to support local businesses and their employees — but some may be leaving rewards on the table
Many people are passionate about trying to support their favorite restaurants during this crisis. For instance, 32% of consumers said they're prioritizing eating local rather than at chain restaurants. In the Northeast, that number jumps to 42%.
"For the half of Americans who haven't seen one of their favorite restaurants close, consider yourselves lucky," said Schulz. He encourages consumers to patronize their favorite places in whatever way makes them feel comfortable, from getting takeout or delivery to dining on the patio, to buying a gift certificate. "It doesn't take much to make a real difference for these restaurants in a really difficult time."
Another major way some consumers are helping is by increasing the amount of tips they've been giving, which 6 in 10 said they are doing — and about one-third of people said they are giving 20% or more. This includes not only bigger tips at restaurants (28%), but also for delivery (26%) and/or for takeout (17%).
Of course, some aren't as much in the giving spirit, with 23% saying they did not tip at all the last time they picked up takeout from a restaurant, and 10% not tipping for their last food delivery.
"If you're doing OK financially right now, you really should tip more," said Schulz. "A little extra tip likely won't be a huge imposition on you, but for folks who need those tips to survive, those little extras can add up to a lot and make a real difference."
For those who legitimately can't spare that extra dollar or two for a tip, perhaps it's worth rethinking whether you should be dining out at all, adds Schulz. "As much as you might love treating yourself to a restaurant-made meal now and then, tough times mean that sacrifices need to be made. Giving up that occasional restaurant meal for a while might just be one of them."
As for how they're paying for restaurant purchases, 70% of Americans are using cash or debit cards. And while 28% are using credit cards, just 6% are taking advantage of dining-specific rewards cards.
"People who spend a lot at restaurants are probably missing out if they haven't reassessed their credit cards in a while," said Schulz. That's because card issuers are giving extra cashback rewards for takeout and delivery purchases, free memberships to delivery services and other perks to attract those who are still buying from restaurants regularly, he explained.
Since most lifestyles have changed dramatically since the pandemic began, the cards in your wallet may not be the best fit for you right now. "If you're spending big on dining and takeout right now, consider getting a card that rewards those things," said Schulz. Or, you can't go wrong with a flat-rate, same-rewards-on-every-purchase cashback card if you think your spending habits may change again once the pandemic fades away.
4 tips to help out your favorite restaurant
Skip the chains, eat local
We love chain restaurants, but that family-run restaurant down the street probably needs your help more right now. These smaller restaurants may not have the resources needed to weather the pandemic the way a big chain does, so every takeout order and every delivery is a big deal.
Takeout Tuesday and Thursday
Make it a point to order takeout on designated days of the week. It makes for a fun break from cooking during the workweek and doesn't have to cost much and can really help out these businesses.
Tip more and often, if you can
Our survey shows that people are tipping better during the pandemic, and that's great news. Let's keep it up! However, the data also showed that many folks still don't tip when picking up takeout or when getting delivery. Yes, money is tight for many of us, but if everyone simply added a dollar or two as a tip to every takeout and delivery order starting today, it could make a huge difference.
Stick that gift card in a drawer
Think of it as a donation to the restaurant. If you buy a gift card or gift certificate to your favorite restaurant and never use it, that's more profit for the restaurant, so if you can afford to simply buy and hold that gift card, do it. It doesn't mean you won't ever use it. It just means that you're holding onto it until the current economic crisis subsides and the restaurant is on better footing.
And 1 tip for helping yourself:
Review your credit card rewards
Many card issuers have tweaked their rewards offerings to reflect the changed spending habits brought on by the pandemic. If you haven't looked to see what your card's rewards look like today, you might be leaving rewards on the table. And if your card rewards don't fit your lifestyle anymore, consider shopping around for a new one that's a better fit at a site like LendingTree.com.
The bottom line
Restaurants have at least another few months of struggling to endure to make it past the pandemic. After seeing many of their favorite places close down for good, consumers who are financially secure are doing their part to support local businesses and tipping well — even if they're not necessarily ready to dine indoors just yet. As the vaccine continues to roll out, there is hope among most that they will return to their pre-pandemic dining habits sometime later this year.
Methodology
LendingTree commissioned Qualtrics to field an online survey of 1,023 Americans, conducted Dec. 9-11, 2020. The survey was administered using a non-probability-based sample, and quotas were used to ensure the sample base represented the overall population. All responses were reviewed by researchers for quality control.
We defined generations as the following ages in 2020:
Generation Z: 18 to 23
Millennial: 24 to 39
Generation X: 40 to 54
Baby boomer: 55 to 74
While the survey also included consumers from the silent generation (defined as those 75 and older), the sample size was too small to include findings related to that group in the generational breakdowns.