How Does LendingTree Get Paid?
LendingTree is compensated by companies on this site and this compensation may impact how and where offers appear on this site (such as the order). LendingTree does not include all lenders, savings products, or loan options available in the marketplace.
More Than 80% of Americans Plan Post-Vaccination Splurge
Published on: January 13th, 2021
Why use LendingTree?
We are committed to providing accurate content that helps you make informed money decisions. The content on this page has not been reviewed, approved or otherwise endorsed by any credit card issuer. We do maintain partnerships with some issuers, and our site may be compensated through those partnerships. Read our .
As COVID-19 vaccinations continue across the nation, bringing hope to millions that an end to the pandemic is on the horizon, more than 8 in 10 Americans who plan to get vaccinated say they're planning a celebratory splurge for 2021.
That's according to a new report from LendingTree. However, not everyone is quite so ready to spend — 15% of people say that in the wake of the pandemic, they'll never feel financially secure again.
That split is the pandemic's economic impact in microcosm. Many Americans are thriving financially, having benefited from staying at home, reducing their spending and paying down debts while maintaining their jobs and their incomes.
Millions of others, however, have been devastated financially in the wake of the COVID-19 pandemic and are struggling just to keep the lights on and food on the table.
Our study shows the first group is itching to spend, tired of avoiding restaurants, airplanes and other staples of pre-pandemic life, while the second group is fearful their dreams of financial stability are gone forever.
Key findings
82% of those planning to get vaccinated will splurge on something to celebrate afterward, such as a fancy dinner out or a vacation. That includes 30% who plan to splurge almost immediately after vaccination and 52% who said they'll wait a while before doing so. Millennials are more likely to be planning a celebratory splurge than any other age group.
15% of consumers said they'll never feel secure in their financial position again, even with the promise of a vaccine bringing an end to the pandemic. Women were nearly twice as likely as men to say that (20% vs. 11%).
Even after a vaccine, many Americans will continue to save as much as possible. 55% said they'll keep saving as much as possible in case the pandemic returns, while 37% will ease up on savings a bit but continue to sock money away. Just 8% will stop saving once vaccinated.
72% of respondents have splurged to feel safer amid the coronavirus pandemic. The most common splurges include grocery delivery (30%) and high-quality face masks (25%).
Most consumers who splurged to feel safe said they'll continue spending extra on at least one thing even after the pandemic, primarily grocery delivery and first-class travel. However, there are some things consumers won't go back to even after a vaccine is widely available, especially dining out and going to the movies.
Ready to splurge
The arrival of COVID-19 vaccines is indisputably good news. And while it's important to understand that not everyone intends to get vaccinated — 23% of those we surveyed said they don't plan to get it — for those who do, it's a source of great hope. It's a reason for optimism that's been so lacking during one of the most difficult periods in American history.
When Americans are hopeful, they tend to want to spend. Our report is further proof of that.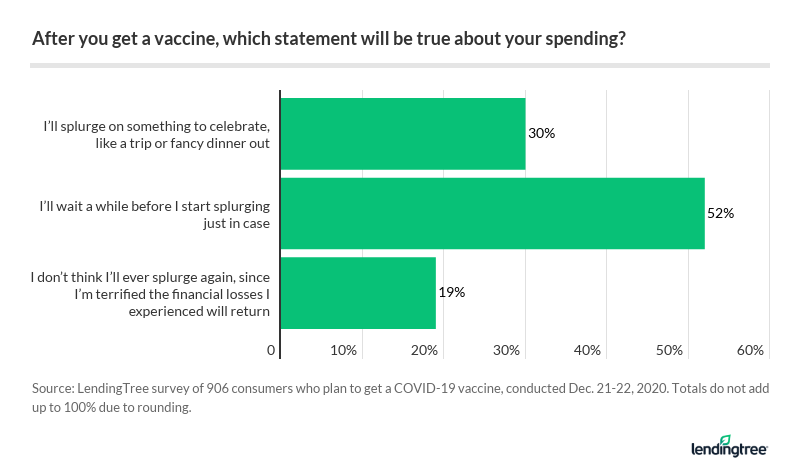 Of those who plan to get vaccinated, more than 80% plan some sort of post-vaccination splurge, like a trip or a fancy dinner out. Most folks plan to wait a while before splurging "just in case," but nearly a third won't.
That eagerness is likely a good sign. Once Americans get back to spending, jobs will be created and the economy can begin to recover from the devastation wrought by the pandemic.
But not everyone shares in that eagerness: Nearly 1 in 5 (19%) who plan to get vaccinated said they don't think they'll ever splurge again.
Pandemic splurges more about safety than fun
People didn't necessarily stop splurging during the pandemic, though — many folks just splurged on different things. Nearly 3 in 4 people we asked said they'd splurged on things to make themselves feel safer during the pandemic.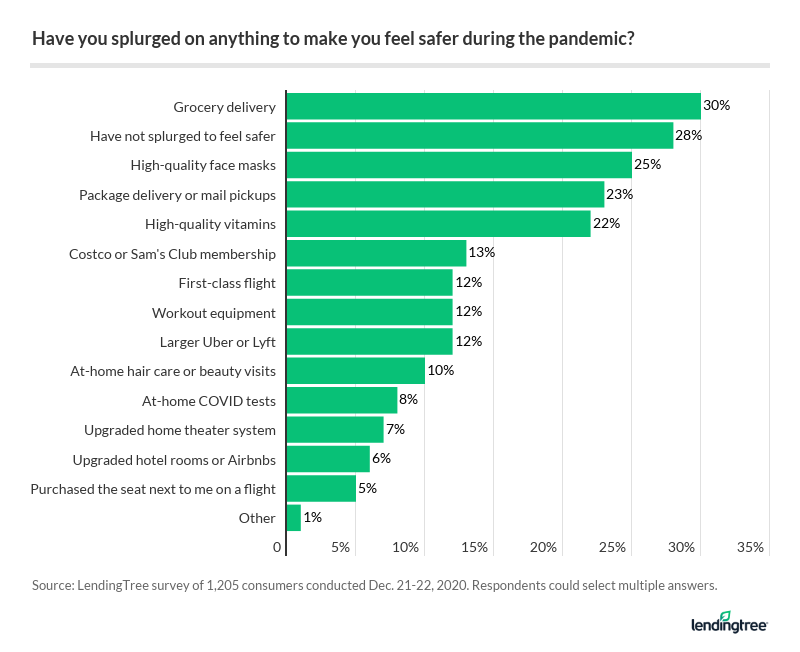 Looking back, the most common splurges encompassed a combination of health, safety and convenience. Grocery and package delivery, high-quality face masks and high-quality vitamins all certainly fit that description.
Some of the least common splurges? First-class flights, home theaters, upgraded rideshares and hotels or rental properties.
When thinking of what they'll splurge on going forward, the perspective changes. Grocery delivery and vitamins remain popular, but travel-related luxuries become a priority. First-class flights and upgraded rideshares were the second and fifth most common answers, respectively.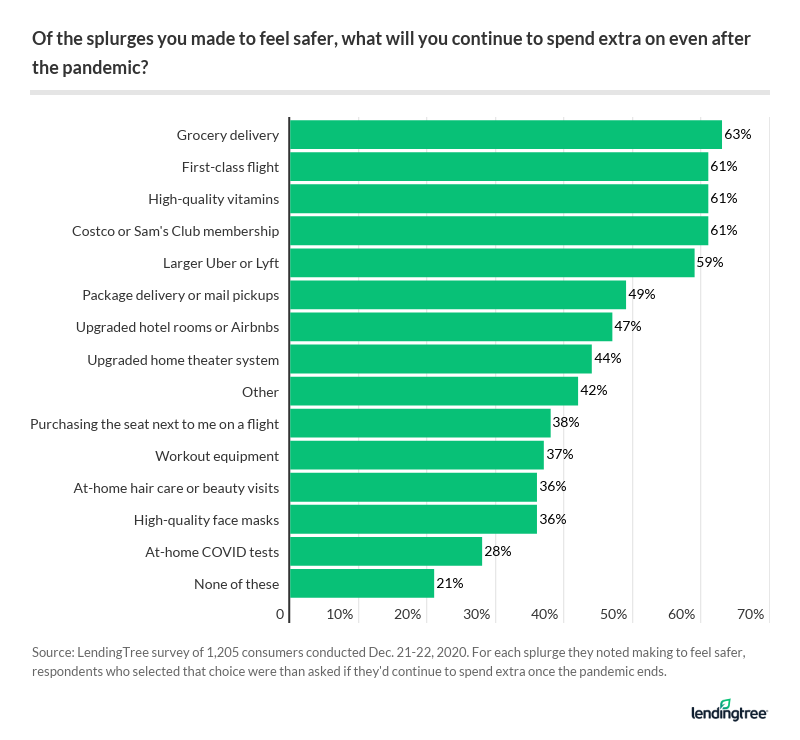 Some say they'll never be the same
For many, however, first-class flights and high-end Uber rides are little more than a dream. Nearly 1 in 6 consumers (15%) said they'll never feel secure about their overall financial position again, vaccine or no vaccine.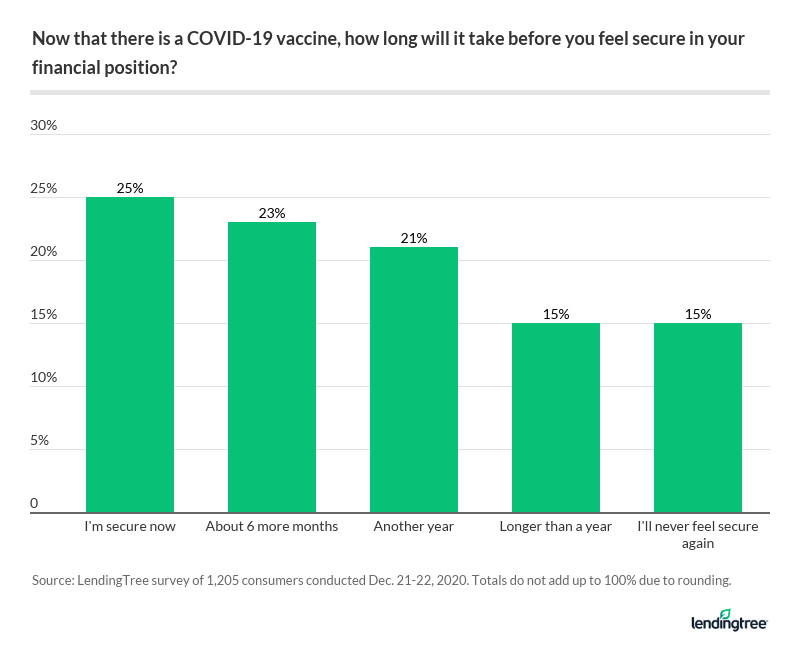 Women were nearly twice as likely as men to make that claim, but that hopelessness isn't just limited to one subset of people. For example:
20% of baby boomers said so, as did 16% of Gen X
16% of people who said their income was not impacted by the pandemic said so, as did 14% who were laid off or furloughed and 22% of those whose income was impacted in other ways
17% of political independents said so, but so did 14% of Republicans and 12% of Democrats
Still, most consumers do believe they'll get back on their feet financially after the pandemic is in the rearview mirror. Twenty-five percent said they're financially secure today, while 23% said they expect to feel that way in six months and 21% said it'll take a year. Fifteen percent said it will take more than a year, but they'll eventually get there.
Still planning to save more
Our survey shows Americans have clearly learned at least one important financial lesson from the pandemic: Save, save, save — and then save some more.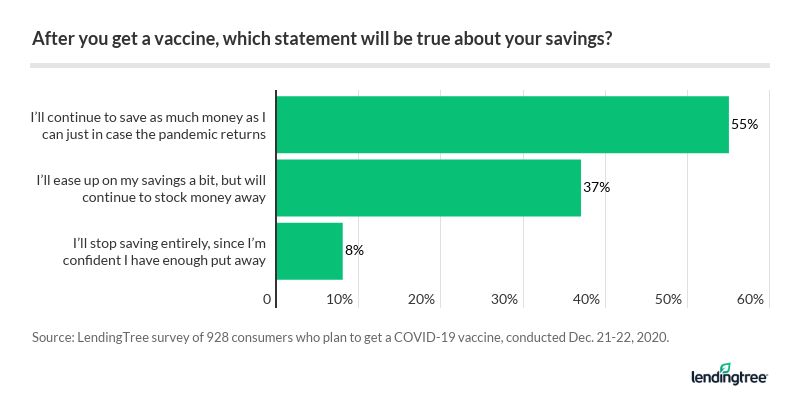 More than half of those who plan to get the vaccine (55%) said they'll continue to save as much money as possible in case the pandemic returns. Another 37% said they'd ease up a bit once they're vaccinated, but will continue to put money away for a rainy day. Just 8% said they'll stop saving after their vaccination, confident that they have enough.
Men, older Americans and wealthier Americans were the most likely to say they'll keep saving as much as possible, but significant numbers of consumers from all slices of life said the same.
The bottom line
Hope is an incredibly powerful thing, and the fact that it's beginning to rise after the year we've all just been through is unquestionably a good thing. However, that doesn't change the fact that the economy is still a mess and millions of Americans simply can't afford a splurge of any kind right now.
It doesn't have to be that way forever, though. Here are some steps you can take so you can be able to splurge comfortably once you've gotten that vaccine.
Keep building that emergency fund: An emergency fund is your first priority, ideally one worth three to six months of expenses. If you don't have one, you need to build one. Even if you start small, be sure to start, even if it means you'll have to splurge a little bit less to make it happen.
Create a "splurge fund": As you build that emergency fund, it's OK to set a little bit of savings aside to treat yourself with going forward. Having savings earmarked for a vacation or some other kind of splurge means less worry about treating yourself into debt. (Of course, if your financial fortunes take a turn and you end up needing to use that splurge fund to supplement your emergency fund, do it. Then, when you can, start rebuilding that "treat yourself" fund.)
Revisit your budget: The start of a new year is always a good time to revisit your budget, and that's especially true after a year that brought as much change as 2020. It's impossible to create a meaningful plan to knock down debt or ramp up savings unless you know exactly how much money is coming in and going out of your household each month. Once you know that, think about what you can do to cut expenses and increase your income so you can ramp up your savings.
Reduce your interest payments: If you're struggling with high-interest debt, you have options. Consider a 0% interest balance transfer credit card. These can help you avoid interest on balances for a year or more. A personal loan could work as well: You won't find 0% offers with these loans, but if you have good credit, you may be able to find rates that are lower than what you have on that high-APR credit card.
Be flexible and cut yourself some slack: It's been a difficult and emotionally draining year for most everyone, so it's completely understandable that people want to splurge once they've been vaccinated. If you treat yourself and end up taking on a little bit of debt, that's OK — just don't go too crazy. You might have to dial back your splurge a little bit to keep from pushing yourself into debt, but that's OK, too. After the year we've all had, even just a little bit of splurging can go an awful long way.
Methodology
LendingTree commissioned Qualtrics to field an online survey of 1,205 Americans, conducted Dec. 21-22, 2020. The survey was administered using a non-probability-based sample, and quotas were used to ensure the sample base represented the overall population. All responses were reviewed by researchers for quality control.
We defined generations as the following ages in 2020:
Generation Z: 18 to 23
Millennial: 24 to 39
Generation X: 40 to 54
Baby boomer: 55 to 74
While the survey also included consumers from the silent generation (defined as those 75 and older), the sample size was too small to include findings related to that group in the generational breakdowns.