How Does LendingTree Get Paid?
LendingTree is compensated by companies on this site and this compensation may impact how and where offers appear on this site (such as the order). LendingTree does not include all lenders, savings products, or loan options available in the marketplace.
Americans Laid Off Due to Coronavirus Pandemic Among Most Likely to Give to Charity
Published on: June 23rd, 2020
Why use LendingTree?
We are committed to providing accurate content that helps you make informed money decisions. Our partners have not commissioned or endorsed this content. Read our .
The year 2020 has granted us no shortage of charitable causes to which we can give our money. Between the coronavirus pandemic putting millions out of work and so many nonprofits within the Black Lives Matter movement, it seems like there are more ways than ever to put our wallets to good use.
Charitable giving is a deeply personal financial commitment, but more than 1,000 Americans divulged their donating habits to LendingTree, telling us which causes are close to their hearts, and which causes they donated to in 2020.
Key findings
About 55% of consumers have donated to a nonprofit organization at some point in 2020. Last year's survey showed that 65% of Americans had donated to charity as of September 2019, suggesting a possible slowdown in charitable giving this year.
Americans who have been laid off or furloughed due to the COVID-19 crisis were among the most likely to donate (62%). More than one-third (37%) of those surveyed said they've changed their charitable giving behavior in recent months as the coronavirus outbreak spread in the U.S.
Americans have found new ways to give back amid the COVID-19 crisis. Nearly 13% of respondents sent money to a relative who was laid off, and 7% reported buying gift cards from local businesses.
The top 5 causes consumers have contributed to so far this year: Religious groups and churches (27%), food banks (23%), animal welfare groups (23%), coronavirus relief funds (23%) and health organizations (21%).
Contributions to religious groups are driven almost entirely by older Americans. 41% of baby boomers and 36% of the silent generation donated to a religious-related cause, versus just 10% of Gen Z and 21% of millennials.
People were least likely to give to social justice causes (7%), international/humanitarian rights organizations (8%), arts and culture (11%) and racial justice causes (11%).
However, nearly 18% of Gen Z said racial justice is the cause currently closest to their heart, meaning they'd prioritize donating to that cause over any other. Almost 14% of millennials said the same. Ultimately, though, every generation aside from Gen Z selected animal welfare as their most-beloved cause.
Social media spurs many young Americans to donate. Roughly 52% of Gen Z and 45% of millennials have donated to a cause this year after hearing about it on social media.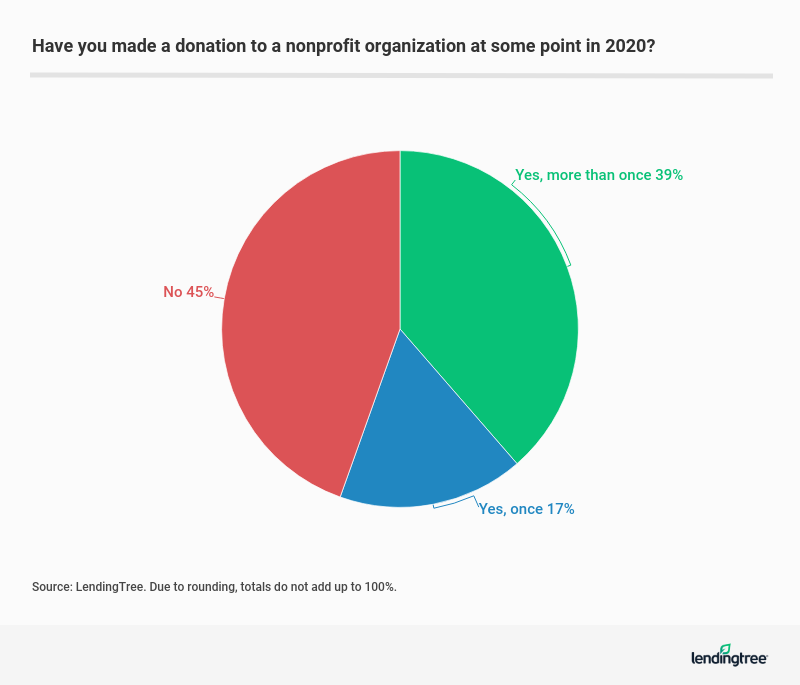 37% of Americans say coronavirus pandemic has changed charitable giving behavior
More than one-third (37%) of Americans have changed the way they donate money to charity because of the coronavirus pandemic. That number includes 15% who paused some of their usual donations due to income loss and 14% who donated to a new organization, either as a one-time gift or a new recurring contribution.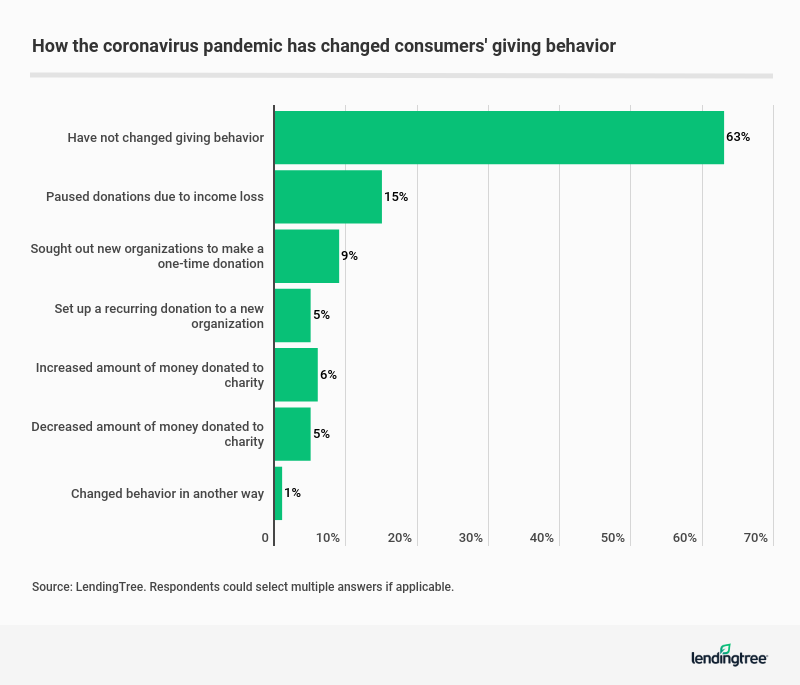 Americans find creative new ways to assist each other during the pandemic
When it comes to charitable giving during the pandemic, it's not as simple as cutting a check to a nonprofit organization. Americans reported helping their neighbors in a variety of ways, such as:
Donating to a local relief fund (13%)
Sending money to a loved one who was laid off (12%)
Purchasing gift cards from a local business (7%)
Plus, some consumers (30%) continue to pay for services they can't use due to social distancing guidelines, like housekeeping and babysitting. For example, 16% of parents with kids under 18 said they're continuing to pay a babysitter for their normal hours despite not actually using the service, and 9% of consumers overall elected to continue paying for a gym membership.
That charitable behavior carries over to leisure spending, as well. With many Americans ordering takeout to support local business – and with restaurants and bars reopening with limited capacity in some states – some patrons have changed their tipping habits. About 37% of consumers said they're tipping more than usual due to the coronavirus pandemic, although 10% said they're tipping less.
Religious groups, food banks, animal welfare among other popular causes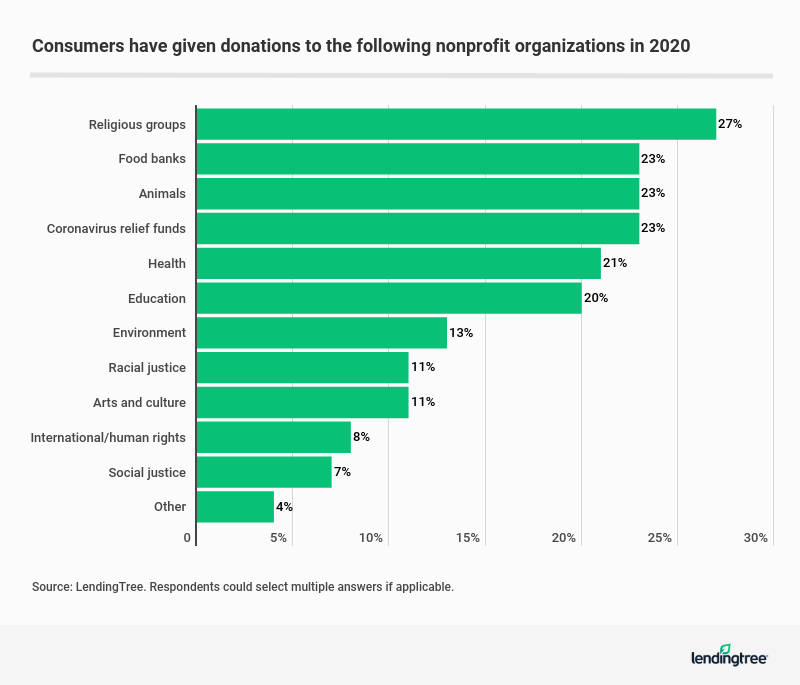 While many consumers have shifted their charitable giving habits to reflect the needs presented by the COVID-19 crisis, one thing still rings true: Americans donate to churches and religious organizations at high rates. It was the No. 1 cause that our respondents supported, with 27% of those surveyed saying they gave to a church or religious organization in 2020.
After churches, there was a three-way tie for second: 23% of respondents donated to animal welfare causes, coronavirus relief funds and food banks, respectively. Following close behind were health-related nonprofits, at 21%, and educational nonprofits, at 20%. Keep in mind that respondents were given the choice to select all answers that applied to their situation.
Other causes were less popular among consumers. Just 7% of those surveyed had given to a social justice charity in 2020, and 8% gave to an international/humanitarian rights organization. Just over one in ten (11%) gave money to either racial justice causes or arts and culture.
Reasons for giving vary among generational, political lines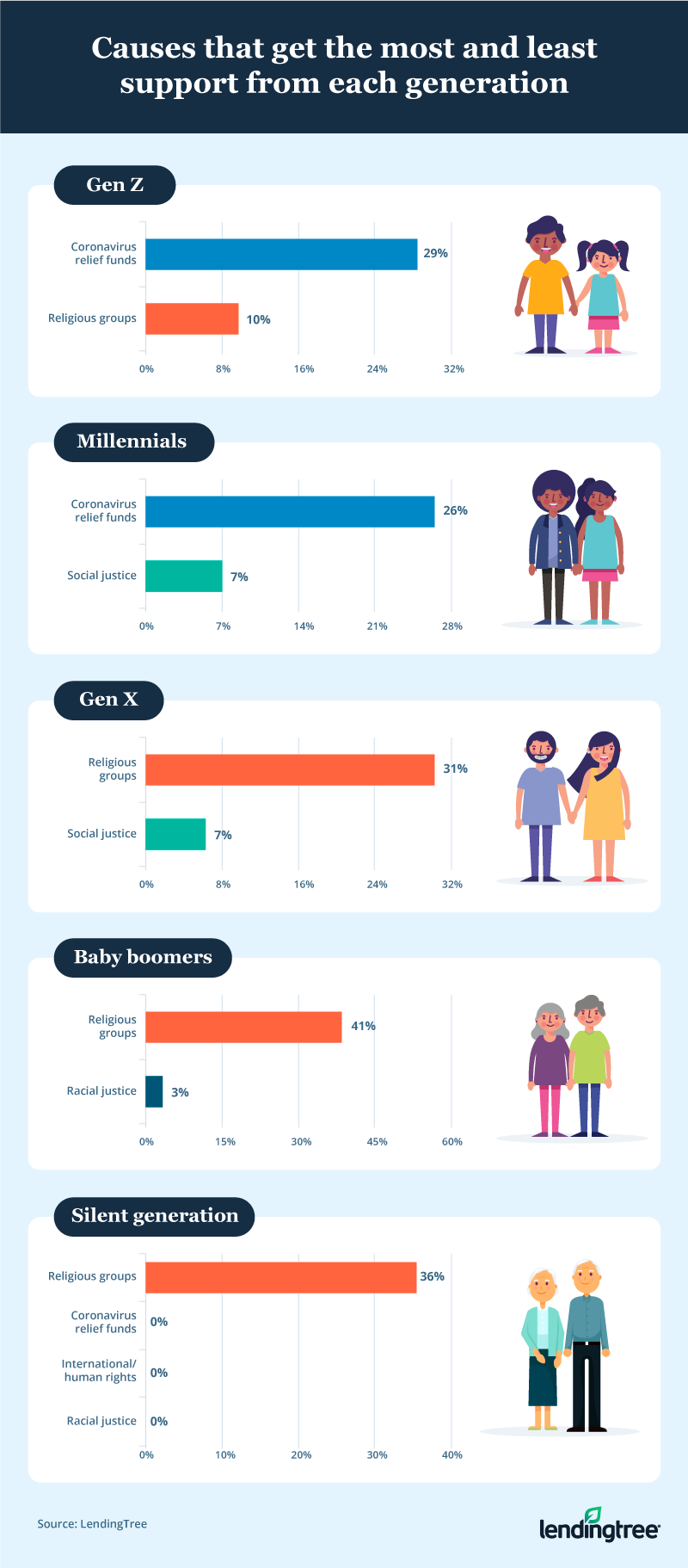 Both age and political affiliation had a clear impact on how consumers spent their charitable dollars. While the younger generations supported causes like coronavirus relief aid at high rates, older generations gave to churches and religious organizations more consistently. Although across the board, Americans gave money to animal welfare causes and food banks in significant numbers.
Nearly 1 in 5 (19%) Democrats have donated to a racial justice cause this year, versus 8% of Republicans and 6% of Independents. On the other hand, 17% of Democrats have donated to a religious cause, versus 29% of Republicans and 38% of Independents. Republicans were slightly more likely to donate to education and Democrats slightly more likely to donate to the environment.
People don't always donate to the causes they feel most strongly about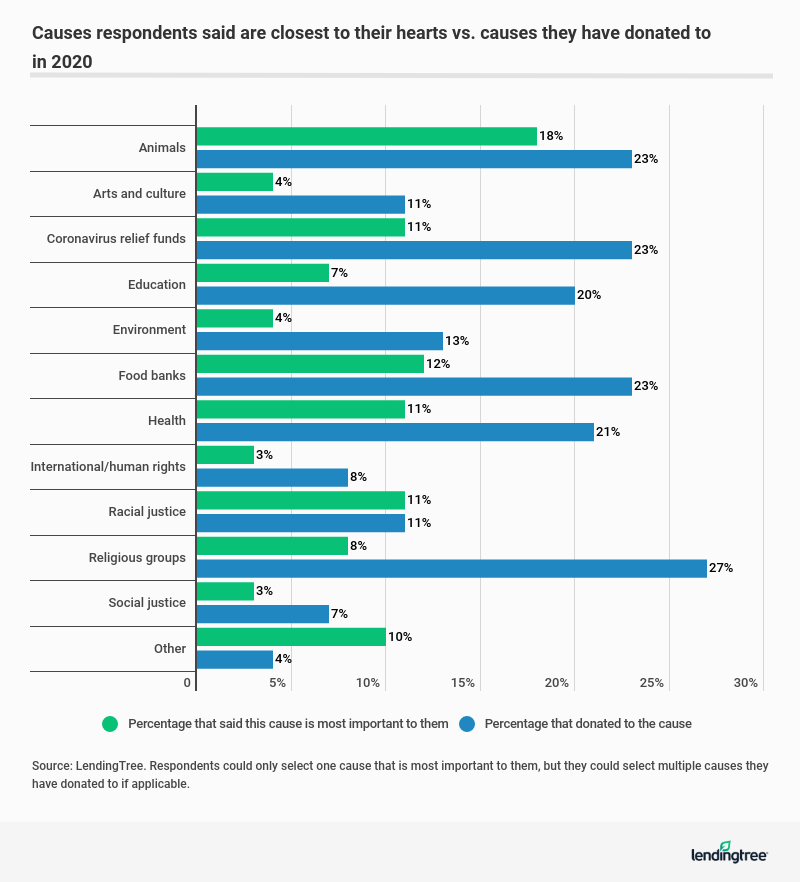 Just because someone feels particularly close to a specific cause doesn't mean they'll donate to that cause – and some people may feel obligated to give to charity even if it's not a cause that's close to their heart. The top five causes closest to Americans' hearts are:
Animals (18%)
Food banks (12%)
Coronavirus relief (11%)
Health (11%)
Racial justice (11%)
Interestingly, just 8% said religious groups are their biggest donating priority right now, despite the fact that it is consumers' most-donated cause in 2020.
Methodology
LendingTree commissioned Qualtrics to conduct an online survey of 1,020 Americans, with the sample base proportioned to represent the overall population. The survey was fielded June 12-15, 2020.
We defined generations as the following ages in 2020:
Gen Z are ages 18 to 23
Millennials are ages 24 to 39
Gen X are ages 40 to 54
Baby boomers are ages 55 to 74
Silent generation are ages 75 and older