How Does LendingTree Get Paid?
LendingTree is compensated by companies on this site and this compensation may impact how and where offers appear on this site (such as the order). LendingTree does not include all lenders, savings products, or loan options available in the marketplace.
56% of Americans Donated to Charity in 2021, at Average of $574
Updated on: November 29th, 2021
Editorial Note: The content of this article is based on the author's opinions and recommendations alone. It may not have been reviewed, commissioned or otherwise endorsed by any of our network partners.
With this year's Giving Tuesday fast approaching on Nov. 30, LendingTree surveyed more than 2,000 Americans to learn whether they're planning to make charitable contributions that day and assess their donations so far in 2021.
Among the most notable findings is that 56% of Americans donated to charity in 2021, though that's down 14% from pre-pandemic levels. In addition, LendingTree researchers analyzed tax returns in 100 of the largest U.S. metros to rank the most and least charitable places in the U.S. using various metrics. At the top is Birmingham, Ala., while Worcester, Mass., is at the bottom.
Get more insight into Americans' most popular causes, which generations and metros are the most charitable, and who's participating in Giving Tuesday.
Key findings
More than half (56%) of Americans donated to charity in 2021, at an average of $574. More baby boomers donated to charity than any other generation (60%), but millennials donated the largest average amount ($637).
Charitable donations are down 14% from pre-pandemic levels. The 56% who donated to charity in 2021 is about same as in 2020 (55%), but well below 2019 levels (65%).
Food banks are the top cause Americans contributed to this year, followed by religious groups and animals. In addition, 27% made a coronavirus pandemic-related financial gift this year, while 21% contributed to funds associated with racial justice.
Social media plays a big role in charitable donations, especially for younger consumers. This year, 49% of Gen Zers donated to a cause or person they discovered on social media, 43% contributed to a crowdfunding campaign and 20% donated to a friend's Facebook birthday fundraiser.
More than one-third (35%) of Americans plan to donate in honor of Giving Tuesday this year. This is led by Gen Zers at 48%, followed by millennials at 42%.
Birmingham, Ala., is the most charitable metro in the U.S., while Worcester, Mass., is the least charitable. Among the three metrics that contributed to Birmingham's top ranking, 91.8% of itemized returns there contain a charitable contribution, third-highest in the U.S. (The average across the 100 U.S. metros examined is 84.3%). Meanwhile, in Worcester, charitable donations among those who itemize average $5,807, lowest in the U.S. (The average across the 100 U.S. metros is $12,677.)
Who's donating to charity — and how much
More than half (56%) of Americans have donated to charity in 2021. While similar to last year's 55%, it's still down from pre-pandemic levels in 2019, when about two-thirds made charitable contributions.
"It doesn't surprise me that folks might be more likely to simply save their money or pay down debt with it rather than donating it," says Matt Schulz, LendingTree chief credit analyst.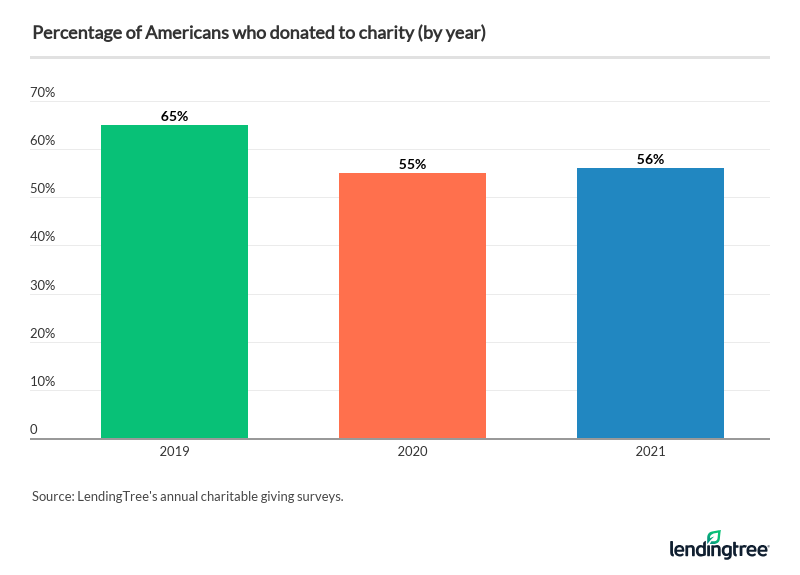 Still, some people are finding it in their hearts to open their wallets. Baby boomers (ages 56 to 75) are the most giving generation this year, with 6 in 10 giving to a nonprofit cause. Gen Zers (ages 18 to 24) are the second most generous group at 57%.
As you might expect, higher earners make up a higher percentage of donation-givers, including three-quarters of those making $100,000 or more. And when it comes to political leanings, Republicans barely edge out Democrats and independents by a couple of percentage points.
As for how much Americans give, the average charitable donation amount reported by respondents in 2021 is $574. Back in 2019, most respondents (73%) donated less than $500 to charity, so those who are giving this year are generally providing more.
By generation, millennials (ages 25 to 40) give the largest average amount — $637 — just edging out baby boomers by $4. Giving the least out of the age groups ($437) are Gen Xers (ages 41 to 55) — though this is a group likely feeling "sandwich generation" financial strains as they care for both children and parents at the same time.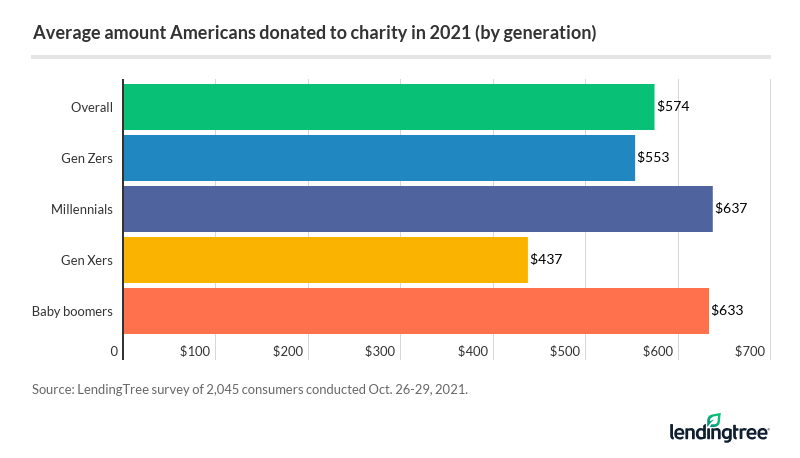 Men typically give higher average amounts than women — $711 versus $446 respectively.
As for why charitable contributions have been down for the last couple of years, Schulz says it most likely comes down to the pandemic wreaking havoc on finances.
"People are worried about keeping the lights on and putting food on the table, not making charitable donations," he says.
Tight budgets are certainly a fact of life for just over half (51%) of respondents who say they don't make enough money to donate to charity. Strangely, that percentage is lower than in 2019, when 56% said the same.
That said, given that lower wage-earners had higher percentages saying they can't afford to be charitable, lack of income is likely a leading reason why donations have remained down since the coronavirus crisis swept the nation. Being in debt can contribute to the ability to give, as the 2019 version of this LendingTree survey reported.
Food banks top list of contributions, followed by religious groups and animals
The top three causes for most Americans revolve around feeding the hungry, supporting religious institutions or programs and protecting animals, followed by health and education charities.
For Gen Zers and millennials, animal-related causes are most popular, while 47% of baby boomers and 44% of Republicans gave to churches and religious groups, much higher than their younger counterparts and those who identify with other political parties.
And although climate change is a hot topic these days, the percentage of Americans donating to environmental causes dropped from 13% in 2020 to 11% this year (with both significantly down from 2019's 20%).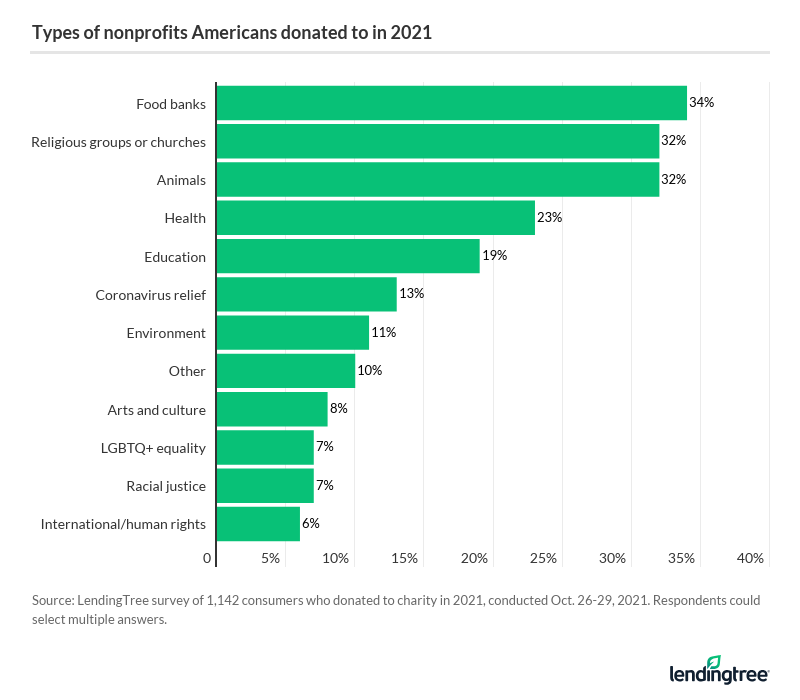 Financial gifts related to coronavirus pandemic, racial justice in 2021
Two emerging areas for charitable donations involve supporting those in need of financial relief due to COVID-19 and causes related to racial justice.
Regarding pandemic philanthropy, sending money directly to someone who lost their job is the most popular type of donation, followed by giving to a local coronavirus relief fund. Democrats (34%) are more charitable for such causes than Republicans (22%) and independents (27%).
Meanwhile, the percentage of people providing financial gifts or contributions to racial justice causes reached 21% in 2021, perhaps illustrating a shift from taking part in marches and protests to monetary support. The most popular options for social justice fighters are giving funds to nonprofit organizations, followed by donations to bail funds for arrested protesters. Gen Zers show the most passion for this type of giving, with nearly 4 in 10 saying they gave to a social justice cause this year.
"Big events and big headlines drive a lot of charitable contributions," Schulz says. The pandemic was the biggest story in the world for the past two years, but the movement for racial justice has inspired a great deal of action, he adds. "For millions of Americans, one of the best ways to make a real impact is to give money to the cause," Schulz says.
As for which causes people listed as closest to their hearts right now (meaning where they said they would prioritize their forthcoming donations), animal-related ones are often the top choice across the board regardless of age, income or political affiliation. However, as the survey results illustrate, sentiment doesn't necessarily align with the donations that people ultimately choose to give.
How social media plays a role in charitable donations
Facebook, Instagram and other platforms are big drivers of charitable donations, with nearly 3 in 10 saying they've donated to causes they found out about while scrolling their social feeds. That percentage jumps to 49% for Gen Zers.
"Social media is a huge driver of interest in key causes," says Schulz. "It makes it easier for people to get the word out about things they believe in. Plus, images and videos shown in social media can be incredibly compelling."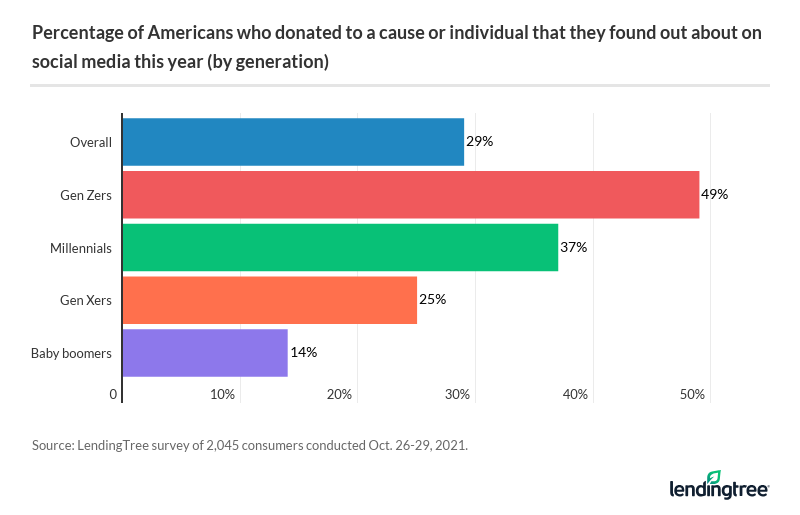 Gen Zers are also the group most likely to contribute to a crowdfunding campaign (43%). However, when it comes to donating to a friend's Facebook birthday fundraiser, millennials are the most likely group to do so (23%).
But no matter the type of giving, most people — 8 in 10 — prefer to remain anonymous when they donate.
More than 1 in 3 Americans will give on Giving Tuesday
Amid their crazy Black Friday and Cyber Monday spending sprees, Americans are encouraged to set some money aside to give to others on Giving Tuesday. And this year, 35% of consumers say they will do just that.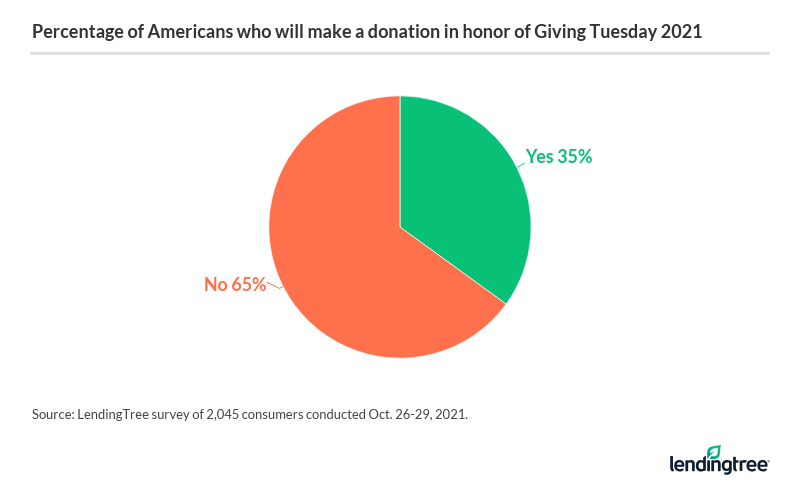 "I love Giving Tuesday," Schulz says. "Anything that draws people to give to one of the countless worthy charities around the world is a good thing."
The biggest drivers of Giving Tuesday are Gen Zers, with 48% of them planning to take part, followed by 42% of millennials.
"I believe that the optimism and idealism of youth is a big part of what drives greater interest in Giving Tuesday," Schulz says.
That doesn't necessarily mean that older people are averse to the idea — rather, it could mean they're more settled into their donation patterns, Schulz added.
"Older Americans might give regularly to causes they've supported for years and might be less likely to jump in on an event like Giving Tuesday," he says.
As for charitable donations throughout 2021, more than 3 in 10 Americans say the amount they'll give this year has been impacted by the pandemic, down slightly from 37% who said the same in 2020. Almost 1 in 5 say they're giving less, while 12% say they're increasing their contributions.
To further maximize the contributions you can give, Schulz encourages people to check in with their employers.
"Millions of Americans work for companies that will match charitable contributions, but far too few people take advantage of it," he says. "A huge amount of money sits undonated simply because people don't know about these programs, and that keeps money out of the hands of organizations that so desperately need it and depend on it."
Most, least charitable metros in the U.S.
In addition to fielding the survey, LendingTree researchers compiled data on the most and least charitable metro areas in the U.S.
Analysts ranked the 100 largest metros by the total number of tax returns and then focused on three equally weighted metrics related to charitable donations to create the scores:
Percentage of itemized returns containing charitable donations
Percentage of adjusted gross income donated to charity
Average itemized charitable donation
The study finds Birmingham, Ala., is the most charitable metro in the U.S., while Worcester, Mass., is the least.
Most charitable metros in the U.S.
Six of the 10 most charitable metros are in the South, including two in Tennessee. One could speculate that it might be driven by religious-affiliated giving, which trends stronger in Southern states.
The leader, Birmingham, has the third-highest percentage of itemized tax returns listing charitable contributions (91.7%). That's just behind Memphis at 91.9% and well above the 84.3% average across the 100 U.S. metros. In addition, Birmingham ranks sixth-highest for its percentage of income donated to charity, 2.7%. Ogden, Utah, and Atlanta round out the overall top three when each metric is considered.
Regarding average donation amounts, there was an interesting outlier: San Jose, Calif. Despite ranking 17th overall, this metro has the most generous givers, with average charitable donations of $30,910. Plus, 3.5% of residents' adjusted gross incomes are earmarked for charity — also tops in the U.S. What drops the metro down in the overall rankings is that only 83.2% of people who itemize give to charity, below the U.S. average.
Of interest: Higher-earnings Americans are much more likely to itemize and maximize charitable contributions. In fact, 98.4% of itemized tax returns from Americans with an income of $10 million or more contain charitable contributions, at an average of $2.4 million. Among itemized returns for those with incomes below $5,000, less than 50% donate to charity. They give $740, on average.
Least charitable metros in the U.S.
Seven of the 10 least charitable metros are in the North, including two each from Massachusetts and Pennsylvania. Among this group, the average charitable contributions are below $8,000. And among the bottom three — Worcester and Springfield, both in Massachusetts, and Scranton, in Pennsylvania — taxpayers give an average of less than 1% of their income to charity.
Worcester lands in the bottom spot for its poor showing in all three metrics LendingTree analyzed:
Percentage of itemized returns containing a charitable contribution (79.1%)
Percentage of income donated to charity (0.7%)
Average itemized charitable donation, which was lowest on the list at $5,807 (less than half the national average of $12,677)
Full rankings
Methodology
LendingTree commissioned Qualtrics to conduct an online survey of 2,045 U.S. consumers from Oct. 26 to Oct. 29, 2021. The survey was administered using a nonprobability-based sample, and quotas were used to ensure the sample base represented the overall population. All responses were reviewed by researchers for quality control.
We defined generations as the following ages in 2021:
Generation Z: 18 to 24
Millennial: 25 to 40
Generation X: 41 to 55
Baby boomer: 56 to 75
While the survey also included consumers from the silent generation (those 76 and older), the sample size was too small to include findings related to that group in the generational breakdowns.
To find the most charitable places in the U.S., researchers analyzed data for the 100 largest metros by total number of tax returns. Specifically, analysts compared the metros across the following metrics, all based on IRS data from the 2019 filing season (the latest available):
Percentage of itemized returns containing charitable donations.
Percentage of adjusted gross income donated to charity. This is the total amount deducted from charitable donations divided by the total adjusted gross income.
Average itemized charitable donation. This is the total amount donated to charity divided by the number of returns deducting charitable donations.
Researchers then created a score averaging the three percentile ranks each metro scored in each metric. Each metric was given the same weight.