How Does LendingTree Get Paid?
LendingTree is compensated by companies on this site and this compensation may impact how and where offers appear on this site (such as the order). LendingTree does not include all lenders, savings products, or loan options available in the marketplace.
71% of Americans Say Debt Keeps Them From Donating More to Charity
Published on: October 14th, 2019
Why use LendingTree?
We are committed to providing accurate content that helps you make informed money decisions. Our partners have not commissioned or endorsed this content. Read our .
While nearly two-thirds of Americans have donated to charity over the last year, 71% say that debt keeps them from giving more, according to new LendingTree research. It's a sentiment that makes sense given that the average debt-carrying household in 2018 owed roughly $144,100.
Our team takes a deep dive into the numbers to shed light on the latest trends in charitable giving, from how much we donate to the types of charities we give most to. Here's what we found.
Key findings
Seventy-one percent of Americans reported that their debt keeps them from donating as much as they'd like to charity.
Fifty-six percent of respondents said they don't make enough money to donate.
About two-thirds of respondents made a charitable donation within the last year, and 34% did so more than once.
Fifty-six percent said they make recurring donations, meaning they donate to the same charity or organization once a month or more often.
The top 3 most popular causes among donors are: animals (34%), health (31%), and human services (26%). Younger generations were more likely to donate to animal- and environmental-related causes, while older Americans donated to more religious causes.
Democrats were more likely to donate to environmental and international causes, while Republicans were more likely to donate to religious causes.
One-third of Americans have contributed to a crowdfunding campaign within the last year, and 27% have donated to a cause through a social media friend's Facebook birthday fundraiser.
If given additional funds to donate, 22% of respondents said they'd want to contribute to an animal-related cause.
When asked why they make charitable donations, most (67%) expressed a simple motivation: They want to help others in need. One in 10 cited tax deductions as a reason.
The majority of respondents (73%) donated less than $500 to charity in the last year. 10 percent contributed between $500 to $999, and 10% gave $1,000 to $4,999. Just 7% donated more than $5,000.
Nearly 2 out of 3 Americans donated in the past year
It seems that most of us are actively giving to charity — close to two out of three Americans have donated within the last year. What's more, over a third have given on more than one occasion.
Research suggests that a pay-it-forward effect may be at play, helping to boost rates of charitable giving. Acts of kindness and generosity appear to be contagious and can spread up to three degrees — from person to person to person — according to researchers at Harvard and the University of California, San Diego. In other words, giving may inspire others to do the same.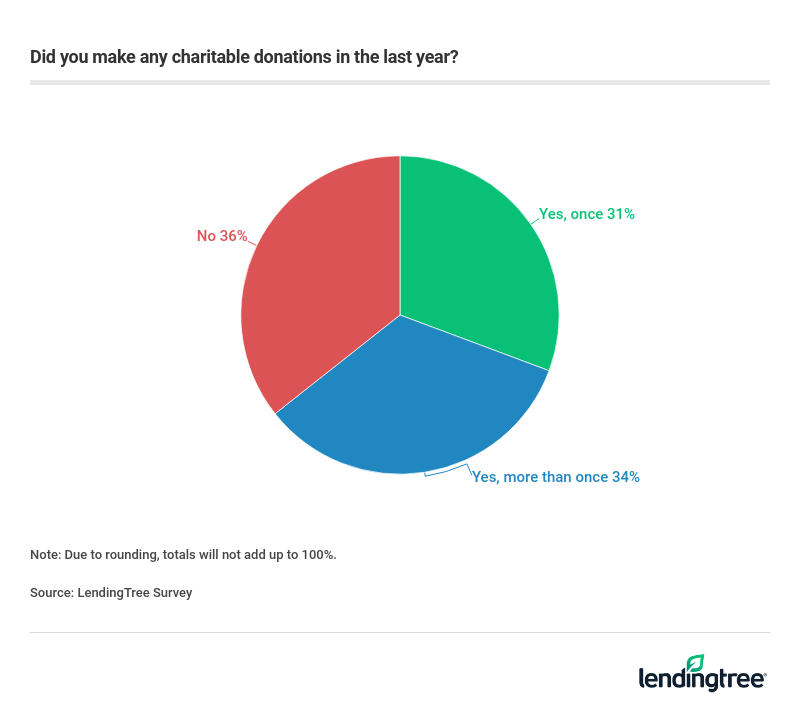 But debt is holding back charitable giving
Seventy-one percent of those surveyed said their debt prevented them from donating as much as they would like. And 56% of survey respondents cited a lack of cash as a barrier to charitable giving.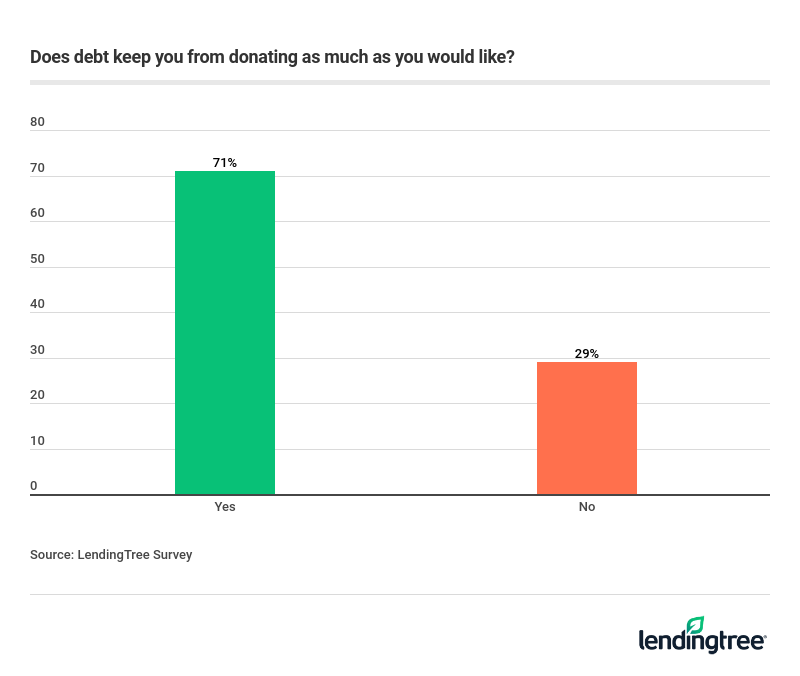 If debt is standing between you and charitable giving, you may consider these two options:
Consolidating high-interest debt with a personal loan could slash your total cost for repayment by bringing you more favorable terms. However, this option is best suited for borrowers with strong credit; subpar credit borrowers could see rates in the triple digits, if they qualify at all.
Consider tweaking your budget to potentially free up more cash to put toward your favorite charities. You might trim the amount of money you put toward dining out or entertainment. Remember: You don't have to donate a lot to make a difference. Even skipping one night out could make a difference.
What causes are Americans donating to?
Americans are donating to a variety of charitable organizations. The top three categories deal with animals, health, and human services. Religious organizations come in right behind those, followed by environmental causes.
To some degree, the wide range of causes here can be chalked up to personal taste. According to research from the University of Kent in the United Kingdom, donors typically support organizations that are either in line with their own preferences or help people or causes they relate to. People are also more likely to donate when they know their money will help a specific person — as opposed to a general cause.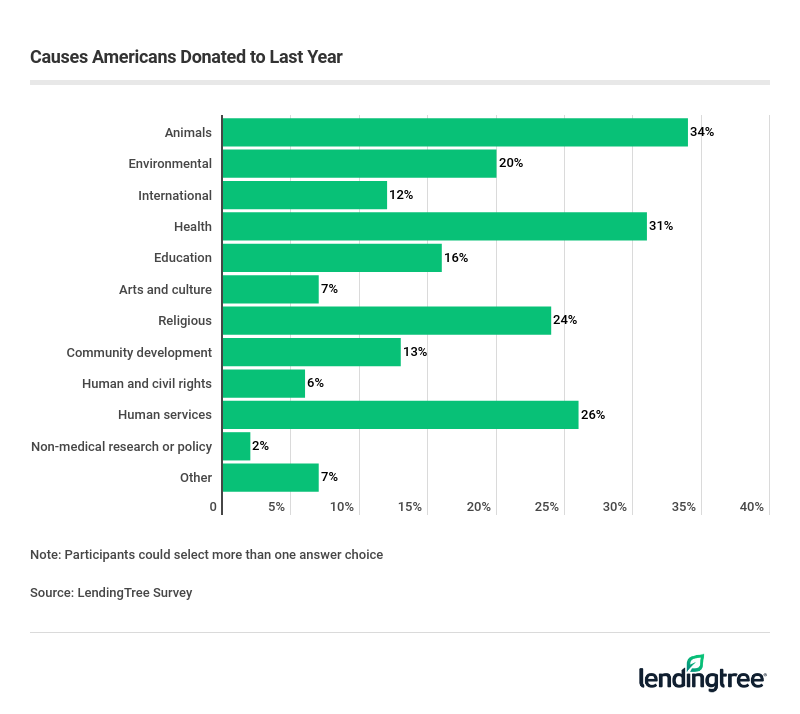 Donations by generation
This survey revealed some pretty interesting generational trends when it comes to charitable giving. Members of Gen Z have the highest incidence of monthly donations to the same charity. On the flip side, despite seeing a decrease in their debt burdens, baby boomers aren't making as many recurring monthly donations.
Key findings highlight other generational gaps. Millennials, for instance, are more likely to donate to a crowdfunding campaign. Meanwhile, boomers are directing more donations toward religious causes.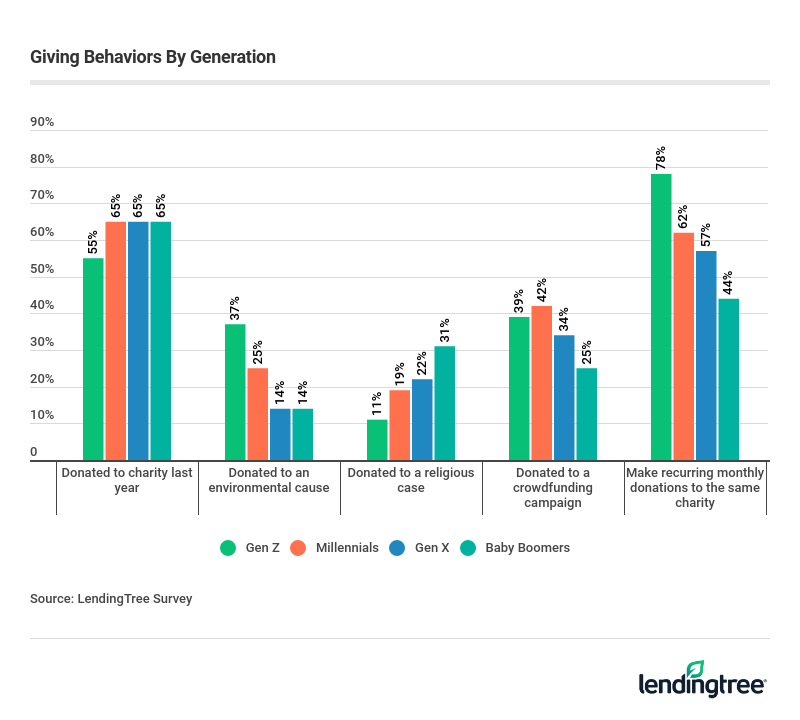 The value in charitable giving
Charitable giving pulls double duty — it makes you feel good and may count as a tax deduction. This means you're reducing your taxable income and, as a result, bringing down your tax bill. The IRS allows you to write off donations made to 501(c)(3) non-profit organizations, so be sure to hang onto your receipts throughout the year.
Plus, the benefits of altruism go beyond your tax liability. According to Harvard researchers, spending money on others is more satisfying than spending it on ourselves, regardless of our culture or income level.
To incorporate charitable giving into your financial life, consider folding it into your monthly budget. After accounting for fixed expenses and setting money aside for financial goals (like paying down debt and saving for retirement), a portion of what's left can be earmarked for monthly giving.
Methodology
LendingTree commissioned Qualtrics to conduct an online survey of 1,079 Americans, with the sample base proportioned to represent the general population. The survey was fielded September 11-13, 2019.
For the purposes of this survey, we defined generations as follows:
Generation Zers are ages 18-22
Millennials are ages 23-38
Generation Xers are ages 29-53
Baby boomers are ages 54-73
Members of the Silent Generation (ages 74 and older) were also surveyed, and their responses are included within the total percentages among all respondents. However, their responses are excluded from the charts and age breakdowns due to the smaller population size among our survey sample.