How Does LendingTree Get Paid?
LendingTree is compensated by companies on this site and this compensation may impact how and where offers appear on this site (such as the order). LendingTree does not include all lenders, savings products, or loan options available in the marketplace.
63% of Americans Say Their Finances Have Been Impacted by Coronavirus
Published on: March 19th, 2020
Why use LendingTree?
We are committed to providing accurate content that helps you make informed money decisions. Our partners have not commissioned or endorsed this content. Read our .
The coronavirus (COVID-19) is a global pandemic, and its effects can be felt throughout all aspects of life. The empty office spaces, barren grocery store shelves and lonely remote workers tell a new story that hasn't been told before.
In this time of uncertainty, Americans are feeling less confident in their finances. Nearly two-thirds (63%) of consumers have already felt the economic impact of the coronavirus outbreak in some way, according to a LendingTree survey. See how the pandemic has affected American consumer confidence, as told by the consumers themselves.
Key findings
Nearly two thirds of Americans are feeling financial impact of the coronavirus
Some workers stand to make less money due to coronavirus
Looking ahead, Americans fear financial instability due to coronavirus
Methodology
Key findings
63% of consumers agreed their personal finances have been impacted by the coronavirus in some way.
More than a quarter (27%) lost money in the stock market, and about one in five (21%) are spending more money than they can afford on supplies. Many worry about their ability to pay bills (17%), and one in 10 lost money on nonrefundable travel plans.
About 4 in 10 working Americans said their paycheck has been negatively impacted due to the coronavirus pandemic. That jumps up to 51% of employed Gen Z and 44% of employed millennials.
Nearly a quarter of workers have seen their hours reduced as a result of the outbreak.
44% of Americans are worried about their ability to pay rent or their mortgage. Other bills consumers are worried about include credit card (23%), insurance premiums (15%) and student loans (8%).
21% of Americans think the coronavirus pandemic will "severely" impact their finances, and another 35% said their money will be somewhat impacted. Less than a quarter of Americans don't expect their finances to be impacted, but 28% of parents of children under 18 said their finances will be severely impacted.
23% of consumers fear they won't be able to pay their bills due to the pandemic.
17% are worried they won't be able to cover the cost of treatment should they contract the virus. Americans also worry about losing stock market/retirement savings (12%), losing their jobs (12%) and finding child care (4%).
Nearly two thirds of Americans are feeling financial impact of the coronavirus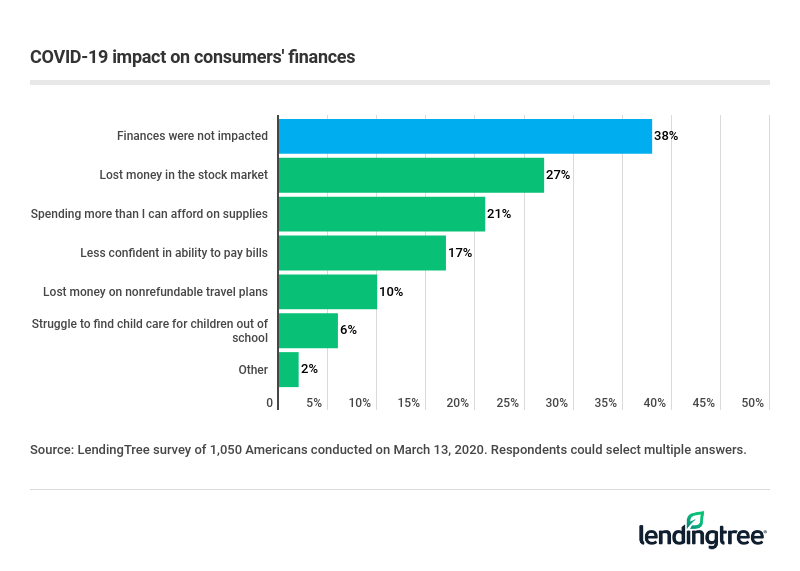 Americans lose money in the stock market as recession fears mount
Twenty-seven percent of Americans reported that they have lost money in the stock market as of March 13. As the market indicators like the Dow Jones Industrial Average and S&P 500 Index have fallen since then, more investors will feel the economic impacts of the coronavirus.
Tendayi Kapfidze, chief economist at LendingTree, predicts that stunted consumer spending due to the coronavirus will lead the country into a recession, which will further impact the performance of the stock market.
"The changes in consumer behavior will likely lead the U.S. into recession," said Kapfidze. "After an initial boost in consumption due to preparation, spending is set to contract sharply as broad sectors of the consumer economy shut down."
The restaurant industry is a good example of this. As Americans self-quarantine at home, canceling dinner plans, local businesses and the people who work for them will be severely affected. While people may save money by preparing meals at home, decreased consumer spending will have a negative economic impact, Kapfidze said.
1 in 5 overspent on supplies, 1 in 10 lost money due to canceled travel plans
A solid 21% of Americans are spending more than they can afford on supplies, stockpiling as a result of the virus by buying food, cleaning supplies, water, paper products and other necessities. Seventeen percent are less confident in their ability to pay bills, which could lead to ballooning fees if they're unable to pay off their credit card balance before interest kicks in.
Consumers have also lost out on money due to canceling nonrefundable travel plans. The travel industry, like the restaurant industry, has been hit hard by coronavirus measures like restrictions on nonessential travel and gatherings of more than 10 people.
Some workers stand to make less money due to coronavirus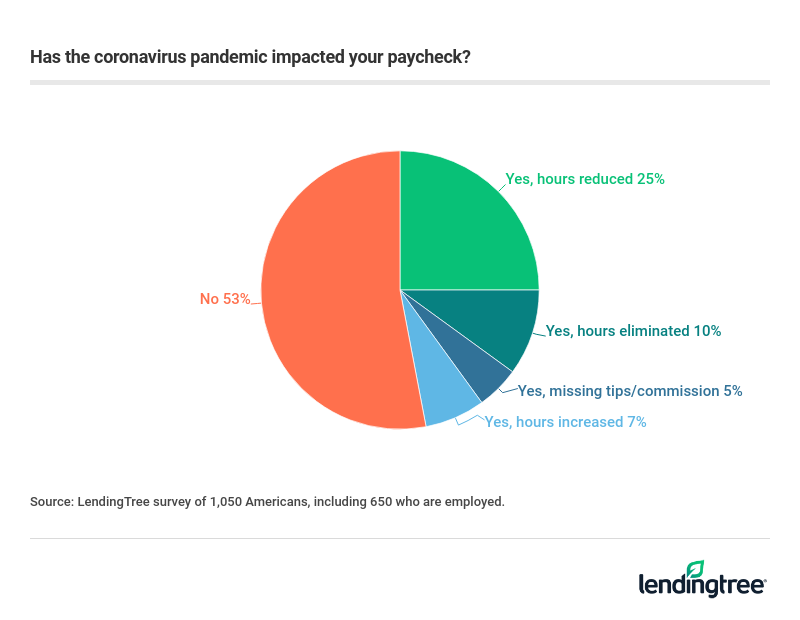 Many Americans are already feeling the effects of the coronavirus on their wallets. In total, 39% of workers have already seen hours reduced or eliminated, as well as missing out on tips or commission.
About half of workers say their paycheck hasn't been affected by the coronavirus outbreak, and 7% said their hours actually increased. This could be due to an increased need for health care workers and grocery store employees, for example.
To slow the spread of the coronavirus, many companies have told employees to work from home. But for millions of service industry workers, paychecks stop coming in when you can't go to work. Nearly a quarter of American workers don't have access to paid sick leave, according to March 2019 BLS data.
Looking ahead, Americans fear financial instability due to coronavirus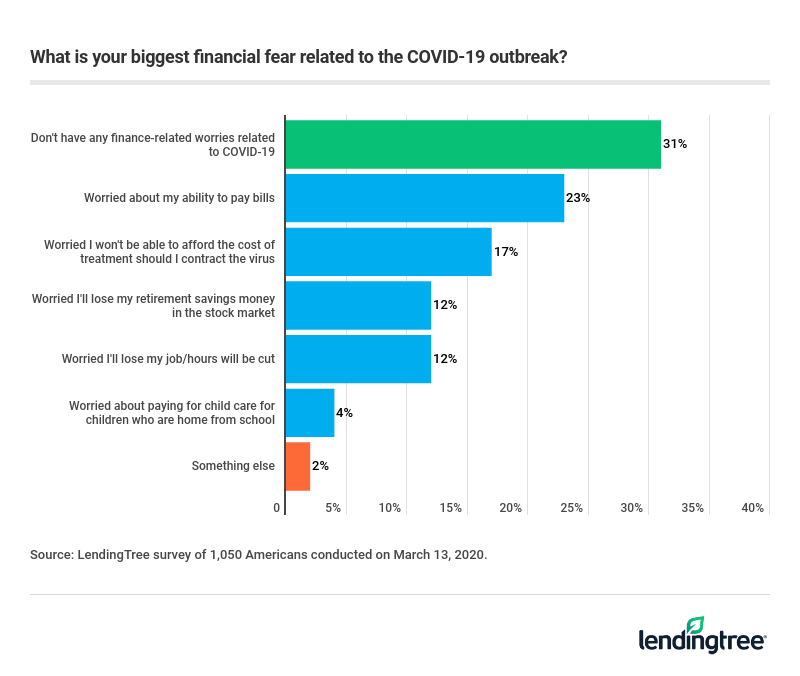 Nearly a quarter of Americans worry about their ability to pay bills amid the COVID-19 pandemic. They also harbor anxiety about the cost of medical treatment, losing their retirement savings, losing employment and even paying for child care.
17% worry about the cost of health care should they contract the virus
Medical bills are a top contributor to financial hardship. With 27.5 million uninsured Americans as of 2018, according to the U.S. Census Bureau, it's easy to see why. Our survey found that about one in six Americans (17%) worries about the cost of medical treatment should they contract the coronavirus.
The cost of testing for and treating COVID-19 has been debated in recent weeks, and a clear answer is still unfolding. In an Oval Office address on March 11, President Donald Trump claimed insurers would waive copayments for coronavirus treatment. At this time, however, insurers have only agreed to cover the cost of testing; this doesn't stop insured people from receiving costly medical bills for treatment of COVID-19.
On March 18, Congress passed an emergency coronavirus bill, the Families First Coronavirus Response Act, that includes free testing and paid sick leave. The paid sick leave benefits have been given more restrictions after revisions to the bill. Even with these measures, there's still much up in the air for everyday Americans ー many who can't cover a $1,000 emergency with savings.
Of all bills, anxiety around paying for housing is highest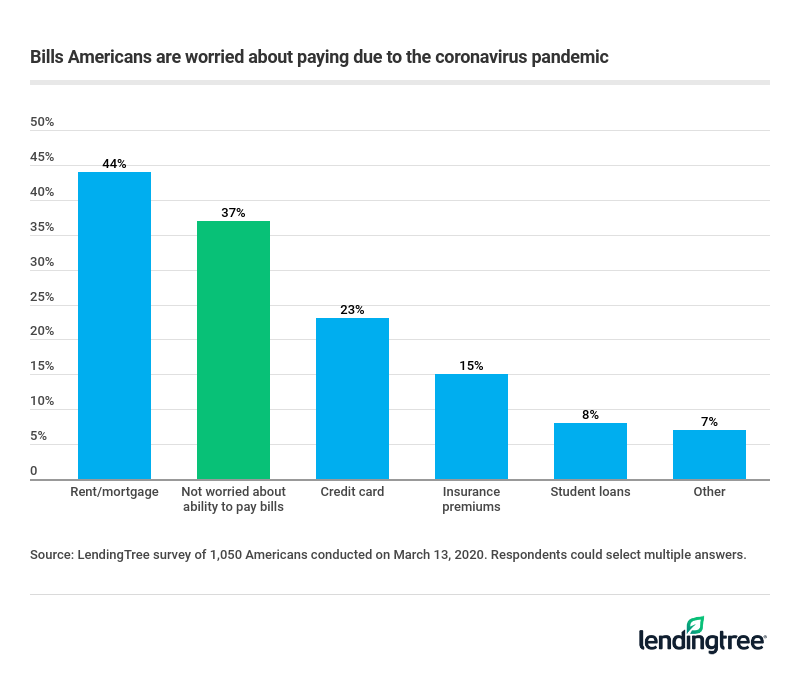 Nearly half (44%) of Americans worry that they won't be able to make rent or pay their mortgage during the coronavirus outbreak, but that should come as no surprise. Year after year, housing is the biggest expense for American households, according to the Bureau of Labor Statistics (BLS) Expenditure Survey (2013-2018).
Experts suggest contacting your mortgage lender directly if you are unable to make your monthly payment during the outbreak.
"Mortgage borrowers can get a break on making their payments via a process known as forbearance," said Kapfidze. "Call your lender to request this if you are concerned about being able to meet your mortgage payment."
Consumers also worry they won't be able to pay credit cards
The average credit card balance is $6,354, according to CompareCards, leaving borrowers with significant monthly payments. With this in mind, 23% of Americans are worried about their ability to make a credit card payment due to the coronavirus pandemic. If you find yourself in this situation, call your credit card issuer to see if they'll work with you.
"Many card issuers have programs to offer temporary relief to cardholders who are hit hard by disasters, and the coronavirus outbreak certainly fits that bill," said Matt Schulz, chief industry analyst at CompareCards.
While offerings vary, you may qualify for waived late fees, temporary APR reductions, extended payment deadlines and credit limit increases, for example.
Methodology
LendingTree commissioned Qualtrics to conduct an online survey of 1,050 Americans, with the sample base proportioned to represent the overall population. The survey was fielded March 13, 2020.
We defined generations as the following ages in 2020:
Gen Zers: 18-23
Millennials: 24-39
Gen Xers: 40-54
Baby boomers: 55-74
Silent generation: 75 and older