How Does LendingTree Get Paid?
LendingTree is compensated by companies on this site and this compensation may impact how and where offers appear on this site (such as the order). LendingTree does not include all lenders, savings products, or loan options available in the marketplace.
Number of Newly Opened Credit Cards Fell Nearly 75% in April
Updated on: May 18th, 2020
Why use LendingTree?
We are committed to providing accurate content that helps you make informed money decisions. The content on this page has not been reviewed, approved or otherwise endorsed by any credit card issuer. We do maintain partnerships with some issuers, and our site may be compensated through those partnerships. Read our .
The number of new credit cards opened in March and April plummeted in 2020, according to a new report from LendingTree, as both consumers and issuers wrestled with the impact of the coronavirus pandemic.
Click below to learn more:
Key findings
Credit card originations (the number of credit cards opened) were 73% lower during the period of March 15 to April 15, 2020, than they were for the three-year average of 2017 to 2019 for the same period.
The difference between last year and this year is even more stark, with only 2.3 new cards opened per 100 people with credit reports in 2020 so far, versus 8.8 new credit cards opened in 2019.
The average credit limit offered with a new credit card dropped nearly $700 – or 26% – in 2020 compared to the 2017-2019 three-year average. However, the decline was even greater when comparing the average credit limit year-over-year, down $1,084 – or 36% – from 2019.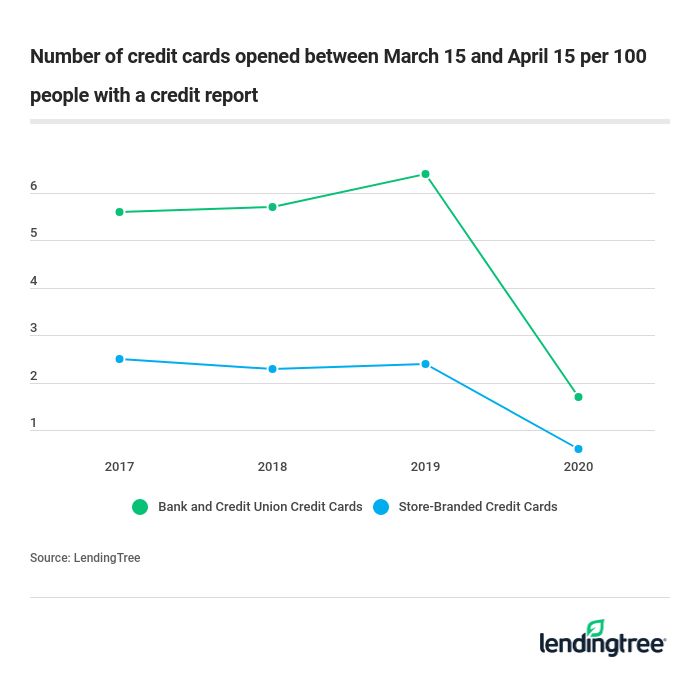 Huge drop was predictable
The impact of the coronavirus pandemic on our economy has been seismic – and fast. About 30 million Americans have filed unemployment claims since mid-March. That means that a staggering number of people in this country had their financial lives turned upside down in a whirlwind.
As we saw a decade ago during the Great Recession, massive economic changes tend to spur big action from credit card issuers. We're seeing something similar play out in the wake of the COVID-19 crisis.
Banks and other lenders are all about managing risk. In a stable economy, they're willing to offer many new cards to many new people – and even offer higher credit limits to their current cardholders – because they're confident those borrowers will pay them back.
When the economy is uncertain, as we are currently witnessing, plans change and lenders get nervous. When lenders become wary, they resort to reducing credit limits on existing accounts, or even close those accounts altogether, because all that available credit just looks like unnecessary risk to the bank. That's especially true in times of high unemployment. After all, if someone loses their job, they can change from a safe borrower to a risky one overnight. lenders don't like that uncertainty, so they rein in credit. And we're already seeing that happen.
As the charts below show, however, lenders aren't just tightening limits on existing accounts. They're also offering fewer new credit cards and giving out less available credit on new cards than they have in recent years.
That's a big deal for card issuers. Historically, consumers open more bank and credit union-issued cards in March and April than during any other time of year. Things look quite different this year, though.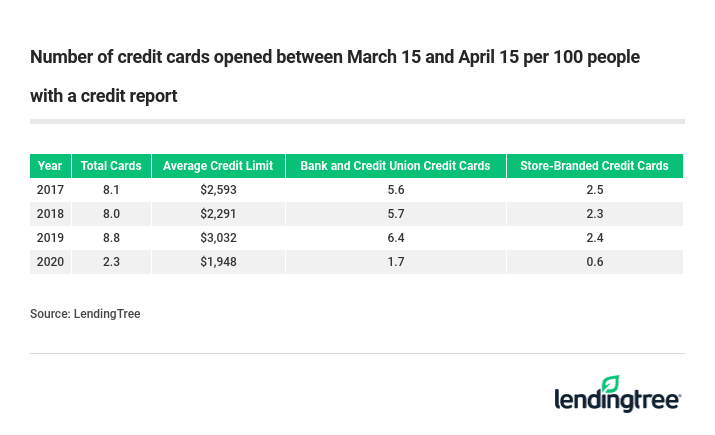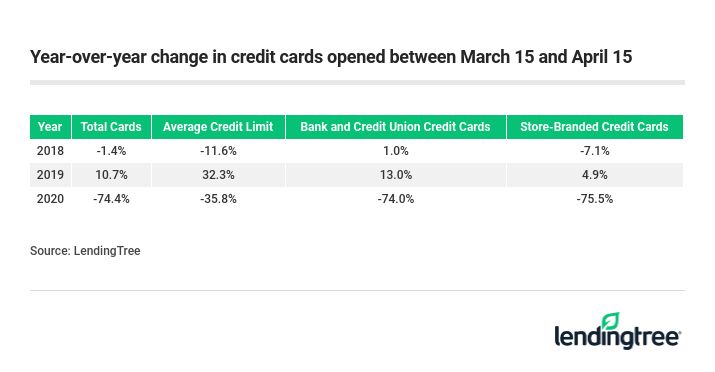 Is lower demand for credit driven more by consumers or lenders?
One big question from this report is whether fewer credit cards are being opened because consumer demand has plunged or because the appetite from card issuers for lending has vanished. The most likely answer is a combination of the two.
Recent data from the Federal Reserve and the Consumer Financial Protection Bureau (CFPB) indicated a drop in consumer demand in the first quarter of 2020. While some cardholders might be spending more on their cards, perhaps using them as a de facto emergency fund to help them make ends meet after losing their job, many other cardholders are spending far less. They're following social distancing guidelines or stay-at-home orders, so they're not spending at restaurants, bars or ball games. Consumers are also not likely to book plane tickets during this time. Given all that, a reduction in consumer demand makes sense.
Meanwhile, several major credit card issuers have said in recent weeks that they are tightening their lending. As mentioned earlier, this is to be expected. Unfortunately, it is not likely to change any time soon.
Add it all up, and it seems likely we'll continue to see a less-than-average number of new credit cards opened in coming months.
Tips for dealing with a rejection
If you're turned down for a credit card, there are a few steps that you should consider.
Find out why you were rejected. Lenders generally must tell you why, though the law doesn't set a specific timeline. The notification could come in the form of an email, phone call or a letter in the mail, and it should also include the specific credit bureau that the lender used to determine whether to approve your application plus the bureau's contact info. You can also get access to a free copy of your credit report from that bureau to see if there are any errors or mistakes that might be holding your score down unfairly.
Ask the issuer to reconsider. There are no guarantees you'll get your way, but it can't hurt to ask. That's especially true if you find and correct any legitimate errors on your credit report. Most major card issuers have so-called reconsideration lines to handle these types of requests. You can call the issuer or reach out to them via social media to find the reconsideration line number for your issuer. And don't be afraid to call more than once.
Take steps to improve your credit. If you ask your issuer to reconsider and they won't change their mind, then get to work trying to improve your odds for next time. Get any credit report errors fixed. If you're still financially stable in the wake of the pandemic, try to put a bit more money toward paying down any card balances. Ask the issuer of one of your other cards for a higher credit limit to help improve your credit utilization. (Just know that your chances of getting that bump aren't as high right now as they were before the COVID-19 outbreak began.)
Consider a secured credit card. Sure, they're not as attractive as a regular credit card, but they're easy to attain if you can afford the deposit. A secured credit card can help extend your budget during a time when you might need it the most.
Methodology
Using a random sample of 100,000 anonymized credit reports of May 4, 2020, from My LendingTree users, analysts counted the number of cards that originated in the period of March 15 through April 15 in the years of 2017, 2018, 2019 and 2020. Additionally, we selected at random, 1,000 credit reports immediately following originations during those periods to calculate the average credit limits they received.