How Does LendingTree Get Paid?
LendingTree is compensated by companies on this site and this compensation may impact how and where offers appear on this site (such as the order). LendingTree does not include all lenders, savings products, or loan options available in the marketplace.
53% Who Took on a Pandemic Hobby Went Into Credit Card Debt as a Result
Updated on: April 6th, 2021
Why use LendingTree?
We are committed to providing accurate content that helps you make informed money decisions. The content on this page has not been reviewed, approved or otherwise endorsed by any credit card issuer. We do maintain partnerships with some issuers, and our site may be compensated through those partnerships. Read our .
About 6 in 10 Americans took on a new hobby over the past year as the COVID-19 pandemic raged on, according to a new report from LendingTree.
Unfortunately, more than half of those who did wound up taking on credit card debt as a result.
It shouldn't be surprising that so many Americans dove into new hobbies during the pandemic. Having our lives flipped upside down in so many ways not only amped up the stress in our daily lives, it often left us with much more spare time than before and nowhere to go. Our survey shows that millions of Americans used that extra time to try out something new — everything from reading and writing to baking and cooking.
While many of those new passions were great for our mental health — an undeniably important thing in times as chaotic, unpredictable and often scary as this past year has been — they weren't always great for our finances.
Key findings
59% of Americans took on a new hobby during the coronavirus pandemic. The group most likely to try out a new pastime include those laid off or furloughed (82%), Gen Z (76%) and millennials (74%).
The most popular hobby among those who started one during the pandemic: reading (61%), followed by baking or cooking (36%), gardening (30%), meditation (29%) and writing (26%).
Nearly half (48%) of consumers who tried out a new hobby during the pandemic — such as coding or photography — have earned money turning it into a side hustle. Of those who made money from their hobby, most used the cash to either pay off debt (52%) or save (51%).
On the other hand, 53% incurred credit card debt as a result of their newfound pastime. When asked why, 47% of indebted respondents said they wanted to invest in special equipment to eventually make money from their hobby.
79% of consumers said they'll continue with their hobby even after the pandemic is over. And nearly everyone (94%) who started a new pastime has continued with it thus far.
Many found new hobbies during the pandemic — here's what they're doing (and why)
More than half of Americans said they took on some new hobby during the pandemic, and our data shows that many didn't stop at one.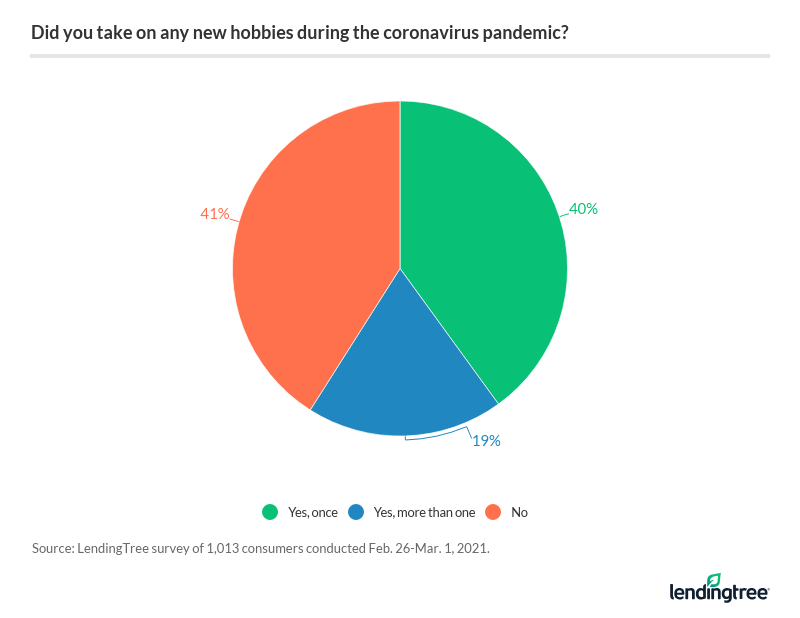 Younger Americans were the most likely to embrace a new hobby, with 76% of Gen Z and 74% of millennials saying so, as well as 66% of Gen X. Just 28% of baby boomers said the same.
In addition, those hit hardest financially by the pandemic were the most likely to have started a new hobby, with 82% of those who had been laid off or furloughed saying so, along with 78% of those who suffered a cut in hours or salary. That's nearly double the percentage (43%) of those who did not experience income loss due to the pandemic and started a new hobby.
Given these circumstances, it makes sense that the most common reason respondents gave for starting a new hobby was to create an income stream. About a third of those surveyed (35%) said they aimed to make money, while 31% said they started the new hobby to improve their mental health.
Which hobbies are Americans embracing? The top choice, by a wide margin, is reading.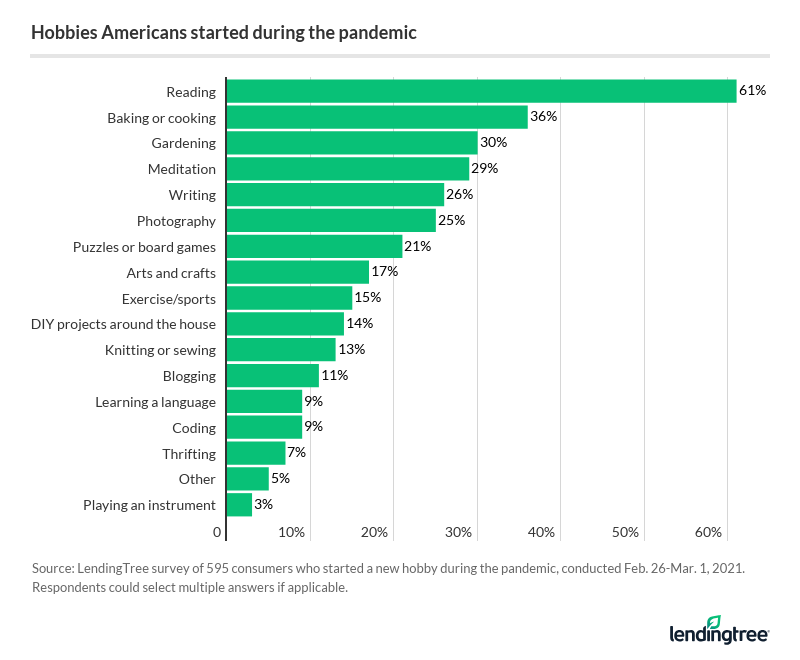 Some made money off their hobbies, but others just gained debt
Nearly half (48%) of consumers who tried out a new hobby during the pandemic said they've made at least a little bit of money from it by turning their new passion into a side hustle. An additional 25% of those with new hobbies said that while they haven't made money with their hobby yet, they hope to in the future.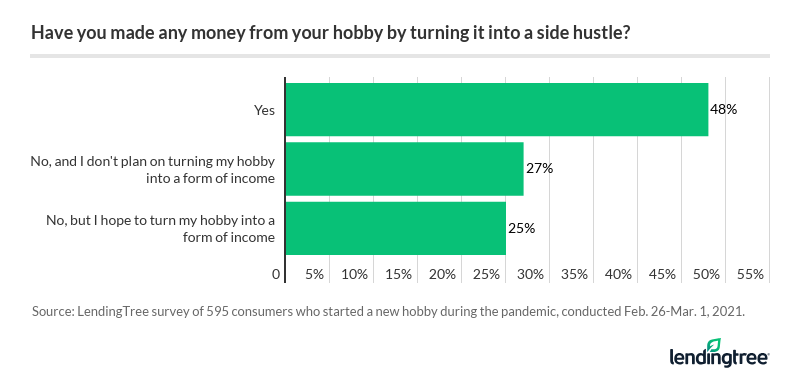 Millennials and Gen X were the most likely to say they'd made money from their new hobby, as were the highest-income Americans. Those who did make money said they put those earnings to practical use. Most used it to either get out of debt (52%) or save (51%), by far the two most common answers.
Not everyone was so fortunate with their side hustle. More than half (53%) of consumers who started a new hobby during the pandemic took on credit card debt as a result. About a quarter of those who took on debt (24%) racked up more than $1,000.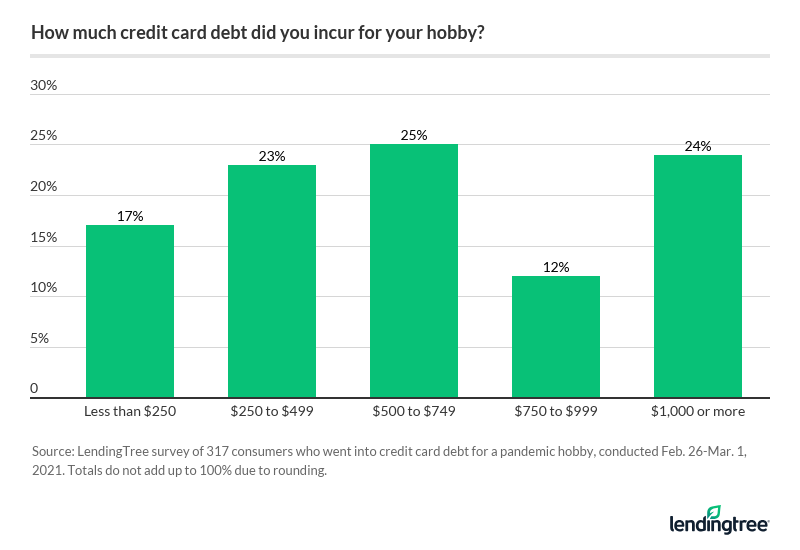 Why the debt? Some said they felt they had to spend money to make money. For example, nearly half of those who went into debt for their hobby (47%) said they wanted to invest in special equipment to eventually make money. About 4 in 10 (39%) said the debt was the only way they could afford the hobby, and 19% simply got so excited about their new venture that they went a little overboard.
The bottom line
Being homebound for so long, Americans often had a lot of time on their hands during the past year and after a while, even our favorite activities can turn a bit stale. That's why so many Americans had opted to try something new — and most of them plan to keep doing the hobby even once the pandemic is in the rearview mirror.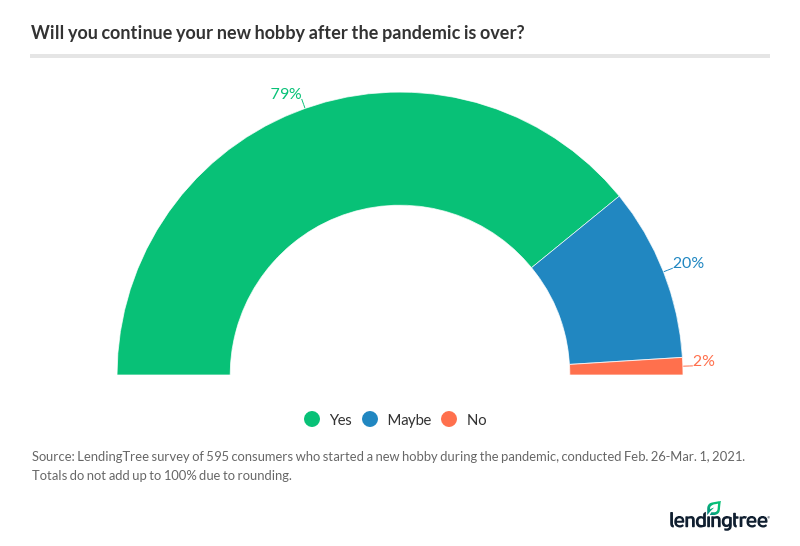 Trying new things can be great for your mental health, though as we saw in this survey, it can be a double-edged sword.
Life in 2021 is already stressful enough — both mentally and financially — and the last thing any of us needs is for something to bring more angst into our lives unnecessarily. Going into debt for a hobby has the potential to do just that, basically canceling out much of the otherwise positive feeling generated by the activity.
To get the most out of your new hobby, consider some of the following steps:
Budget for it: If you plan to seriously pursue your newfound hobby, factor it into your financial plans. Doing so will allow you to better judge when you might be going a bit overboard. It can also help you see what expenses you may want to cut back to free up more money for the hobby.
Look for lower-cost alternatives: Don't automatically assume you must spend big to pursue a hobby. With many of the most popular new hobbies — cooking, gardening, meditating — there are thousands of videos, posts and helpful tools throughout the Internet that can help you get started without spending a cent. If you need new equipment for a hobby, consider buying used or even borrowing a loved one's equipment for a while to test how much you like it.
Communicate: Spending money on a new hobby or side hustle during a difficult economic time shouldn't be done in secret. Talk with your family about your plans. Share your goals. Get their feedback. Make sure that they're comfortable with your new venture. Not only can it help you avoid future conflicts, but it can also allow your loved ones to support you in your efforts, both financially and as a cheering section, which can make a huge difference when you're starting something new.
Keep your priorities straight: If you're struggling financially and wondering how you're going to keep the lights on and put food on your family's table, that new hobby probably should take a back seat to more urgent matters unless you are absolutely certain that it is going to bring in new income. That doesn't mean that you should give up on the new just-for-fun hobby altogether — it may be extremely valuable as a stress reliever and a mental health aid — but it does mean that there will be times when your focus should be elsewhere instead.
Methodology
LendingTree commissioned Qualtrics to conduct an online survey of 1,013 U.S. consumers from Feb. 26 to March 1, 2021. The survey was administered using a non-probability-based sample, and quotas were used to ensure the sample base represented the overall population. All responses were reviewed by researchers for quality control.
We defined generations as the following ages in 2021:
Generation Z: 18 to 24
Millennial: 25 to 40
Generation X: 41 to 55
Baby boomer: 56 to 75
While the survey also included consumers from the silent generation (defined as those 76 and older), the sample size was too small to include findings related to that group in the generational breakdowns.