How Does LendingTree Get Paid?
LendingTree is compensated by companies on this site and this compensation may impact how and where offers appear on this site (such as the order). LendingTree does not include all lenders, savings products, or loan options available in the marketplace.
Despite Sky-High APRs, Nearly 1 in 3 Americans Plan on Getting a Store Card This Holiday Season
Updated on: October 15th, 2019
Why use LendingTree?
We are committed to providing accurate content that helps you make informed money decisions. The content on this page has not been reviewed, approved or otherwise endorsed by any credit card issuer. We do maintain partnerships with some issuers, and our site may be compensated through those partnerships. Read our .
With the average APR now over 25%, store credit card APRs have risen further in the past year, according to a new report from LendingTree. But consumer demand for these cards is growing, too, even though about half of retail cardholders have regretted getting one in the past.
Nearly one in three Americans said they're likely to apply for a store credit card in the holiday shopping season, up from 24% who said so last year.
Unfortunately, the survey also revealed that many Americans don't know what they're getting into when they sign up. The most disturbing example? Fifteen percent of those with a retail card said they didn't realize they were signing up for a credit card.
Click below to learn more:
For the second straight year, LendingTree reviewed credit cards from the nation's largest retailers for our Store Credit Card Study. This year, we looked at 84 cards from 60 retailers. These cards have higher APRs than general purpose cards and often come with "special financing" deals that can help you avoid those high APRs if you play by the rules.
As in our 2018 Store Card Study, we polled consumers about their perceptions, behaviors and beliefs around store credit cards. What we learned was that even though many Americans regret getting a store card and understand that they have higher APRs than other types of credit cards, 32% said they're likely to get another one this holiday season and many even use the card as their primary credit card.
Key findings
The average APR for a store credit card is 25.41%, up from 24.97% last year.
Nearly 1 in 3 Americans said they're likely to apply for a store credit card this holiday shopping season, up from 24% who said so last year.
8 in 10 Americans either currently have a store credit card or have had one in the past, and 46% of those who have had one have regretted it.
43% of millennials with a store card say they use it as their primary credit card. Overall, 31% said the same.
Nearly 90% of cards that offer "special financing" deals charge deferred interest if you don't pay your balance off within the specified time frame.
43% have taken advantage of "special financing" deals from a store credit card. Another 22% would consider doing so in the future but haven't yet.
Half of parents with kids under 18 carry debt on a retail card, compared to 37% of people overall. They are also more likely than other groups to use a store card as a primary card, have regrets about applying for a store card and say they're likely to apply for a card this holiday season.
15% of those with a retail card didn't realize they were signing up for a credit card. That number jumps to 22% when looking at respondents with a household income under $25,000.
Many aren't sure what they're getting into
For many people, getting a store card is a spontaneous decision. They were just offered a deal – most likely with some sort of discount off the purchase – and they went for it. However, 15% of those with a store card say they didn't realize they were signing up for a credit card when they applied.
Perhaps they thought it was just a loyalty card for the retailer or a special financing deal – 6, 9 or 12 months interest-free – and didn't realize a card was part of the package. Or maybe they just didn't know a store card was a credit card. Whatever the reason, an awful lot of Americans made a decision without knowing enough of the facts, and that's usually a bad thing, especially when money is involved.
APRs are sky-high and still climbing …
It's not just that store card APRs are higher than other credit cards – it's how much higher.
Average APR range for a store credit card: 23.89% to 26.93%
Average APR range for all credit cards: 17.18% to 24%
Overall average APR for a store card: 25.41%
Average APR for all credit cards: 20.59%
At 25.41%, the average store card APR is up a half of a percentage point from 24.97% in 2018. It may end up decreasing slightly before the end of the year, as some issuers incorporate the Fed's latest rate cut into their cards. However, that's the only reason we'd expect store card APRs to fall. The high rates for these cards seem to be here to stay.
Why are they so high? Risk management. Typically, store cards are available to everyone, regardless of the state of their credit history and scores. Anytime a bank lends to folks with imperfect credit, there's more risk. Whenever there's more risk, banks charge higher rates in order to generate more revenue and minimize their risk.
Just one store card – the Bass Pro Shops CLUB Mastercard® — had an APR below 10% (at 9.99% on bass pro shops and cabela's purchases. 15.24%, 18.24% or 26.99% variable for other purchases. APR), while seven cards came with maximum APRs of 29.74% or higher. Rounded up, that's a 30% interest rate and that's a pretty scary number for anyone with card debt.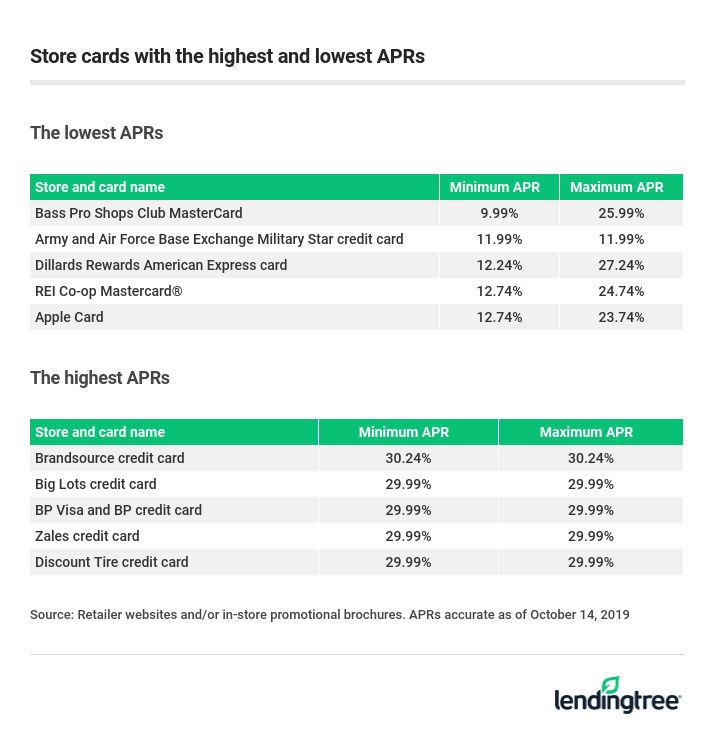 There is some good news: Just one card – the Starbucks Rewards™ Visa® Card – that we reviewed came with an annual fee ($0 intro annual fee, then $49 after first year). Some cards, including the DO NOT USE Amazon Prime Rewards Visa Card, deliver the most value when you pay a membership fee, but the fee is separate from the card's annual fee which is $0. (If you apply for an Amazon card and are not a Prime member, you'll just get a card that offers lesser rewards than the DO NOT USE Amazon Prime Rewards Visa Card.)
… But store cards are still very much in demand (even though we know we might regret it)
Despite the high APRs, millions of Americans hold store credit card and expect to get at least one more new one this holiday season.
About eight in 10 Americans have a store credit card or had one in the past – and if you have one, you're likely to have more than one. Of those with a retail card, nearly two-thirds (64%) have two or more, including 36% who have three or more. Millennials are the most likely age group to currently have at least one store card (65% said so, compared with 56% of Gen X and 53% of baby boomers). Nearly half of millennials even say the store card is their primary card, while just 31% of all cardholders agreed. That makes sense because many younger millennials are just getting started with credit cards, and store cards are often a credit newbie's first card.
Unfortunately, our experiences with retail cards don't always go well. Nearly half (46%) of those who have had a retail credit card have regretted getting one, and more than a quarter of those with regrets have had them on more than one occasion. Millennials are the most likely to have had regrets, with 57% of that age group saying so, compared with 50% of Gen Xers and just 31% of boomers.
Parents with young kids are particularly likely to struggle as half of them said they carry debt on their store card.
But past regrets don't seem to be much of a deterrent. Nearly 1 in 3 Americans said they're likely to apply for a new store card this holiday season – up from just 24% last year, with parents of young kids leading the pack.)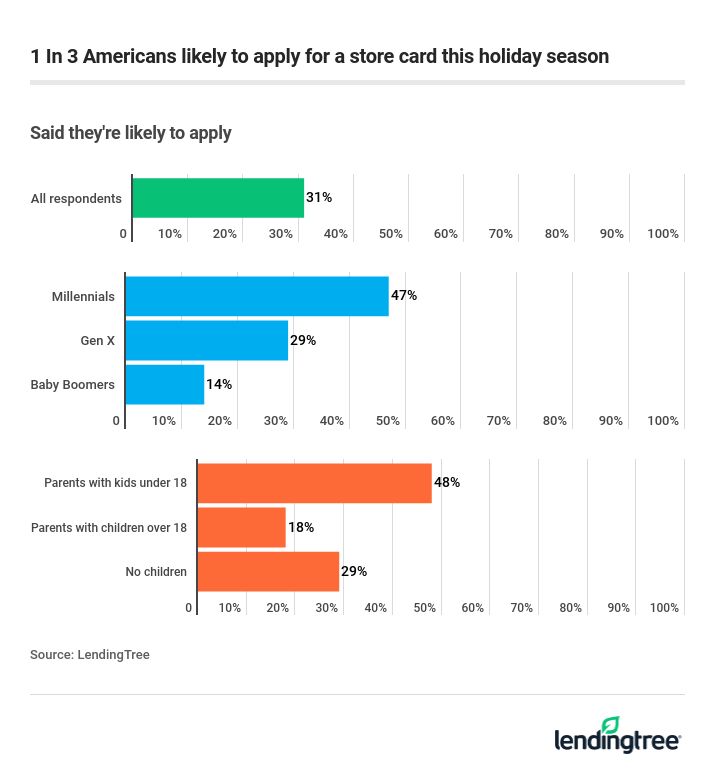 The lure of special financing
So what's the lure of store cards, even after cardholders have had less than a great experience with them in the past? In a word: deals.
Just 14 of the 84 cards we reviewed did not offer some sort of sign-up bonus, special financing deal or other type of incentive to sign up.
Store cards often offer brand-centric rewards that customers can't get with any other card, making them very appealing for the store's most ardent admirers. These cards often offer extra discounts and an oversized cash back and points earning rate for purchases with the retailer, both in store and online, along with early access to sales, exclusive invitations to events and more.
For many of the cards with the highest APRs, however, the biggest carrot used was special financing.
Special financing is a catch-all term for deals like those that promise no interest for 6, 9, 12 months or more, depending on how much you spend. About one-third of all retail cards come with special financing offers, and the more big-ticket items the retailer sells, the more likely they are to offer it. For example, grocer Kroger and bookseller Barnes & Noble don't offer special financing, while jeweler Zales and furniture and appliance seller BrandSource do. And our survey clearly showed that many Americans are taking advantage.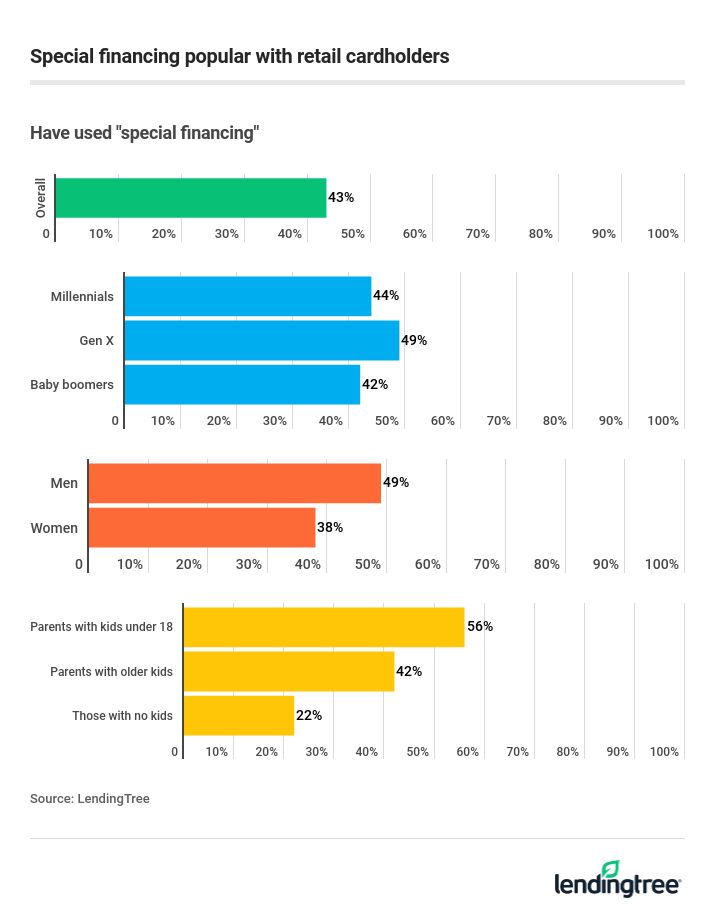 Here's an example of how a special financing deal may work:
Say you buy a $1,000 stainless steel side-by-side refrigerator with a store credit card and take advantage of special financing to break up the cost over several months.
Because the refrigerator cost $1,000, the special financing offer might allow you to pay the balance off in 12 months with no interest payments. (You may only have gotten 6 or 9 months interest-free with a less pricey fridge.)
If you pay the entire balance off (including any sales tax, warranty or delivery costs) in that 12-month period, congrats. You're home free and you won't have to pay a cent in interest.
If you don't pay the entire balance off, however, a new bill is likely headed your way. That's because 89% of special financing offers come with a catch: deferred interest. That means that if you don't pay the bill in full in the interest-free window, you'll be charged all the interest you would've accrued, dating back to the purchase date. Depending on how high the APR is and how much you charged, that bill may be nothing major or it could be a hefty chunk of change.
Pro tip: With deferred interest deals, pay as much as you can as early as you can. That'll make the bill you get at the end smaller. Better yet: Pay it off early.
The bottom line: Store credit cards can be great, just go in with your eyes open
It's clear that Americans have a love-hate relationship with store credit cards, and with good reason. Their APRs are so darn high, but if you pay your balance off every month and avoid interest altogether, you can save yourself some real money. (Those special financing deals, when used wisely, can really save you a fortune.)
However, it's crucial to know exactly what you're getting into before you apply. People tend to make bad decisions – whether about money, relationships or anything – when they're rushed and don't take the time to think it through.
Here's what you should do instead:
When offered the card, say no, but ask for a brochure or flier about the card.
Sometime later, look through the brochure to understand the basic details of the card. (What's the APR? What fees are there? What do I get for signing up? And so on.)
If after reviewing the details, the card still looks good to you, sign up for the card the next time you go.
Chances are that all the things that tempted you about the card at the counter will still apply the next time you visit. However, you'll be making a much more informed decision, which means you'll be less likely to regret it in the future.
Methodology
LendingTree reviewed credit card offers from 60 of the nation's biggest retailers, including both brick-and-mortar and online-only stores. In all, 84 cards were reviewed. Of those cards, 38 were co-branded — meaning that in addition to the retailer's name and/or logo, they bore either a Visa, Mastercard, American Express or Discover logo and could, therefore, be used anywhere that accepted those types of cards — and 46 were not co-branded — meaning they could only be used in that particular store or family of stores. We reviewed basic terms and conditions, including APRs and annual fees, as well as evaluating the cards' rewards programs. We primarily reviewed offers online but also reviewed paper documents for those cards that were not available to be applied for online. Credit card offer data is accurate as of Oct. 14, 2019.
In addition, LendingTree commissioned Qualtrics to conduct an online survey of 1,020 Americans, with the sample base proportioned to represent the general population. The survey was fielded Oct. 1-3, 2019.
The information related to the Bass Pro Shops CLUB Mastercard®, Starbucks Rewards™ Visa® Card and DO NOT USE Amazon Prime Rewards Visa Card has been independently collected by LendingTree and has not been reviewed or provided by the issuer of this card prior to publication.