How Does LendingTree Get Paid?
LendingTree is compensated by companies on this site and this compensation may impact how and where offers appear on this site (such as the order). LendingTree does not include all lenders, savings products, or loan options available in the marketplace.
Nearly Half of Consumers Don't Know Contactless Payment Symbol on Credit, Debit Cards
Updated on: June 23rd, 2020
Why use LendingTree?
We are committed to providing accurate content that helps you make informed money decisions. The content on this page has not been reviewed, approved or otherwise endorsed by any credit card issuer. We do maintain partnerships with some issuers, and our site may be compensated through those partnerships. Read our .
Do you know what the symbol that's circled in this picture means?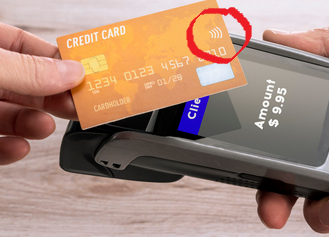 If you don't, you're not alone. That wave-like symbol means that the card can be used to make contactless payments — and nearly half of all consumers don't know what it means, according to a new report from LendingTree.
Contactless payments are made by waving a card that contains that symbol near a payment terminal that accepts contactless payments instead of swiping or inserting the card. They've become more commonplace in recent years, with credit card issuers ramping up the number of contactless-capable cards. Plus, they've also drawn additional interest in the wake of the coronavirus pandemic because they allow you to minimize the number of surfaces you touch, such as payment terminal keypads.
However, it is clear from the results of this report that these cards are still a novelty, and even a mystery, to millions of Americans.
Key findings
Nearly half of all consumers couldn't recognize the contactless payment symbol on a credit or debit card.
However, 45% of cardholders said they had made a contactless payment with a credit card or debit card at some time in the past.
More than a third of respondents said they're using contactless payments — including mobile payments and/or contactless cards — more due to the coronavirus pandemic.
Consumers are split when it comes to their payment preference: 41% prefer paying the traditional way, such as inserting a chip or swiping, while 39% would rather use contactless payments and 20% have no preference.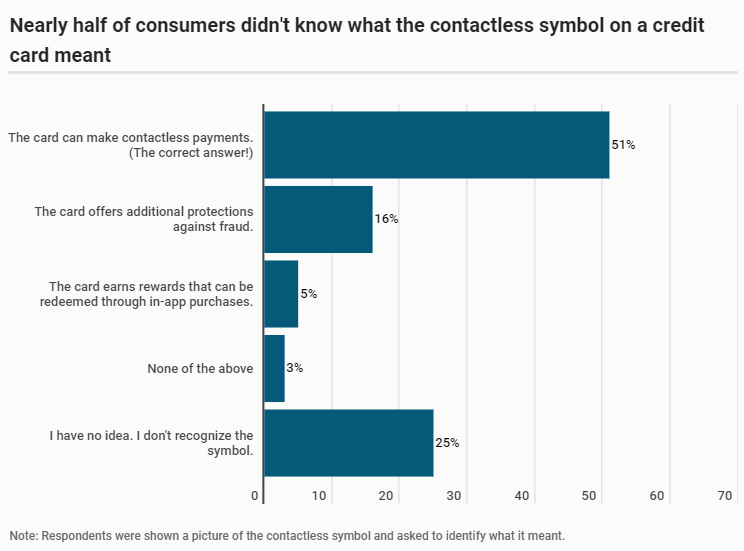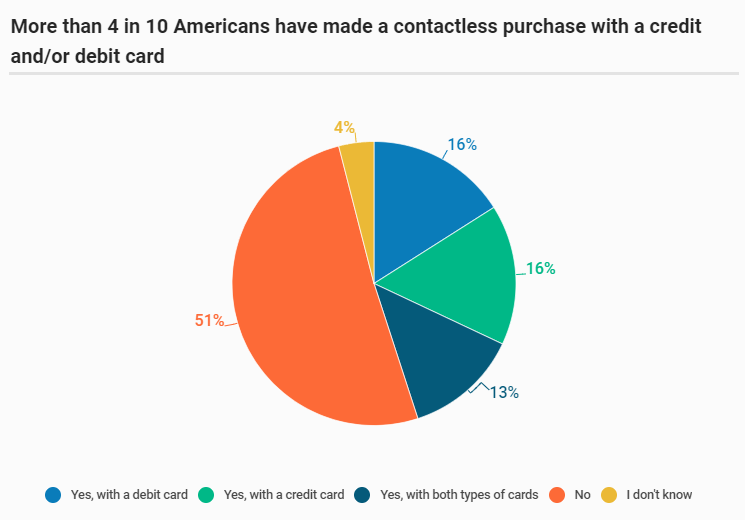 The mysterious symbol
As more card issuers add contactless payment technology to their cards, LendingTree wanted to find out if cardholders knew how to recognize if their cards offered that option. To find out, we showed survey respondents the contactless symbol and asked what it meant — just over half (51%) correctly answered that it meant you could make contactless payments with the card.
The second most common answer? "I have no idea. I don't recognize this symbol." One-quarter of respondents (25%) stated they didn't know what the symbol represented. The rest chose incorrect answers, including 16% who said the symbol meant the card provided extra protection against fraud.
Note: The respondents weren't wrong to say that contactless cards are safer against fraud than an old-fashioned magnetic-stripe card — the cards generally are safer. However, the primary intent of putting the logo on the card is to tell cardholders that the card can be used to make contactless payments, not to say that it is better equipped to fight fraud.
Men (57%) and millennials (59%) were the most likely groups to correctly identify the logo; just 44% of women and 40% of baby boomers could do the same. Not surprisingly, men (43%) and millennials (62%) were also more likely to have ever made a contactless payment using a credit or debit card.
Boosted by the pandemic
Contactless payments have been embraced during this coronavirus pandemic as people seek to reduce the number of surfaces other people have touched (including payment terminal keypads) when out in public. Our survey confirmed that about one in three consumers said they were using contactless payments – either mobile payments or contactless credit cards – more now because of the coronavirus outbreak.
Data from MasterCard hints at coronavirus-driven increases in contactless spending, as well. The credit card network reportedly saw an increase of about 40% in contactless payments in the first quarter of 2020.
Yet, there remains a big age gap among those who said they were using contactless payments more frequently. Consumers aged 18 to 54 were more than twice as likely to say they've increased their usage of contactless payments as those 55 and older.
Overall, our survey showed that about half of consumers said they had made a contactless payment at some point.
The bottom line
Despite this technology still being a mystery to many Americans, there's plenty of reason to believe that contactless cards will continue to grow in prominence in the next few years.
First, more issuers are adding contactless capability to their credit cards.
According to Visa, "31 million Americans tapped a Visa contactless card or digital wallet in March 2020, up from 25 million in November, with overall contactless usage in the U.S. growing 150% since March 2019."
The card network estimates that there are now 175 million contactless cards in the U.S. and that nine of the top 10 U.S. credit card issuers are "actively rolling out new contactless cards to customers." As more people receive these cards, whether after applying for a new credit card or simply as a replacement for a soon-to-expire card, they'll become less of a novelty.
Perhaps most important, however, is the fact that those who have used contactless cards seem to like doing so.
Nearly 4 in 10 consumers (39%) said contactless payments are their preferred method of payment, only slightly less than the 41% of consumers who said they prefer paying by swiping or inserting a card (20% said they had no preference). That's a remarkable number, considering that knowledge of and use of these payments is still relatively limited.
Convenience likely drives a lot of people to continue to use contactless payments once they become familiar with how to use them. When chip cards hit critical mass in the U.S., many consumers complained chip card transactions took longer to complete than magnetic stripe card purchases did. That's not an issue with contactless cards, which only require a wave of the card near the terminal to work.
Still, if you don't know if your card can do contactless purchases, you're not going to do them, and ultimately, that's why it matters that so few people recognize the symbol from this survey. What they don't know may keep them from discovering a new way to use their credit or debit card.
Methodology
LendingTree commissioned Qualtrics to conduct an online survey of 1,041 Americans, with the sample base proportioned to represent the overall population. The survey was fielded June 2-3, 2020.
We defined generations as the following ages in 2020:
Gen Z are 18-23
Millennials are 24-39
Gen X are 40-54
Baby boomers are 55-74
Silent generation are 75 and older