How Does LendingTree Get Paid?
LendingTree is compensated by companies on this site and this compensation may impact how and where offers appear on this site (such as the order). LendingTree does not include all lenders, savings products, or loan options available in the marketplace.
More Than 3 in 4 Cardholders Have Been in Credit Card Debt, and Some Have Spent 5+ Years Paying It Off
Updated on: April 27th, 2021
Why use LendingTree?
We are committed to providing accurate content that helps you make informed money decisions. The content on this page has not been reviewed, approved or otherwise endorsed by any credit card issuer. We do maintain partnerships with some issuers, and our site may be compensated through those partnerships. Read our .
If you're grappling with credit card debt right now, you're in the same boat as 50% of American cardholders, plus another 26% of consumers who've been in debt at some point in the past.
In other words, battling the debt cycle — sometimes for years — is a reality for most people, according to a LendingTree survey of nearly 1,600 credit cardholders. Here's a look at cardholder debt, the reasons behind it, generational differences and strategies for taming those balances.
Click below to learn more:
Key findings
Most credit cardholders have dealt with debt. Half of those with a credit card are currently in credit card debt, and an additional 26% of cardholders have been in debt previously. That means roughly 3 in 4 credit cardholders have been burdened by credit card debt.
Among the debt carriers, nearly 8 in 10 (78%) have four-figure credit card balances, and more than 1 in 5 owe over $10,000. Many have been in debt for years, with 25% saying they've been battling debt for more than five years.
Shopping is the primary driver for credit card debt, cited by more than a third (35%) of those who owe on their cards. But others said they've had to rely on "plastic" to cover basic needs like food, housing and bills (28%) as well as income loss (27%).
Millennials are the generation that is the most in credit card debt — 56% of them — and some blame it on social media. More than 1 in 10 admitted their desire to keep up with the digital Joneses has led to overspending.
Nearly a quarter (23%) of cardholders turned to balance transfer cards to try to tackle their debt in the past year. An additional 18% did so in previous years.
But almost 70% of cardholders are confused about how balance transfer cards work. They incorrectly believe there's retroactive billing if they aren't able to pay off their entire balance.
The vast majority of credit cardholders have been in debt
Led by millennials (56% of whom are carrying debt today), the majority of consumers have been in credit card debt at some point. Even six-figure earners aren't immune, with 49% saying they are carrying balances right now.
Parents with kids under 18 (61%) are also more likely to have credit card debt than those with adult children (45%) or non-parents (44%). Financial fallout from the COVID-19 crisis was also a big driver of credit card debt, impacting those laid off or furloughed more than those who had no loss of income (63% versus 43%).
"It's certainly no surprise that most cardholders have had card debt at some point," said Matt Schulz, chief credit analyst for LendingTree. "Life is expensive in 2021, and credit cards act as a lifeline when times get tough."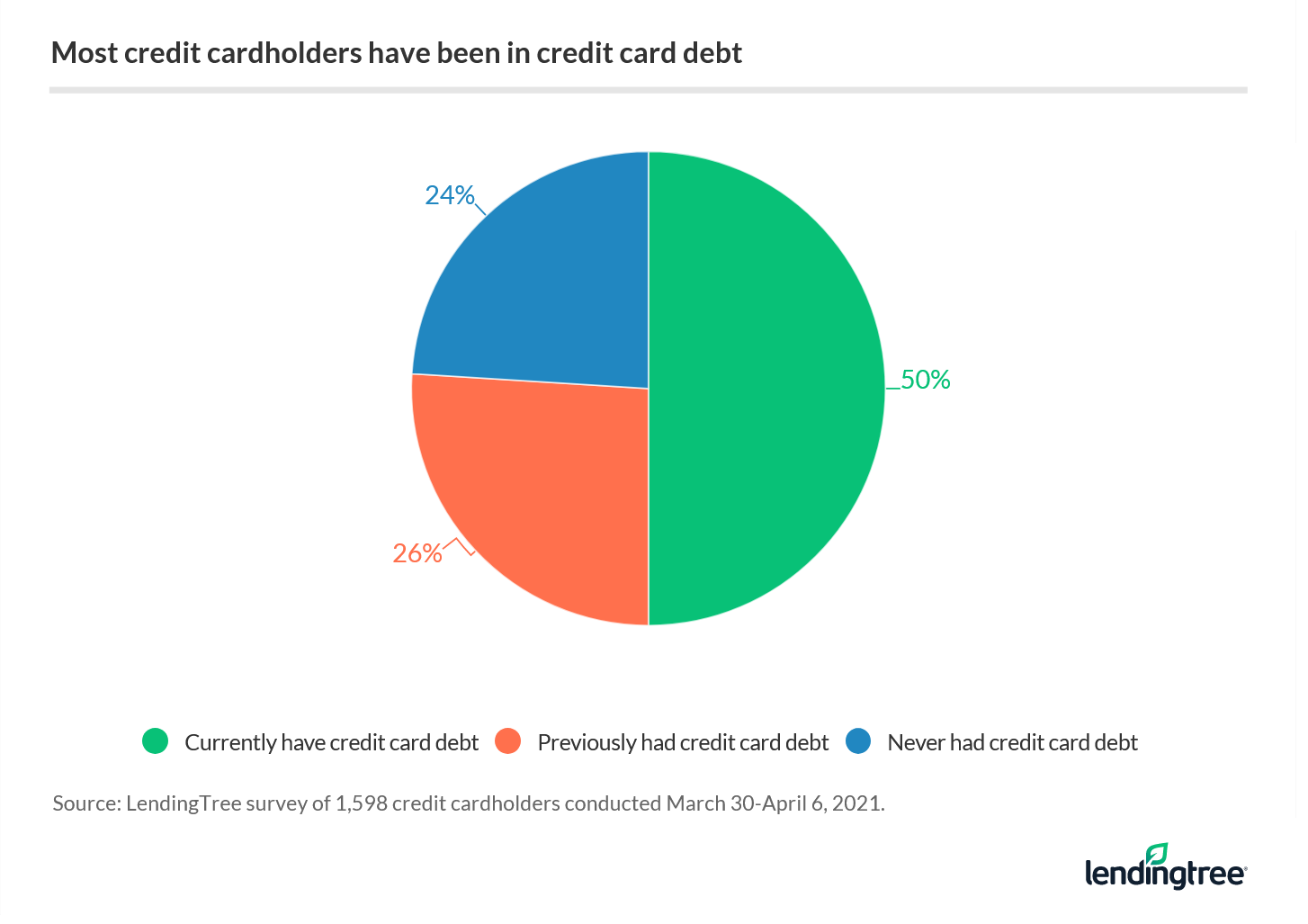 Carrying a balance might not seem that big of a deal, but it tends to stick with consumers for a long time — 73% said for more than a year, including 25% who have been in credit card debt for more than five years. Gen X was the group most likely to be in the five years or more debt club.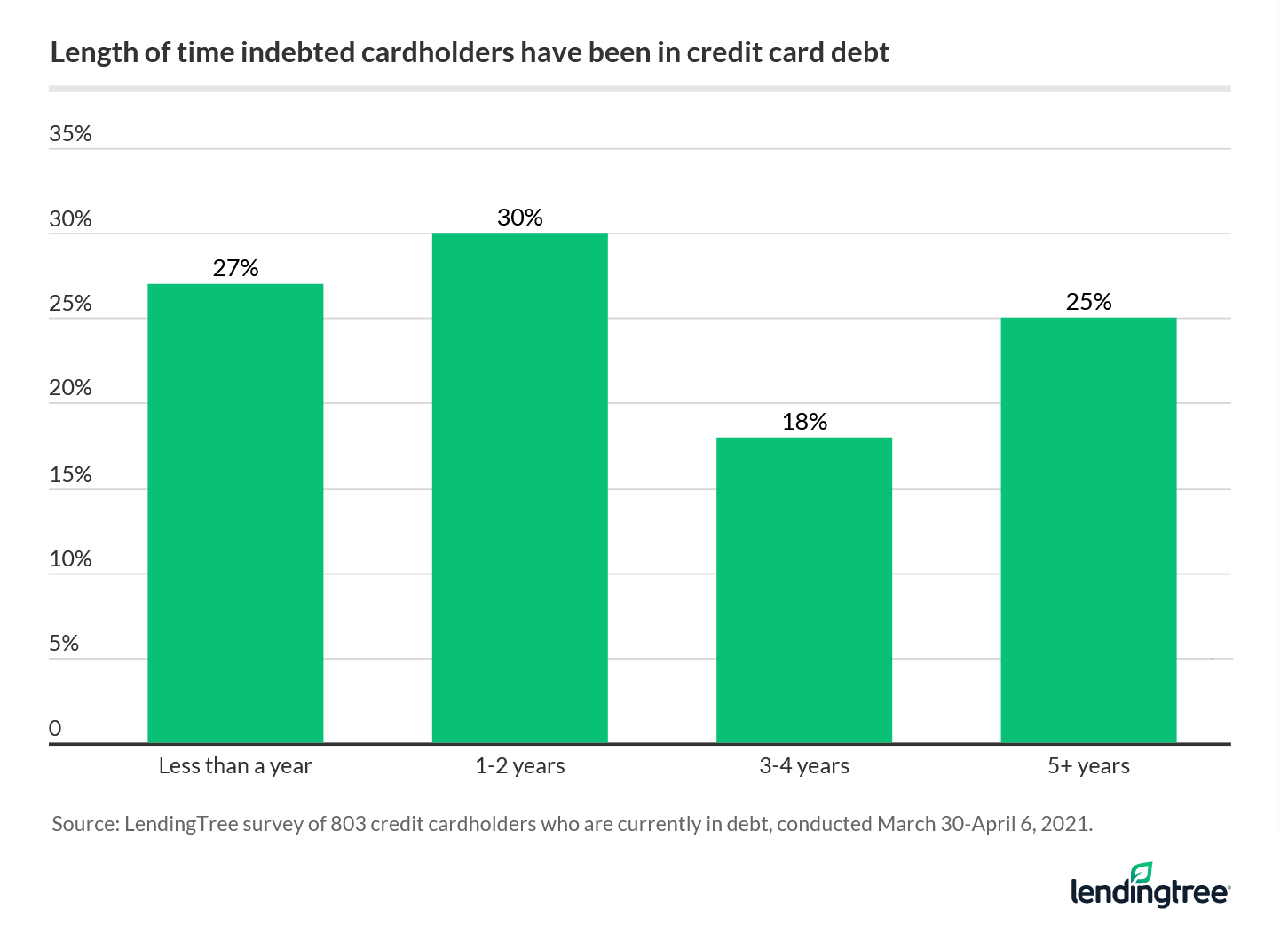 Higher incomes correlate to higher balances, with nearly 4 in 10 of indebted people earning more than $100,000 owing more than $10,000. But there aren't any significant balance differences based on generation, gender or family structure. Overall, 78% of those with debt said their balance is $1,000 or more.
And among those carrying debt, 41% said it's spread across more than one card, with a higher percentage among Gen X (46%) and baby boomers (57%).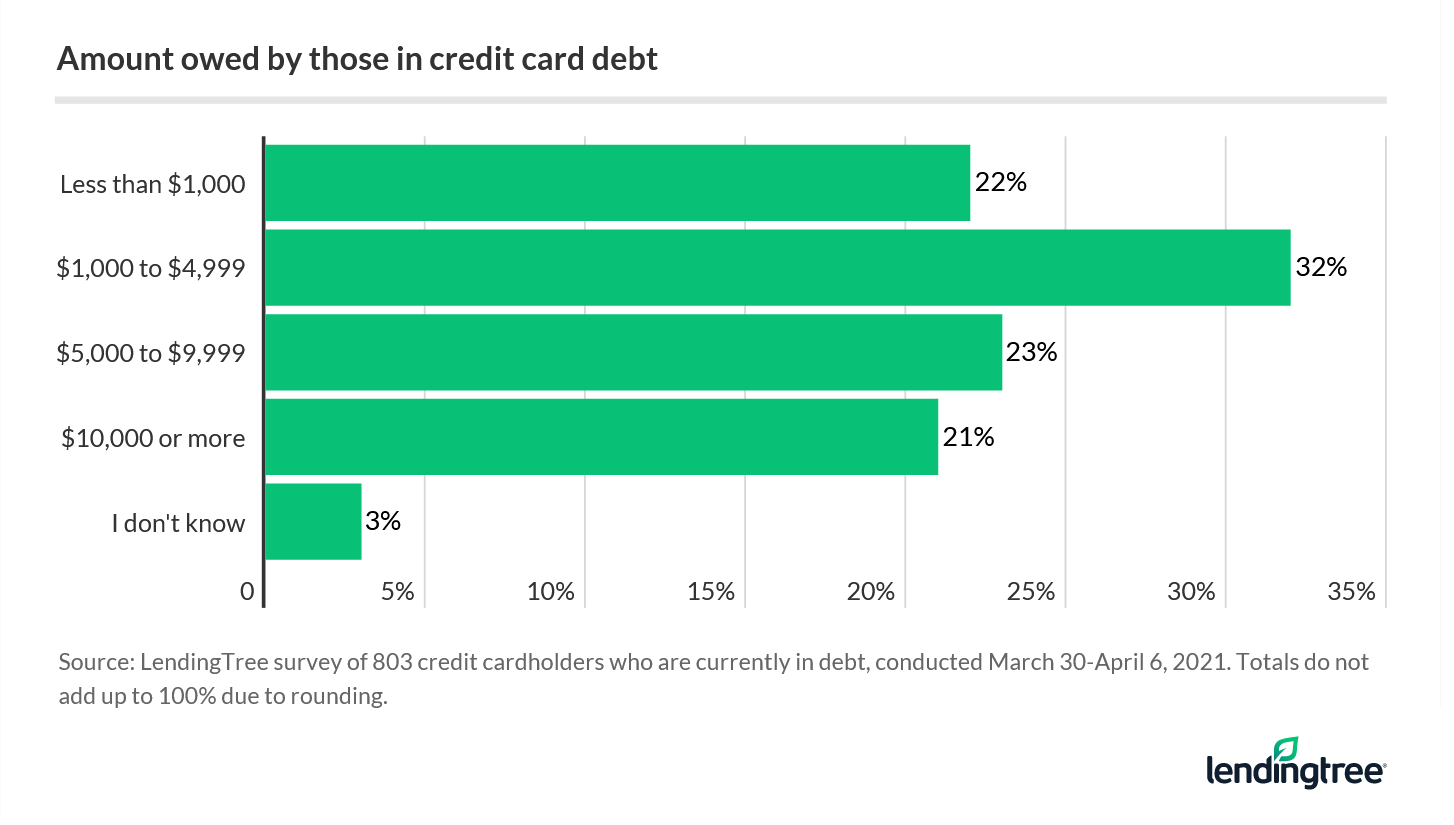 "Once you're in significant credit card debt, it's really hard to get out," said Schulz. "They simply can't carve enough out of their budget on an ongoing basis to make a real dent in that debt, and often they end up adding to the debt with basic life expenses or unexpected emergencies."
Shopping is a primary driver of credit card debt, but so are basic living expenses
Though some debt may be the result of poor spending decisions, in many cases, credit card balances pile up when people are going through a financial struggle, such as a job loss, a health problem or an unexpected emergency.
Other noteworthy findings: Boomers (31%) were the most likely generation to say credit was used to cover basic needs, while 12% of Gen Z blame their debt on not understanding how credit cards work. Among six-figure earners, though, more than 40% with credit card debt blamed it on shopping.
"Often the trouble is more about having too many needs that you can't afford rather than indulging in too many wants," said Schulz.
As for the splurging that sometimes happens, Schulz isn't surprised that 11% of indebted millennials and Gen Z pointed to social media pressure as the culprit. "Retailers and influencers have perfected the subtle art of the sale via Instagram posts and other such things… it's a significant contributing factor to credit card debt in this country," he said.
Some cardholders look to balance transfers to eliminate debt
Nearly a quarter (23%) of cardholders decided to open a balance transfer card this past year to try to pay down their debt with a period of 0% or reduced interest. And almost half (45%) of respondents said they are considering opening a balance transfer credit card within the next year.
Balance transfers are especially popular among Gen Z and millennials: 37% of Gen Z and 36% of millennials did one in the last year. But you typically need a good credit score for such offers, and not everyone qualifies, including 16% of Gen Z, 11% of millennials and 8% overall.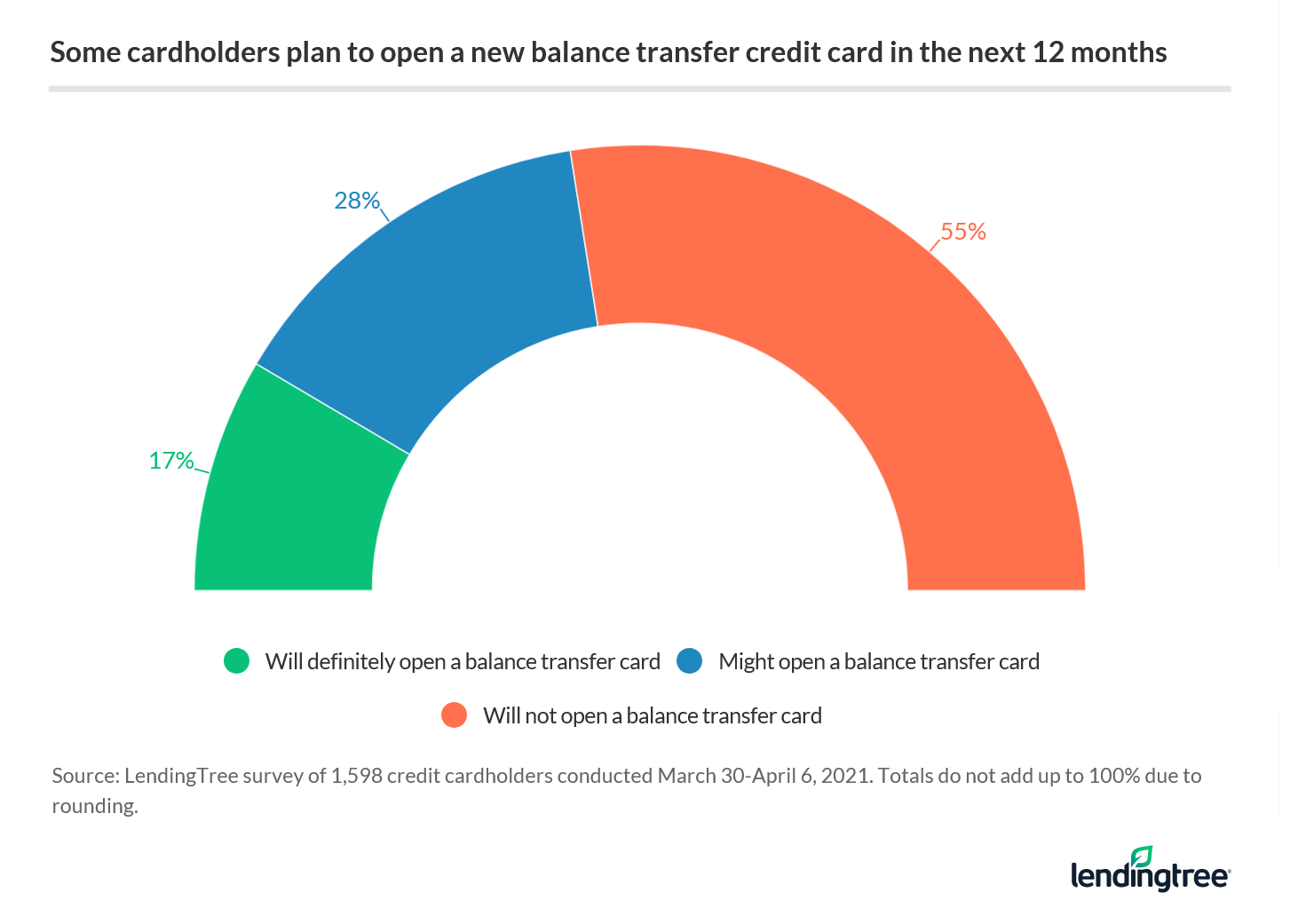 Consumers need more education about one key benefit of balance transfers
The primary appeal of a balance transfer credit card is an introductory period with either reduced interest or no interest. However, too few consumers fully understand the terms: 69% of survey respondents mistakenly think that they'll get hit with interest charges for the entire period if they don't reach a zero balance before the introductory period is up.
"That's a very powerful myth, but hardly any balance transfer credit cards require you to retroactively pay interest if you don't pay the full balance off during the intro period," said Schulz. Rather, only any remaining unpaid balance after the intro period is subject to the card's ongoing APR. This misconception likely comes from confusion between balance transfer cards and so-called special financing deals from retailers that do stick you with a bill for all the interest you would've accrued during that period if there's a remaining balance.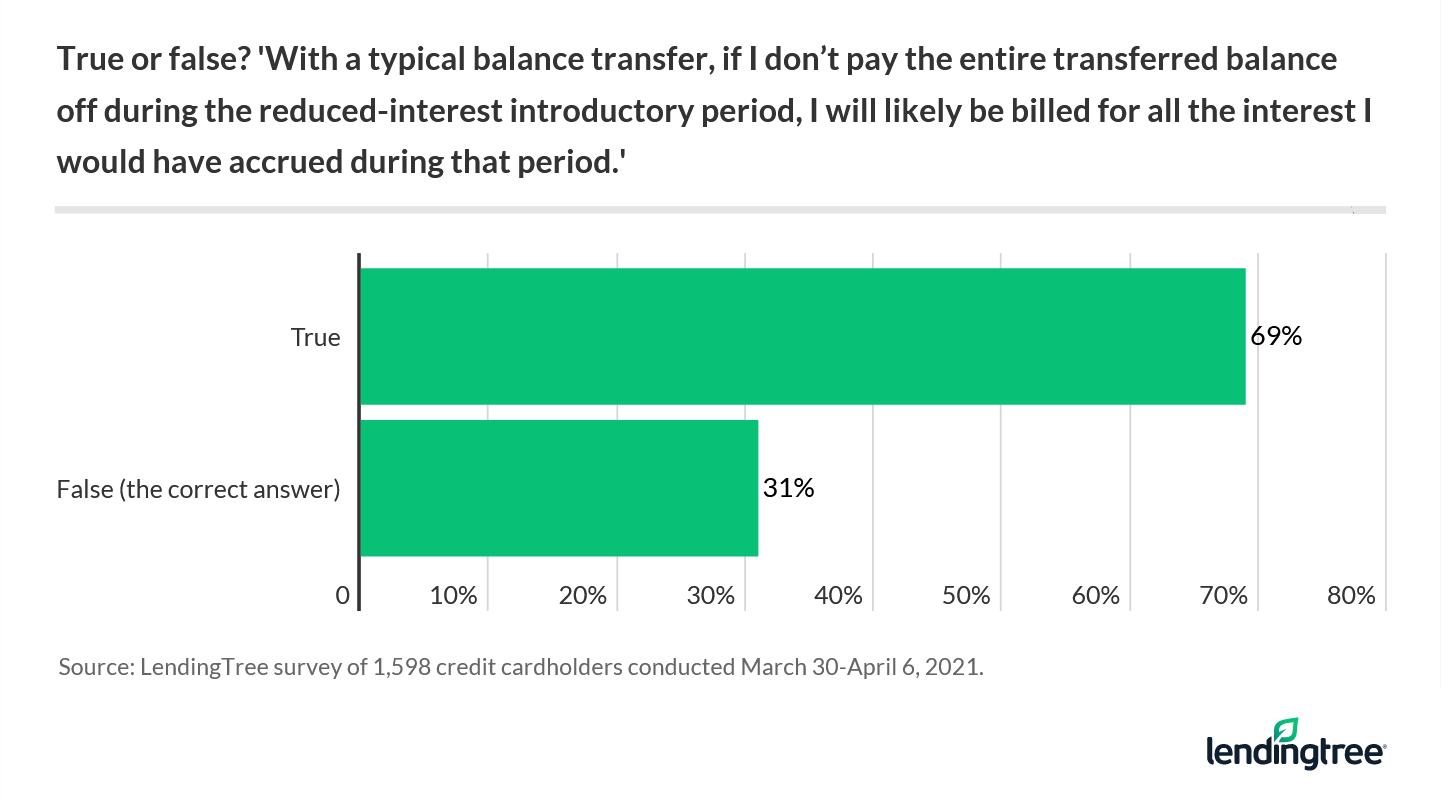 The good news is that balance transfer cards offer a less painful path out of debt: 63% said they were able to pay off their transferred debt during the introductory period. And among those who couldn't reach zero in that timeframe, more than a quarter (26%) of them were able to make great progress, knocking out 50% to 75% of their balance.
4 tips for paying down credit card debt
Try these tools and strategies to help you successfully eliminate your credit card debt.
Open a balance transfer card. "This can be a godsend," said Schulz. Being able to go for a year or more without accruing interest can dramatically reduce the total amount you pay on your debt, as most, if not all, of your payment goes to the principal rather than principal plus interest. Just make sure you understand the fees and deadlines before you apply, he added.
Consider a personal loan for consolidation. In the survey, 21% of those with credit card debt said they opted for a personal loan rather than opening a balance transfer credit card. "Personal loans can help you lower your interest rate on other types of debt, which is a big deal," said Schulz. Plus, it can also streamline all of your debt into one simple monthly payment.
Pick a payoff strategy and follow through. "For some, it's about piling up little victories. For others, it's simply about math," said Schulz. Whichever debt payoff plan motivates you the most and will keep you pushing ahead is the one that you should follow.
Find a support system. "Surround yourself with people who want you to succeed," said Schulz. Having people cheering you on really makes a difference in whatever you're trying to do in life.
Methodology
LendingTree commissioned Qualtrics to field an online survey of 1,598 credit cardholders, conducted March 30-April 6, 2021. The survey was administered using a non-probability-based sample, and quotas were used to ensure the sample base represented the overall population. All responses were reviewed by researchers for quality control.
We defined generations as the following ages in 2021:
Generation Z: 18 to 24
Millennial: 25 to 40
Generation X: 41 to 55
Baby boomer: 56 to 75
While the survey also included consumers from the silent generation (defined as those 76 and older), the sample size was too small to include findings related to that group in the generational breakdowns.