How Does LendingTree Get Paid?
LendingTree is compensated by companies on this site and this compensation may impact how and where offers appear on this site (such as the order). LendingTree does not include all lenders, savings products, or loan options available in the marketplace.
Americans Will Spend $208 On Their Significant Other This Valentine's Day, Up 44%
Published on: February 1st, 2022
Why use LendingTree?
We are committed to providing accurate content that helps you make informed money decisions. The content on this page has not been reviewed, approved or otherwise endorsed by any credit card issuer. We do maintain partnerships with some issuers, and our site may be compensated through those partnerships. Read our .
After the pandemic kept Cupid — and many couples — in quarantine last year, Valentine's Day is back in a big way for 2022. This year, American lovebirds expect to spend 44% more than last year and nearly 4 in 10 are planning a romantic restaurant date, according to a new LendingTree survey of nearly 2,100 Americans.
As for cash-strapped consumers whose own money can't buy them love, they're turning to credit cards. See which consumers are spending the most on Valentine's Day this year, along with tips on how to celebrate without draining your bank account.
Click below to learn more:
Key findings
Valentine's Day spending is up 44% compared to last year. On average, those with a significant other plan to spend $208, up from $144 in 2021 and $142 in 2020.
Spending for Valentine's Day peaks among couples who have been together for one to two years ($247), then creeps back down. As for other demographics, six-figure earners ($413), men ($299) and millennials ($294) plan to spend big.
Nearly a third (30%) of partnered consumers say it's at least somewhat likely they'll incur credit card debt due to Valentine's Day spending. Of that group, 43% would hide the debt from their partner.
About 3 in 10 (31%) Americans have spent more than they can afford on past Valentine's Days to impress a significant other. Along those lines, 30% think Valentine's Day debt is worth it (37% of men agree versus 24% of women).
Dining out is back: 37% of couples will celebrate the holiday by going out for a special dinner, up from 26% last year. Similarly, fewer couples say they are skipping the holiday to save money this year (31%, down from 39% in 2021).
Projected Valentine's Day spending rises by 44% compared with 2021
Valentine's Day spenders expect to shell out an average of $208 this year, higher than it was in both 2021 and 2020. Could it simply be that love is in the air? Perhaps, says Matt Schulz, chief credit analyst at LendingTree. But more likely, it's because inflation is generally making everything more expensive — plus, since it's a vaccinated Valentine's Day this year, people feel more comfortable going out.
"They're spending on dining out, shows and other typical Valentine's Day trappings that they might have shied away from the past couple of years," says Schulz.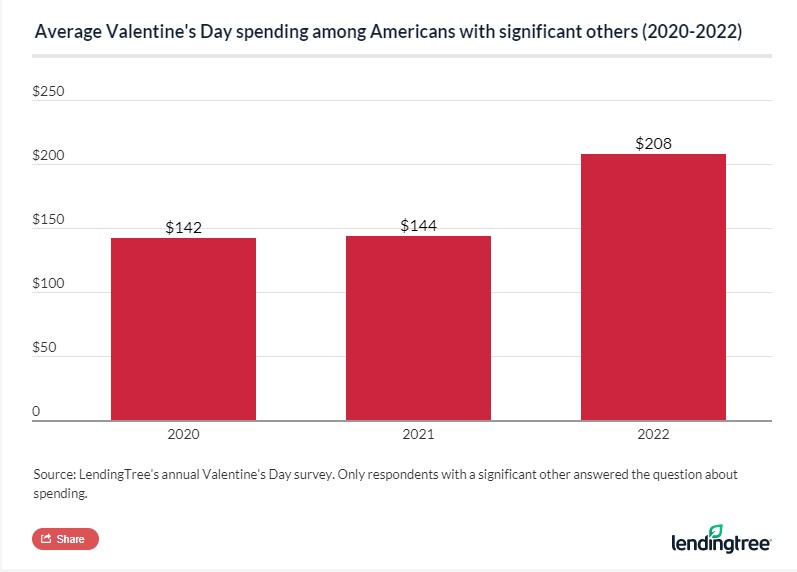 As for who's spending the most, it tends to be couples who are in that one-to-two-year sweet spot of their relationship. Engaged partners also plan to spend more ($322) than married ones ($219).
"People tend to go big when they're in the early stages of a relationship," says Schulz. Over time, the spending decreases — but it's not necessarily because of laziness or taking one's partner for granted, he notes: "Some may get a little more practical, choosing to spend their money on things that serve them better as a couple, such as saving for a home or a vacation."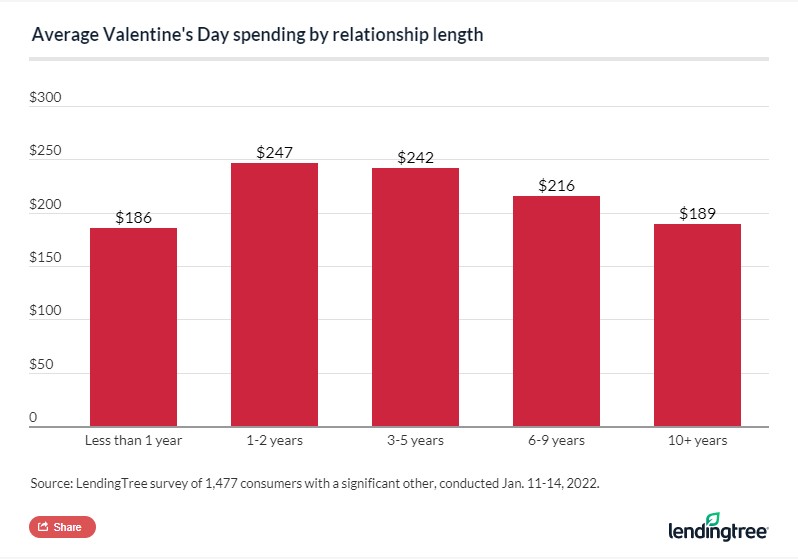 Millennials lead the pack among the generations for Valentine's Day spending ($294), perhaps because that age group is most likely to be in the early stages of a new serious relationship than other demographics. Compared to Gen Z ($164) and Gen X ($182), it's a pretty significant difference.
Other findings include that men are planning to spend significantly more on average than women ($299 versus $123). Plus, Valentine's Day splurges increase with higher income levels, with those earning over $100,000 planning to spend $413 on average (in contrast, those with incomes of less than $35,000 only plan to spend $98).
As for the most popular Valentine's Day gifts men plan to give, the top three are flowers (34%), chocolate or candy (26%) and jewelry (26%). Women's gifts to their partners will most often include a special meal (25%), something sentimental (25%) and a card (24%).
Valentine's Day debt: Is it worth it?
This year, 3 in 10 (30%) of Americans anticipate having to rely on their credit cards to pay for Valentine's Day gifts and outings, which means paying interest on that spending, too. Among those who think they'll take on debt, 43% plan to hide it from their significant other.
"Hiding debt from your partner is a bad idea," says Schulz, adding that it'll likely come back to haunt you. "The more open and honest you are about your finances, the more you can work together to fix them."
Still, 31% of all respondents admit that at one time or another, they have spent more than they could afford to impress someone on Valentine's Day. This number jumps to 4 in 10 among millennials, while a slightly higher percentage of men said so than women (33% versus 28%).
More men than women also think that a Valentine's Day credit card balance is worth it.
Schulz admits that there are worse things to splurge on than Valentine's Day, especially if you have a smart plan to pay off credit card debt. "So-called good debt is debt that can give you a good return on investment in the future. Valentine's Day debt can definitely do that for your relationship," says Schulz.
But, he added, it's important to know your partner — and don't let the spending get too out of hand: "Some folks will be so dazzled by the gift that they won't mind the debt. Others might be so put off by the price and the debt that they wouldn't be able to enjoy the gift."
Couples return to restaurants this Valentine's Day
With the availability of COVID-19 vaccines, many couples are returning to more traditional Valentine's Day celebrations — 37% of couples are planning to go out for a special dinner, up from 26% last year.
"This is great news for restaurants, many of whom are in desperate need of great news," says Schulz. The pandemic has been, and continues to be, really tough on the restaurant industry, so a fully reserved dining room for Valentine's Day would provide some much-needed revenue and hope.
Here's a tip: If you're planning to dine out, using a credit card with restaurant rewards can help you earn points for future purchases.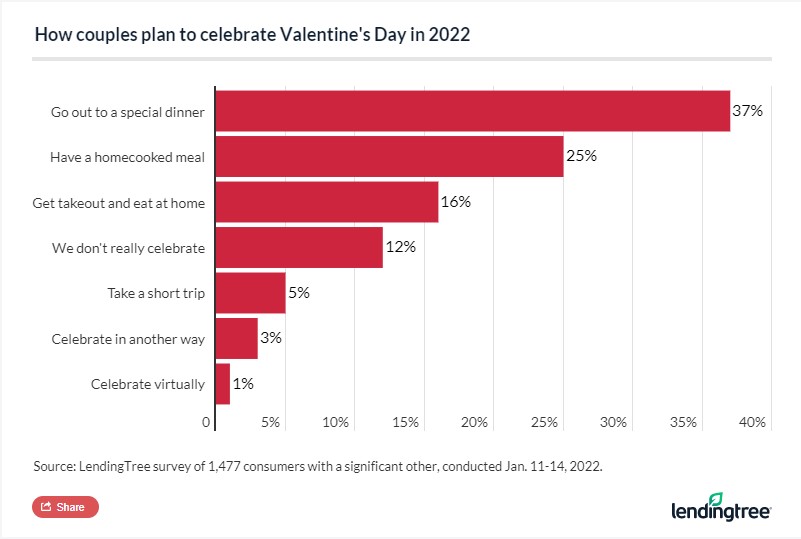 And while 39% of couples opted to skip Valentine's Day in 2021 to save money, that number dropped to 31% this year.
"It is OK to skip Valentine's Day to save money, as long as you talk with your partner about it in advance," says Schulz. Just tread lightly, he warned. "Even bringing up the idea of skipping Valentine's Day is risky, so be ready for some pushback if you try."
Celebrate Valentine's Day without breaking the bank
If money is tight, you don't have to skip V-day altogether. Here are some ways to trim your spending without sacrificing the romance.
Celebrate, just not on the 14th. If your love is willing to celebrate Valentine's Day a day earlier or a day later, it can really reduce your costs, says Schulz. (Plus, it falls on a Monday this year, so why not move your celebration to the weekend?) Not only will flower deliveries probably cost less, but restaurant reservations might be easier to get and you can avoid the pricey holiday fixed-price option, Schulz added.
Go for the budget flowers. "Speaking from personal experience, definitely do not overlook flowers from your local supermarket," says Schulz. "They can be much less expensive, just as beautiful and you don't have to stress about whether the delivery guy will arrive on time."
Choose sentimental over splashly. A simple love letter can be a surprise hit, as can taking your partner to revisit the place where you first met or had your first date, says Schulz. Or, you could try something more practical. "Offering to take something off of your loved one's to-do list can be a really great gift," he says. "A week's reprieve from a daily chore might not be the sexiest gift ever, but it can definitely be appreciated."
Dine home, dessert out. Not only can a special, home-cooked meal be an amazing gift, but it can save you a bunch of money on Valentine's Day. Then, you can go out to a favorite dessert place afterwards. "It's a great way to dine out without spending too much," says Schulz.
Spread some credit card love. "If you've got points and miles, consider using them for an overnight getaway, even if it is in your hometown," says Schulz. Another tactic: If you've been saving up for a big, pricey Valentine's Day gift like a ring or a necklace, consider buying it with a new credit card that has a bonus offer, then using your saved money to pay it off.
"Many cash back cards will give you $100 or more back when you spend $500 to $1,000 soon after opening the card," says Schulz.
Finally, if you do find yourself saddled with Valentine's-related debt, you could look into balance transfer credit cards that give you a period of 0% interest to pay down the bill.
Methodology
LendingTree commissioned Qualtrics to conduct an online survey of 2,100 consumers from Jan. 11-14, 2022. The survey was administered using a nonprobability-based sample, and quotas were used to ensure the sample base represented the overall population. All responses were reviewed by researchers for quality control.
We defined generations as the following ages in 2022:
Generation Z: 18 to 25
Millennial: 26 to 41
Generation X: 42 to 56
Baby boomer: 57 to 76
While the survey also included consumers from the silent generation (those 77 and older), the sample size was too small to include findings related to that group in the generational breakdowns.